Today I bring you one of my favorite recipe creations of ALL time: Greek Yogurt Chocolate Fudge Cupcakes. They may look like just another pretty chocolate cupcake promising perfection (there are so many these days…) but these moist, ultra-chocolatey Greek yogurt spiked sweeties are total game changers!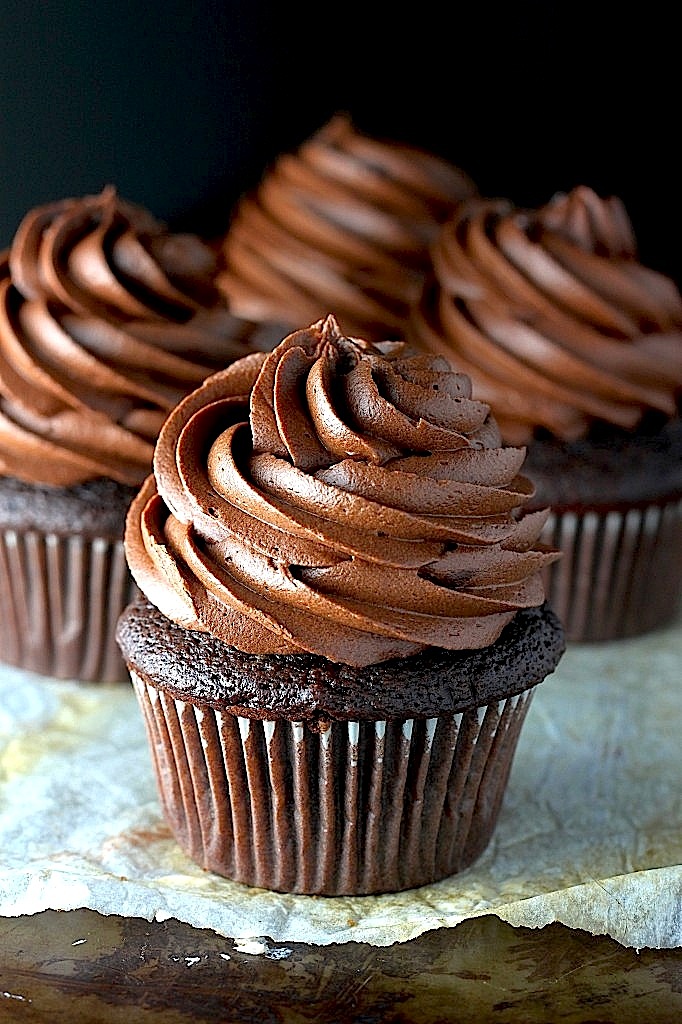 Greetings from "I can't believe it's only October and I'm already showing flu symptoms" land. Ugh. Being sick —> the worst. Being sick on a FRIDAY NIGHT —> the pits and back and then some. Womp womp. Looks like it'll be a weekend of soup, afternoon sleep sessions, and Modern Family marathons. I need my Phil fix because um… laughter is the best medicine right?
Moving forward… straight to you! What are you up to this weekend? Pumpkin picking? Pie baking? Kicking up your feet and doing n-o-t-h-i-n-g? All of those sound pretty great to me 😉
Ok. So let's focus! On the cupcakes. I just took a swig of NyQuil , so I better type fast or things could get weird… So —-> CUPCAKES. Let's do this.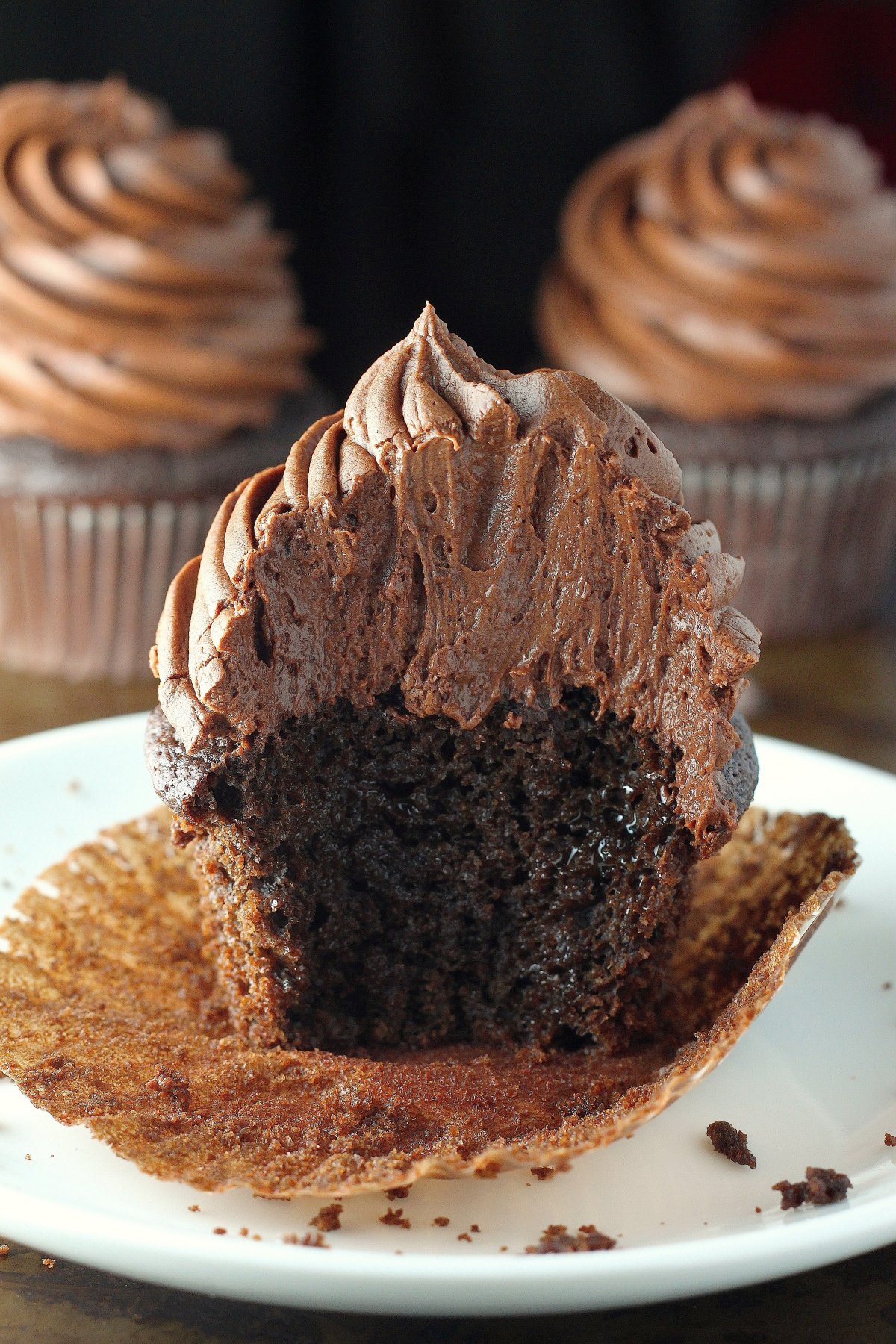 These chocolate cupcakes are nothing short of EPIC. The base is soft, moist, and loaded with chocolate flavor. I added cocoa powder AND melted chocolate to the batter, so they are chocolate flavor all the way home. The way all chocolate cupcakes should be… just saying.
The cupcake batter also has a heaping half cup of greek yogurt, and wow does it make all the difference. I typically bake my chocolate cupcakes with buttermilk or sour cream, so I was nervous baking these up the first time. I was so wrong to be! They were amazing! Funny enough my first batch was too moist. That's rare when it comes to chocolate cupcakes. After a few tweaks, I worked out all of the kinks and created what I consider to be one of the best chocolate cupcakes on the market. Try it for yourself and I just know you'll agree 😉
The frosting is thick, creamy, and, of course, booming with rich, decadent chocolate flavor. The ingredients are pretty basic as far as buttercream go: butter, sugar, cocoa powder, salt. What makes it extra extra awesome is a generous dollop of Greek yogurt and half and half. I find the combination of Greek yogurt and half and half creates a buttercream that can hold up to high swirls but still just melts in your mouth. So perfect.
This is a great recipe for when you're looking for something a little more exciting than your standard chocolate cupcake recipe, and a little easier than making a super decadent chocolate fudge cake with chocolate fudge frosting. Moist, rich, and topped with the most addicting chocolate buttercream ever (trust me; you won't be able to stop "taste testing").
These cupcakes are the total package! Just be sure you have a tall glass of milk near… you'll need it 😉 xoxo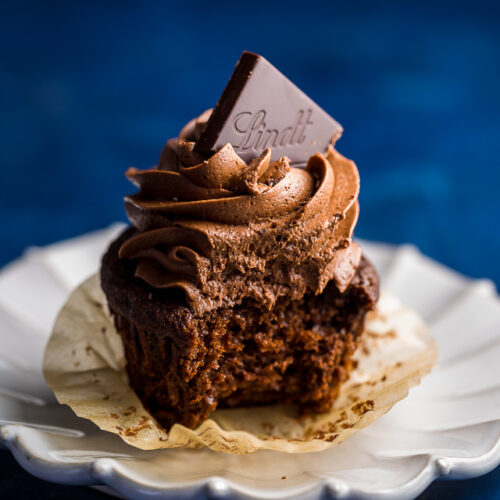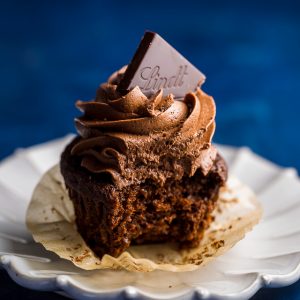 Greek Yogurt Chocolate Fudge Cupcakes
Ingredients
2 tablespoons canola oil
1 stick unsalted butter, melted and slightly cooled
1/2 cup semi-sweet chocolate chips
1/2 cup granulated sugar
1/2 cup light brown sugar
2 large eggs + 1 large egg yolk, at room temperature
1/2 teaspoon vanilla
3/4 cup + 3 tablespoons all-purpose flour, not packed
1/2 teaspoon baking soda
1 teaspoon baking powder
1/2 cup unsweetened cocoa powder
3/4 teaspoon salt
1/2 cup full fat plain Greek yogurt
1/2 cup boiling water or coffee
For the Chocolate Greek Yogurt Buttercream:
1 stick unsalted butter
3 cups confectioners sugar
3/4 cup unsweetened cocoa powder
3 tablespoons Greek yogurt
3 tablespoons Half and Half
1/2 teaspoon salt
Instructions
For the cupcakes:
Preheat the oven to 350 degrees (F). Line a 12-cup cupcake/muffin tin with cupcake liners and lightly spray the liners with non-stick spray (optional, but it does help them peel right off).

Melt the oil, butter,and chocolate together in the microwave, heating in 30 second increments, and stirring between increments each time. You may also melt the oil, butter, and chocolate over very low heat on the stovetop, but I find the microwave option to be much easier. Whisk mixture until completely smooth; set aside to cool.

In a medium sized bowl combine the flour, baking soda, baking powder, cocoa powder, and salt; stir together until thoroughly combined; set aside.

In a large bowl, whisk together the eggs, yolk, sugars, and vanilla; beat until smooth. Add the cooled oil/butter/chocolate mixture and whisk until smooth. Add half of the flour mixture, then half of the Greek yogurt. Repeat the process until everything is added, and be sure to mix until JUST combined - then quickly stir in the hot water or coffee (depending on which you're using). It's important not to over mix, here! Just stir until evenly combined.

Divide the batter among the 12 liners in your prepared pan. Bake for 16-18 minutes, or until a toothpick inserted in the center comes out clean. Cool *completely before frosting.
For the Chocolate Greek Yogurt Buttercream:
Sift together the confectioners sugar and cocoa powder, whisking well to ensure it's bump and lump free!

Using a handheld mixer OR a stand mixer fitted with the paddle attachment, beat the butter on medium-high speed until creamy; about 2 minutes. Reduce speed to low and slowly add the sifted sugar/cocoa powder, alternating with the Greek yogurt and half and half, then add the salt. Once all of the ingredients have been added, beat on high speed until light and creamy and combined; beat for at least 1 minute on high.

Frost cooled cupcakes and top with any decorations if desired.

Cupcakes stay fresh at room temperature in an airtight container for up to 4 days.
Notes
*Half and half is sold in the dairy isle at most grocery stores. If you cannot find it, you can make your own by mixing 1 part whole milk with one part heavy cream.