These incredibly delicious chocolate chip muffins bake up soft and fluffy – and with no butter, sugar, or gluten in the recipe – they're healthy enough as an everyday snack. They taste even better than the muffins you'd grab at the bakery!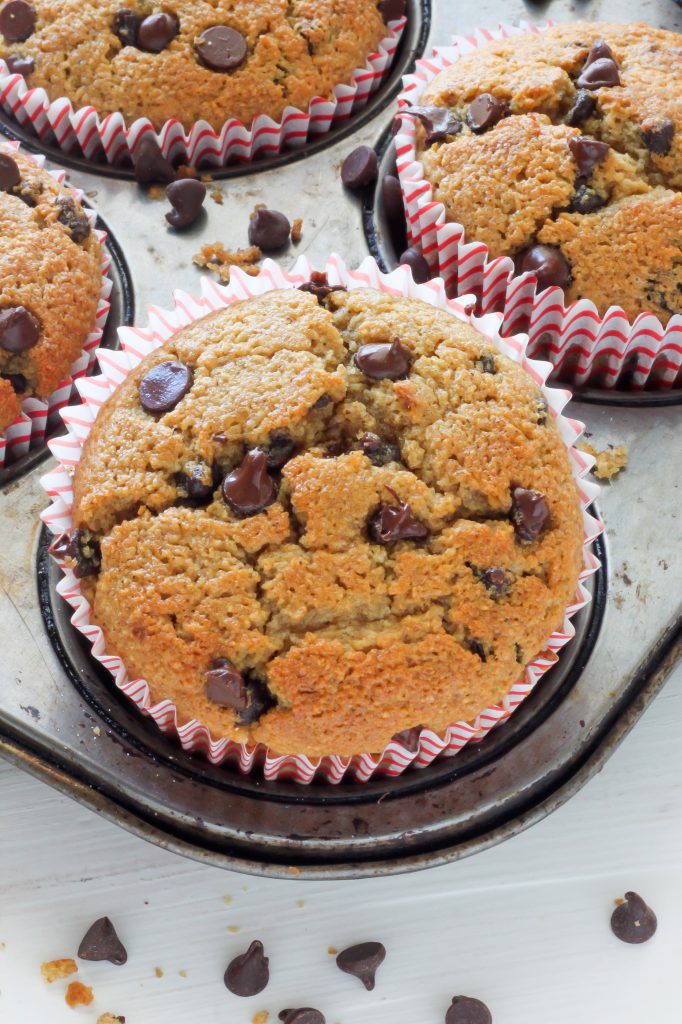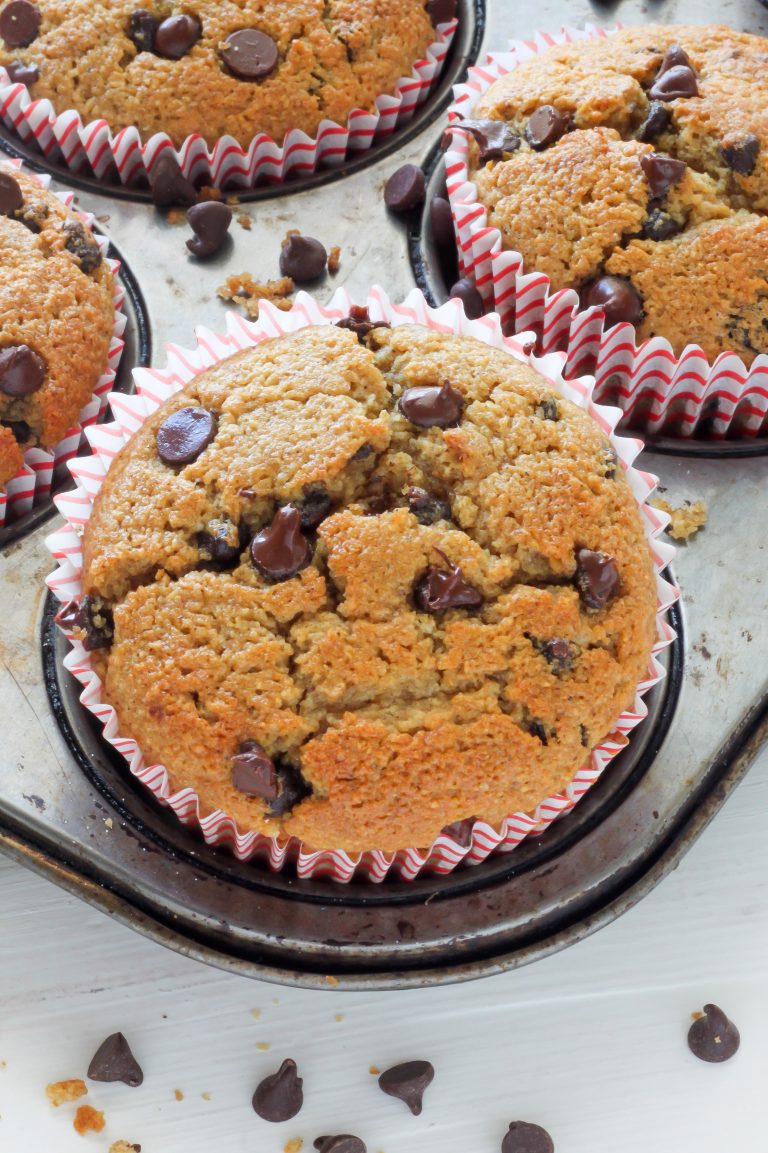 Healthy Homemade Muffins Recipe
Let me begin by telling you healthy or not – these are some of the best chocolate chip muffins to ever come out of my oven! The entire time I was making them I was felt like there was no way they would bake up into anything even semi-delicious, and when I saw how thin the batter was… the dread only doubled! Typically muffin batter is very thick, so as I poured the liquid batter into the prepared muffin tins, I was basically just gripping myself for muffin failure.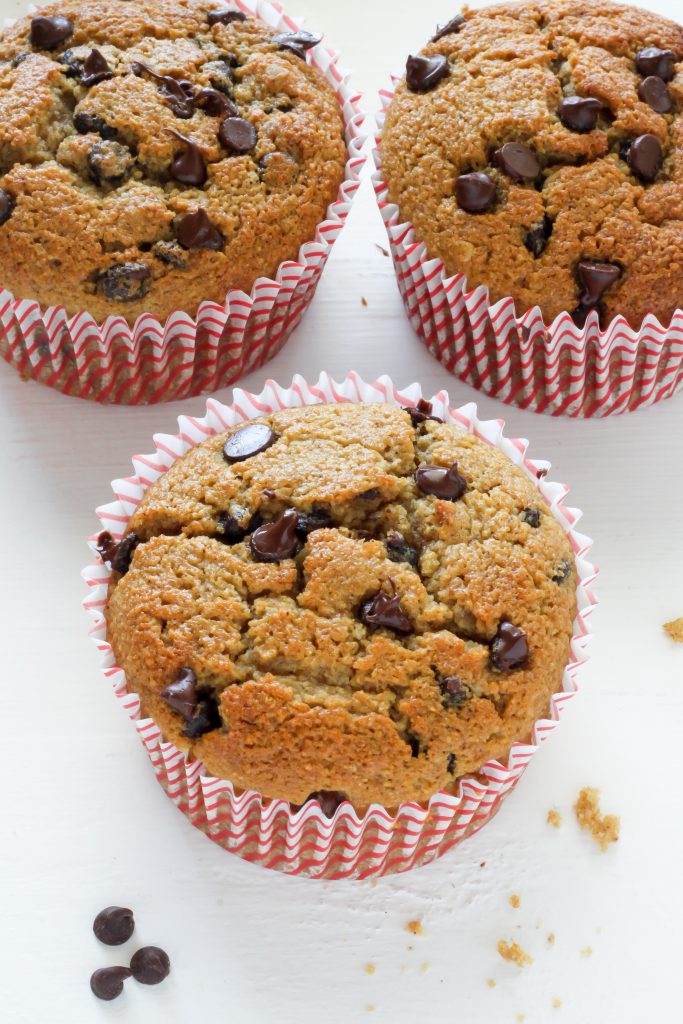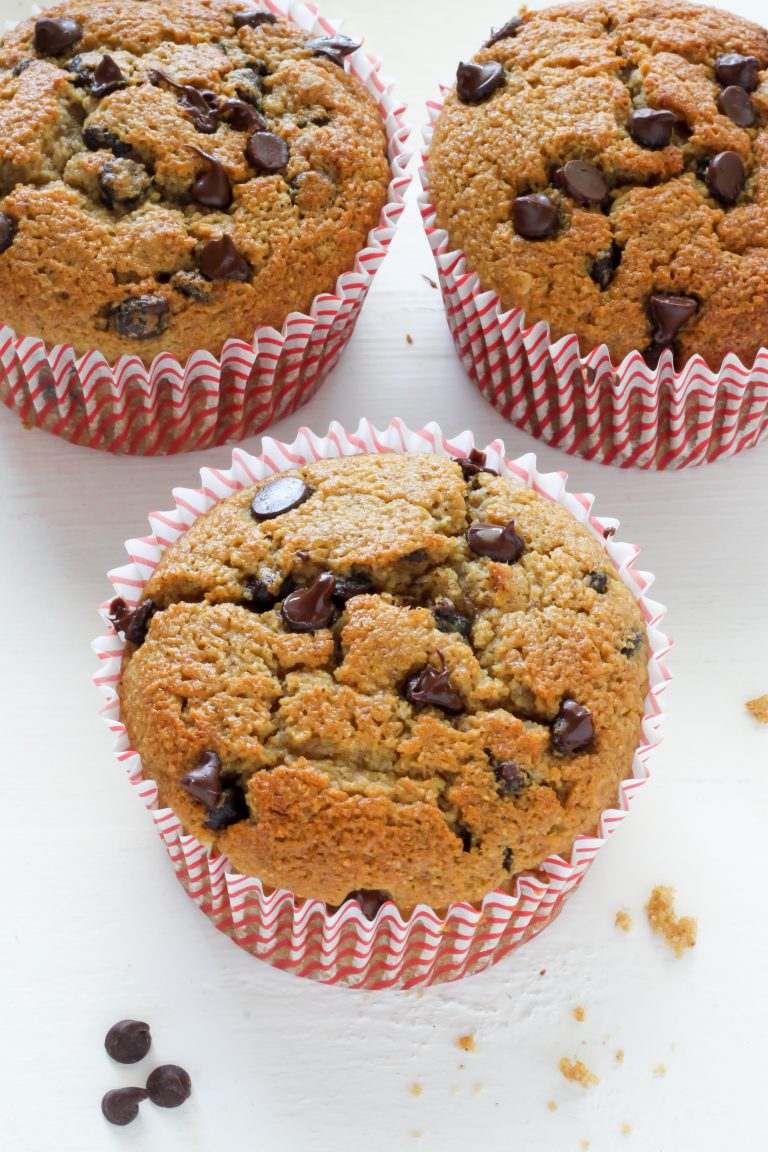 20 minutes later my low expectations were met with a wonderful surprise! Our house smelled amazing, the muffins looked perfect (light brown in color with a crunchy lid and plenty of melted dark chocolate chips), and as I polished off two in just a matter of minutes (no really, I couldn't stop myself!), I knew I had to photograph the rest asap so I could share them with you before the weekend! So here we are 🙂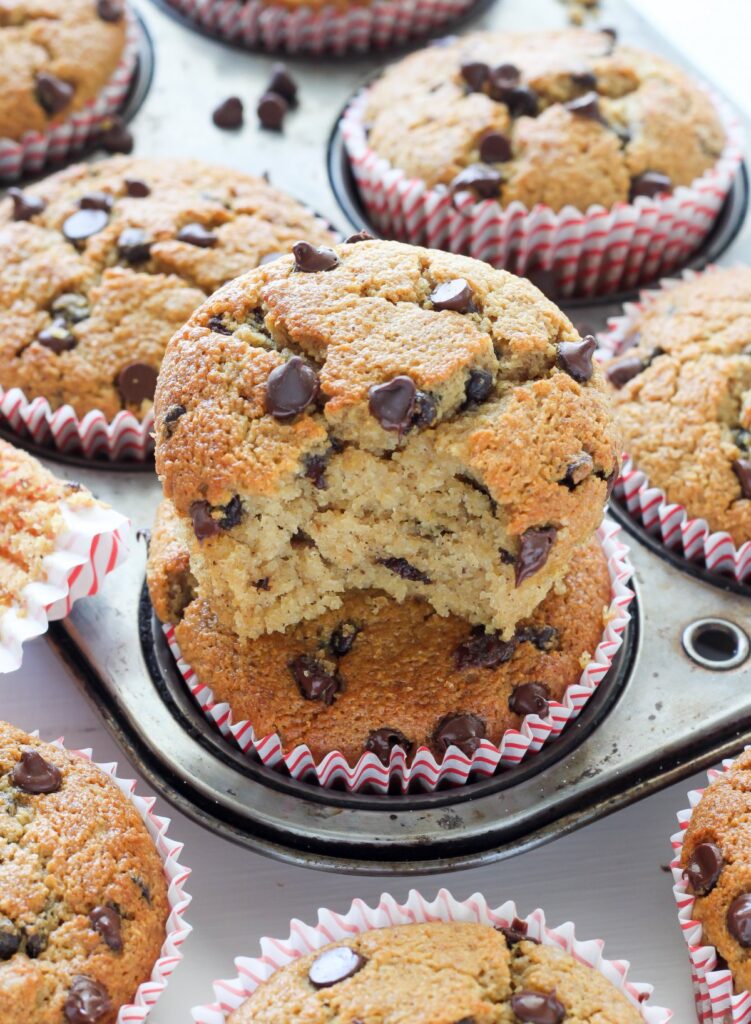 Low Calorie Applesauce Muffins
So, let's talk about how these seriously amazing muffins are healthy. To do that we'll dive into the ingredient list head first!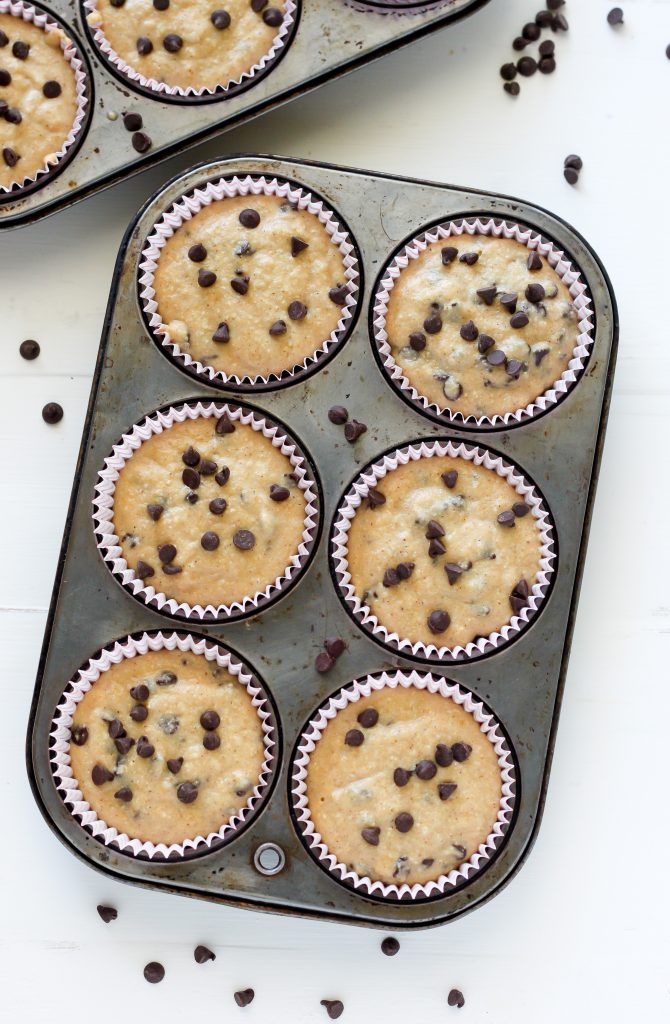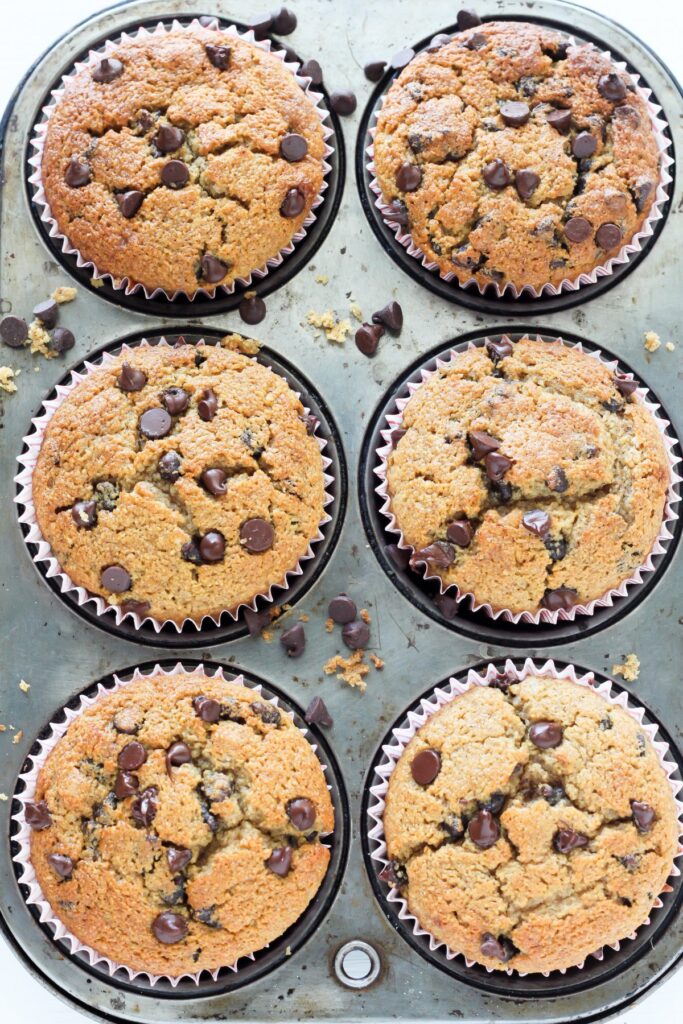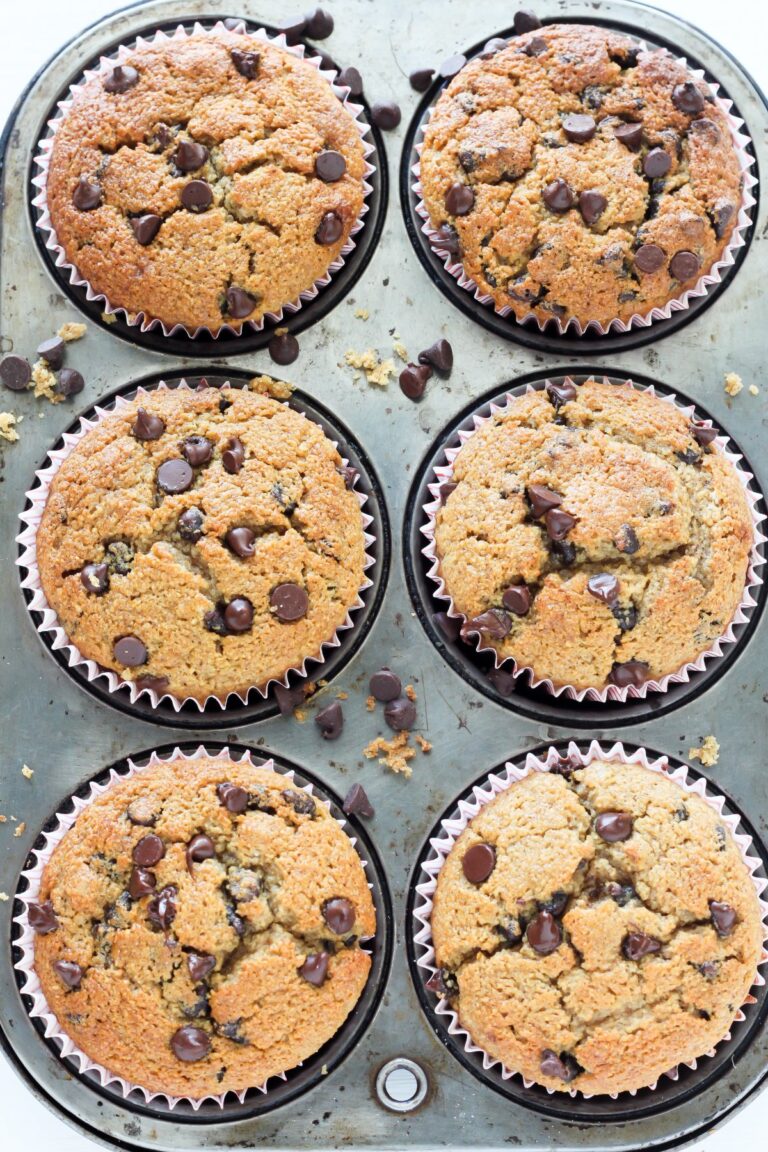 These muffins are made with oat flour which is low in calories and gluten free (at least most oat flours are, be sure to check if you're gluten intolerant). If you can't find oat flour at your local grocery store, or you'd rather not buy a whole bag before trying it – I've got you covered! Simply pulse oats in your blender or food processor until they're ground like flour. That's how I do it every time. The other dry ingredients in this recipe are the baking basics: cinnamon, a pinch of ginger (optional but I love the subtle kick it adds to these muffins), baking soda, baking powder, and salt.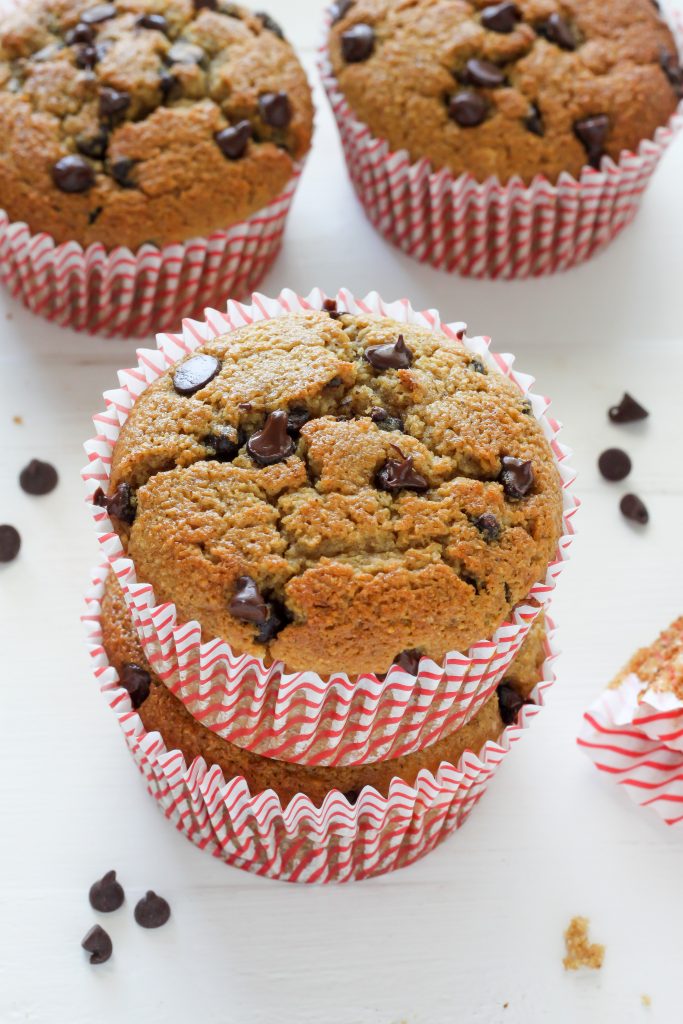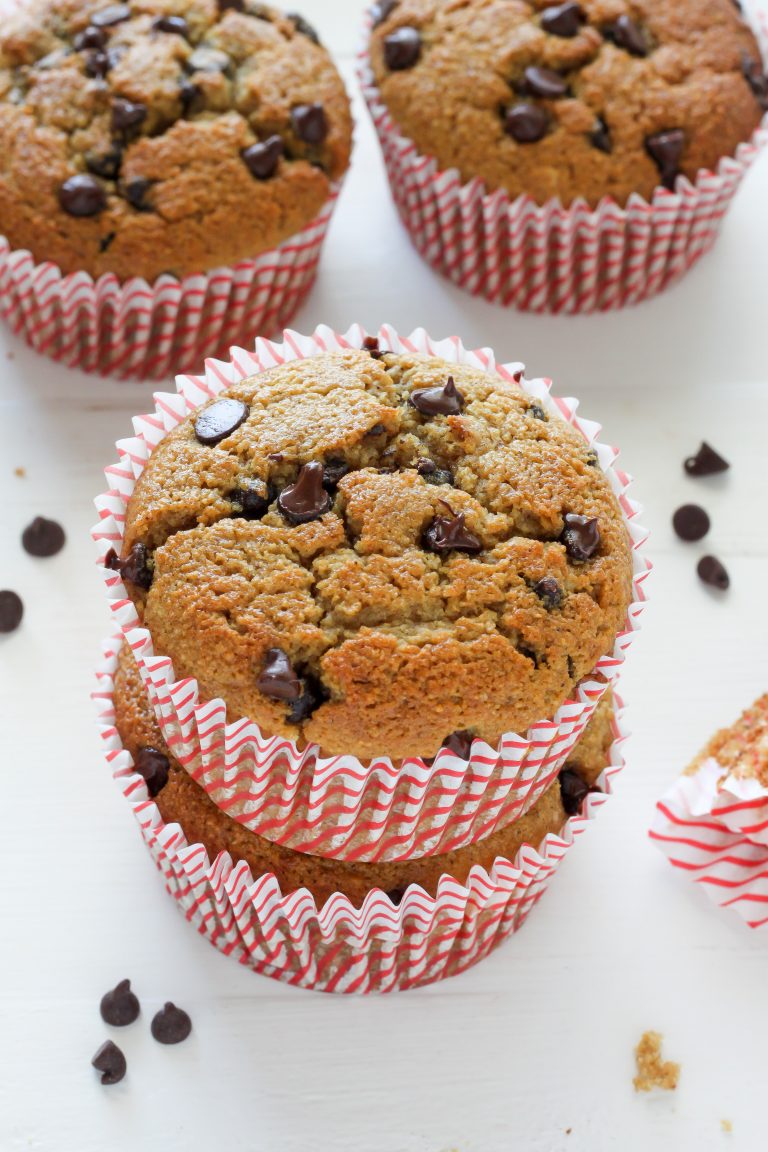 They're also made with NO sugar – at all. Instead of using granulated sugar or brown sugar I use a hearty dose of pure maple syrup. I like to use grade B maple syrup here (the real good stuff!) but grade A will work, too. Just be sure you use real maple syrup, and not pancake syrup (which is usually loaded with tons of junk).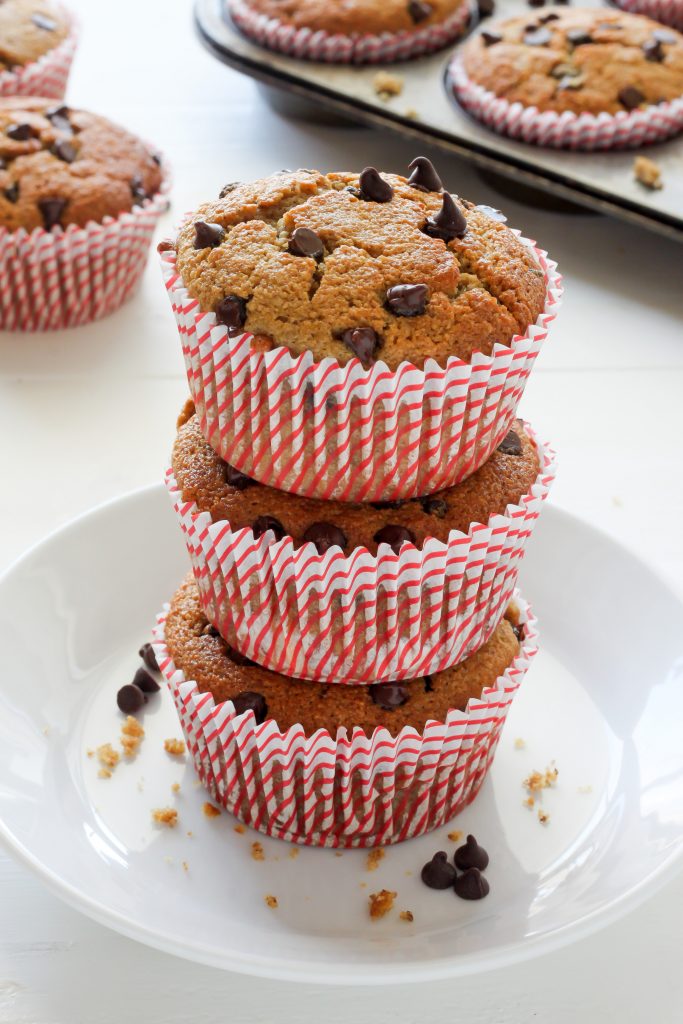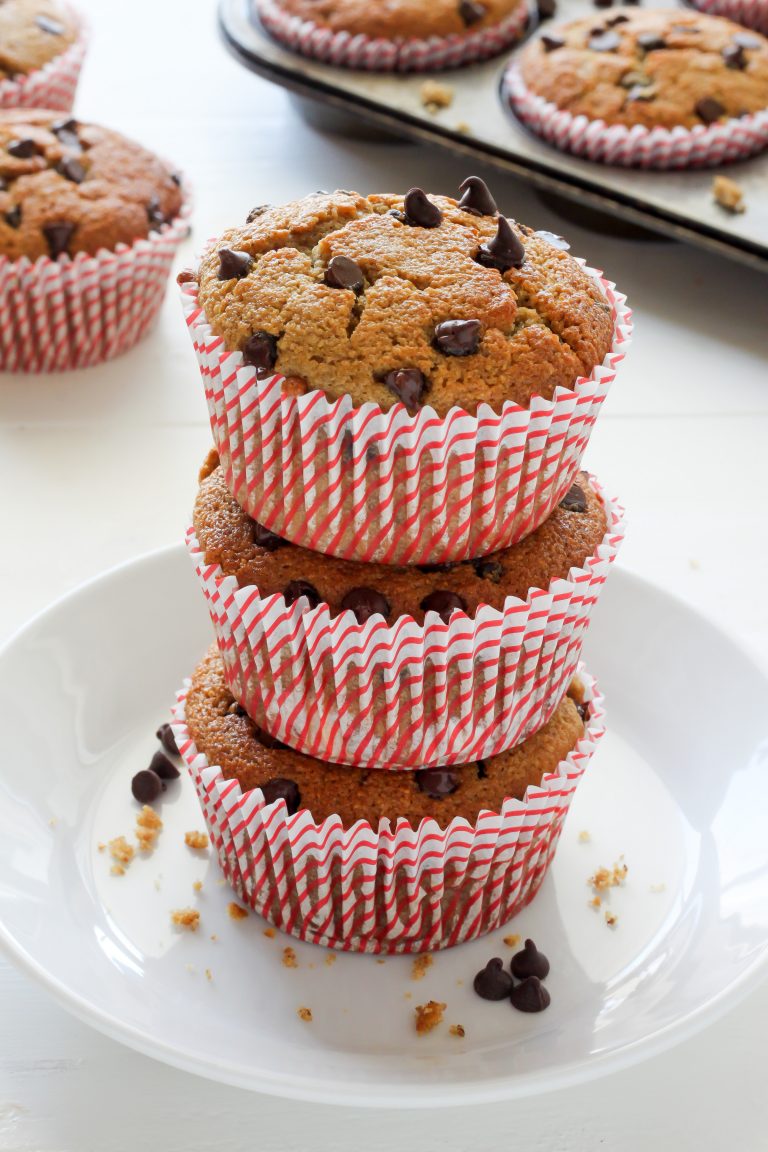 The other wet ingredients in this recipe include eggs, milk (I used unsweetened vanilla almond milk here, but if you have a nut allergy feel free to sub in cow's milk or soy milk), unsweetened applesauce (you won't taste it), and oil.
For the oil you have some options! My personal favorite to use here is melted coconut oil, but you may use olive oil, or even melted butter if that's all you have on hand. I think canola oil and vegetable would work too… but since I haven't tried it myself, I can't say for sure. Also, I personally think those oils would make these a little less healthy. But that's just me.
For the chocolate I chose to use mini dark chocolate chips that I've been saving for a rainy day! You could definitely use regular chocolate chips here, too. If you're not a fan of dark chocolate, give semi-sweet or milk chocolate a try instead. I only call for a half cup in the recipe below, but feel free to have a heavier hand here if you'd like to be a little more indulgent 😉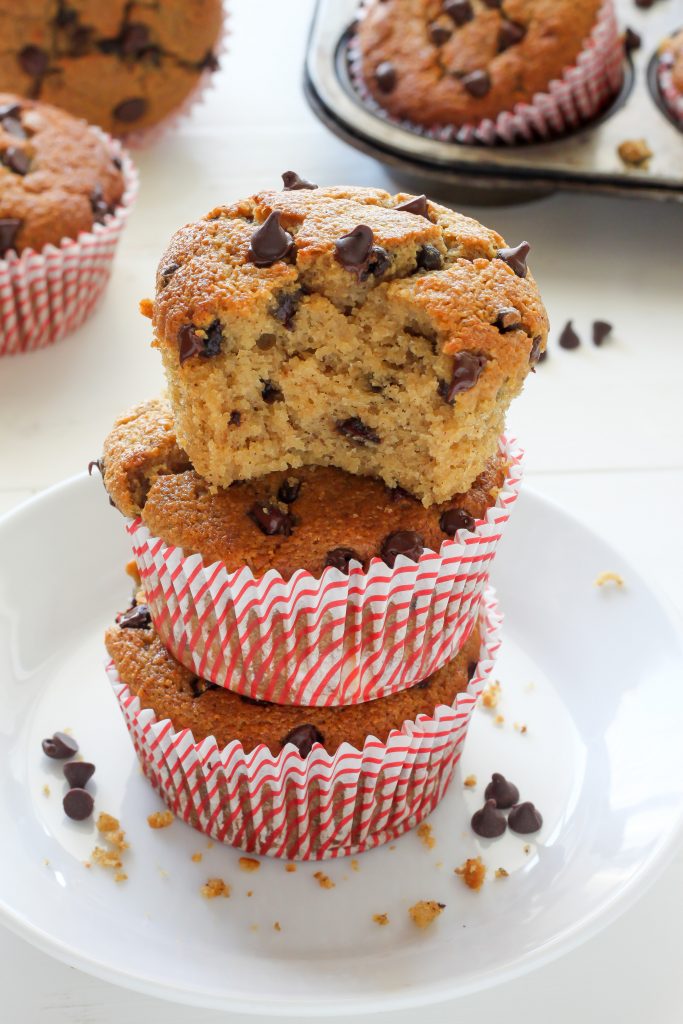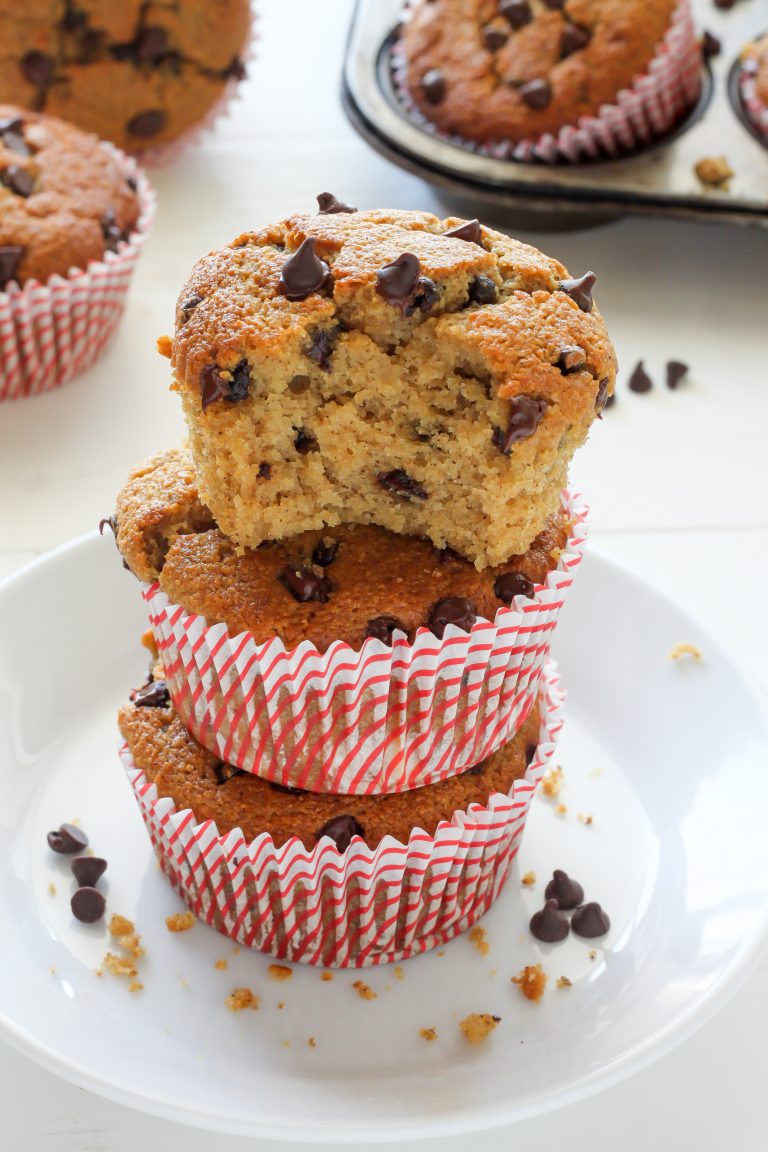 These muffins bake for 20 minutes, but you'll need to adjust the temperature half way through. You'll start them at 450 degrees, then reduce the temperature to 400 degrees. This method gives the muffins their crunchy lids and soft, fluffy interiors – so be sure to set your timer. The muffins will be quite soft when they come out of the oven. Please let them cool in the muffin tin completely before gobbling! This final step is a hard one (they smell so good!) but important for their texture.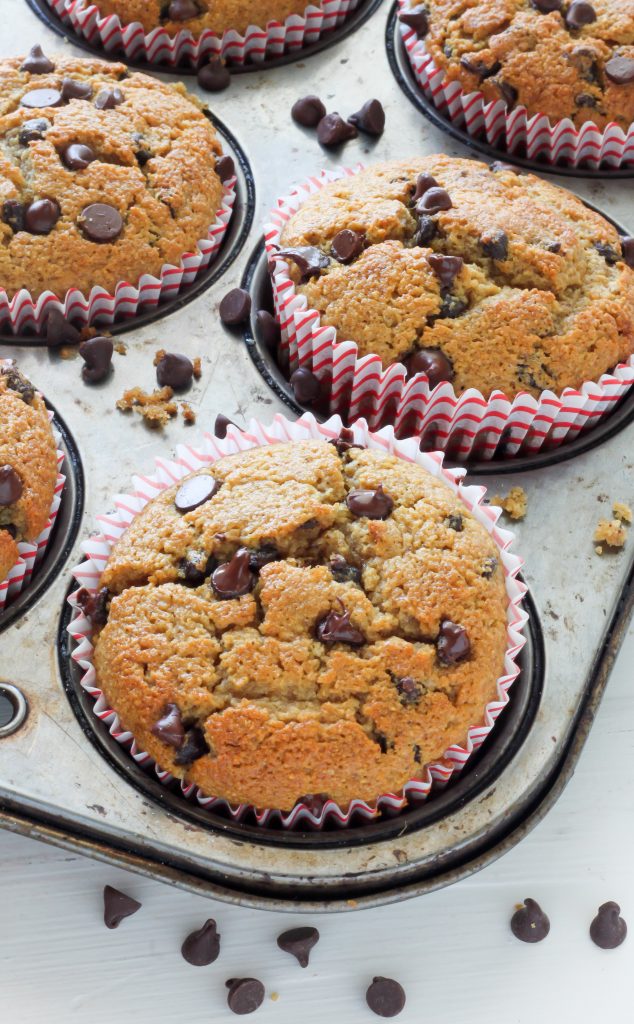 And that's that! These muffins are perfect for breakfast, brunch, dessert, and anywhere in between. I've already made another dozen and popped them in the freezer so I can pack them in lunch boxes or grab one for a quick breakfast on-the-go. If you a have a large family, you might want to double it up, too 😉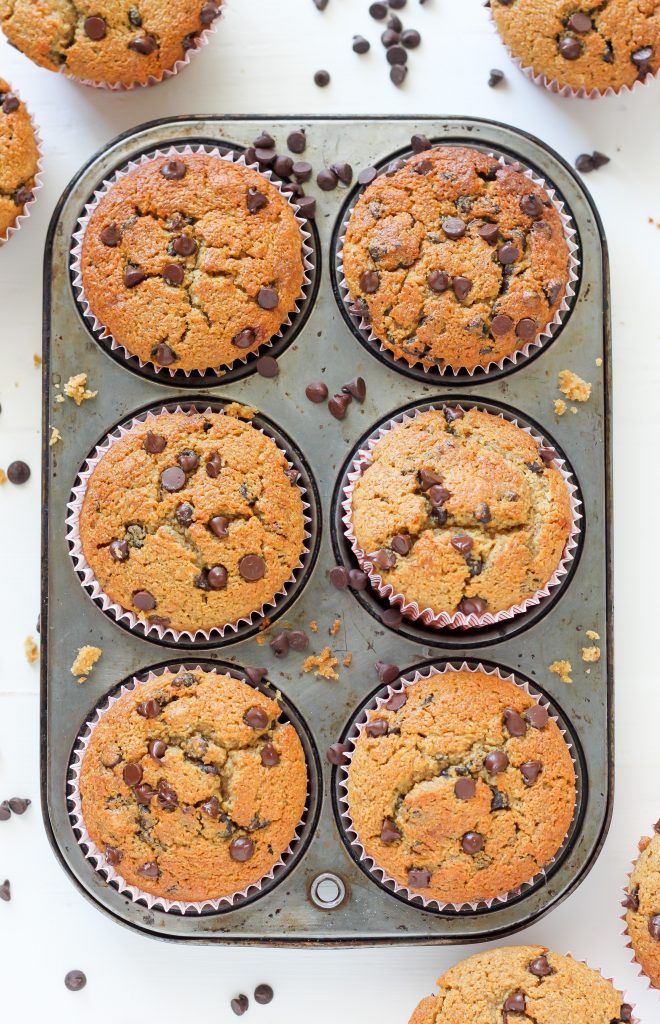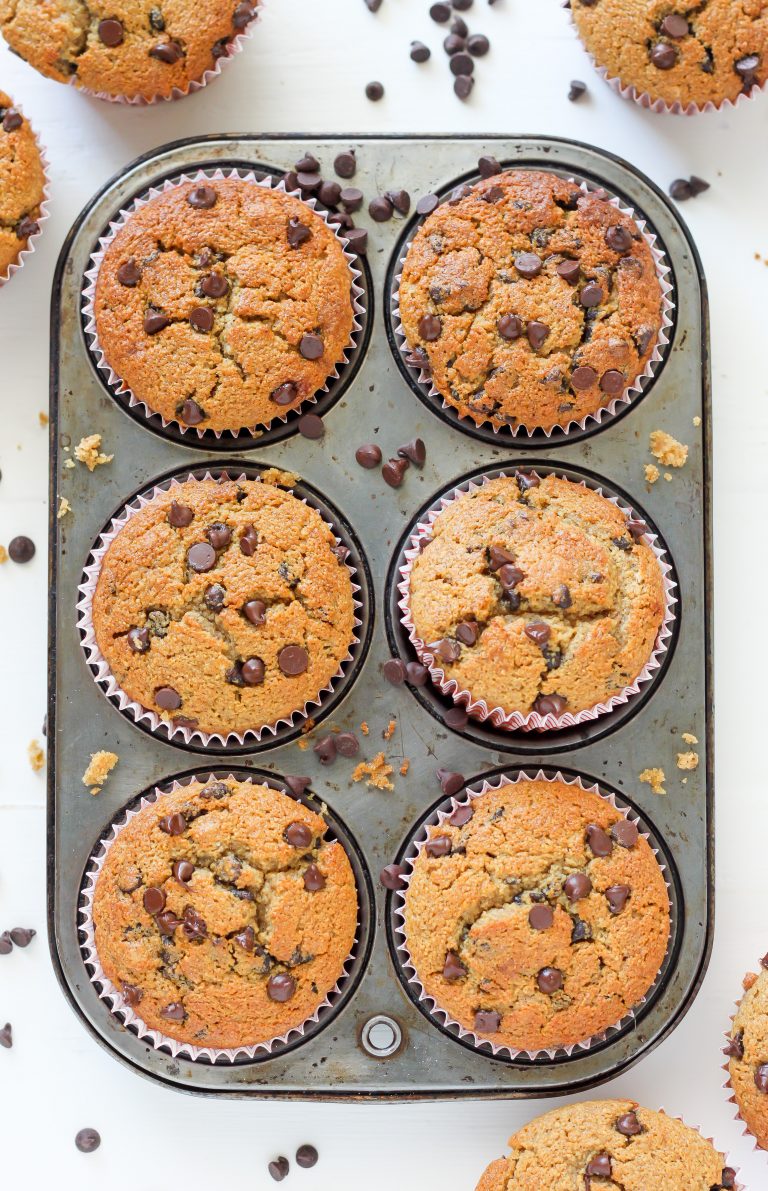 So, what are you doing this weekend? We're having dinner at home tonight (I'm cooking steak and tons of vegetables and am hungry just thinking about it) then we're going to hear some live music. Should be pretty fun! I hope whatever you do it's safe and relaxing 🙂 See you tomorrow with something sweet. xoxo
More Healthy Muffin Recipes: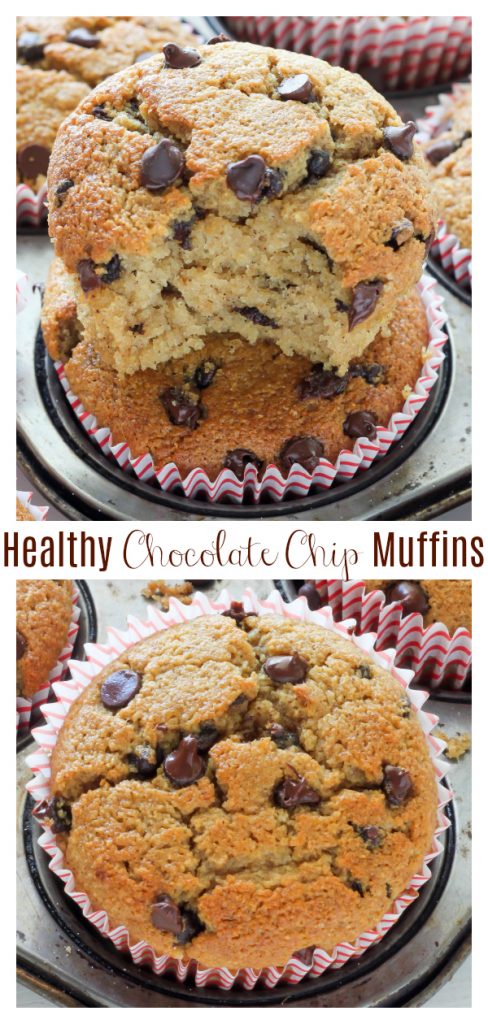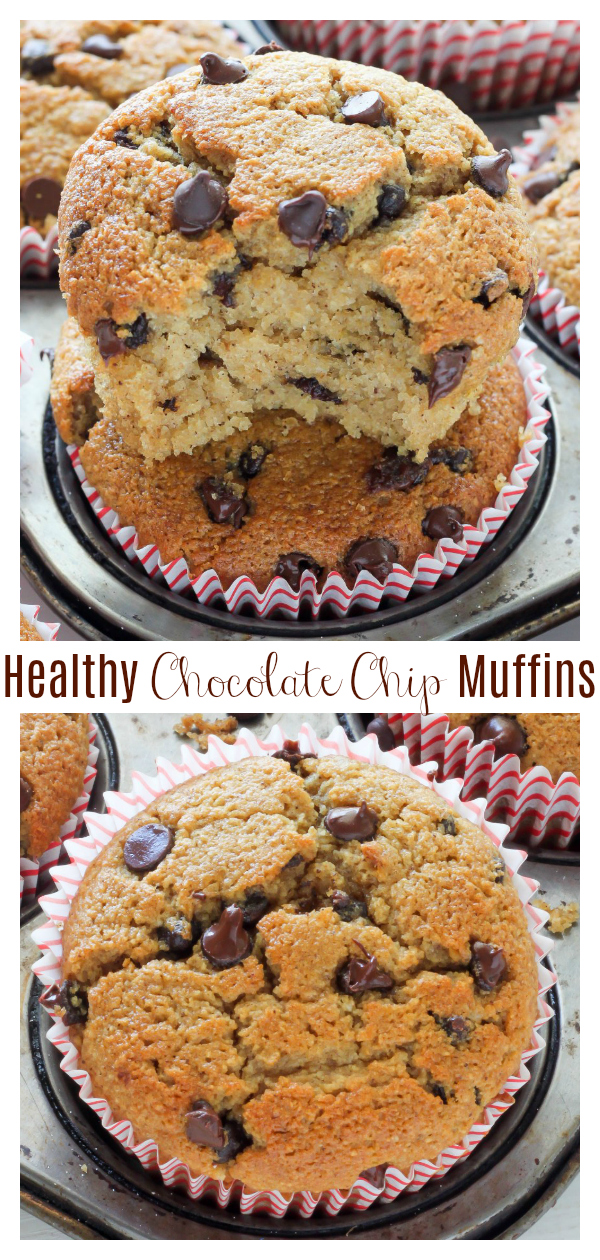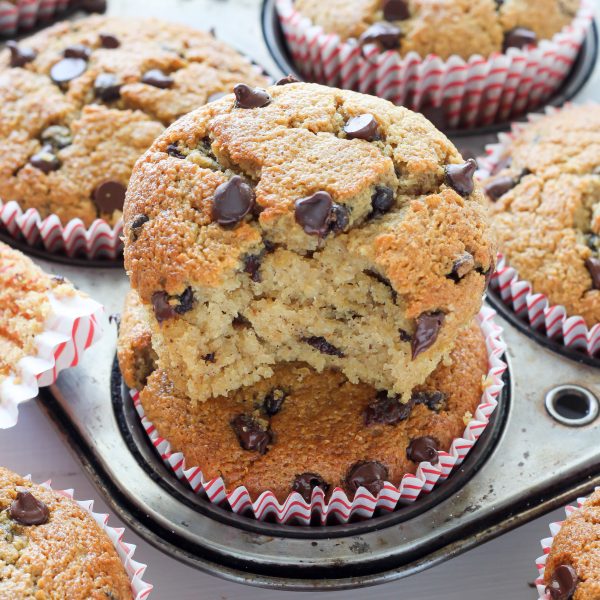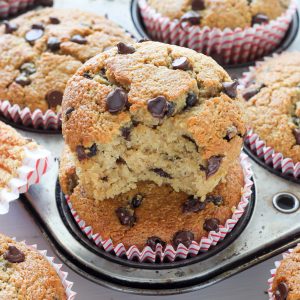 Healthy Bakery Style Chocolate Chip Muffins
Bakery Style Chocolate Chip Muffins made healthy! This recipe is made without sugar, butter, or gluten!
Ingredients
2 cups oat flour (you can make this by simply grinding up oats in the blender until they're powder)
1/2 cup mini chocolate chips
1 teaspoon baking soda
2 teaspoons baking powder
1 1/4 teaspoons cinnamon
Pinch ground ginger (optional)
1/2 teaspoon salt
2/3 cup maple syrup
2 large eggs, room temperature
1/3 cup coconut oil, olive oil, OR unsalted butter, melted
1 cup unsweetened applesauce
1/2 cup unsweetened almond milk
Instructions
Preheat oven to 450 degrees (F). Line a muffin tin with paper or foil liners; set aside.

In a large bowl combine the oat flour, mini chocolate chips, baking soda, baking powder, cinnamon, ginger (if using), and salt; whisk well to combine. In a separate bowl whisk together the maple syrup, eggs, oil (or butter), applesauce, and milk; mix well until thoroughly combined. Gradually add the wet mixture into the dry mixture, stirring until combined. The batter will be quite thin - not to worry!

Divide the mixture among the prepared muffins. Bake for 10 minutes, then reduce the heat to 400 degrees (F) and continue baking for another 10 minutes. Remove pan from oven and allow the muffins to cool completely in the muffin tin. Serve at once or store in an airtight container for up to 3 days. We love to freeze these, too. They'll last in a freezer bag stored in your freezer for 1 month.
Notes
To make these nut free you may use soy or cow's milk in place of the almond milk. If you are gluten intolerant please make sure all of your ingredients are labeled gluten-free (including baking powder/baking soda/etc.) I am not claiming this recipe is low-calorie, however it is comprised of healthy ingredients and is much lower in calories than store bought muffins and many other muffin recipes.