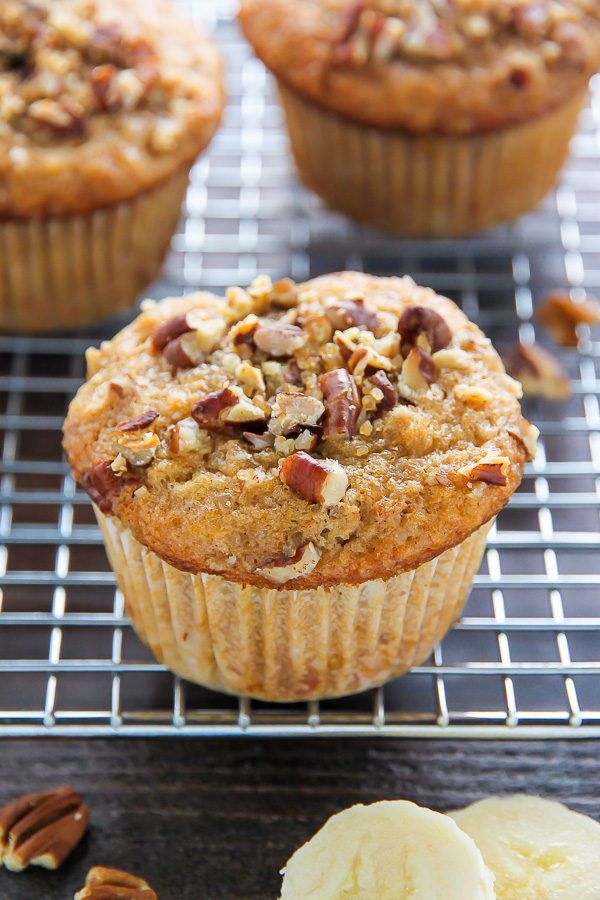 Hello and welcome to banana bread muffin nirvana. If you've been longing for a new muffin recipe that's healthy, fluffy, full of flavor, and absolutely delicious – I've got just the recipe for you!
These healthy banana bread granola muffins are sweet, packed with banana bread flavor, incredibly moist, and excitingly crunchy —> basically, they're just every kind of amazing.
These muffins were inspired by an old favorite of mine – these (vegan) cinnamon sugar doughnut muffins. Have you made them yet? They're soft, fluffy, surprisingly good for you, and taste like a dang doughnut! Amazing. So amazing in fact that I took them and made them into new muffins for you!
And oh my are they amazing. And simple. And sure to be a new favorite.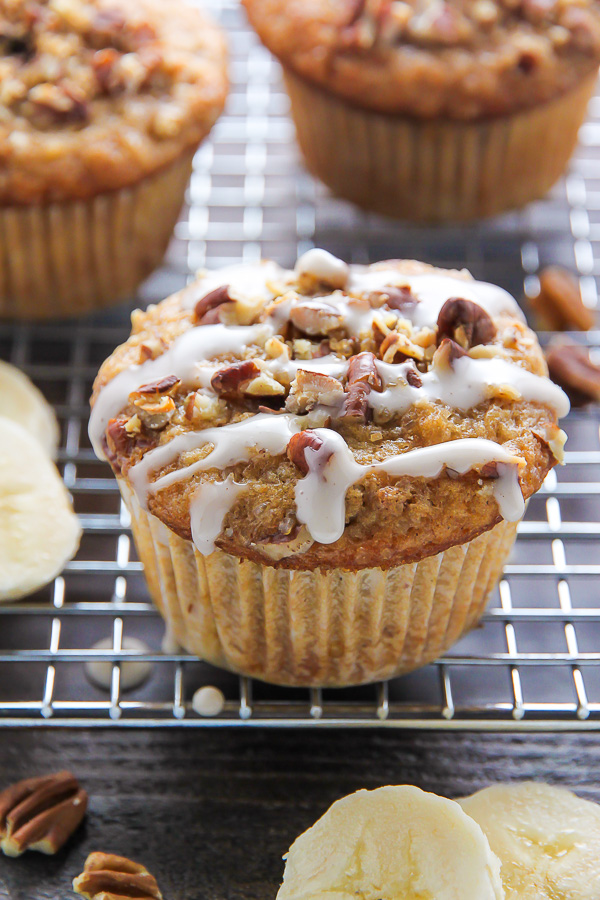 The batter is assembled quickly and requires no fancy equipment. If you have a whisk, measuring cups, and two bowls – you can make these! And the bake time is a short 20 minutes. Meaning, technically, if you stopped reading right now, jumped to the recipe, and shuffled to your kitchen with great haste, you could be eating warm muffins in a half hour!
But you should probably stick with me for a few more seconds! Because I have hot muffin details you don't want to miss 😉 I promise to keep it short and to the point.
Here is all of the muffin information you need to bake up a perfect batch in your very own kitchen:
1) Ripe bananas matter! Seriously friends, please use the ugliest black and brown bananas you can get your paws on. The mushier the better!
2) This recipe calls for coconut oil, and although I have included some substitutions in the notes section (you'll find this below the recipe), if you can find coconut oil, I really recommend using it. And don't worry – the coconut flavor is subtle! 
3) Be very careful to combine your batter gently. The road to over mixing is so so easy to find yourself on, and sadly, it only leads to dry, spongey muffins. Blech! I find the best rule of thumb is to slowly stir just until your ingredients are combined, or until 99.9% of the dry ingredients have visually disappeared into the batter.
4) When it comes to these muffins, I highly recommend sticking to the recipe 100% – unless it's a change I've mentioned is OK in the notes below.
I hope you make these simple, sweet, soul-warming muffins and share them with someone you love!
If you give these fabulous muffins a try, please let me know! Leave me a comment below letting me know how you enjoyed them or tag a picture on instagram using the #bakerbynature – I see every single one you post and it always makes me smile. Love you guys!
Healthy Banana Bread Granola Muffins
Yield 12 muffins
Soft, fluffy banana bread muffins topped with crunchy granola! Hearty enough for breakfast, but healthy enough for an afternoon snack.
Ingredients
1 cup unbleached all-purpose flour
3/4 whole wheat flour
3/4 cup light brown sugar, packed
1 tablespoon baking powder
1/2 teaspoon kosher salt
1 teaspoon ground cinnamon
1 cup ripe bananas, mashed
1/2 cup almond milk
1/2 cup coconut oil, at room temperature (it should be completely liquified before adding it to the batter)
For the topping:
1/2 cup granola of your choice
1 teaspoon cinnamon
Instructions
Preheat oven to 425 (F). Grease - or line with paper muffin cups - a 12-mold standard size muffin tin: set aside.
In a large bowl stir together flours, sugar, baking powder, salt, and cinnamon. In a separate bowl, whisk together the mashed bananas, almond milk and melted coconut oil. Slowly mix the wet ingredients into the dry, stirring the mixture together until just combined.
Spoon the batter into the prepared muffin cups, filling each mold 2/3 of the way full. Sprinkle the top of each muffin with a little cinnamon and granola.
Place the pan in the oven and bake for 10 minutes; after 10 minutes reduce the heat to 400 degrees (F) and continue to bake for an additional 8-10 minutes, or until muffins are golden brown and a tester inserted in the center of a muffin comes out with just a few crumbs attached.
Allow the muffins to cool in the pan for at least 5 minutes, then transfer them to a cooling wrack to cool completely.
Notes
*This recipe, when made as written, is vegan.
*You may substitute olive oil or canola oil for the coconut oil, if desired.
*If you plan on substituting olive oil, I highly suggest using a very mild olive oil, as the flavor will shine though in the finished product.
*You can use unsweetened vanilla almond milk or regular almond milk
*If you prefer to use cow's milk, any fat % will work ok, just remember that by doing this the muffins will no longer be vegan and dairy free.
*It is important to use ripe or overripe bananas for this recipe.
*I do not recommend leaving out the oil entirely; doing this will result in spongey, unappealing muffins.
*If you want/need the muffins to be vegan, don't forget to choose a vegan granola 😉
Nutrition Facts
Serving Size 1 muffin
Amount Per Serving
% Daily Value
* Percent Daily Values are based on a 2,000 calorie diet. Your daily values may be higher or lower depending on your calorie needs.