Healthy Chocolate Banana Bread is perfect for breakfast!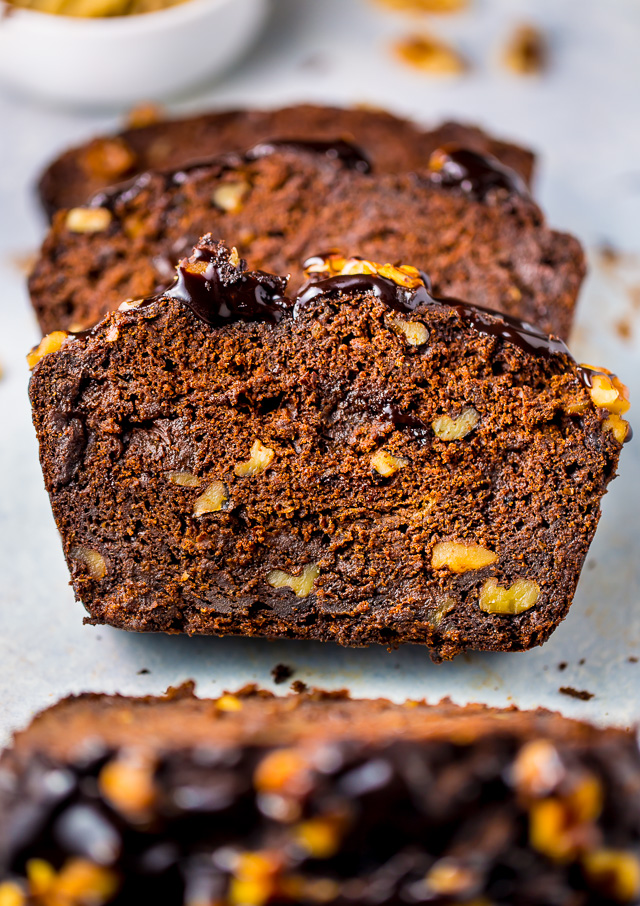 If you've been reading my blog for a while now, you probably already know how I feel about bananas.
↑ I hate them. UNLESS they're in banana bread. Or cake. Or a smoothie. Then I'm a total fan girl. But a raw banana?! Please no. Never. Ever. EVER.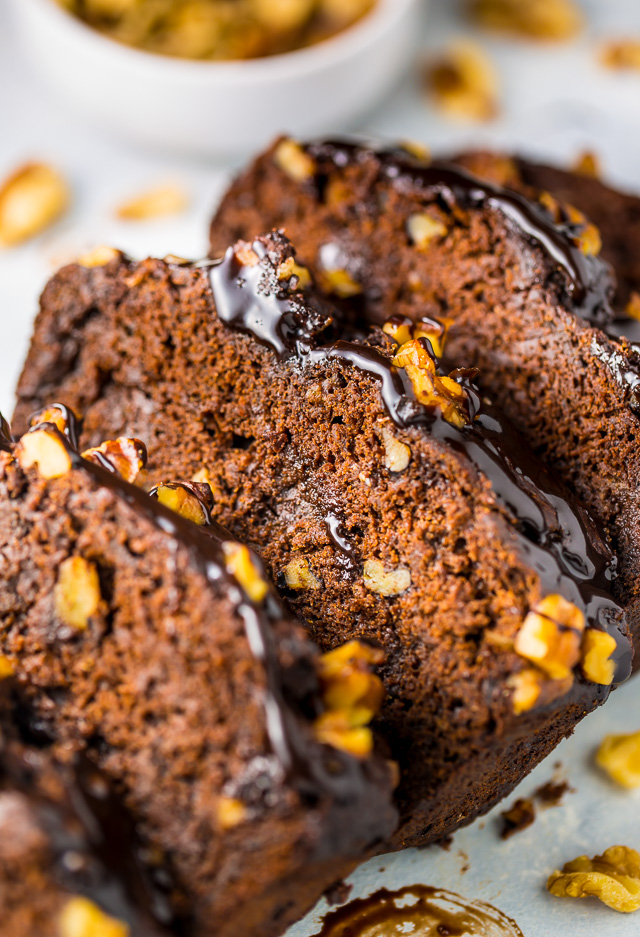 Anyway! I was thinking a lot about banana bread yesterday. More specifically, what could make banana bread even better than it already is…
Light bulb moment: CHOCOLATE! Lots of it. Added a few handfuls of walnuts too, which went great with the chocolate and banana flavors.
Tips and Tricks for Recipe Success:
This healthy chocolate banana bread is not overly sweet! The recipe only calls for a 1/3 cup of coconut sugar, but if you want a sweeter loaf, you can round it up to a 1/2 cup.
If you cannot find coconut sugar, you can substitute an equal amount of packed light brown sugar.
Make sure you sift your cocoa powder before you add it to the dry ingredients.
The walnuts and chocolate chunks are both optional, but great additions to this healthy chocolate banana bread. I love the texture that chunks of chocolate add, but you can totally use chocolate chips instead.
Use whatever variety milk you have on hand! I've made this loaf with cow's milk, almond milk, and coconut milk. I haven't tried it with soy milk, but I assume it will work just fine.
I call this healthy chocolate banana bread healthy because, to me, it's made with healthier ingredients I feel good about. That said, it's still banana bread!
If you want an extra decadent treat, drizzle the loaf is chocolate syrup before serving! I used store bought, but you can also use homemade 😉
Have a safe, peaceful, and delicious weekend, my friend! I'll be testing a few new recipes (including pretzel buns!!!) and hopefully I'll be able to pop in and share them with you soon.
But for now, why not try this healthy chocolate banana bread?! It's perfect with a cup of coffee!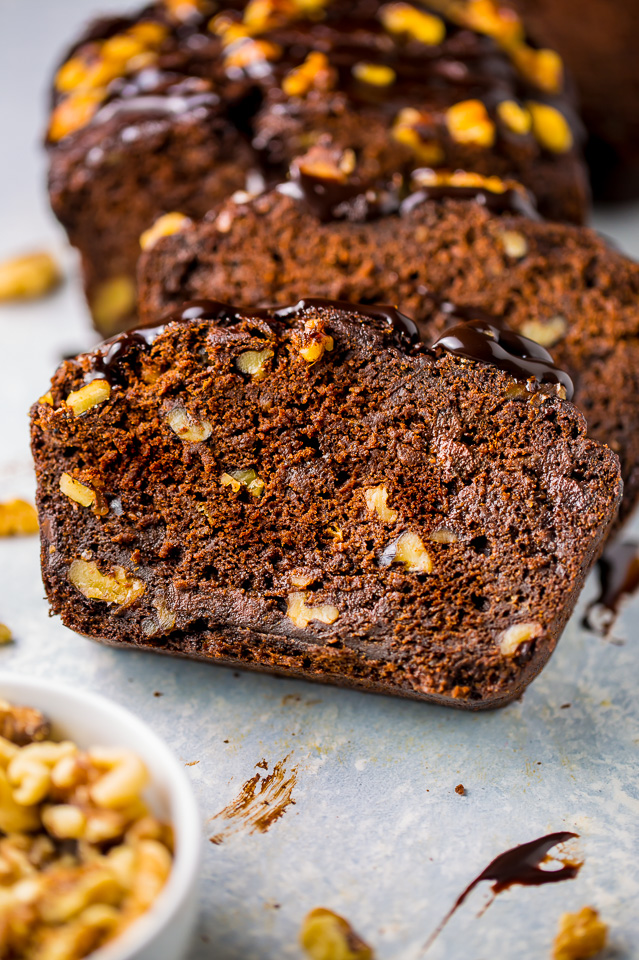 If you try this recipe for Healthy Chocolate Banana Bread, let me know what you think! Leave a comment below, and don't forget to snap a pic and tag it #bakerbynature on instagram! Seeing your creations makes my day.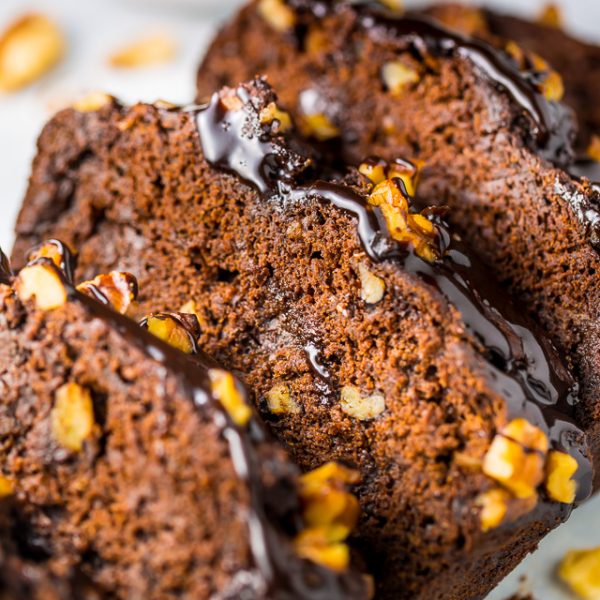 Healthy Chocolate Banana Bread
Healthy Chocolate Banana Bread is made with ingredients you can feel good about!
Ingredients
1 cup plus 2 tablespoons whole wheat flour
1/2 cup unsweetened cocoa powder, sifted
1 teaspoon baking soda
1 teaspoon baking powder
1/2 teaspoon salt
3/4 teaspoon ground cinnamon
1/3 cup coconut sugar (use 1/2 cup for a sweeter loaf)
1/3 cup coconut oil, melted
2 large eggs, lightly beaten, at room temperature
3 teaspoons milk (cow's milk, almond milk, or coconut milk are all fine!)
2 teaspoons vanilla extract
1 and 1/2 cups VERY ripe banana, peeled and mashed (about 5 or 6 bananas)
3/4 cup chopped walnuts, optional
1/2 cup semi-sweet or dark chocolate, chopped into small chunks, optional
Instructions
Preheat oven to 350 degrees (F). Line a loaf pan with parchment paper and lightly spray with non-stick spray; set aside.

In a medium bowl whisk together whole wheat flour, cocoa powder, baking soda, baking powder, salt, and cinnamon; set aside.

In a large bowl combine coconut sugar, coconut oil, eggs, milk, and vanilla; beat until combined. Stir in the mashed bananas. Add in the dry ingredients and stir just until combined. Fold in the walnuts and chocolate chunks, if using.

Pour the batter into the prepared loaf pan, smoothing the top with a spatula. Bake for 1 hour, or until a cake tester inserted in the center of the loaf comes out clean. Allow bread to cool in the pan for 15 minutes before removing the loaf from the pan and transferring to a wire rack to cool completely. Once cool, slice and serve.
Notes
For substitution ideas, please read full post - especially tips and tricks section!