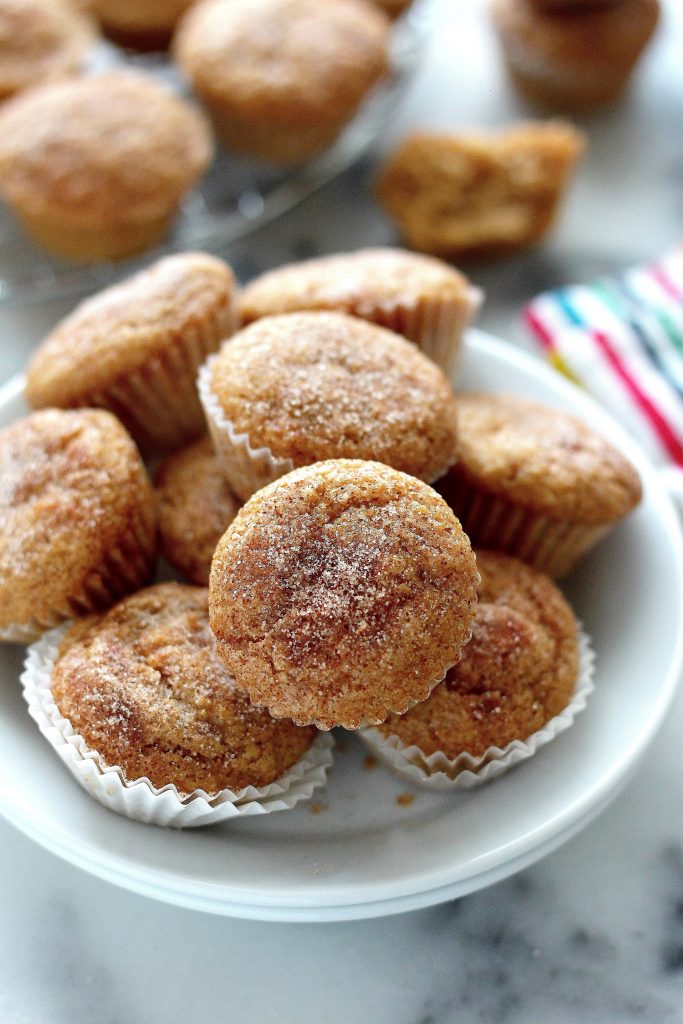 Hi Friends! I thought I'd pop in real quick on this sunny Sunday and share with you my new favorite snack: Healthy Cinnamon Sugar Mini Muffins! These tiny treats are loaded with 100% whole wheat flour, maple syrup, apple sauce, and cinnamon.
Spoiler alert: these are AMAZING! 
They're much lighter than any muffin you'll find lurking at the grocery store, and the best part? They taste INCREDIBLE! Their interiors are so soft and fluffy (you'd never guess they're made with whole wheat flour and NO butter) and their lids bake up crunchy and sweet. I just know you're going to love them!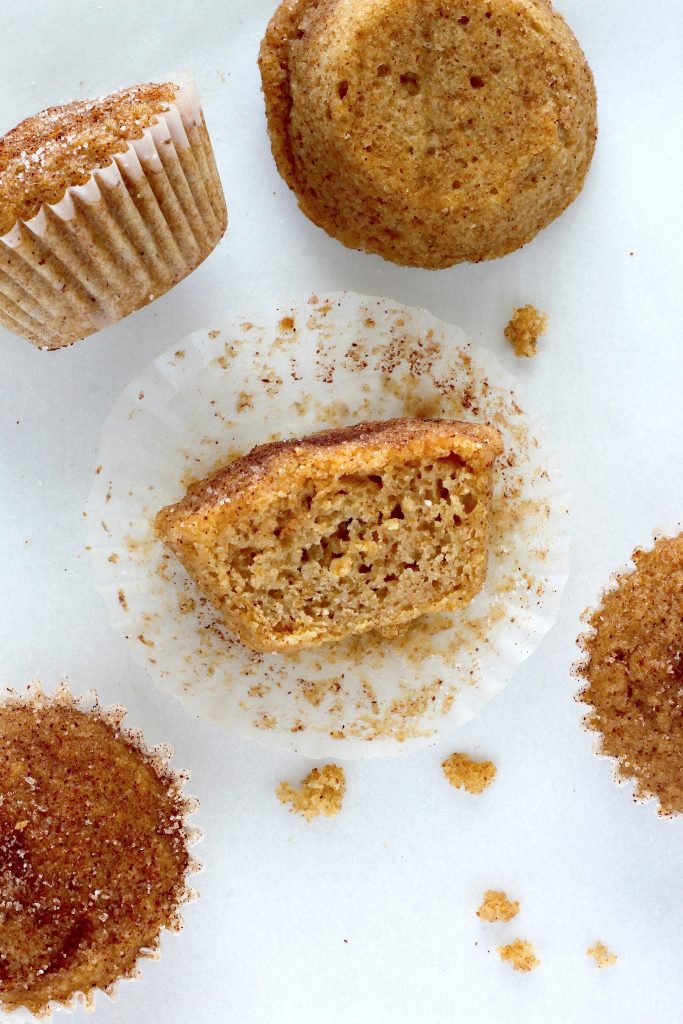 Give these a try next time you want a healthy, delicious snack. xoxo
Healthy Cinnamon Sugar Mini Muffins
Healthy bite sized cinnamon sugar muffins - bet ya can't eat just one!
Ingredients
1 and 3/4 cups whole wheat flour
1/2 cup + 2 tablespoons dark brown sugar, packed
1 tablespoon baking powder
1/2 teaspoon salt
1 teaspoon ground cinnamon
8 ounces applesauce (unsweetened)
4 ounces almond milk
1/4 cup + 2 tablespoons coconut or olive oil
2 tablespoons maple syrup
For the topping:
1 tablespoon granulated sugar
1 teaspoon cinnamon
Instructions
Instructions

Preheat oven to 400 (F). Grease or line a mini muffin tray; set aside.

In a large bowl stir together flour, sugar, baking powder, salt, and cinnamon. In a separate bowl, whisk together applesauce, almond milk, oil, and maple syrup. Mix the wet ingredients into the dry, stirring until just combined.

Fill the mini muffin cups 2/3 of the way full, sprinkle each with a little cinnamon sugar, and bake for 12-14 minutes, or until golden brown and cooked through in the center (a cake tester should come out clean, with just a few crumbs attached). Allow the mini muffins to cool in the pan for at least 5 minutes, then transfer to a cooling wrack to cool completely. Repeat process with remaining muffin batter.
Notes
*Store muffins in an airtight container for up to 3 days or in the freezer for 3 months.
*Canola oil may be used in place of the oils listed above
*skim milk may be used in place of the almond milk
*this recipe will work using all-purpose flour in place of the whole wheat flour
*this recipe, made as is, is vegan and dairy free