Like a cup of hot cocoa in cupcake form! ← Even more amazing than it sounds!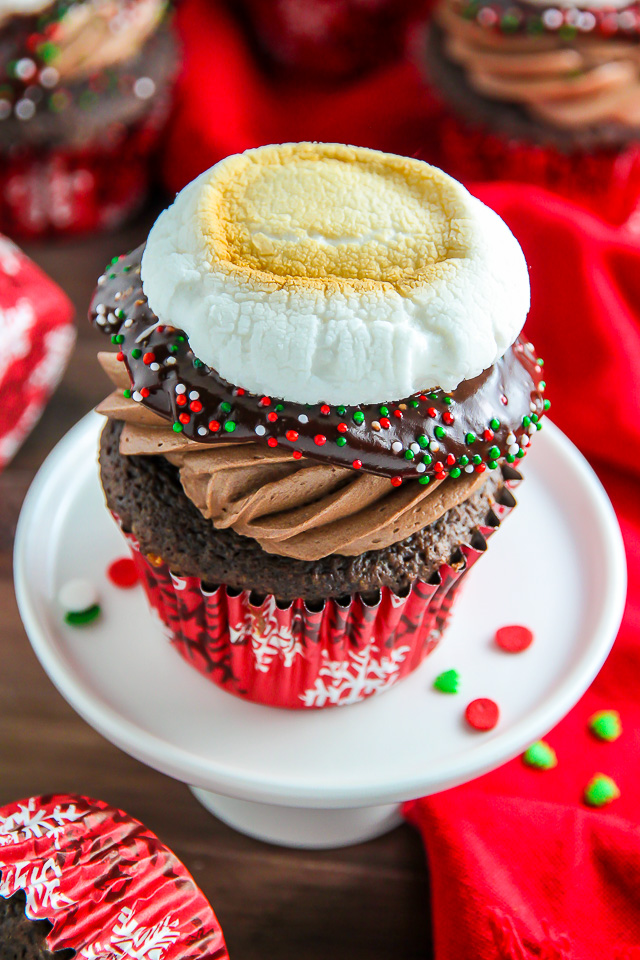 This holiday season has been a whirlwind! I feel like I've done more in the past month than I have the entire year. After spending the past few weeks eating my way through Germany and Paris, I'm finally home in the Hudson Valley for exactly one day before heading to Philly to celebrate my sister's birthday and then, Christmas!
Things I'm looking forward to include:
Baking cookies with my little brother.
Decorating the tree!
Wrapping Christmas presents and listening to Christmas music with my mom.
A cozy stay at a bed and breakfast for the weekend.
Christmas Eve dinner (I look forward to the 7 fishes all-year-long)
Christmas Brunch (I'm making a mimosa bar this year!)
Christmas dinner (the grand finale!)
What are your favorite holiday traditions?
On to the dessert! These homemade chocolate cupcakes, topped with a gooey toasted marshmallows, taste just like a creamy cup of hot cocoa.
The cupcake base is supremely moist, ultra fluffy, and full of rich, decadent chocolate flavor. The batter is made with eggs, egg yolk, melted butter, oil, sour cream, and hot coffee. All of these ingredients add intense moisture and flavor to the cupcake, and I do not recommend leaving any of them out. This is a recipe I suggest following to a T. Why mess with perfection?
P.S. If you'd like to make these cupcakes ahead of time – you can! These cupcakes may be frozen, unfrosted, for up to a month.

Time for the frosting! Cause a cupcake is nothing without a generous swirl of fluffy frosting. Am I right? ♥♥♥
These cupcakes are topped with a lush chocolate buttercream frosting that sounds (and tastes) a whole lot fancier than it is. In reality, it's quite simple to make! Just a few basic ingredients whipped up until smooth and creamy. The key to making luscious bakery style frosting at home? Soft butter. You'll want to leave your butter out on the counter for at least 30 minutes before beating it smooth. It should be a little softer than room temperature.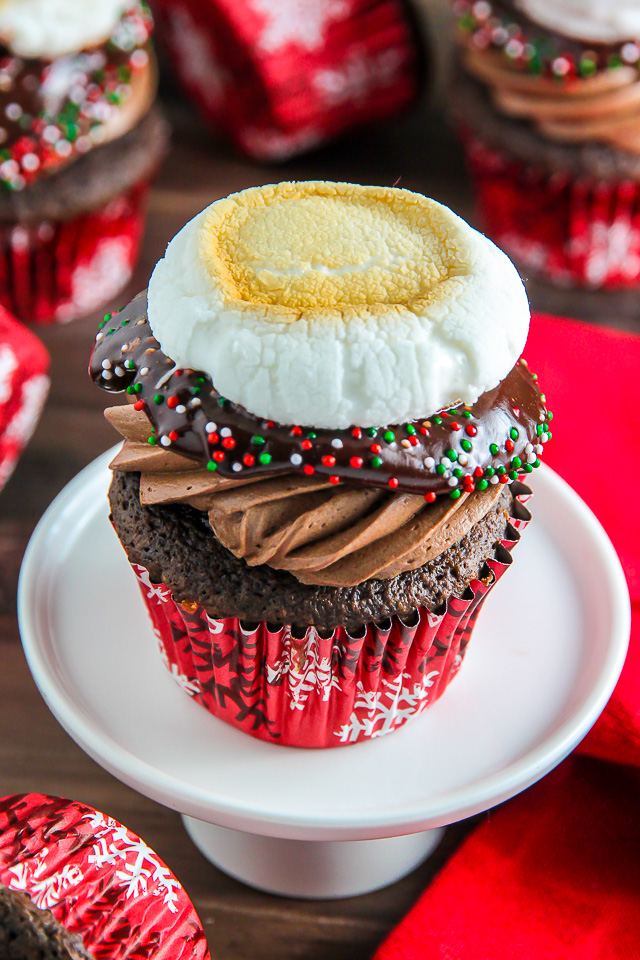 And on top of the frosting I added a drizzle of chocolate ganache, holiday sprinkles, and a toasted marshmallow. Aren't they pretty?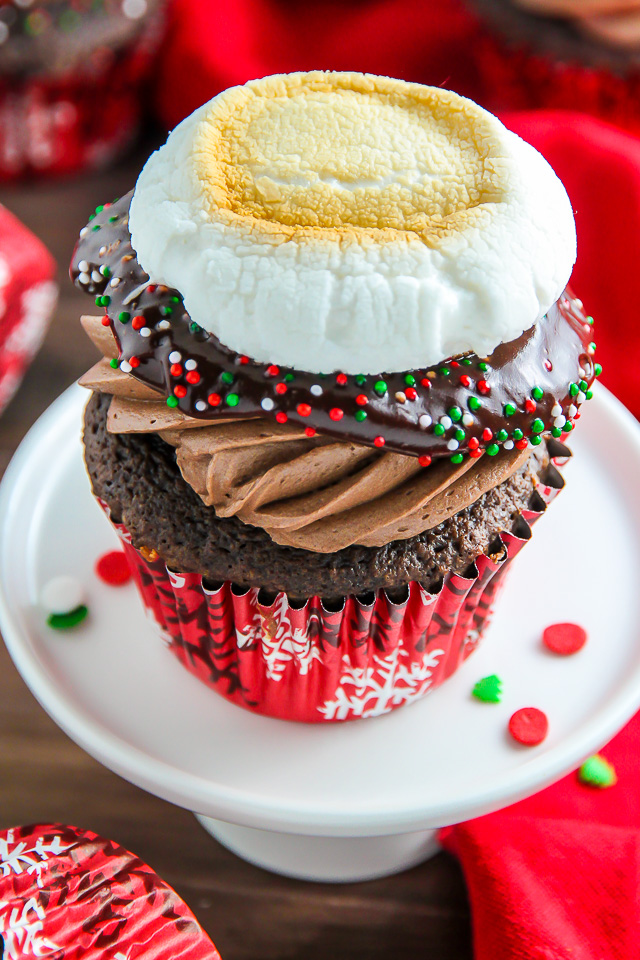 I am SO in love with these cupcakes! Fluffy, moist, tender, hot cocoa cupcake heaven. I just know you're going to adore and savor each and every bite.
If you try this recipe, let me know! Leave a comment below and don't forget to snap a pic and tag it #bakerbynature on instagram! Seeing your kitchen creations makes my day.

Hot Cocoa Cupcakes
Super moist and decadent chocolate cupcakes topped with chocolate frosting, chocolate ganache, sprinkles, and a toasted marshmallow.
Ingredients
For the Chocolate Cupcakes:
3 tablespoons canola oil
1 stick unsalted butter, melted and slightly cooled
1/2 cup semi-sweet chocolate chips
3/4 cup + 2 tablespoons all-purpose flour, not packed
1/2 teaspoon baking soda
1 teaspoon baking powder
1/2 cup unsweetened cocoa powder
1/2 teaspoon salt
2 large eggs + 1 large egg yolk, at room temperature
1 cup granulated sugar
1 teaspoon vanilla extract
1/2 cup full fat sour cream
1/2 cup hot coffee
For the Chocolate Frosting:
3 cups confectioners sugar
3/4 cup unsweetened cocoa powder
1 stick unsalted butter, very soft
2 tablespoons sour cream
3 tablespoons whole milk or half and half
1/4 teaspoon salt
1 teaspoon vanilla extract
For the Chocolate Drizzle:
4 ounces bittersweet chocolate, chopped into small pieces
1/2 cup heavy whipping cream
1/2 teaspoons vanilla extract
1/4 cup holiday sprinkles (optional but fun)
Instructions
For the Chocolate Cupcakes:
Preheat the oven to 350 degrees (F). Line a 12-cup cupcake/muffin tin with cupcake liners and lightly spray the liners with non-stick spray (optional but it does help them peel right off).

Melt the oil, butter, and chocolate together in the microwave, heating in 30 second increments, stirring between increments. You can also melt the oil, butter, and chocolate over very low heat on the stove top, but I find the microwave to be much easier. Whisk mixture until completely smooth and set aside to cool.

In a medium-sized bowl combine the flour, baking soda, baking powder, cocoa powder, and salt; stir together until thoroughly combined; set aside.

In a large bowl whisk together the eggs, yolk, sugar and vanilla extract; beat until smooth.

Add the cooled oil/butter/chocolate mixture and whisk until smooth. Add half of the flour mixture, then half of the sour cream. Repeat the process until everything is added, and be sure to mix until JUST combined. Quickly stir in the hot coffee - it's important not to over mix, here! Just stir until everything is evenly combined.

Divide the batter among the 12 liners in your prepared pan. Bake for 16-18 minutes, or until a toothpick inserted in the center comes out clean. Cool completely before frosting.
For the Chocolate Frosting:
Sift together the confectioners sugar and cocoa powder, whisking well to ensure it's bump and lump free!

Using a handheld mixer OR a stand mixer fitted with the paddle attachment, beat the butter on medium-high speed until creamy; about 2 minutes. Reduce speed to low and slowly add the sifted sugar/cocoa powder, alternating with the sour cream and milk, then add the vanilla extract and salt. Once all of the ingredients have been added, increase speed to medium-high and beat the frosting until fluffy, about 2 minutes.

Frost cooled cupcakes as desires, then top with chocolate drizzle, sprinkles, and a toasted marshmallow.

Cupcakes stay fresh, stored in the fridge, in an airtight container, for up to 3 days. Bring to room temperature before serving.
For the Chocolate Drizzle (optional):
Place chocolate in a medium-sized heat-proof bowl; set aside.

In a small saucepan over medium heat, warm the heavy cream until very hot, but not boiling. Pour the hot cream over the chopped chocolate and set it aside for 2-3 minutes. Whisk the cream and chocolate completely smooth; whisk in vanilla. Allow the chocolate to cool for about 5 minutes before spooning the on the top of each frosted cupcake. Top the wet chocolate with sprinkles and a toasted marshmallow.
For the marshmallows:
Place the marshmallows on a large baking sheet and set aside. Position one of your oven racks right below the broiler; preheat your oven to broil. Once the oven reaches the broiler setting, place marshmallows in the oven to toast.

Warning: The marshmallows toast almost immediately - so stay right near the oven! Once browned, quickly remove the pan from the oven and let cool for a minute or two. Using a spatula remove the marshmallows from the pan and place one on top of each frosted cupcakes.
Notes
1) Do not let the chocolate glaze sit for more than 5 minutes or it will harden up and become very difficult to spoon over the frosting. 2) Don't add too much chocolate glaze or it will drip all over your liners making it very messy to pick up. 3) This recipe makes 12 very large cupcakes. You can make 16 smaller cupcakes, if desired, but reduce the bake time by 2-3 minutes.