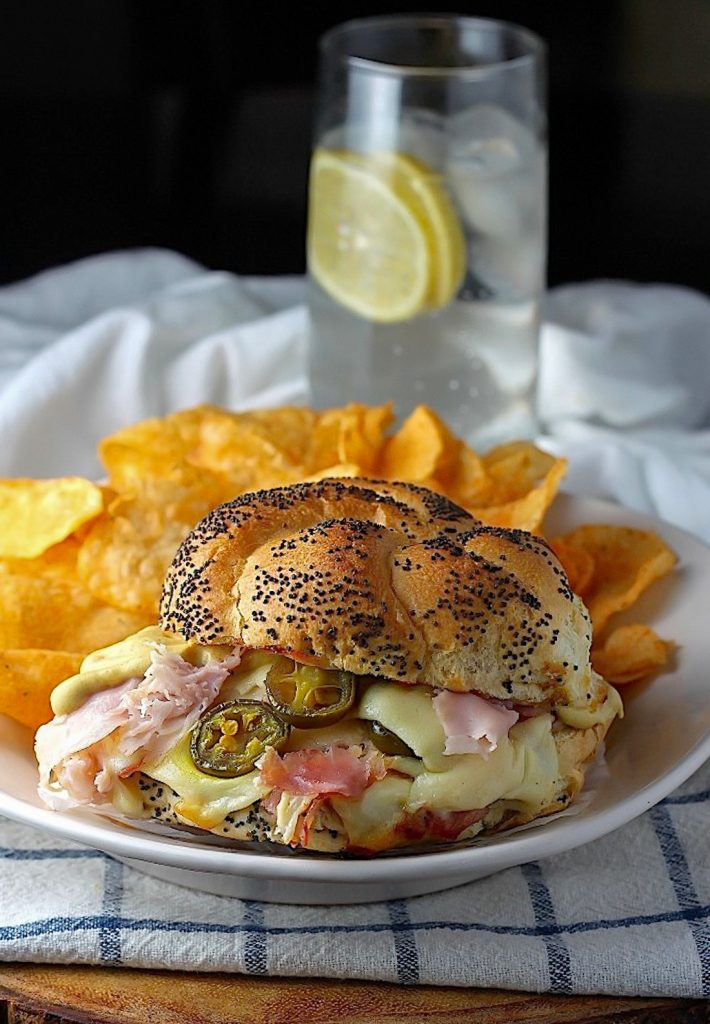 What a beautiful sight. Hot ham, gooey melted swiss, spicy jalapeños, and a delicate swirl of dijon, all enveloped in a crusty poppyseed bun.
Does this Hot Ham, Swiss, and Jalapeño melt tickle your sandwich soft spot or what?
Like I mentioned above, all you'll need to make this sandwich dream a hot cheesy reality is crusty buns, thinly sliced ham, lots of swiss, a good handful of pickled Jalapeños, and a squirt of dijon. You may be thinking dijon PLUS Jalapeños… won't it be too spicy? I promise you it won't be. The zingy spiciness of the peppers and the creamy mild dijon get along like old chums, and reeeeeally compliment the ham and swiss. Just thinking about them all together makes me happy happy happy.
Simple ingredients morphed into one mega comforting super sammie >>> I LIKE it A LOT.
I also like easy. And quick. And delicious. All those things —> IN THIS SANDWICH. Basically what I'm trying to say is these hot ham, swiss, and jalapeño sandwiches are ALL THAT and a bag of chips.
And since we're speaking about chips… Jalapeño kettle cooked chips would be the ones you're seeing on the side. I can't remember the brand to save my life (I think it said KETTLE on the front of the bag tho), but HOLY SPICY CHIP PERFECTION. I definitely say track them down and add them to your next sandwich scenario. AND END CHIP RANT.
Sheesh. I digress so easily these days. Back to the meat and cheese and peppers on bread! I made these sammies small batch style because there are only two of us and well, ya know, a whole tray of Hot Ham, Swiss, and Jalapeño Sandwiches sitting around just smells like (delicious) trouble. BUT! A few months ago I made these exact sandwiches BIG BATCH style (12 in one pan) and they came out awesome. So ya know, if you're hosting a football party, Thanksgiving lunch, or just have a really big family, these sandwiches got your back!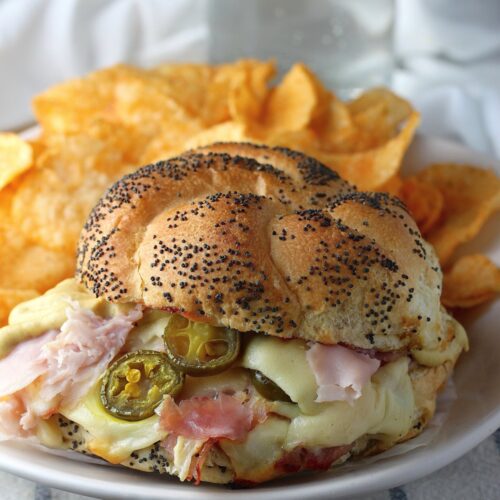 Hot Ham, Swiss, and Jalapeño Sandwiches
Ingredients
4 poppyseed buns
1 pound thinly sliced ham
3/4 pound thinly sliced swiss cheese
1 cup pickled jalapeños
1/4 cup dijon mustard
Instructions
Preheat oven to 325 degrees (F).

Cut buns in half and spread a 1/2 tablespoon of mustard on each side (adding more/less as desired).

Evenly divide the ham and cheese among 4 of the buns, reserving 4 slices of cheese for the end.

Add jalapeños to the tops of the ham/cheese buns, then top each with the final slice of remaining cheese. Top each sandwich with their reserved bun caps.

Wrap each sandwich in foil, place them on a baking sheet, and bake for 17-20 minutes, or until cheese has melted and the sandwich is heated through. Serve at once.