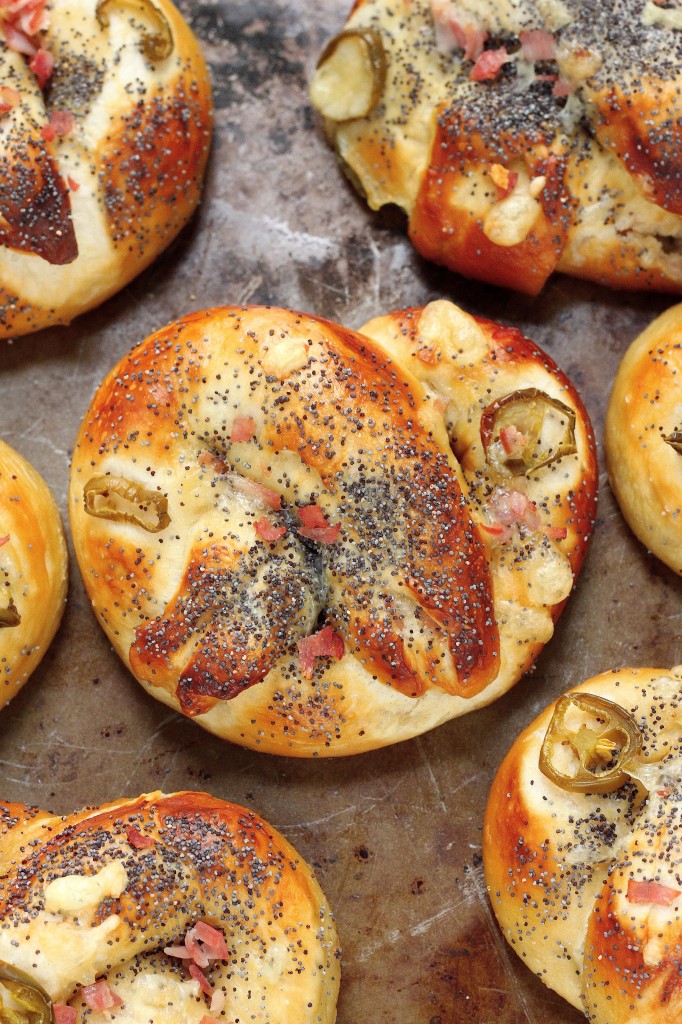 Hello, Ham, Swiss, and Jalapeño Stuffed Pretzel perfection! Stuffed with spicy pickled jalapeños, shredded swiss, and black forrest ham, these are destined to make any day a little better! Fact: I've been on a soft pretzel bender lately. Well, mentally, at least. I'm obsessed! It all started a few months ago when I made those heart shaped chocolate dipped soft pretzels. I was such a sucker for them. They were soft, chewy perfection. Pretzel heaven!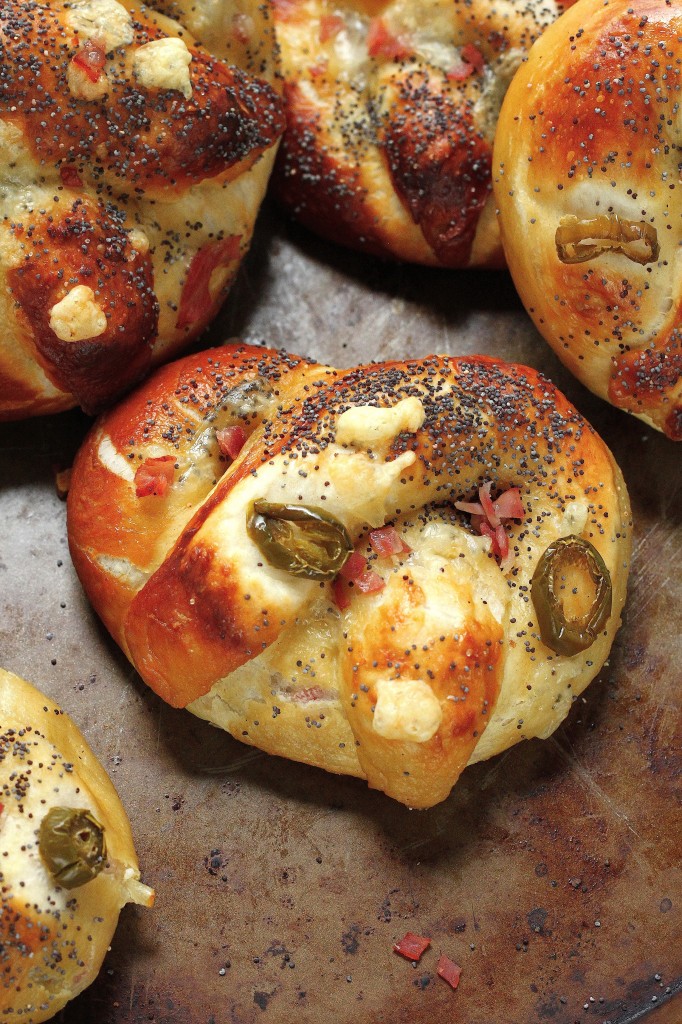 And once they ran out, the whispers inside my head – urging me to make more (and fast!) – began. Tooooooootally normal. Nothing to worry about here, folks… I was on the bus home from IKEA when it hit me – HAM —-> SWISS —-> AND JALAPEÑOS = THE ULTIMATE STUFFED PRETZEL. Yes, all caps totally was necessary there.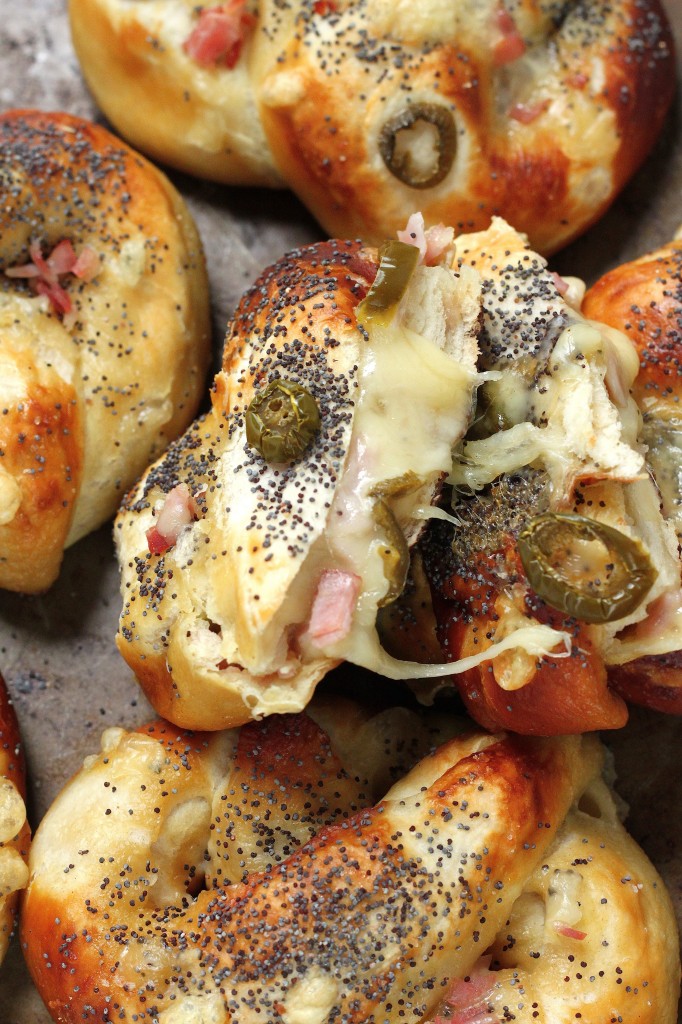 And so ham, swiss, and jalapeños was exactly what these pretzels got stuffed with. And you guys, what a wonderful trio they make! Spicy, cheesy, and meaty? Can I hear a hellz yes?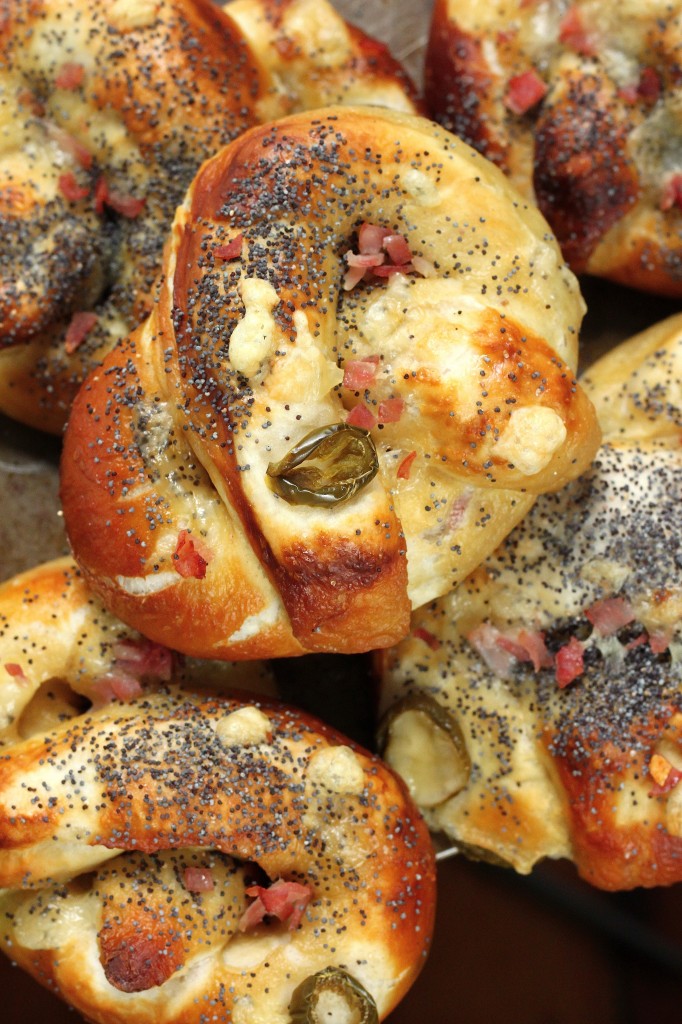 P.S. If you want to make these vegetarian friendly just leave out the ham. They'll still be epic!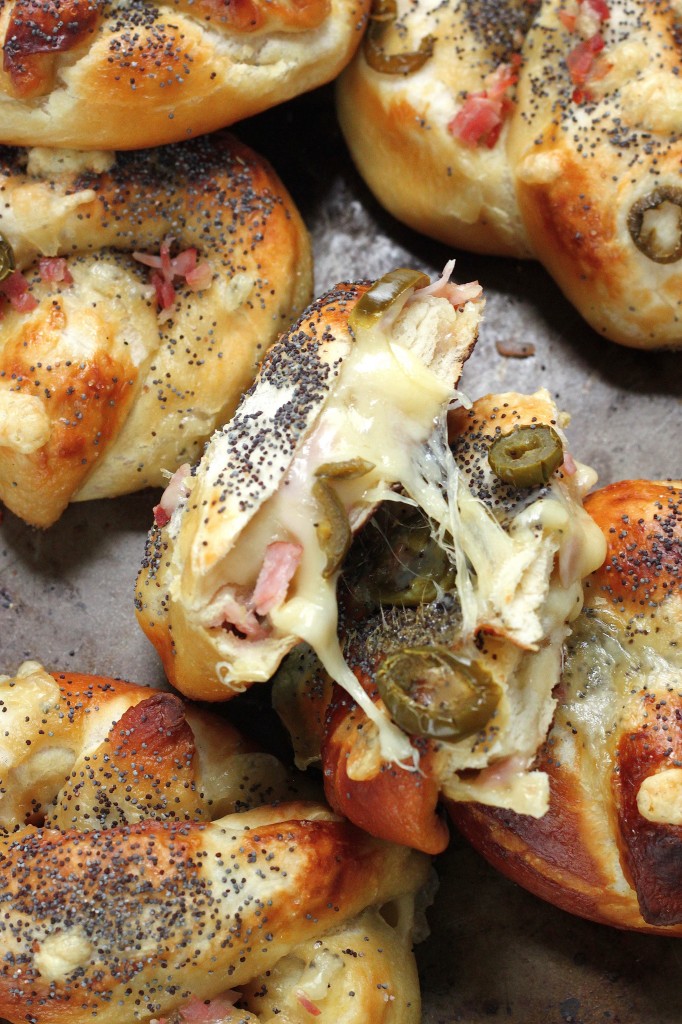 I chose to top each pretzel with poppy seeds for a wonderful crunch bonus! Score. Just be sure to check your teeth after consumption 😉
Have you ever made homemade pretzels before? If not, please (please, please, please) don't be intimidated. It's actually quite easy! Yes… it's a little time consuming. But the biggest chunk of time if when you're waiting for your dough to rise, and you can totally stay busy (or lazy) with other things when that's happening. And the results are so worth the wait!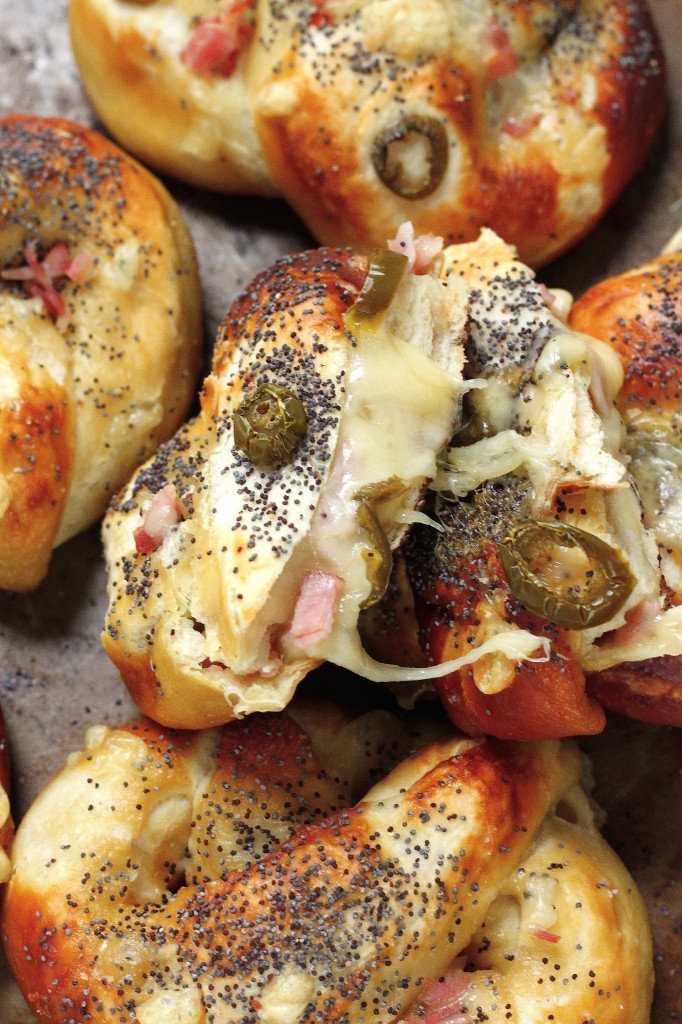 Below I have a few not so pretty but hopefully helpful step-by-step photos of the pretzel making process. Once your dough has risen, you'll break it into 8 even balls. They'll look something this.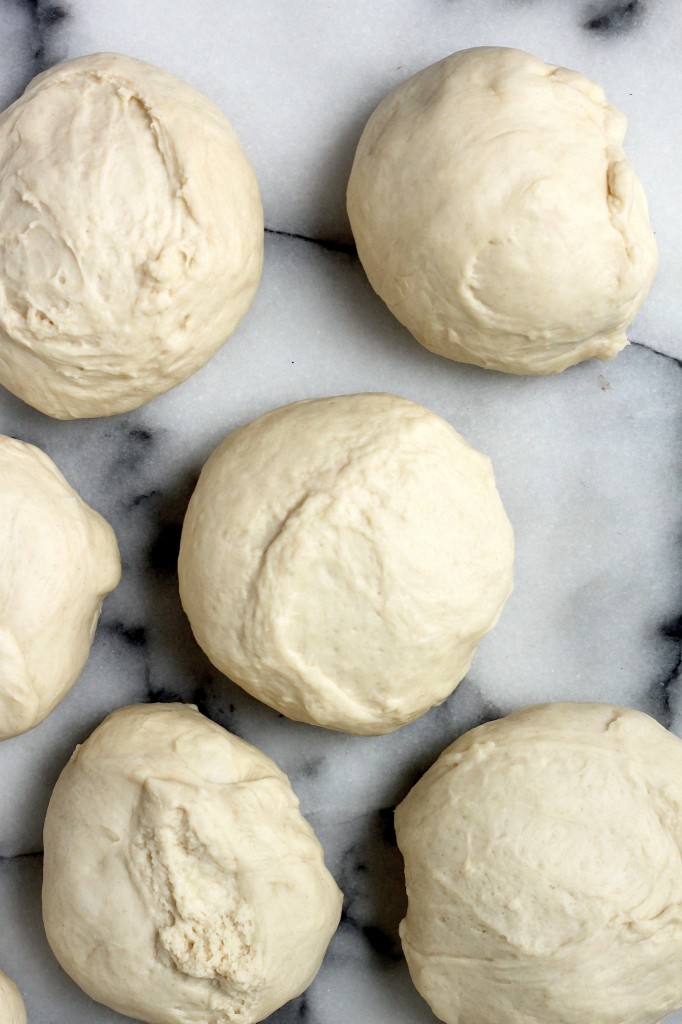 You'll roll each ball into a long rope – about 16″ long, to be exact. You can do this easily with your hands!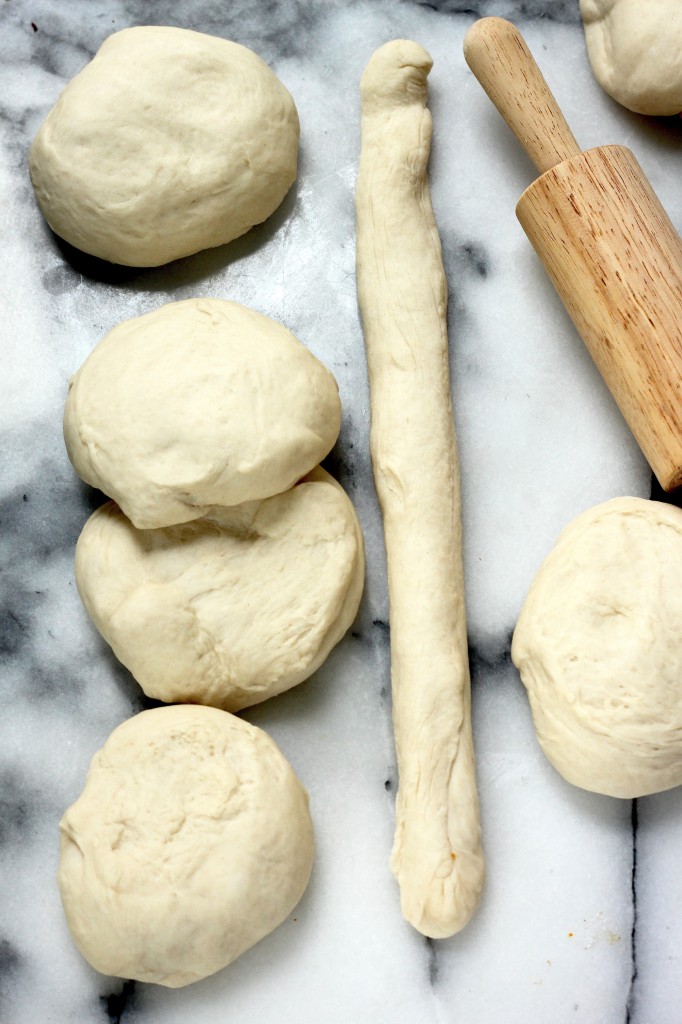 Now you'll roll your rope out so it's about 4 inches wide. You can use a rolling pin here – a mini one works the best if you happen to have one. You'll also want your fillings prepped and close by. Once you've rolled the dough out, you'll sprinkle about 2-3 tablespoons of the filling along the dough, then fold it over jellyroll style, being very mindful to pinch and tuck any loose ends.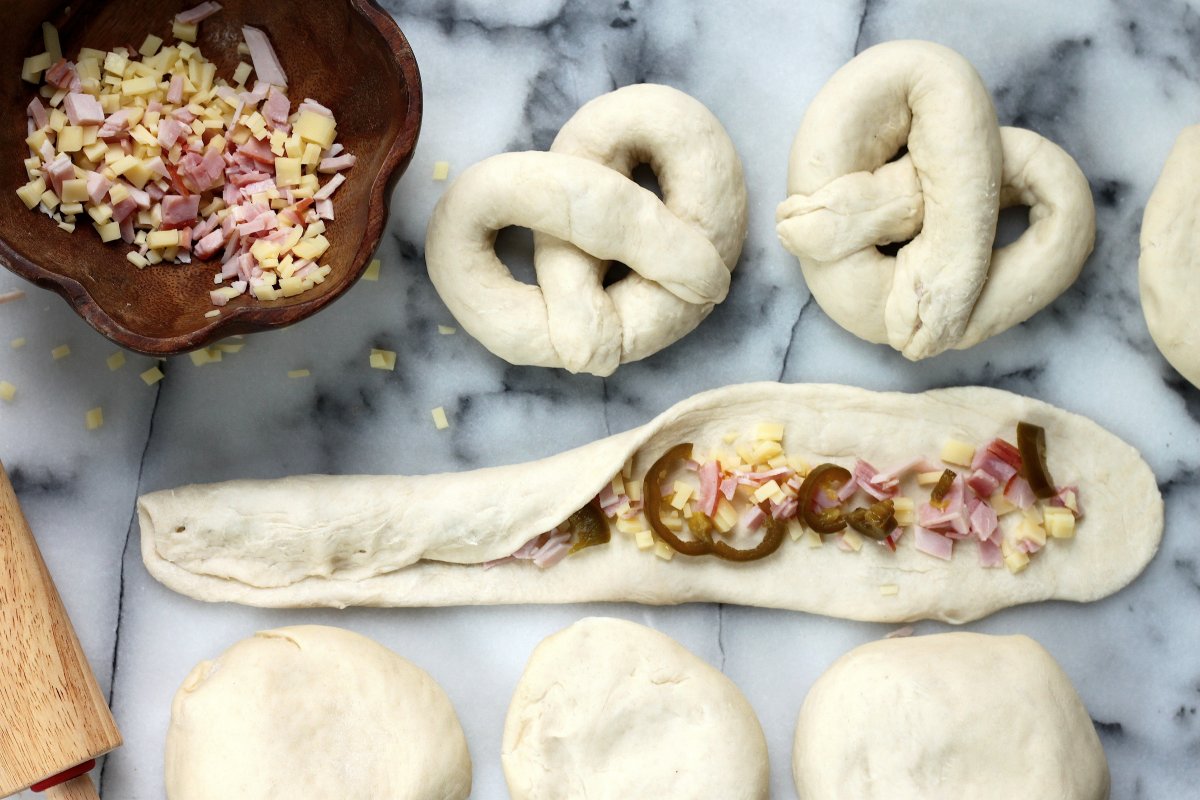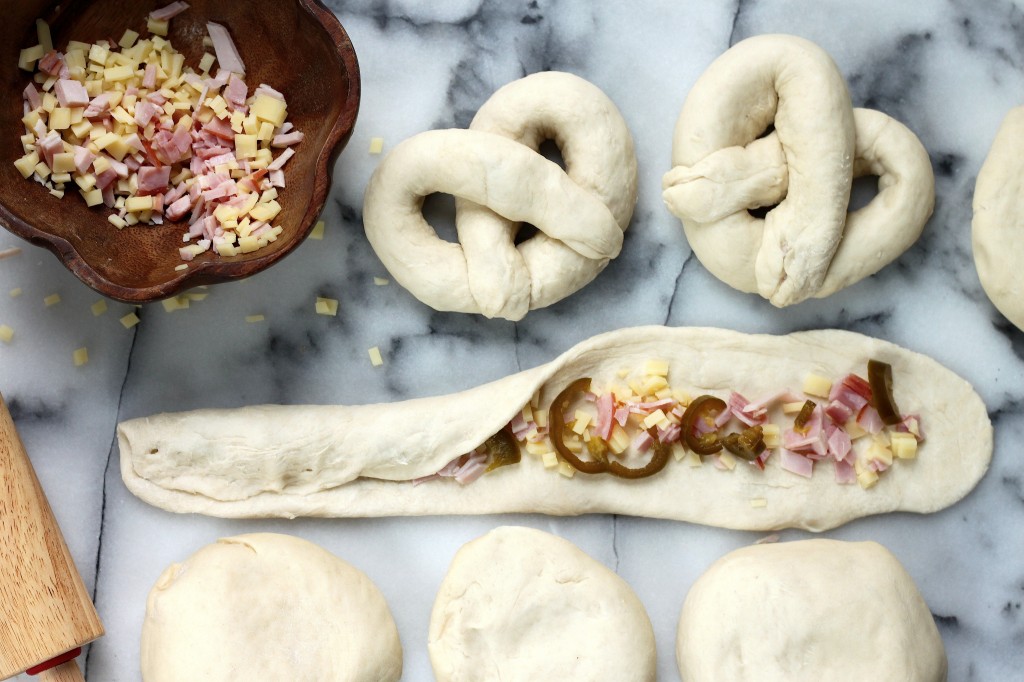 Then you'll take the piece of dough and shape it into a U.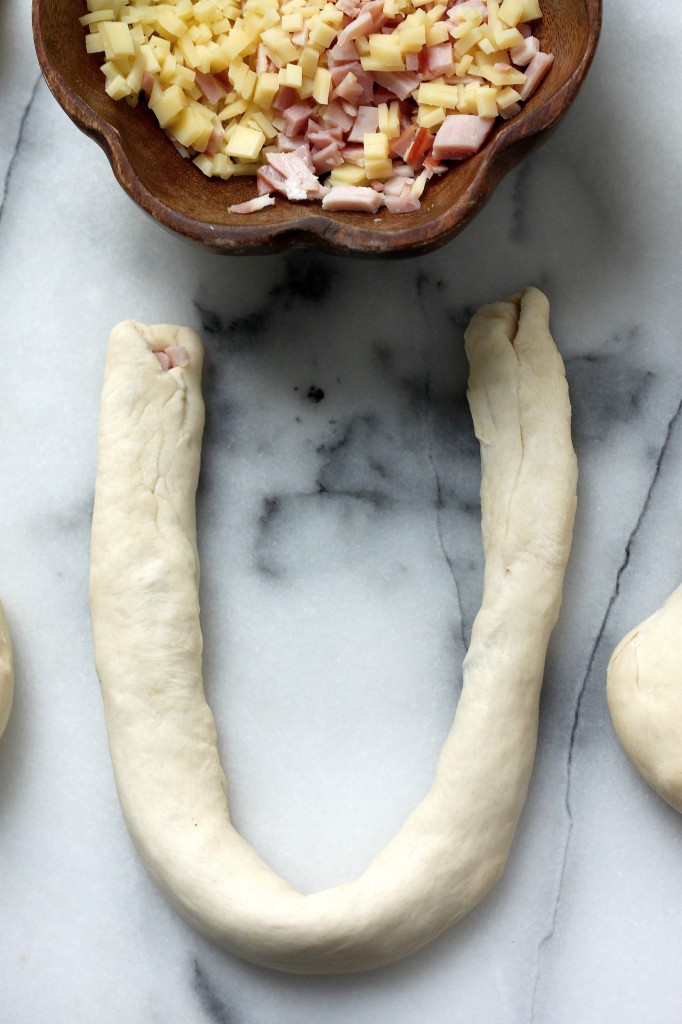 And then fold the ends over each other. Make sure you pinch the ends onto the bottom of the dough!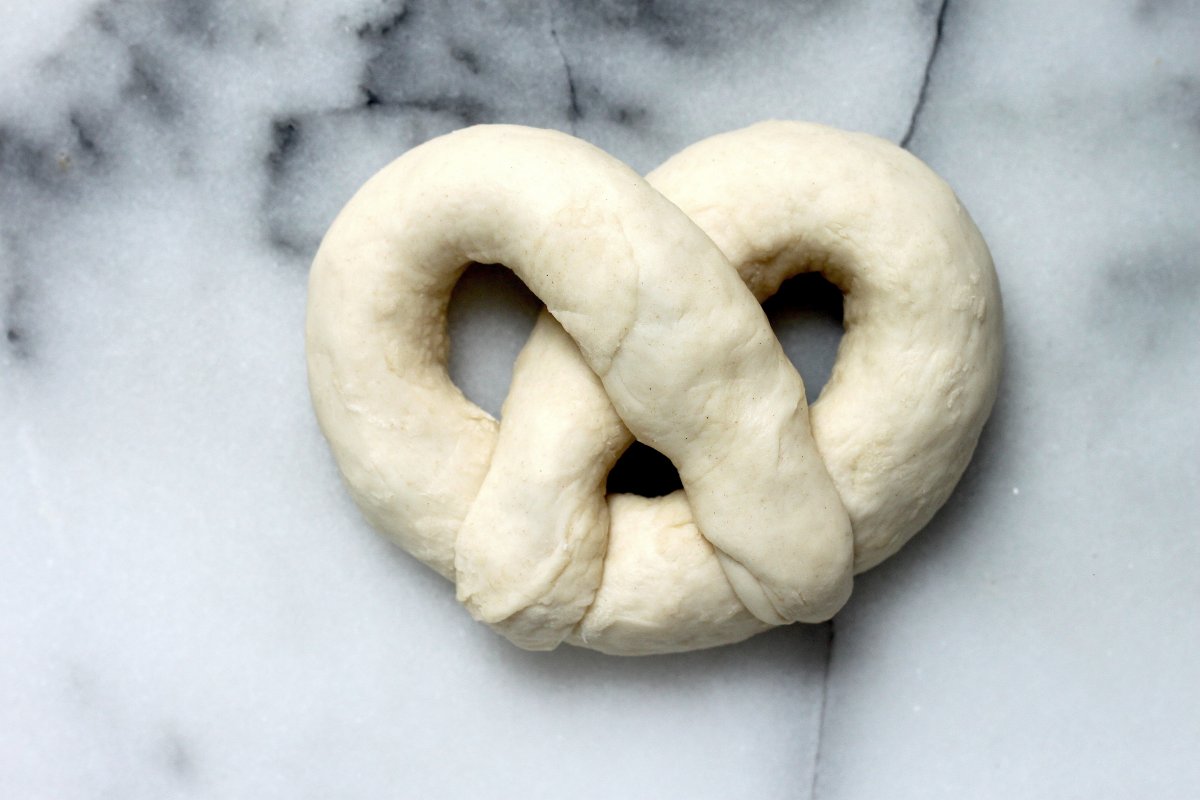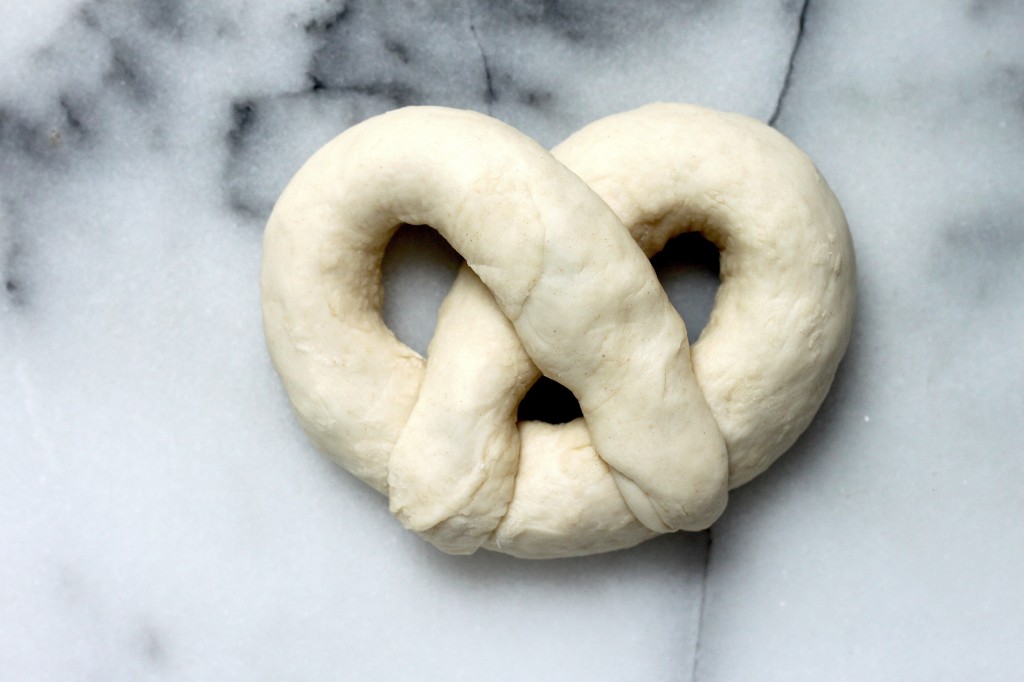 Ta-da! You just made a soft pretzel. You rock. Now you just boil in a baking soda bath, slather in egg wash, and bake. You got this.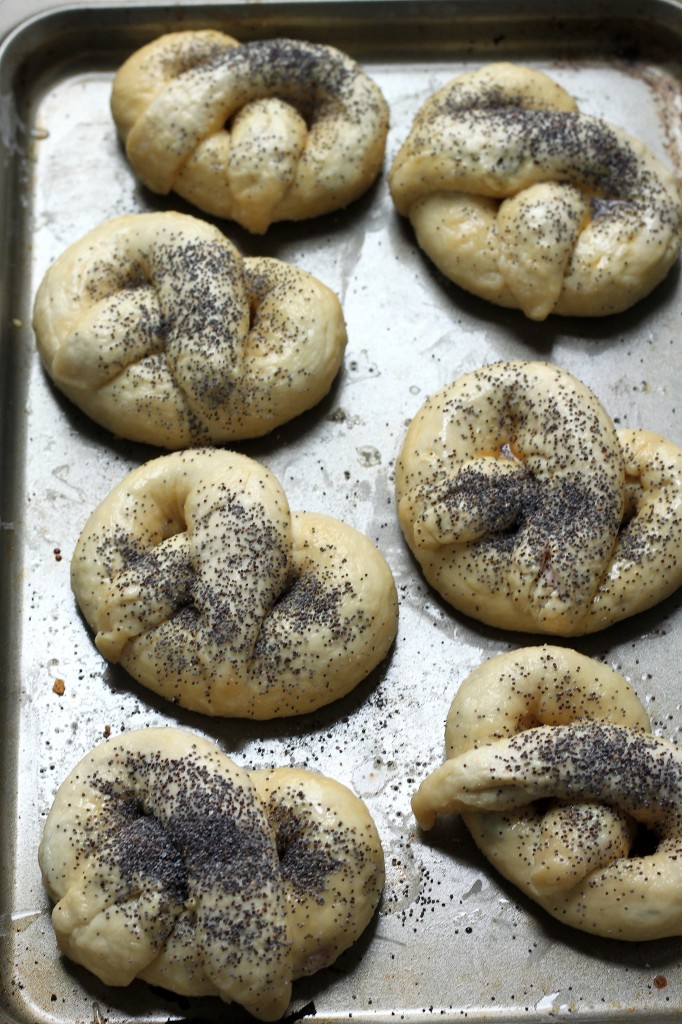 These are best straight out of the oven – just be careful biting into them since the filling will be HOT! They also last up to 3 days stored in an airtight container… but I doubt they'll last that long. I ate exactly 3 after putting my camera down, and C finished off the rest when he got home from work. We're so bad!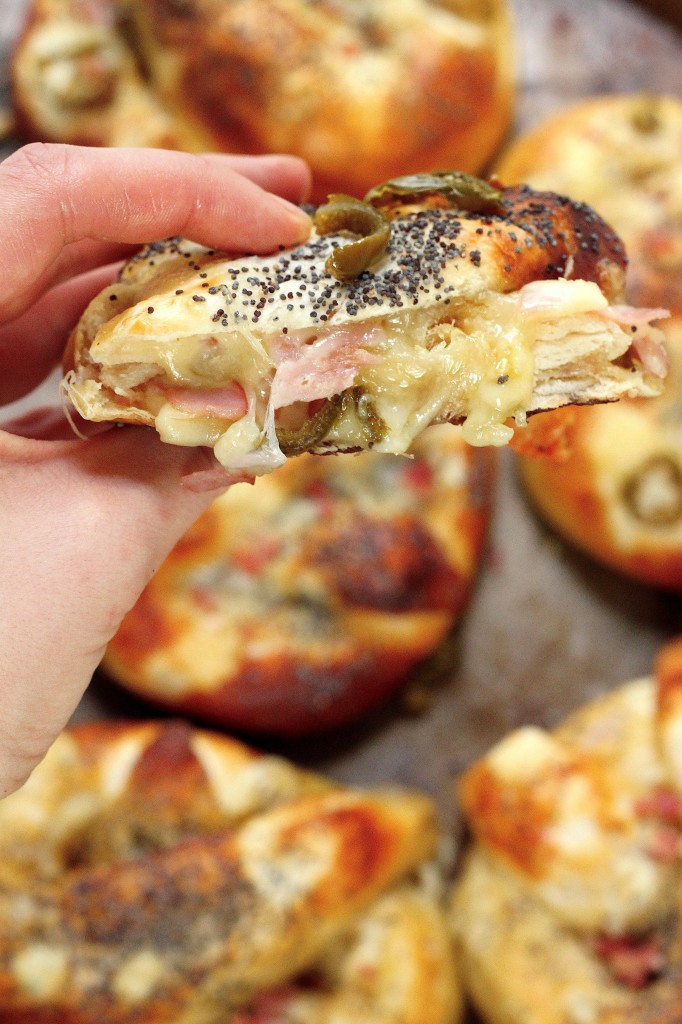 Totally worth every-single-bite. Ham, Swiss, and Jalapeño Stuffed Pretzels ——–> DO IT! xo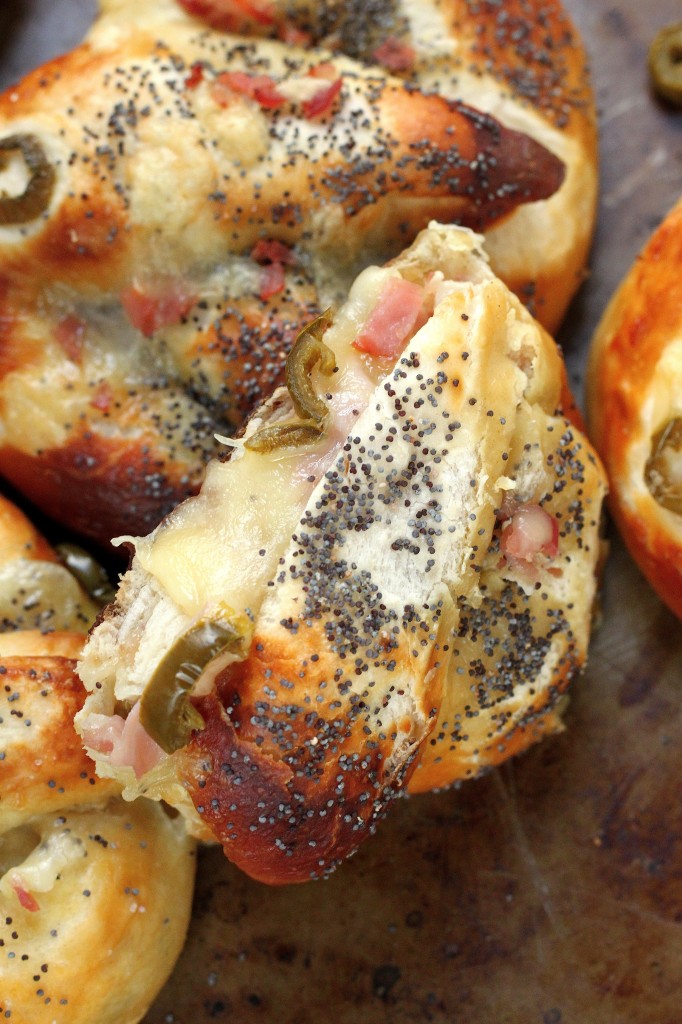 Ham, Swiss, and Jalapeño Stuffed Pretzels
Ingredients
Dough:
1 1/2 cups warm water (between 110-115 degrees F)
1 package instant yeast
1 1/2 tablespoons sugar
2 teaspoons salt
4 1/4 cups all-purpose flour
6 tablespoons unsalted butter, very soft
Cooking Liquid:
8 cups water
3/4 cup baking soda
Fillings:
8 ounces Black Forrest Ham, diced
8 ounces Swiss Cheese, Shredded
4 ounces Pickled Jalapeños, minced
Egg wash:
1 egg, beaten
1 tablespoon water
Instructions
For the dough:
Combine water, yeast, sugar, and salt in the bowl of a stand mixer fitted with the dough hook attachment. Let stand for 10 minutes, or until mixture begins to foam.

Add the flour and butter and knead on medium-speed for 12 minutes.

Cover dough with a warm damp cloth and place in a warm area of your house to rise for an hour, or until dough has doubled in size.
Assembly and Cooking:
Preheat oven to 425 degrees (F). Line a large baking sheet with parchment paper; set aside.

Add water and baking soda to a large pot of dutch oven and bring to a boil.

Divide dough into 8 equal rounds.

Roll each round out into a 16" rope.

Roll each rope out so it's 4 inches wide.

In a small bowl combine ham, cheese, and peppers. Add 3 tablespoons of filling evenly along the rope.

Tightly roll the dough back into rope, jelly roll style, pinching the edges together. Use the photo in post for a reference if this part is confusing 😉

Make a U shape with each rope of dough, holding the ends.

Cross the ends over each other, pinching ends onto the bottom of the dough.

Place pretzels - one at a time - into the boiling cooking liquid. Cook for 30 seconds each.

Transfer cooked pretzels to prepared baking sheet.

Once all of the pretzels have been cooked, brush the tops of each with egg wash, then sprinkle with salt and poppy seeds.

Place pan in the oven and bake for 16 minutes.

Eat warm, or transfer to a rack to cool.