Irish Soda Bread Scones! Yum-yum-yum-yum-YUM!
If you're a fan of soda bread, you'll just love these craggy yet creamy scones studded with dried cherries and begging for a big slather of butter and jam. If you've never had soda bread before, scones are a great place to start! They're also great for gatherings thanks to being individually portioned and ready for the grabbing.
The dough starts out a crumbly mess…
but with a little patience easily comes together! Look at that lovely scone ball.
Then you press it down and cut it in 4 (or 6 if your want smaller scones), slather in an egg wash, and BAKE! Be warned – your house is going to smell majorly dreamy while these guys occupy your oven. Make a cup of tea and soak-it-up!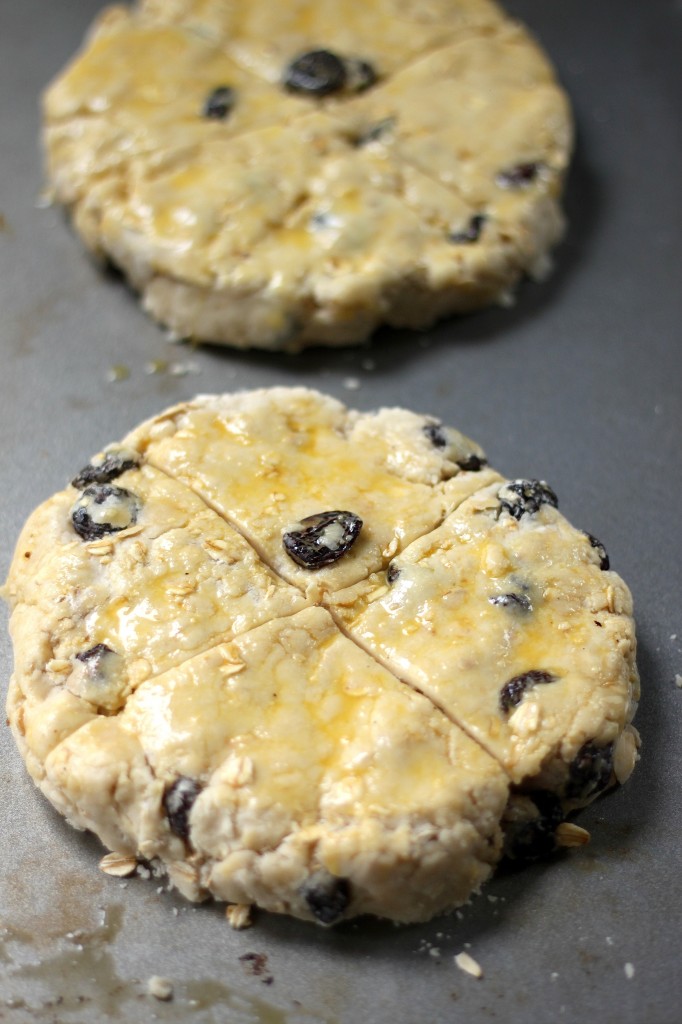 While they're baking, make some honey cinnamon butter! It's so easy. And once you've experienced the glory of a giant dollop slathered across a hot scone, you'll be so glad you spent the extra 4 minutes making it. Yep – just 4 minutes 😉
Oh. And although these scones are great for St. Paddy's Day, they're also just great hearty treats to keep tucked in the back of the freezer for busy mornings or unexpected guests. We have half a batch in ours right now… but after writing this post, I don't know how long they're going to last 😉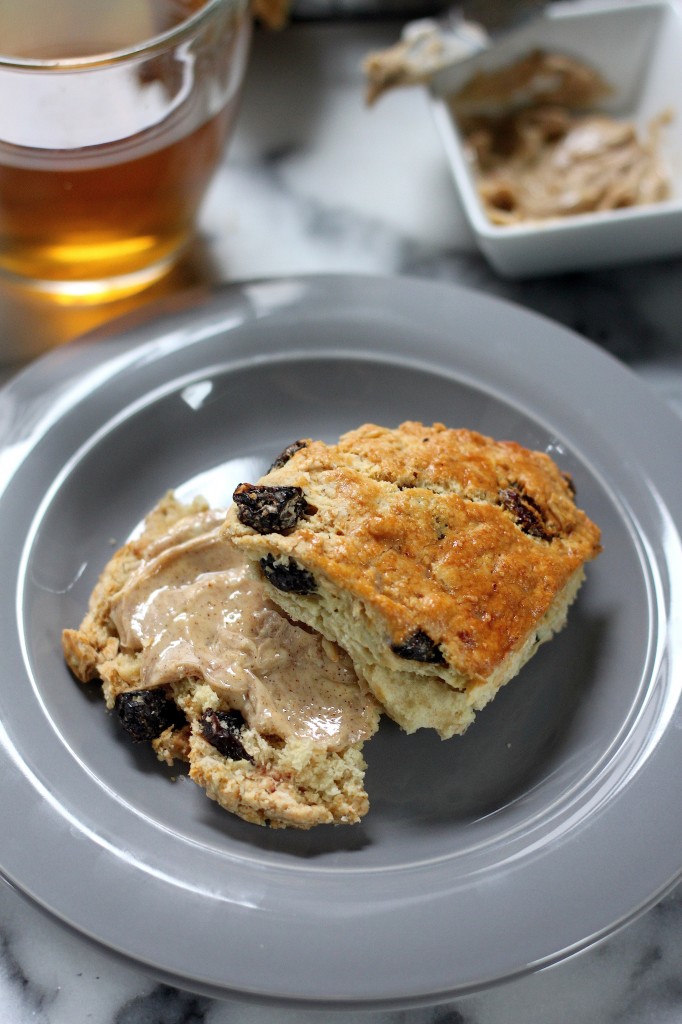 See y'all soon with some more treats! xoxo
Irish Soda Bread Scones with Honey Cinnamon Butter
Ingredients
1/4 cup (1/2 stick) unsalted butter, melted until browned
3 1/2 cups all purpose flour
1/2 cup old-fashioned oats
2 tablespoons sugar
2 1/2 teaspoons baking powder
1 teaspoon baking soda
3/4 teaspoon salt
3/4 cup dried cherries
1 cup heavy cream
3/4 cup buttermilk
1 teaspoon vanilla extract (optional, but nice if you like things on the sweeter side)
1 large egg, beaten to blend
For the Honey Cinnamon Butter:
4 tablespoons unsalted butter, softened
1 teaspoon cinnamon
2 teaspoons honey
Instructions
Preheat oven to 375°F.

In a heavy-bottomed small saucepan melt butter over medium heat until golden brown, about 3 minutes. Remove from heat and let cool.

In a large bowl stir together flour, oats, sugar, baking powder, baking soda, salt, and dried cherries. Pour buttermilk, cream, vanilla, and melted browned butter over flour mixture; stir gently with a wooden spatula just until flour mixture is moistened.

Turn dough out onto a lightly floured work surface. Knead gently until dough comes together, about 7 or 8 turns, don't overwork the dough.

Divide dough in half. Shape each half into a ball; flatten each ball into an 8-inch round. Cut each round into 4 pieces. This can be easily done by making a large x then cutting the x through.

Place scones on an ungreased baking sheet, spacing 4 inches apart. Brush tops with beaten egg.

Bake scones until deep golden brown, about 20-25 minutes. Cool scones on rack at least 30 minutes. Serve warm or at room temperature, with plenty of honey cinnamon butter, of course 🙂
For the Honey Cinnamon Butter:
Place softened butter in a small bow. Add cinnamon and honey and whisk together until well blended. Serve at room temperature.