This Oreo Crusted Kahlua Chocolate Cheesecake is topped with Chocolate Ganache and chocolate curls! You're going to love this crowd-pleasing Kahlua Cheesecake!
Kahlua Cheesecake
After discovering a surplus of cream cheese hiding in the back of our fridge, baking a cheesecake was a no-brainer. There are tons of cheesecake recipes already in the archives, but surprisingly, no chocolate cheesecake! I know… whaaat? I love chocolate and cheesecake, so obviously this needed to change asap.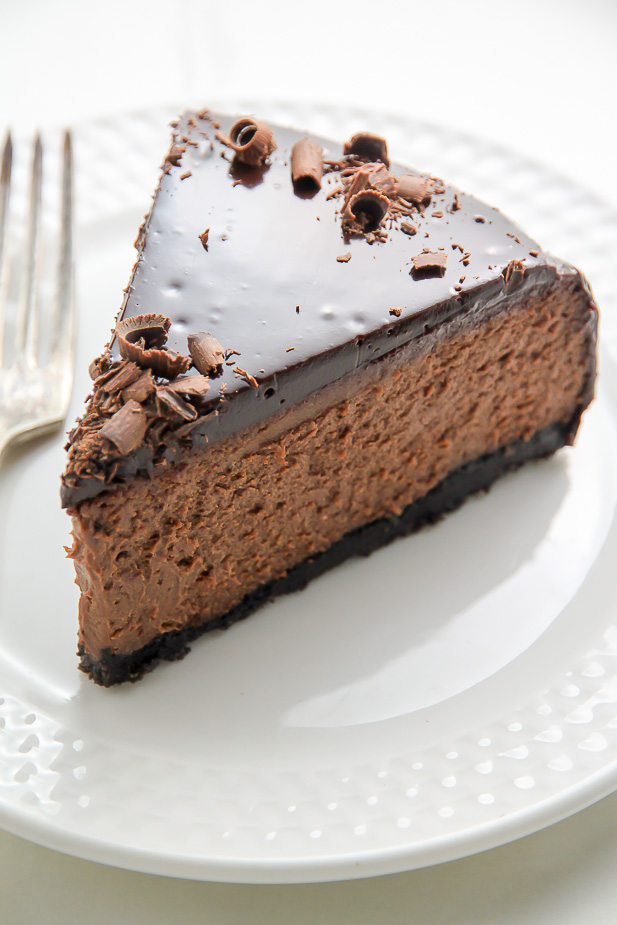 This gorgeous kahlua cream cheesecake is made up of 4 parts:
the chocolate Oreo crust
the creamy chocolate cheesecake filling
the decadent chocolate ganache
and the whipped cream.
Since making a cheesecake with multiple steps can feel overwhelming at first glance, we're going to walk through each phase of the baking process hand in hand. A lot of people are intimidated by making cheesecake at home, but once you nail down a solid recipe and technique, you can make endless adaptations to cure even your wildest cravings. Many moons ago, after some long nights and many tears (← dramatic) I cracked the code and perfected my "better than the bakery" base cheesecake recipe. Follow my lead and you'll be baking cheesecakes like a pro in no time!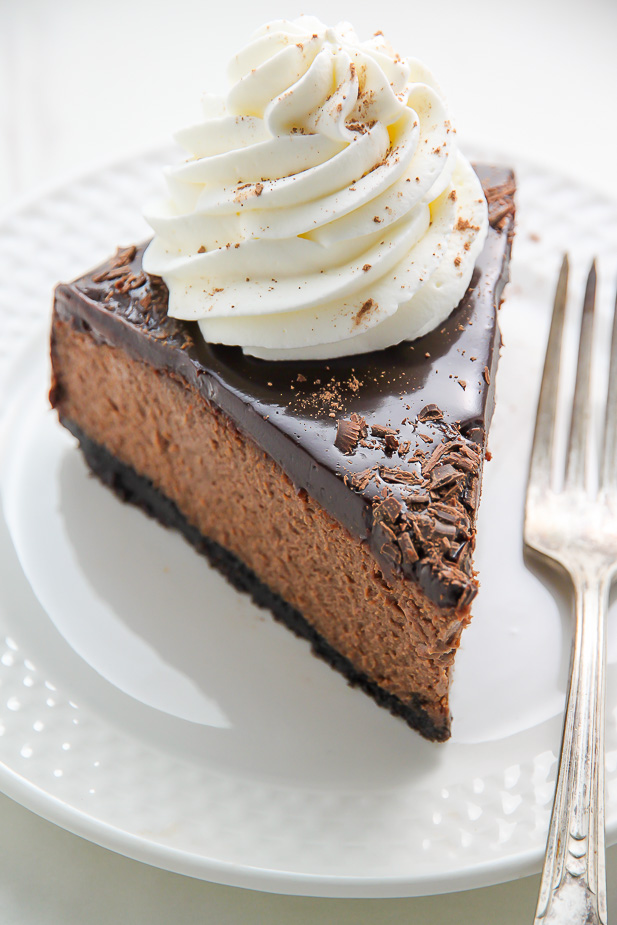 Also. Melted semi-sweet chocolate + dash of cocoa powder + a glug of kahlua = chocolate h-e-a-v-e-n.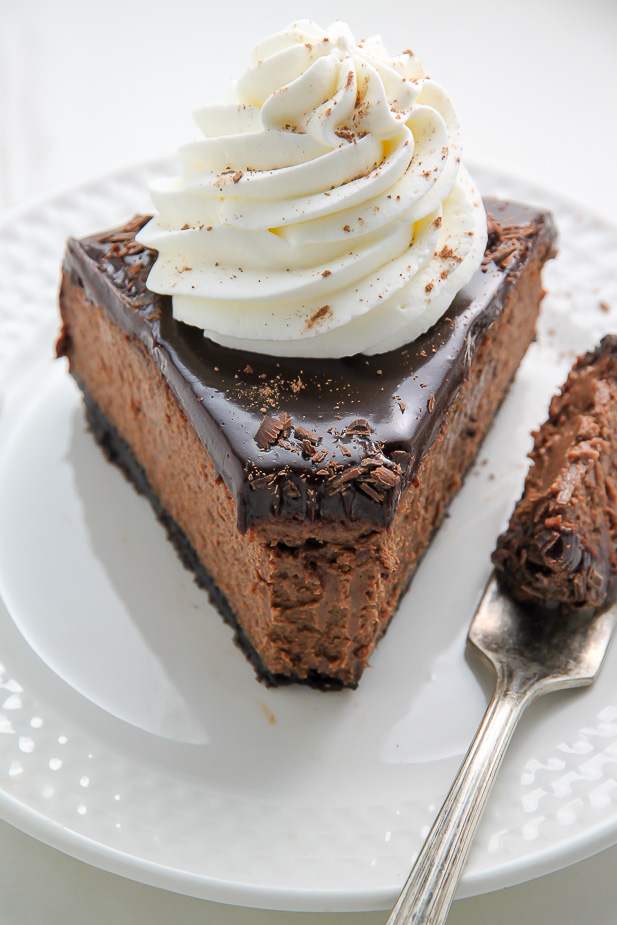 Kahlua Cheesecake Recipe
Making an Oreo crust is seriously simple. Ingredient wise you'll need Oreo cookies and melted butter – that's it! You will need to pulse the Oreo cookies into fine crumbs, or – if you want to make things even easier (!!!) – you can buy already crushed Oreo crumbs at the store. I typically find them in the baking aisle, somewhere near the pie fillings/ ready-to-bake crusts. To assemble the crust you'll combine the Oreo crumbs and melted butter and stir until it's well combined. You want all of the crumbs to be moist from the butter. At this point you're going to dump the crumb mixture into a lightly greased 9″ springform pan and press it down firmly, working from the center and slightly up the edges.
BTW: This recipe calls for a water bath. If you're unfamiliar with the water bath process, click here for my tutorial on how to make an easy water bath for a cheesecake!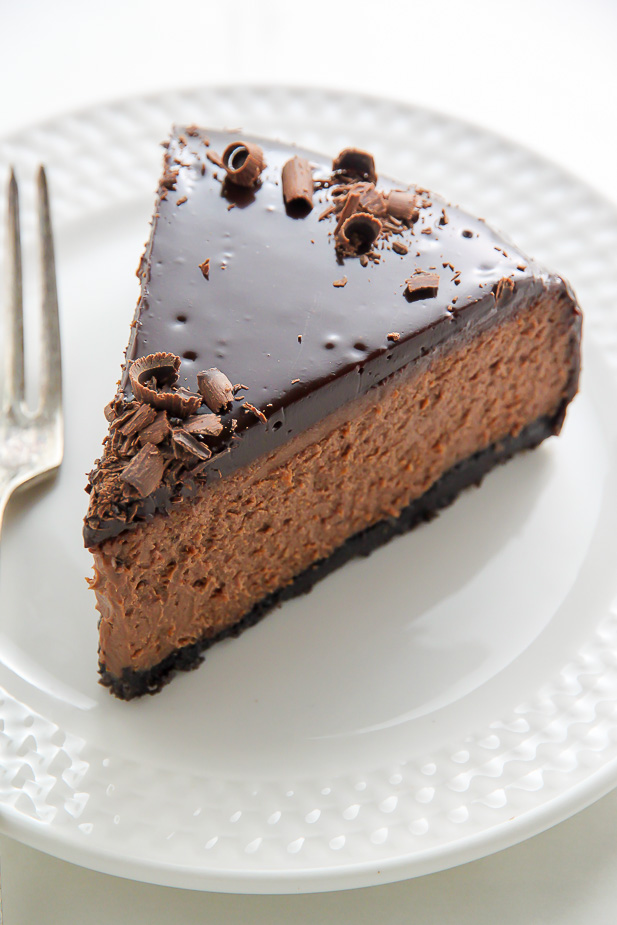 OK. Time to talk about the filling. You're going to need cream cheese, sour cream, eggs, egg yolks, sugar, cocoa powder, semi-sweet chocolate, and kahlua. Few things! The cream cheese MUST be verrrrry soft before you begin assembling this recipe. I typically leave my blocks of cream cheese out on the counter for at least two hours before I plan on baking. As for the chocolate, it will need to be melted and slightly cooled, about 15 minutes or so should do the job.
About the booze: Adding a little liqueur to the cheesecake batter is an easy way to elevate a simple flavor profile into something really special. If you don't have kahlua on hand, I think a similar coffee liqueur would work fine. If you don't consume alcohol, you can just omit it from the recipe without any substitutions. Options for you!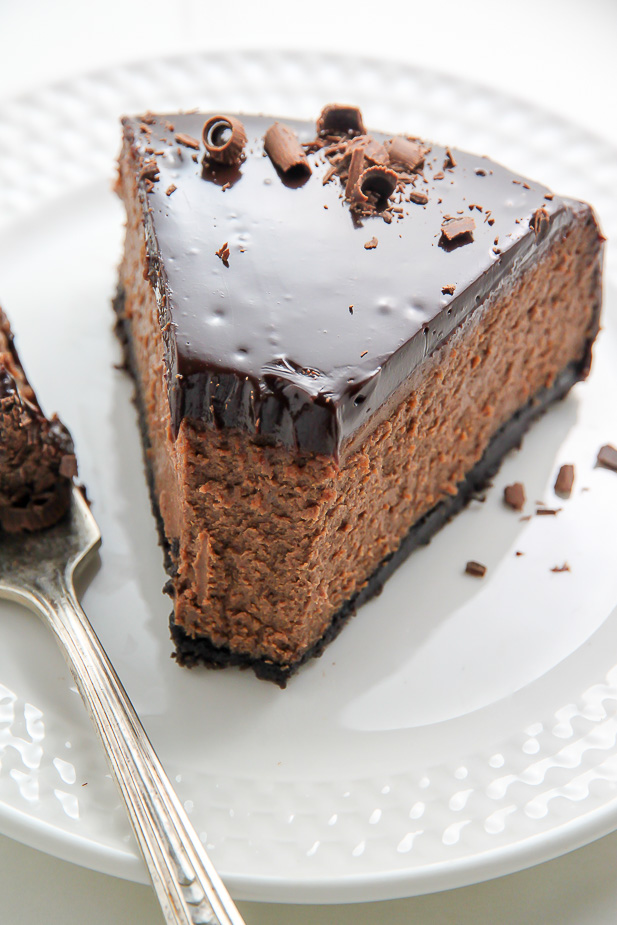 Chocolate ganache is easy as can be! Bring cream to boil, pour it over some chocolate chips, and stir smooth. Look at that shine ↓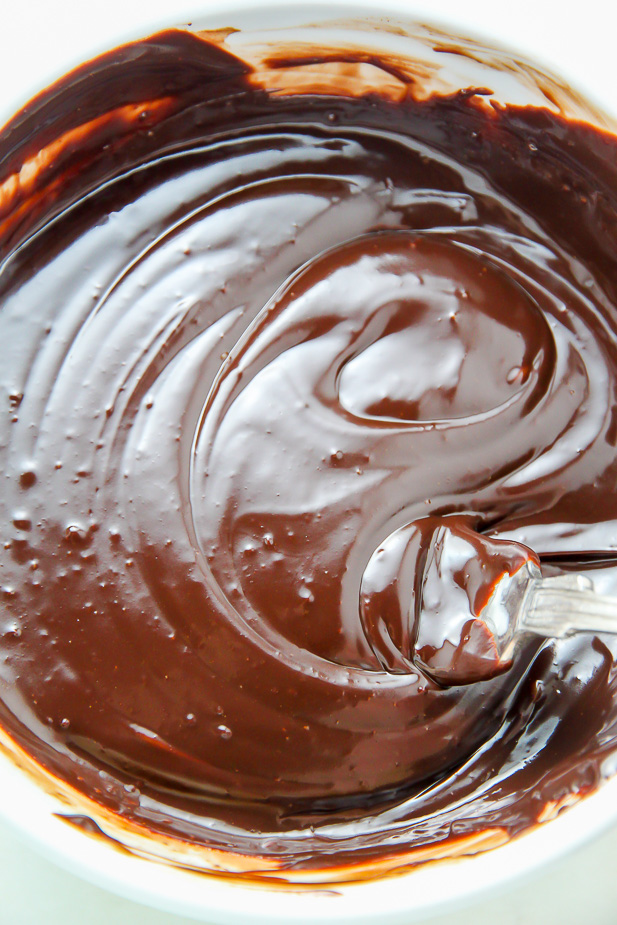 The whipped cream is a simple and straightforward method that calls for heavy cream, confectioners' sugar, and a dash of vanilla. You're also going to need either a stand mixer fitted with a whisk attachment or a handheld electric mixer. You'll beat heavy cream and sugar until stiff, then add in the vanilla and beat a few more seconds.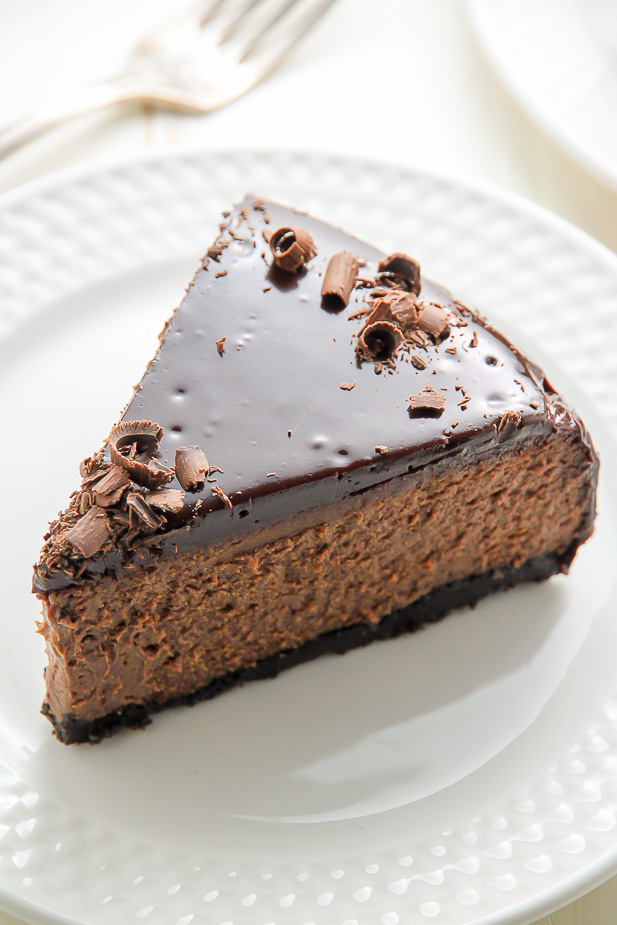 Devilishly decadent, this cheesecake is a must make for chocolate lovers!
More Kahlua Recipes: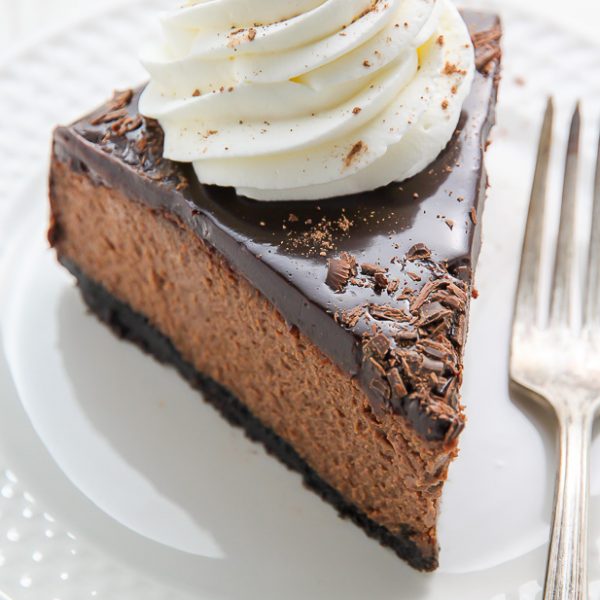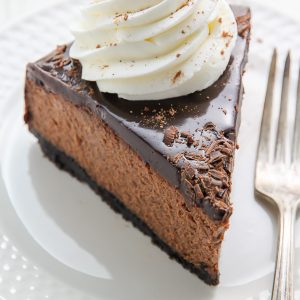 Kahlua Chocolate Cheesecake
Devilishly rich and decadent Kahlua Chocolate Cheesecake! Topped with Chocolate Ganache and Whipped Cream, this is a chocolate lovers dream.
Ingredients
For the Oreo Crust:
24 Oreo cookies
1/4 cup unsalted butter, melted
For the Kahlua Chocolate Cheesecake Filling:
(3) 8 oz packages of cream cheese, VERY soft
1 cup sour cream
3 large eggs + 2 egg yolks
1 and 1/2 cups granulated sugar
1/4 teaspoon cinnamon
3 tablespoon unsweetened cocoa powder
1 1/2 teaspoons vanilla extract
1/4 cup Kahlua
8 ounces semi-sweet chocolate, melted and slightly cooled
For the Chocolate Ganache:
8 ounces semi-sweet chocolate, chopped
1/2 cup heavy cream
For the Whipped Cream:
1 cup heavy cream
1/4 cup confectioners' sugar
1/2 teaspoon vanilla
Instructions
Preheat oven to 325 degrees (F). Wrap a 9" spring form pan VERY well in layers of heavy-duty tin foil; lightly grease the pan with non-stick spray; set aside.
For the Oreo Crust:
Add the Oreos to the body of a blender and pulse until the cookies are fine crumbs. Stir in the melted butter, mixing well to combine. Dump the mixture into the prepared pan, pressing the crust down firmly and slightly up the sides. Set aside.
For the Kahlua Chocolate Cheesecake Filling:
Beat cream cheese and sour cream in a blender until completely smooth. Add in the eggs, egg yolks, sugar, and cinnamon; pulse until well combined. Add cocoa powder and vanilla and pulse for another 30 seconds, or until cocoa powder has completely disappeared into the batter. Don't over mix! Using a rubber spatula, fold in chocolate and Kahlua, stirring gently until combined.

Pour filling into prepared crust, spread evenly, and smooth the top with a rubber spatula.

Place the springform pan in a large baking pan (with high sides) and fill the pan halfway with hot water; this is your water bath (see post if you need more information on this). Place cheesecake in preheated oven and bake for 1 hour and 30 minutes. Turn the oven off and let the cheesecake sit for 45 minutes inside the oven with the door shut. The cheesecake should be still slightly wiggly in the center. Remove from oven and gently run a knife around the edge of the cake, loosening any bits that may have gotten stuck while baking. Allow cheesecake to rest on the counter for 30 minutes before covering with plastic wrap and refrigerating for at least 6 hours. When ready to serve pour the ganache on top of the uncut cheesecake and place it back in the fridge for 10 minutes (this will help the ganache set). Slice, top with a dollop of whipped cream, and serve!
For the Chocolate Ganache:
Add the chocolate to a large, heatproof bowl; set aside.

Heat the cream in a small saucepan over medium-heat just until it begins to bubble around the edges; about 2 minutes. Remove the cream from heat and pour it over the chopped chocolate. Let the chocolate and warm cream stand untouched for 1 minute, then whisk it together until the chocolate melts and a smooth ganache forms; about 2 minutes. Pour the warm ganache over the cheesecake before serving.
For the Whipped Cream:
Place the heavy cream and sugar in a stand mixer fitted with the whisk attachment and beat on high until semi-stiff peaks begin to form. Add in the vanilla and beat for another minute or so. Dollop on top of cheesecake slices right before serving, or place in the refrigerator until needed. Keeps for 48 hours.