Coffee lovers will go CRAZY over these Kahlua Chocolate Cupcakes! Rich, decadent, and a little boozy. If you love Kahlua and Chocolate, you have to try these Kahlua Cupcakes!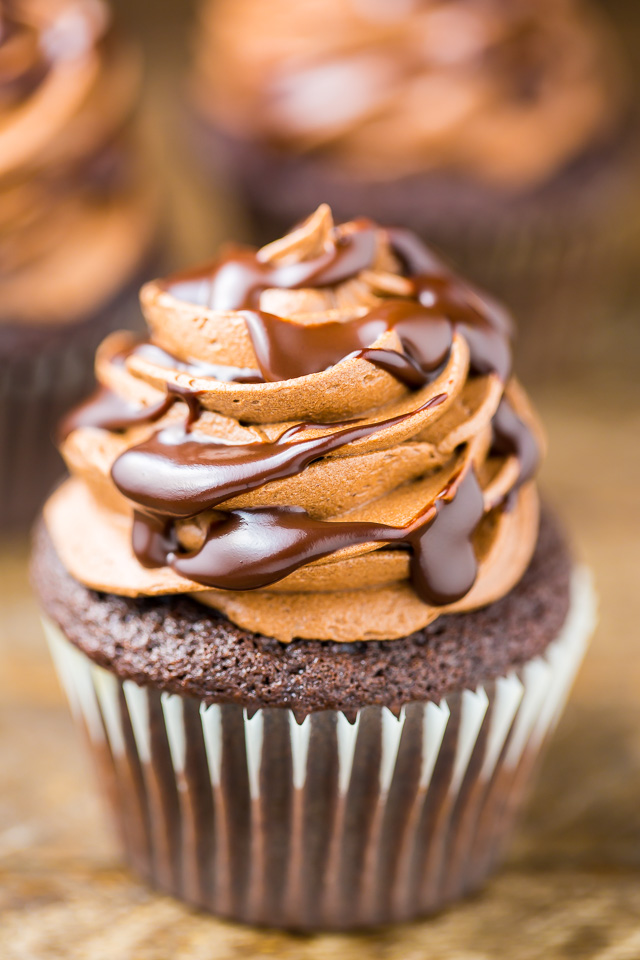 Chocolate Kahlua Cupcakes
Hi! Sorry to do this to you so early in the morning… but I made us cocktail cupcakes!!! They have coffee and kahlua and tons of real chocolate flavor in every bite. They are EVERYTHING.
Proof can be found below ↓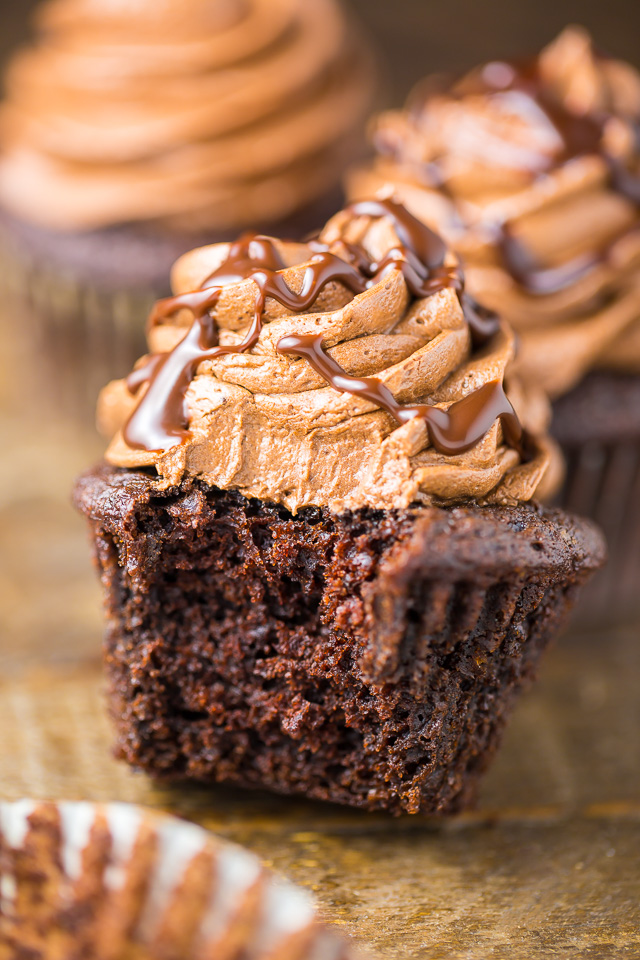 I haven't baked anything this over-the-top in a while, so I felt like it was about time we got a little crazy in the kitchen again. And what better way to do that than with ridiculously decadent cupcakes?! So bust out the chocolate and butter and booze, my friend. Let's get baking!
There are 3 parts to these Mocha Kahlua Cupcakes: the chocolate coffee cupcake base, the kahlua spiked chocolate buttercream, and the kahlua chocolate ganache drizzle. Suffice it to say, these cupcakes are truly a chocolate and coffee lovers paradise. ← And this is coming from a diehard fan of both!!!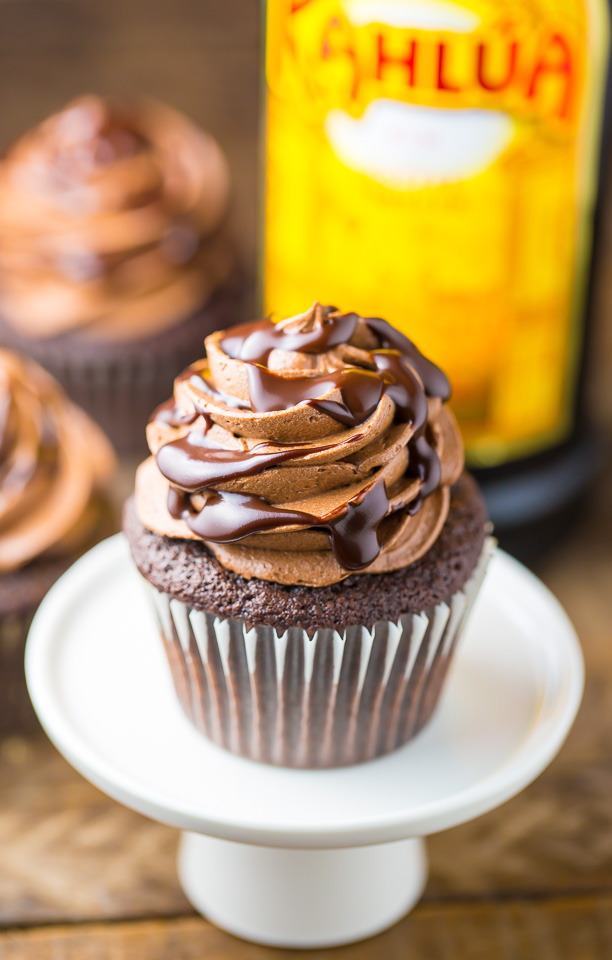 Kahlua Cupcake Recipe
Tips and Tricks for Recipe Success:
In case you're unfamiliar, Kahlua is a rich coffee liqueur made from Mexican coffee, spirits, and vanilla. You should have no problem finding it at your local liquor store, and most carry mini-bottles if you don't want to invest in the full-sized varieties.
If you prefer a cupcake without coffee or alcohol, you may enjoy my super decadent chocolate cupcakes, instead.
This recipe can be partially made in advance. These cupcakes may be baked, wrapped, and frozen (unfrosted), for up to one month. When you're ready to use them, simply let them thaw for an hour or so before frosting and serving.
To reach the proper buttercream consistency you'll want to make sure your butter is very soft before beginning. I suggest giving your butter at least an hour to soften before getting busy; your butter may soften faster or slower depending on the temperature of your house. You'll know your butter is soft enough when you can press your finger into the top and an indentation is effortlessly made. Cold butter, as well as melted butter, should never be used when making this buttercream; it will not work.
Once all of the confectioners' sugar has been added to the frosting, be sure to beat it on medium-high for the FULL 2 minutes. Beating the frosting on high makes it SUPER luscious and fluffy. You will need to use a stand mixer or handheld electric mixer for this step.
If your frosting appears too thin, simply add a little more confectioners' sugar, one tablespoon at a time until desired consistency is reached; if your frosting appears too thick, add a touch of milk (or Kahlua if you're feeling daring).
I piped the frosting on using this closed star tip.
Treat Yo Self to a batch of Coffee and Chocolate Cupcakes TODAY! You're worth it 😉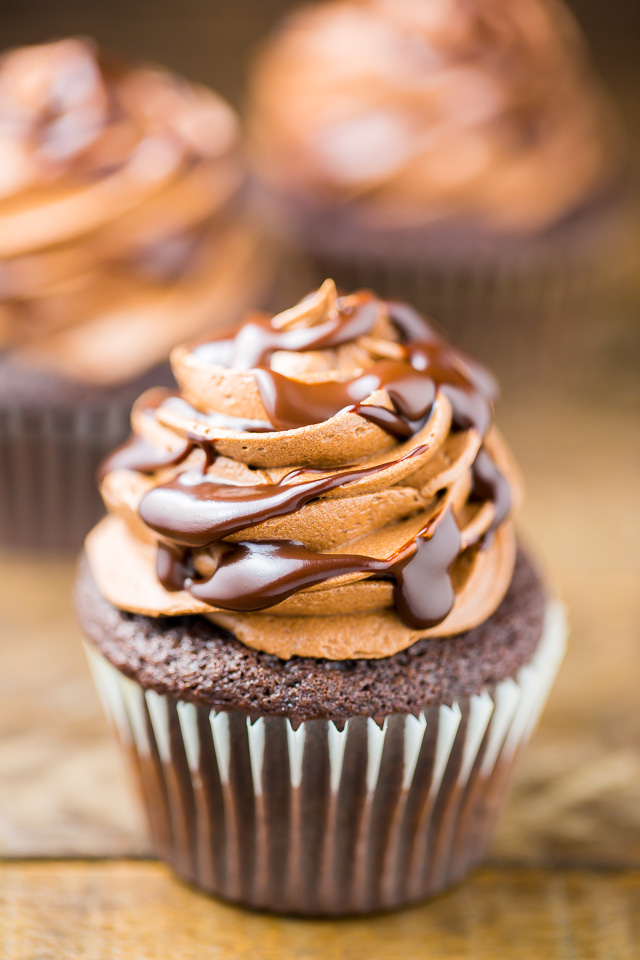 More Kahlua Recipes:
If you try this recipe, let me know what you think! Leave a comment below, and don't forget to snap a pic and tag it #bakerbynature on instagram! Seeing your creations makes my day ♥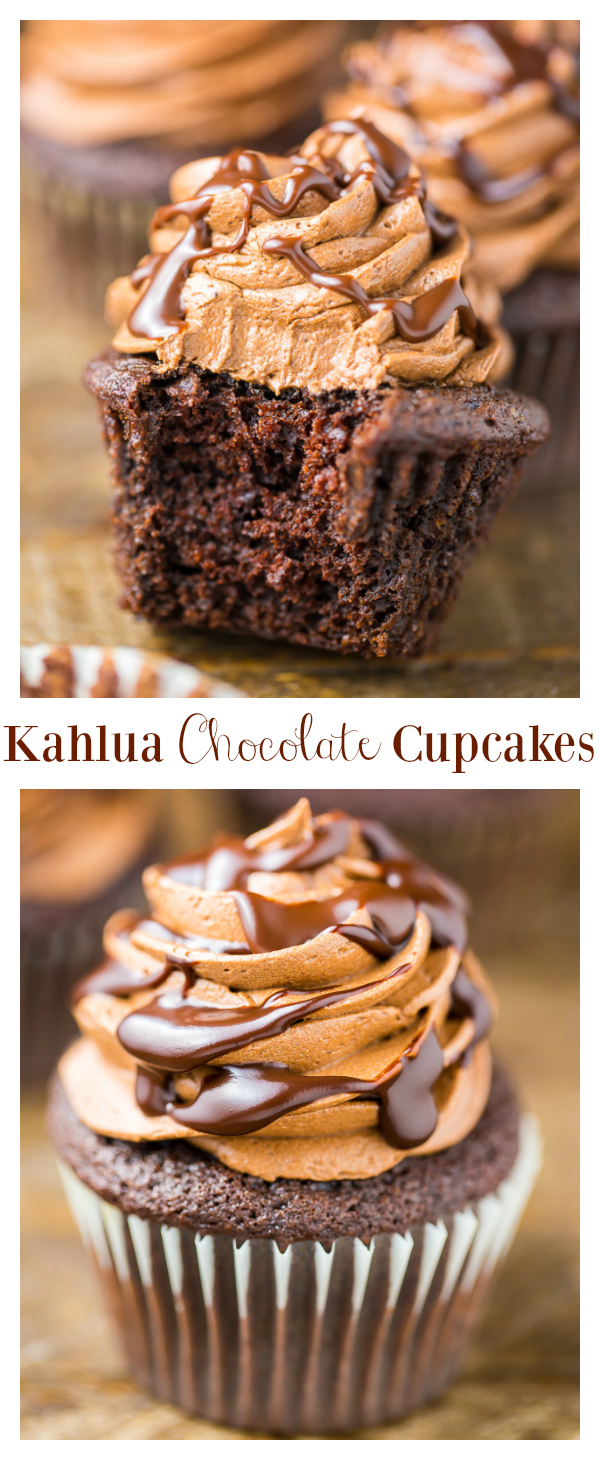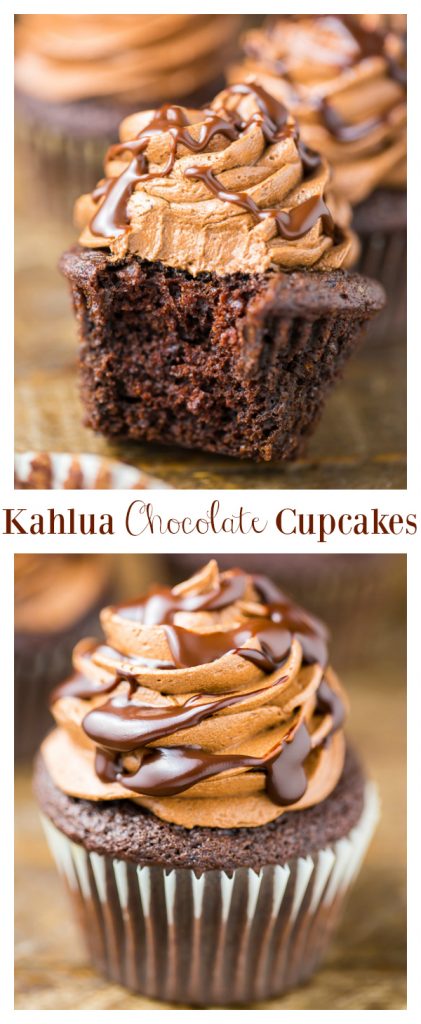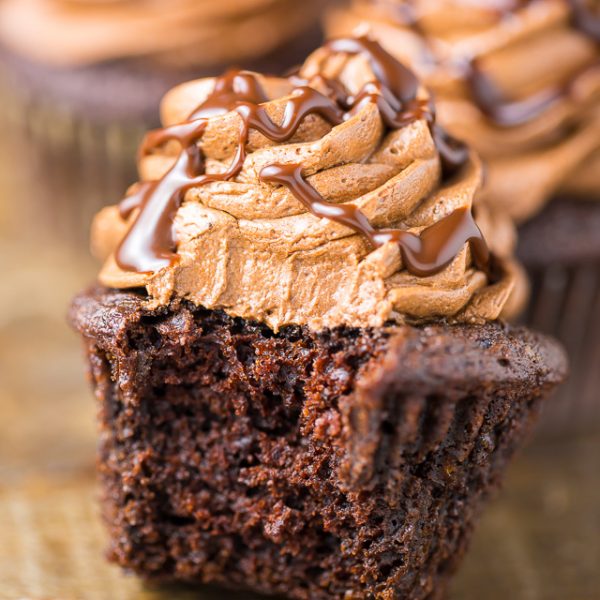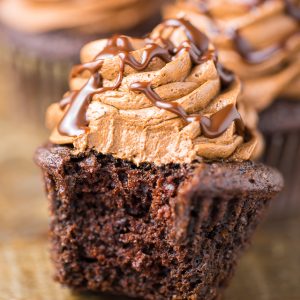 Kahlua Chocolate Cupcakes
Moist and fluffy Kahlua Coffee Chocolate Cupcakes!
Ingredients
For the Kahlua Chocolate Cupcakes:
2 tablespoons canola oil OR coconut oil
1 stick (4 ounces) unsalted butter
3 ounces semi-sweet chocolate, chopped
1 teaspoon instant espresso powder
3/4 cup plus 2 tablespoons all-purpose flour, not packed
1/2 teaspoon baking soda
1 teaspoon baking powder
1/2 cup unsweetened cocoa powder, sifted
1/2 teaspoon salt
1/4 teaspoon ground cinnamon
3/4 cup granulated sugar
1/4 light brown sugar, packed
2 large eggs + 1 large egg yolk, at room temperature
1 teaspoon vanilla
2 tablespoons Kahlua
1/2 cup full-fat sour cream, at room temperature
1/2 cup hot coffee
For the Kahlua Buttercream:
1 stick unsalted butter
3 cups confectioners sugar, sifted
3/4 cup unsweetened cocoa powder
2 tablespoons Kahlua
3 tablespoons whole milk or half and half, more if needed
1/4 teaspoon salt
1 teaspoon vanilla
For the Kahlua Ganache:
4 ounces bittersweet chocolate, chopped into small pieces
1/2 cup heavy whipping cream
2 teaspoons Kahlua
Instructions
For the Kahlua Chocolate Cupcakes:
Preheat oven to 350 degrees (F). Line a 12-cup cupcake/muffin tin with cupcake liners and lightly spray the liners with non-stick spray (optional, but it helps them peel right off).

Combine the the oil, butter, chocolate, and espresso powder in a large microwave safe bowl; melt in the microwave, heating in 30 second increments, stirring between each increment, until chocolate is completely melted. You can also do this on the stove top using a double boiler, but I find the microwave to be much easier. Whisk mixture completely smooth and set aside to cool.

In a medium-sized bowl combine the flour, baking soda, baking powder, cocoa powder, salt, and cinnamon; whisk together until thoroughly combined and set aside.

In a large bowl combine the granulated sugar, brown sugar, eggs, egg yolk, vanilla. and kahlua; whisk smooth. Stir in the cooled chocolate mixture and whisk until smooth. Add half of the flour mixture, then half of the sour cream. Repeat the process until everything is added, and be sure to mix until JUST combined - then quickly stir in the hot coffee. It's important not to over mix, here! Just stir until evenly combined.

Fill the prepared tins 3/4 of the way full (you'll have enough leftover batter to bake 6 more cupcakes). Bake for 16-18 minutes, or until a toothpick inserted in the center comes out clean. Cool completely before frosting.
For the Kahlua Buttercream:
Sift together the confectioners sugar and cocoa powder, whisking well to ensure it's bump free; set aside.

Using a handheld mixer OR a stand mixer fitted with the paddle attachment, beat the butter on medium-high speed until creamy; about 2 minutes. Reduce speed to low and slowly add the sifted sugar/cocoa powder, alternating with the Kahlua and milk, then add the salt and vanilla. Once all of the ingredients have been added, beat on medium-high speed until light and creamy; beat for at least 2 minutes on medium-high.

Frost cooled cupcakes and top with Kahlua ganache.

Cupcakes stay fresh, stored in an airtight container in the fridge, for up to 3 days.
For the Kahlua Ganache:
Place chocolate in a medium-sized heat-proof bowl; set aside.

In a small saucepan over medium heat, warm the heavy cream until very hot, but not boiling. Pour the hot cream over the chopped chocolate and set it aside for 2-3 minutes. Whisk the cream and chocolate completely smooth; whisk in Kahlua. Allow the chocolate to cool for about 5 minutes before spooning the on the top of each frosted cupcake.
Notes
Don't let the chocolate ganache sit for more than 5 minutes or it will harden up and become very difficult to spoon over the frosting. Also, be sure not to add too much chocolate ganache on top of the cupcakes or it will drip all over your liners making it very messy to pick up.