Super EASY Creamy Kahlua Chocolate Fudge! This creamy and decadent homemade candy makes a great holiday gift! If you love chocolate fudge and Kahlua, you'll love this recipe!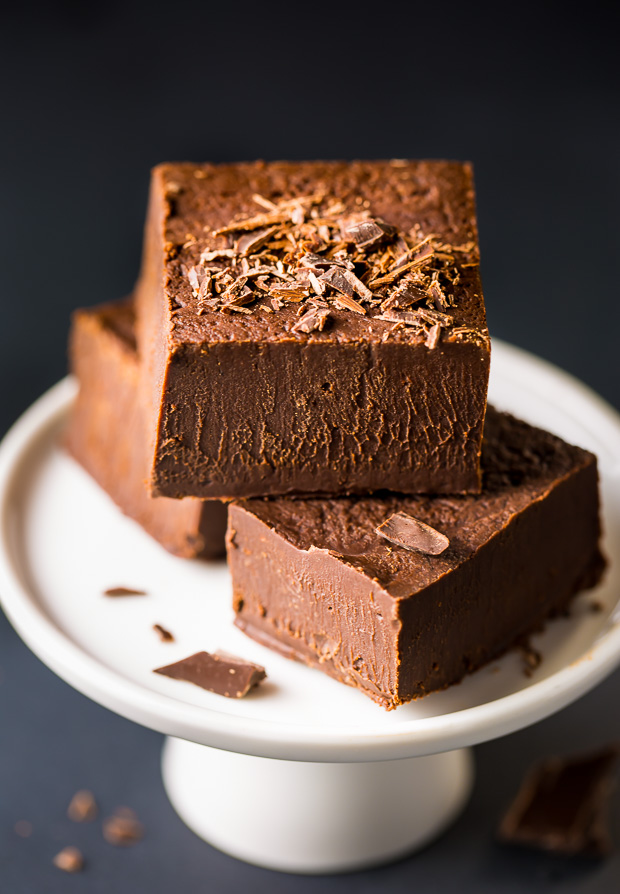 Kahlua Fudge Recipe
Oops, I did it again. I put Kahlua in our dessert and I'm not sorry. Trust me… once you sink your teeth into a piece of this Creamy Kahlua Chocolate Fudge, you won't be sorry either. Each silky smooth bite is sweet, rich, and incredibly flavorful.
Each bite is simply irresistible ↓↓↓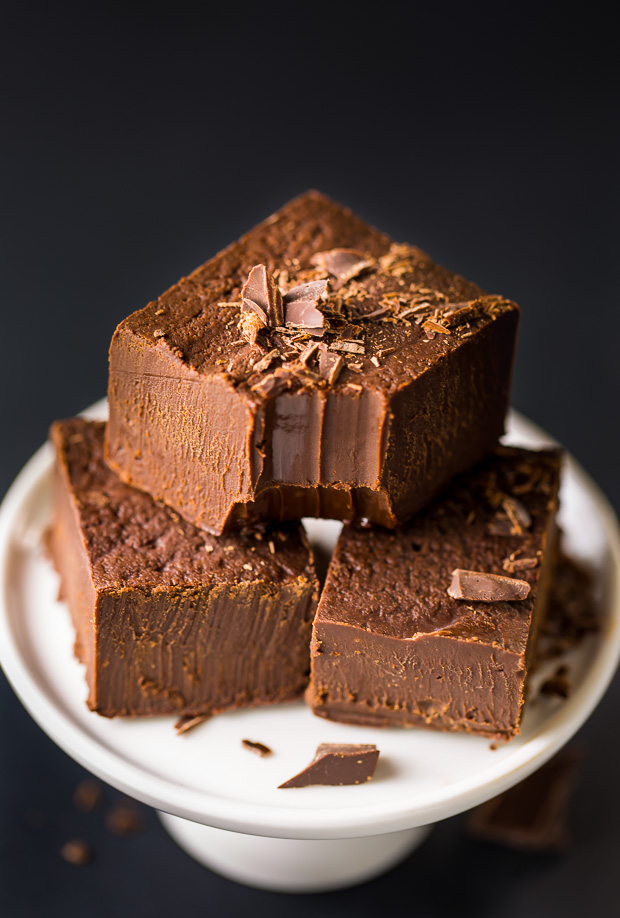 With Valentine's Day coming up quick, I wanted to share a recipe that's perfect for gifting! And I think this fudge just screams "I LOVE YOU". Especially if the recipient is a chocolate lover!
One batch goes a long way, so you could definitely make 3 or 4 little gift boxes and still have some fudge leftover for yourself 😉
This Creamy Kahlua Chocolate Fudge will need to set for about 2 hours in the fridge, so be sure to plan ahead time wise 😉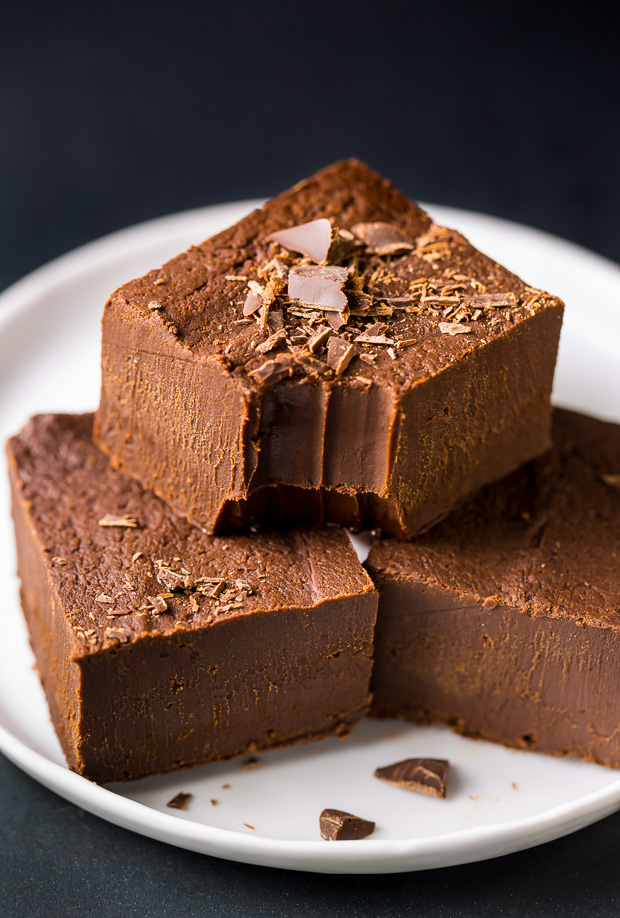 How to Make a Double Boiler:
For best results, this recipe should be made in a double boiler. If you don't have one, don't worry – making one is easy! Here's what you do: first you'll need to find a heatproof glass bowl that will fit on top of a saucepan without dipping in at the bottom. Next you'll fill the saucepan with a little water (you want it about 1/4 full) and bring it to a boil. Reduce the heat to barely a simmer. Next you'll place the heatproof glass bowl holding your ingredients on top of the pot. The bottom of the bowl should not touch the water (you want at least 2 inches between the bowl and water). The intention of this cooking method is to heat the bowl with steam – not the actual water.
Be patient while melting your chocolate. The slow melting ensures it doesn't seize up and become gritty.
What is Kahlua?
Kahlua is a rich coffee liqueur made from Mexican coffee, spirits, and vanilla. In short, it's DELICIOUS. You should have no problem finding it at your local liquor store, and most carry mini-bottles, in case you don't want to invest in a full-sized bottle. You'll only need two tablespoons for this recipe.
Can I Skip Espresso Powder?
Don't skip the espresso powder! It helps enhance the flavor of the chocolate and the Kahlua. If you're on the market for a new jar, I highly recommend King Arthur Flour Espresso Powder, which is what I use in all of my chocolate desserts.
Best Chocolate for Fudge?
I recommend using high-quality chocolate for this recipe. Since there are only a few ingredients, each one really shines through. I used Lindt 70% chocolate, but use any brand you know and trust. Just be sure not to use chocolate chips, which have inferior flavor and texture for a recipe like this.
Can you freeze Fudge?
Yes! If you have a lot of fudge leftover, or if you'd like to make it in advance, consider storing it in the freezer. The best way to freeze fudge is to wrap each piece in freezer safe plastic wrap then place the wrapped pieces into a freezer safe ziplock bag. You can freeze fudge for up to 3 months. To thaw the fudge, simply transfer the wrapped pieces to the refrigerator for a few hours.
But for short-term storage, I suggest wrapping the fudge in plastic wrap or storing it in an airtight container.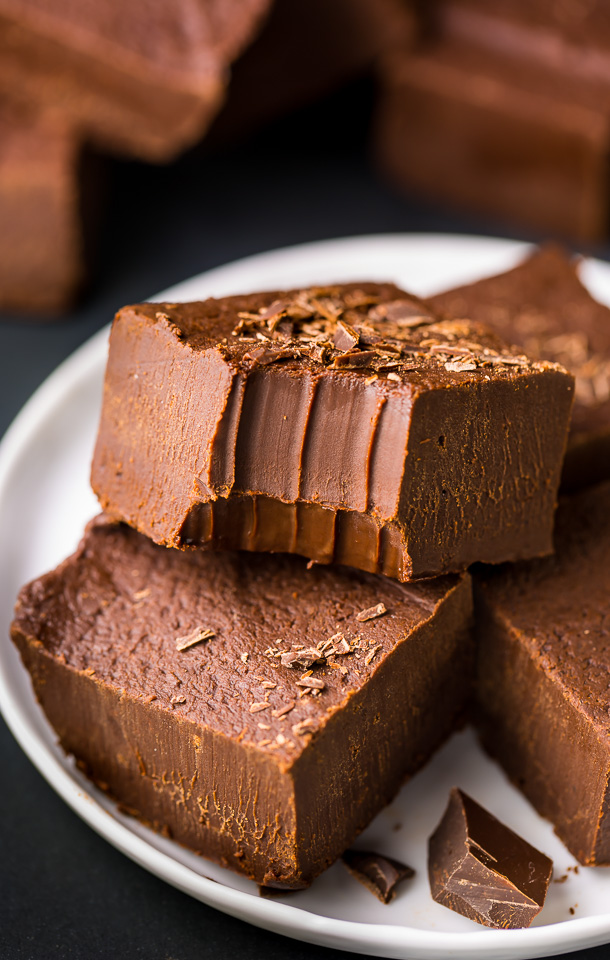 Have a wonderful day! I'm off to re-shoot a few old recipes. Can't wait to share the new shots with you later in the week.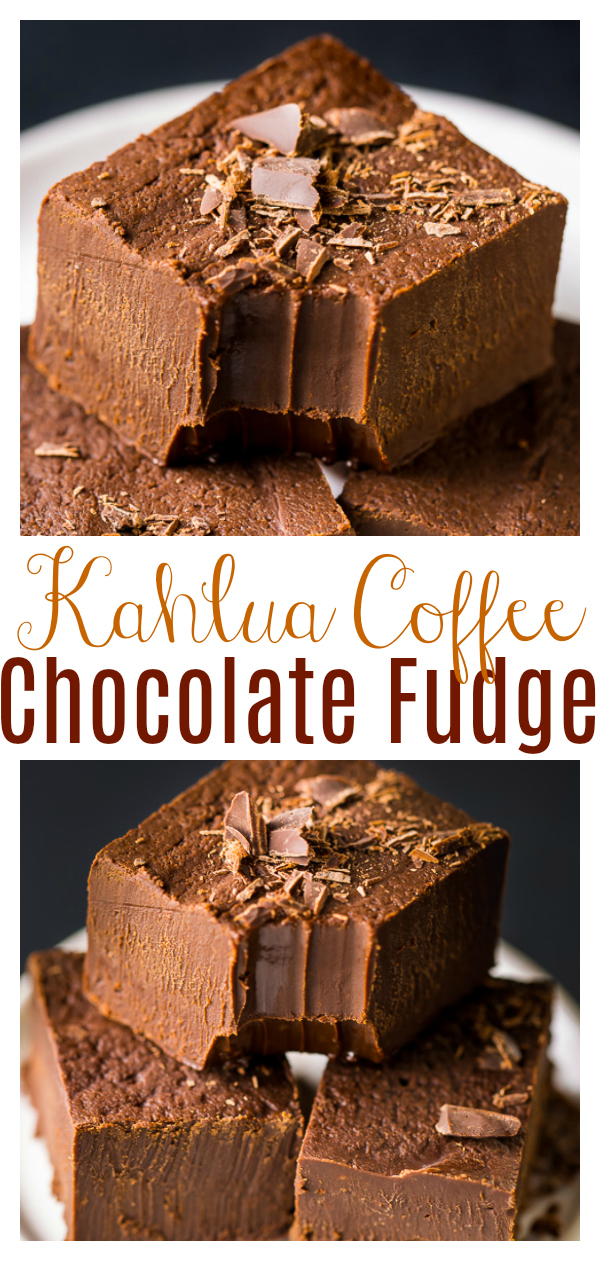 If you try this recipe for Creamy Kahlua Chocolate Fudge, let me know what you think! Leave a comment below, and don't forget to snap a pic and tag it #bakerbynature on instagram! Seeing your creations makes my day ♥
More Kahlua Recipes:
More Fudge Recipes: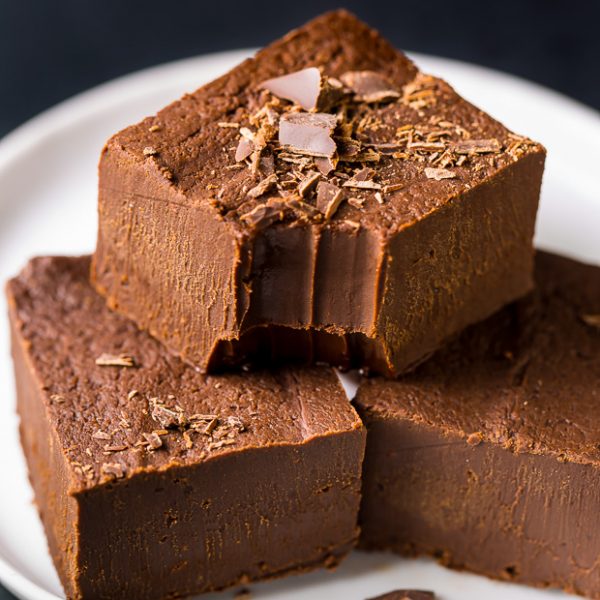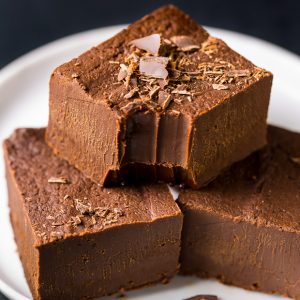 Creamy Kahlua Chocolate Fudge
Creamy Kahlua Chocolate Fudge is easy and amazing. This rich and decadent treat makes a great gift!
Ingredients
20 ounces semi-sweet chocolate, roughly chopped
1 teaspoon espresso powder
(1) 14 ounce can sweetened condensed milk
3 tablespoons unsalted butter, cut into 1/2-inch pieces, at room temperature
2 tablespoons Kahlua
1/2 teaspoon vanilla extract
1/4 teaspoon salt
1/4 teaspoon ground cinnamon
Instructions
Lightly grease an 8 x 8-inch baking pan. Line the pan with parchment paper, allowing the excess paper to overlap on two of the sides, set aside. Add the chocolate and espresso powder into a large, heatproof bowl; set aside. Fill a saucepan with a little water (you want it about 1/4 full) and bring it to a boil. Reduce the heat to barely a simmer. Place the bowl containing the chocolate and espresso powder on top of the pot. Cook, stirring frequently, until the chocolate has melted and the mixture is completely smooth, about 8 to 10 minutes. Add in the sweetened condensed milk and butter and cook for another 2 to 3 minutes, or until the butter is completely melted. Remove from heat. Whisk in the Kahlua, vanilla, salt, and cinnamon. The mixture will be VERY thick. Scrape the fudge into the prepared pan and smooth the top. Refrigerate for at least 2 hours, or until firm enough to slice.

Gently run a butter knife around the edge of the pan to loosen the fudge. Remove the fudge and transfer it to a cutting board. Peel off parchment paper, then slice the fudge into small pieces. Serve at once or store in the refrigerator for up to 1 month. You may also freeze the fudge, in an airtight freezer safe container for up to two months.
Notes
For best results, follow recipe exactly as written. See post for tips and tricks!