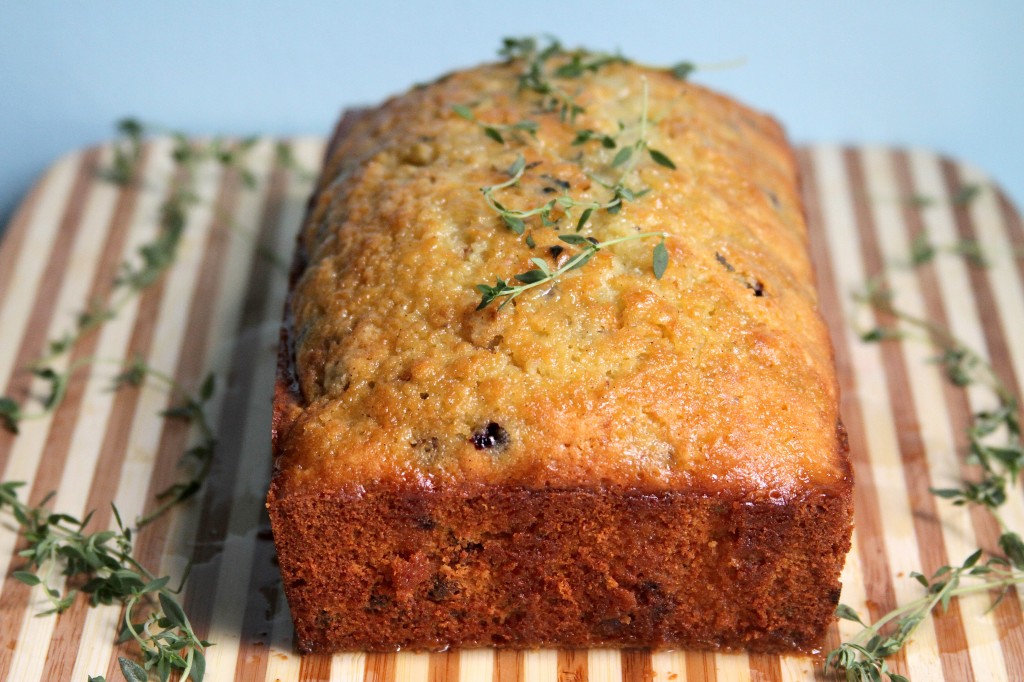 Let's talk about cake!
Cake in general is always a good thing. Duh. You don't need me telling you that.
Today, however, we'll be talking specifically about this Lemon Blueberry & Thyme Olive Oil Pound Cake.
I baked it this morning, and well, I just had to share!
It's a cake for me. It's a cake for you.! It's a cake that celebrates fresh herbs, fruit, and olive oil. How can you not dig that?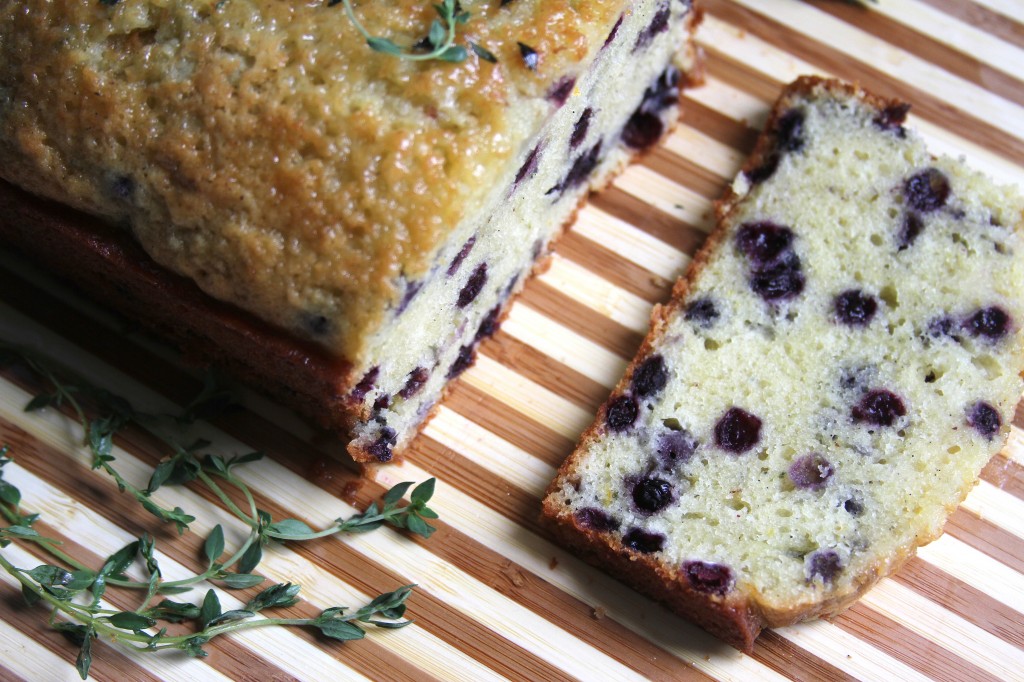 Truth: Currently all I want in life is fresh herbs, fruit, and olive oil.
It's just proper Spring time/almost Summertime etiquette, you see. After a long winter, you're meant to yearn for these things!
Let's embrace it! Let's live it up and get fresh with all the new things the Earth is sprouting up and throwing our way.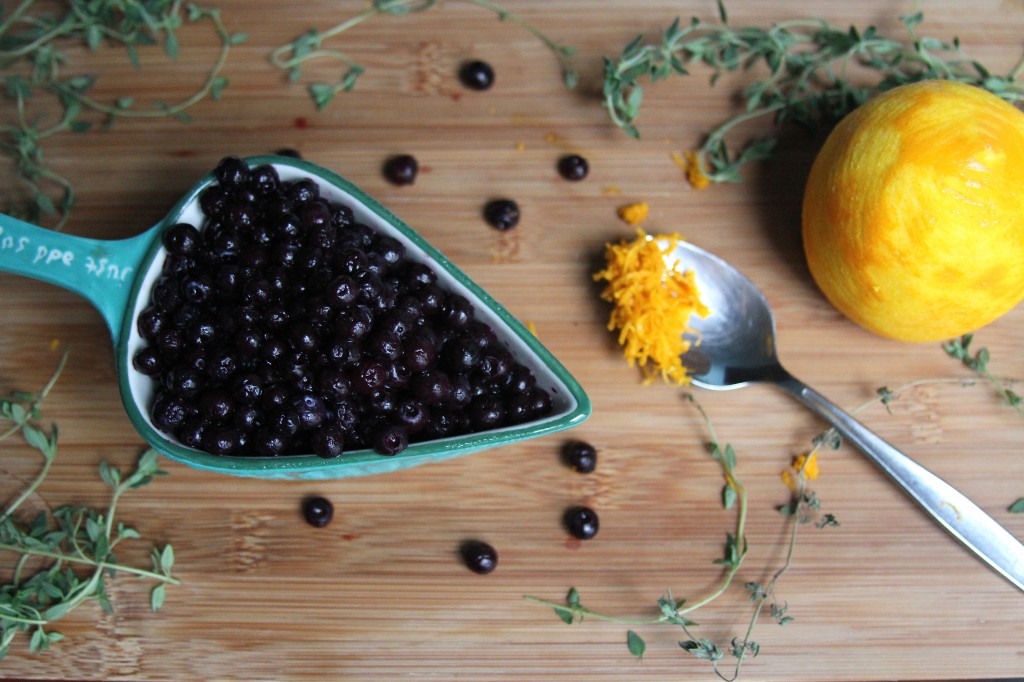 Blueberries! Lemons! Thyme! These guys make the prettiest batter. And das the truth.
Pretty batter = Pretty cakes. Pretty, tasty cakes = happy faces.
Blueberries are actually not is season yet here, but I had some frozen from last Summer still sleeping in my freezer, and I figured they'll be here for most soon enough.
Fresh thyme is in full bloom at all of the local markets around my hood, and it's pretty easy to find year round.
Fresh lemon zest and juice play nice with both the berries and the thyme, and add a real punch of flavor to this lovely pound cake.
OH! And olive oil! I used olive oil instead of the butter, because I'm just in love with olive oil. It's in my blood. And it makes a damn good cake.
Look at that lemon, thyme, vanilla bean sugar. Magical stuff happening in that bowl. Magical stuff, I tell ya.
Bursting with bright blueberries, fresh thyme, and sassy lemon, this cake didn't need any help being a winner… but that didn't stop me from going a little overboard and mixing up a quick lemon thyme simple syrup. It takes this cake from girl-next-door to a total knockout like that.
I'm a cake for breakfast kind of human, so I'm naturally inclined to tell you this is the-perfect-breakfast cake. That being said, it's also a great snack cake, and it's totally a pass-around-the-dinner table appropriate kind of cake.
This pound cake is one diverse broad!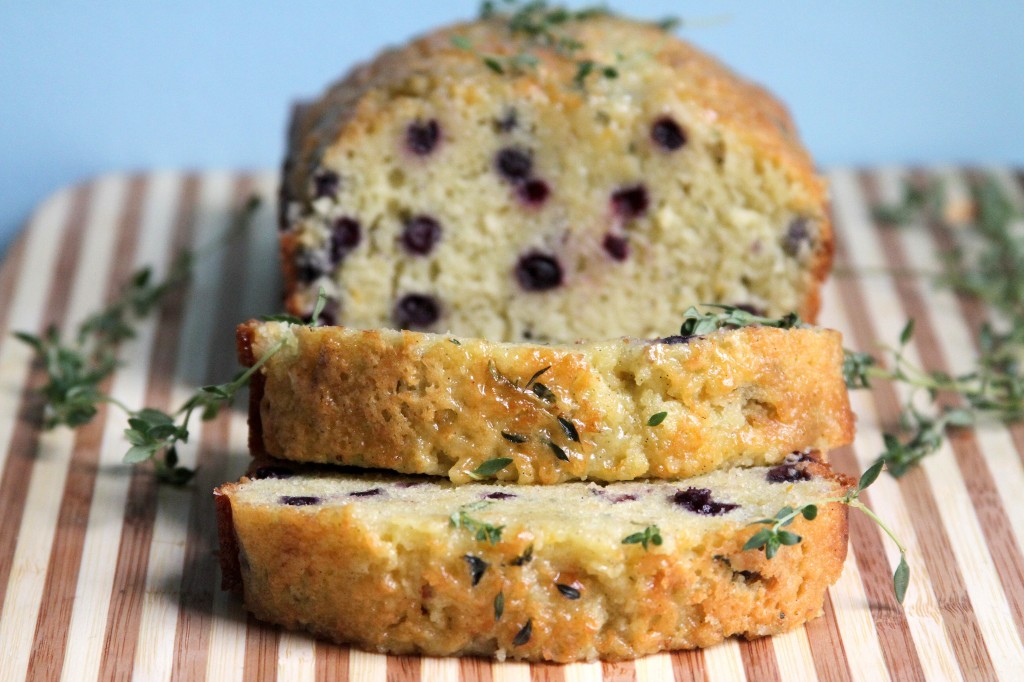 Another bonus: Lemon Blueberry & Thyme Olive Oil Pound Cake freezes great!
We sliced it up, individually wrapped the pieces, and will be enjoying this for breakfast for the next few weeks. I think you should go ahead and do the same.
C'mon, let's be breakfast twinsies!
Lemon Blueberry & Thyme Olive Oil Pound Cake – Baker by Nature
Makes one very large loaf
Ingredients:
1 cup cake flour
1 cup + 2 tablespoons all purpose flour, divided
1 1/4 teaspoons baking powder
1/2 teaspoon salt
pinch of nutmeg
1 cup sugar
1 vanilla bean, scraped
Zest of one large lemon
1/2 tablespoon fresh thyme, chopped
3 large eggs + 1 egg yolk, at room temperature
Scant 1/2 cup buttermilk
3/4 cup olive oil
Heaping half cup blueberries (fresh or frozen)
Preheat oven to 350 degrees (F). Butter and lightly flour a large loaf pan, and set it aside.
In a lare mixing bowl whisk together the cake flour, 1 cup of the all purpose flour, baking powder, nutmeg, and salt. Set aside.
Add sugar to a small mixing bowl, then with your fingers rub the vanilla bean, thyme, and lemon zest, mixing until everything is well incorporated.
Stir the eggs and yolk into the sugar mixture, then add the buttermilk and olive oil, whisking well. Carefully fold the dry mixture into the wet one, stirring until the batter has almost no trace of flour in it. Toss the blueberries with the remaining 2 tablespoons of flour, then fold them into the batter.
Pour batter into prepared pan, and bake for 60-70 minutes, or until a cake tester comes out clean.
Cake freezes well, and stays fresh on the counter (wrapped in foil) for up to 3 days.
For the lemon-thyme syrup
Ingredients:
2 tablespoons water
1/3 cup powdered sugar
1 tablespoon fresh thyme, chopped
4 tablespoons fresh lemon juice
Instructions:
Mix water, sugar, and thyme together in a small saucepan over medium heat, and allow mixture to come to a boil, simmering for one or two minutes before turning heat off. Remove pan from stove and stir in lemon juice. Pour syrup into a small heat proof bowl and let it cool.