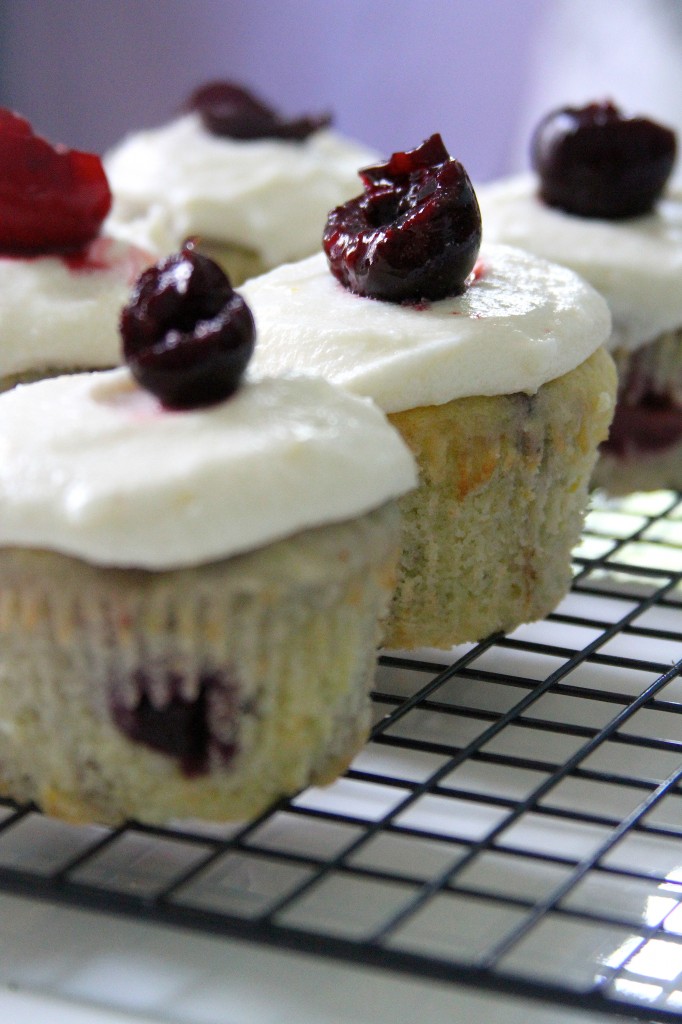 Happy July, loves!!!
Today I'm crushing on cherries and lemon… in cupcake form! In case you don't already know, lemon + cherry = one delightfully happy (and scrumptious!) flavor combo.
Sweet cherries + tart and tangy lemon just equals the ultimate one, two punch of flavor perfection. I like it. I like it a lot!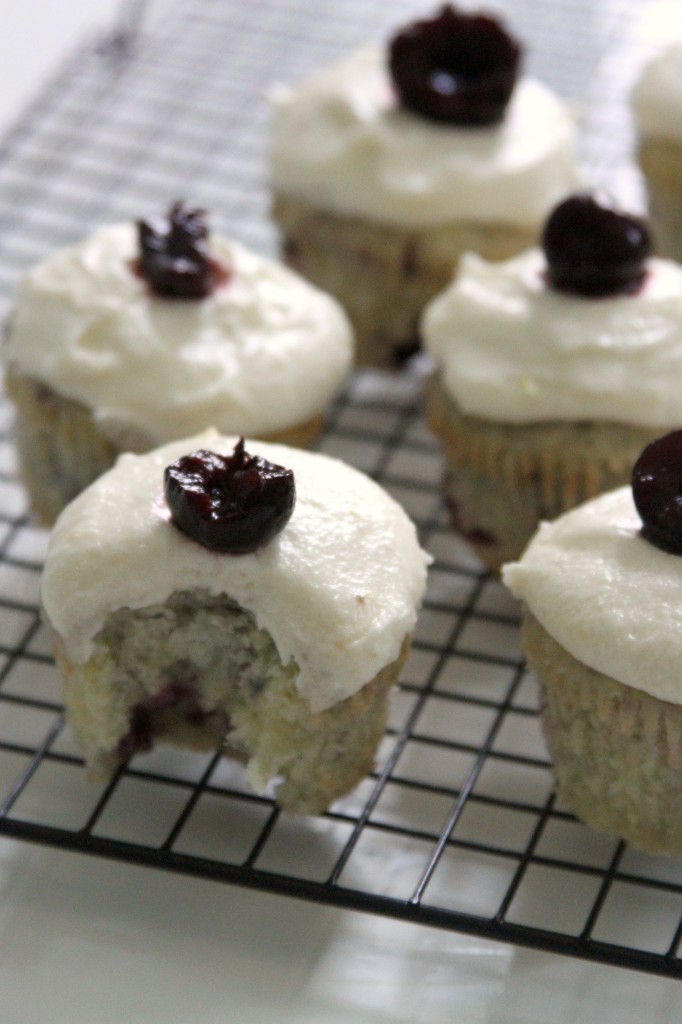 I found the flavors – and color contrasts – in these little cups of cake to be strikingly beautiful, but in a totally unconventional way. I love that about them. I also loved the way the cherries bled their dark juice all over the pure mascarpone buttercream and made them imperfectly perfect. What can I say? I like a sassy cake!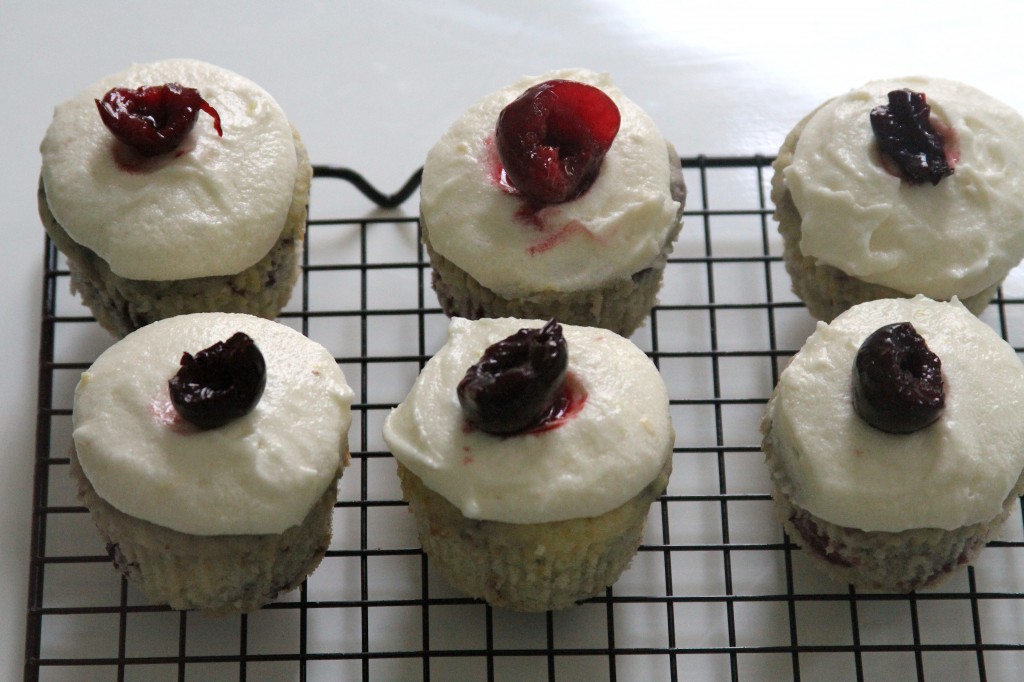 The cupcake base is light, slightly sweet, and booming with all that luscious lemon/ cherry flavor you I crave! While the mascarpone buttercream is humble, traditional and 100% classy. You know what they say; opposites attract!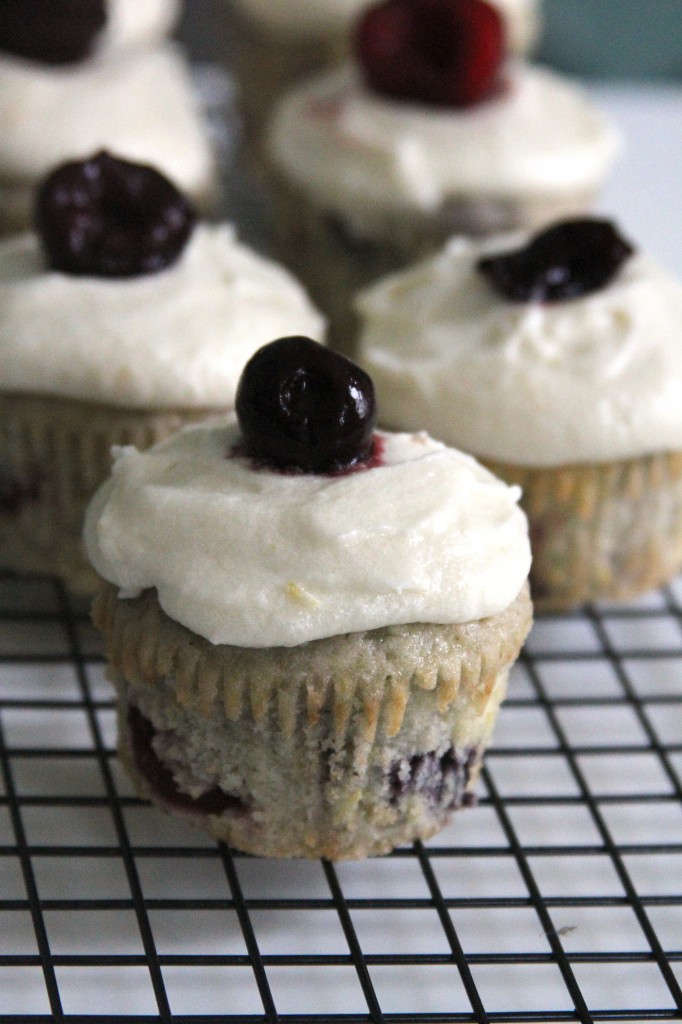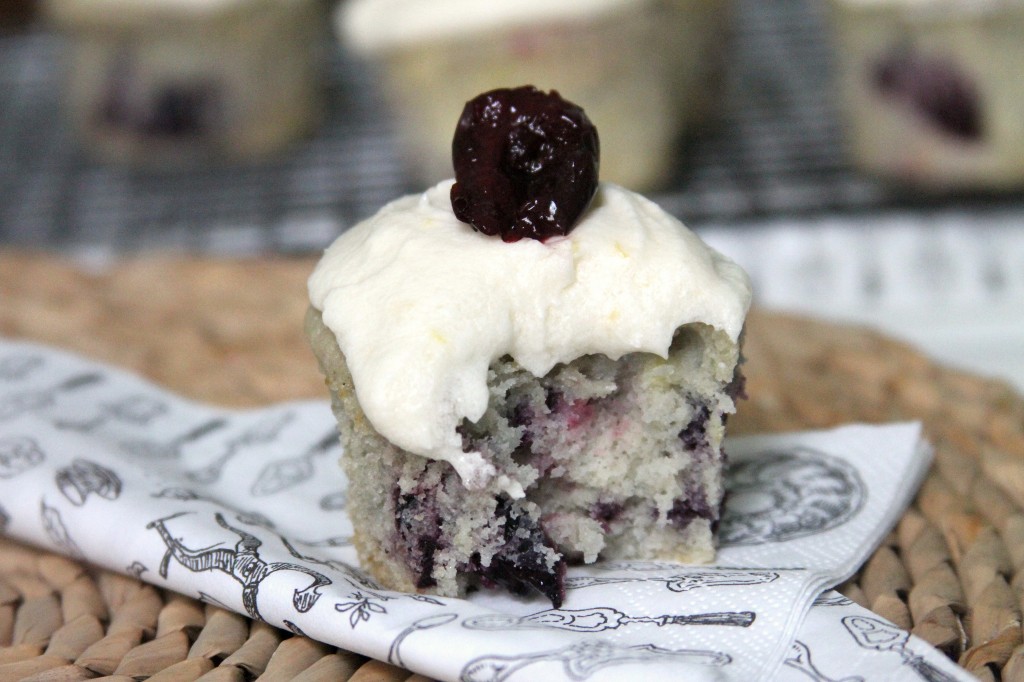 Happy baking, lovlies! xoxo
Lemon – Cherry Cupcakes with Lemon Mascarpone Icing
Makes 2 dozen cupcakes
3 cups + 2 tablespoons cake flour
Zest of 2 large lemons
2 cups granulated sugar
1 tablespoon baking powder
1 teaspoon salt
2 sticks (8 ounces) unsalted butter, very soft
1 tablespoon vanilla
4 large eggs, at room temperature
1 cup whole milk
1 cup cherries, pitted and quartered
*additional 24 cherries if you plan to garish!
Preheat oven to 350 degrees (F). Line or grease cupcake tin and set aside.
In a mixing bowl stir together 3 cups of the flour, the baking powder, and the salt; set aside.
In a small bowl – using you hands – mix the lemon zest and sugar together.
In a stand mixer beat the butter, vanilla, and lemon-sugar together until light and fluffy, about 2 minutes. Add the eggs, one at a time, beating well with each new addition. Add the flour in 3 segments, alternating with the milk – beginning and ending with the flour. Toss cherries with remaining flour, then fold into batter.
Spoon prepared batter into cupcake cups (filling about 1/2 way each) and bake for 18-20 minutes. Let cool completely, and then frost.
Lemon Mascarpone Icing – Baker by Nature
1 cup heavy cream
1 cup mascarpone cheese
1 teaspoon lemon zest
1 tablespoon vanilla extract
1 cup confectioners sugar
In a stand mixer or large bowl beat the cream until it starts to become whipped and peaks form.
In a small dish whisk the mascarpone cheese with the vanilla, lemon, and sugar, then gently fold in the whipped cream and beat till just combined.  Refrigerate for 10 minutes then frost cooled cupcakes. Top with cherries for garnish.