Your taste buds are going to go crazy over this one —–> Soft and Fluffy Lemon Cupcakes topped with homemade Raspberry Buttercream. Dessert doesn't get much better than this!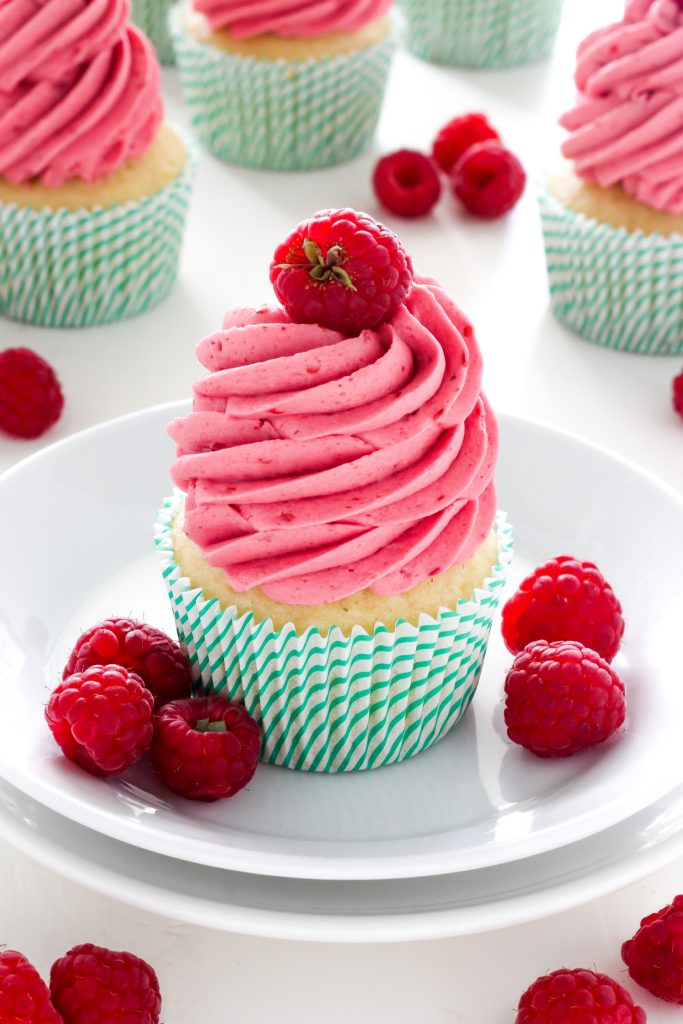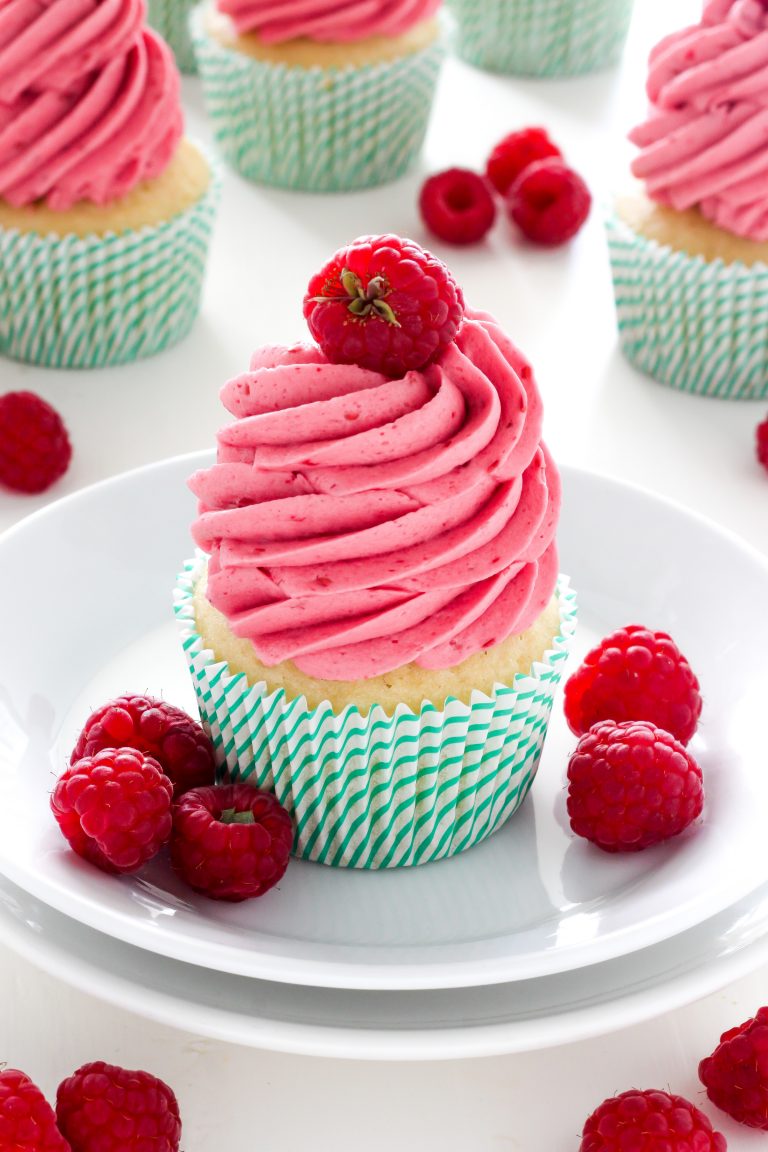 Aside from chocolate, fruity desserts are definitely my favorite. Now that Spring is here – and Summer is just around the corner (woot woot!) – we'll be getting fruity around here far more often 🙂
To kick things off I give you lemon cupcakes with raspberry buttercream! They're fruity, flavorful, and so fun to make. Trust me when I say combing vibrant lemon cupcakes with a gorgeous pink raspberry swirl is sure to make you a baking big shot.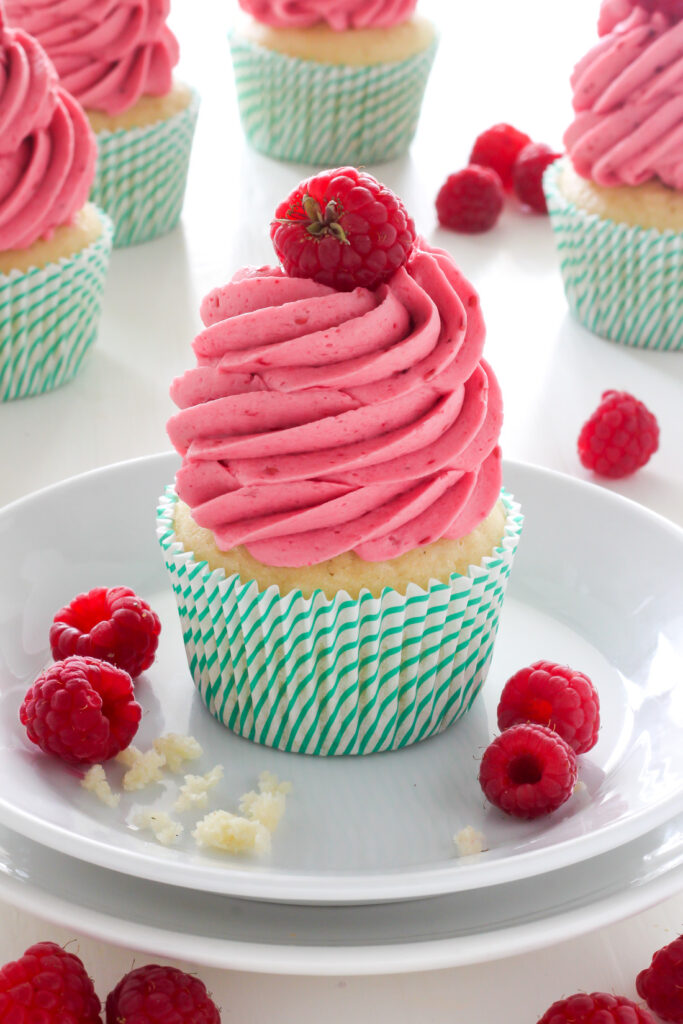 We have a lot to cover today, so let's dive right into the recipe details.
The first thing I want to talk with you about is the raspberry buttercream frosting. It's the star of the show, in my opinion! And easy to make, as long as you have a little patience and pay close attention to the recipe below.
Here are a few tips to help you along your way:
1) Make sure your raspberry puree has cooked down to a thick puree and has reduced to 1/4 cup. Removing the puree from heat too soon will leave you with too much liquid, so this is very important to keep in mind.
2) Please (please please please) let your raspberry puree cool completely; 100%; all-the-way! If it's even still a little warm when you add it to the mix it will throw off the consistency of the frosting and most likely leave you with a gloppy mess. We don't need that drama in our lives now do we? The puree typically takes 30 minutes to cool (in the fridge), and can be made ahead of time if need be.
3) You want to make sure your butter is very soft. I like to leave two sticks out on the counter for at least an hour before unwrapping them and getting busy, but yours may soften slower or quicker depending on the temperature of your house. The butter temperature is very important here, as it gives this buttercream shape and texture. You will know your butter is soft enough when you can press your finger into the top and an indentation is effortlessly made. Cold butter as well as melted butter should never be used when making this buttercream. In short, it will not work.
4) Once all of the sugar has been added, beat beat beat! You will beat the frosting on medium-high for 2 whole minutes. You will need to use a stand mixer or handheld electric mixer for this step. Beating the frosting on high makes it SUPER luscious and fluffy.
5) If for some reason your frosting seems a bit thin, add a little more confectioners' sugar; if it seems too thick, add a touch of cream. I like to start with a 1/4 cup when adding more sugar, and 1 tablespoon when adding more cream.
6) Don't forget the salt! Many readers have (and even friends) have informed me they don't add in the salt called for in dessert recipes because "they don't like salty sweets". I feel you! But most times the salt called for is to help balance out the sweetness, and in this case, is quite important for achieving a balanced taste.
I know, I know! I'm such a nerd with my tips! But I just really want to make sure your cupcakes (and frosting!) turn out beautifully 🙂
Which brings us to the cupcakes. The easy part, in my opinion 😉 These cupcakes are fabulously fluffy and exploding with bright lemon flavor in every bite.
The secret ingredient for these cupcakes is cake flour. Cake flour is lower in protein than all-purpose flour, and results in light and airy cupcakes.
Pro tip: In a pinch you can make your own cake flour by sifting together 3/4 cup + 2 tablespoons of all-purpose flour and 2 tablespoons of cornstarch. This will make one cup of cake flour.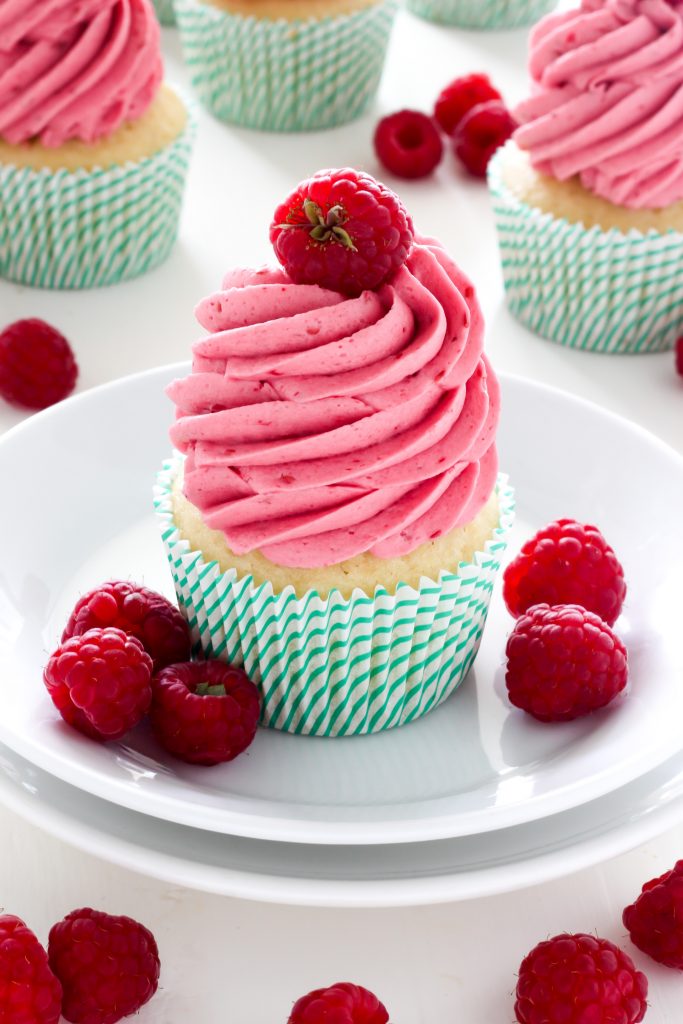 Decorate with extra raspberries and serve to people you love! Cupcakes this pretty just beg to be shared 🙂 xoxo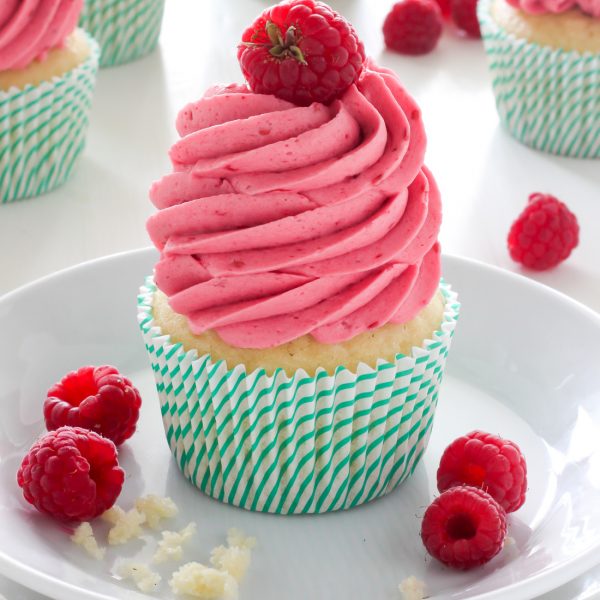 Lemon Cupcakes with Raspberry Buttercream
Light and fluffy lemon cupcakes are topped with an incredible homemade raspberry buttercream! Everyone will love these impressive cupcakes.
Ingredients
For the lemon cupcakes:
1 1/2 cups + 2 tablespoons cake flour
1 1/4 teaspoons baking powder
1/4 teaspoon salt
1/2 cup sour cream (I used full fat)
1/2 cup milk (I used whole)
2 large eggs, at room temperature
1 stick (4 ounces) unsalted butter, melted
1 cup granulated sugar
Zest of one lemon (about 3 teaspoons)
1 1/2 tablespoons fresh lemon juice
For the raspberry buttercream:
1 1/4 cups frozen raspberries (I think fresh would also work just fine)
2 tablespoons lemon juice
2 sticks (8 ounces) unsalted butter, VERY soft
1/2 teaspoon salt
3 1/2 cups confectioners sugar (more if needed), sifted
1 tablespoon heavy cream (more if needed)
1/4 cup fresh raspberries, for decorating (optional)
Instructions
For the lemon cupcakes:
Preheat oven to 350 degrees (F). Line a 12 mold muffin tin with paper liners; lightly spray the paper liners with non-stick baking spray; set aside.

In a medium bowl combine flour, baking powder, and salt; mix well to combine; set aside.

In a large measuring cup or bowl combine sour cream, milk, and egg; mix well to combine; set aside.

In a small bowl combine the sugar and lemon zest; rub the lemon zest into the sugar until fragrant and well combined.

In a large bowl or stand mixer fitted with the paddle attachment beat the melted butter and lemon sugar on medium-speed until well combined; about 2 minutes. Add in the lemon juice and beat for another minute on medium-speed. Slowly add the flour mixture to the butter/sugar combination, beating until just combined. Add in sour cream/milk/egg combo and beat on low until *just combined. Over-mixing will result in a dryer/denser cake.

Divide the cupcake batter evenly into the 12 molds, then place the pan in the oven. Bake for 17-19 minutes, or until a toothpick inserted into the center of a cupcake comes out clean (or with just a few solid crumbs). Allow cupcakes to cool in the pan for a few minutes, then transfer them to a cooling wrack to cool completely. Once cool, frost with the raspberry buttercream and extra berries.
For the raspberry buttercream:
Combine the raspberries and lemon juice in a small saucepan; bring to a simmer over medium heat. Once simmering, stir the mixture occasionally, breaking up the berries with a wooden spoon, until the raspberries have become soft enough to mash effortlessly. It will look like raspberry jam. Once the mixture can coat a spoon (you should have about 1/4 cup of raspberry puree) remove from heat. Allow mixture to cool completely before using. <--- That part is SUPER important!
When ready to make buttercream:
Place the softened butter in a large bowl or in the body of a stand mixer. With a handheld mixer, or with the paddle attachment on your stand mixer, beat butter on medium-high (scraping down the sides as needed) until completely smooth; about 2 minutes. Add in the raspberry puree and beat until completely combined; about 1 minute (don't worry if the mixture looks weird at this point). Add in the confectioners sugar, one cup at a time, on low speed. Once all of the sugar has been added, add in the cream and salt, then beat on high-speed for a full 2 minutes - this thickens up the frosting and makes it nice and fluffy. Frost cooled cupcakes as desired.
Notes
Store cupcakes in an airtight container, in the fridge, for up to 3 days. Bring to room temperature before serving.