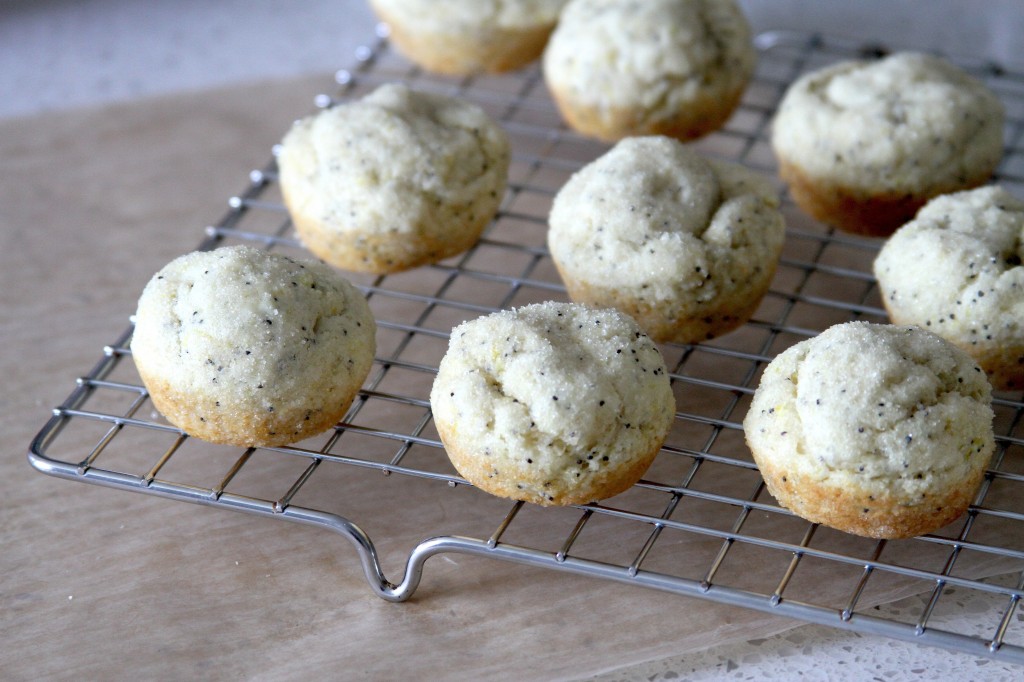 It's Sunday! It's Sunday!
You know what that means, right?! Sunday – Fun Day!
I decided to fun up my morning by making us some darling little doughnut bites. Because really, is there anything better than waking the person you love with the seductive smell of hot dough…? Really. Is there? If so, mama wants de-tails!
(I don't know when I started referencing myself as mama… but let's roll with it for now)
Moving on! Let's talk cooking methods.
I went the baked route for these doughnut (bites) because frankly, I'm terrified of boiling oil. Terrified!
Perhaps one day – when my kitchen is a little more generously spaced – I'll overcome this haunting fear. But until then, it's baked doughnut bites all the way home!
Ready to talk dough flavor? Cool.
In these bites things get exciting and classy with lemon zest and poppy seeds. Lemon – poppyseed is the LBD of flavor combinations. It's classic.
After rolling, but before baking, we give the doughnut dough balls a roll around in granulated sugar ensuring tons of crispy crunchiness. Crispy crunchiness is a doughnut bite essential for me.
These doughnut bites are made for sharing!
Unless… you don't. Cause guess what? Eating the whole dang batch yourself while watching The Mindy Project and drinking wine is cool too. Just saying…
Lemon – Poppy Seed Doughnut Bites –  Baker by Nature
Makes 16 doughnut bites
1 1/2 cups all purpose flour
2 teaspoons baking powder
1 tablespoon poppy seeds
dash salt
1/2 cup buttermilk
1 teaspoon vanilla extract
4 tablespoons unsalted butter, melted
1/4 cup sugar + 2 tablespoons
zest of one lemon
2 tablespoons granulated sugar (for rolling doughnut bites in)
Instructions:
Spray a mini muffin tin with non-stick spray and set aside. Preheat oven to 350 degrees (F).
In a medium sized bowl, whisk together flour, baking powder, poppy seeds and salt. In a separate medium sized mixing bowl, whisk together, buttermilk, sugar, lemon zest, vanilla, and melted butter. Gently stir dry ingredients into the wet mixture and mix just until combined. Scoop small balls of dough (about the size of a well rounded tablespoon), roll into a ball, roll in sugar, and place in mini muffin tin. Bake for 8-10 minutes.