Let's be honest… does anyone ever buy a carton of cream with pure and wholesome intentions? I know for me that answer is a rock solid, verified, 100% NO.
When I buy me some cream, it means one of two things are bouncing around my brain. One being pudding, of which I am a HUGE fan as of late. And two being ice cream. Duh.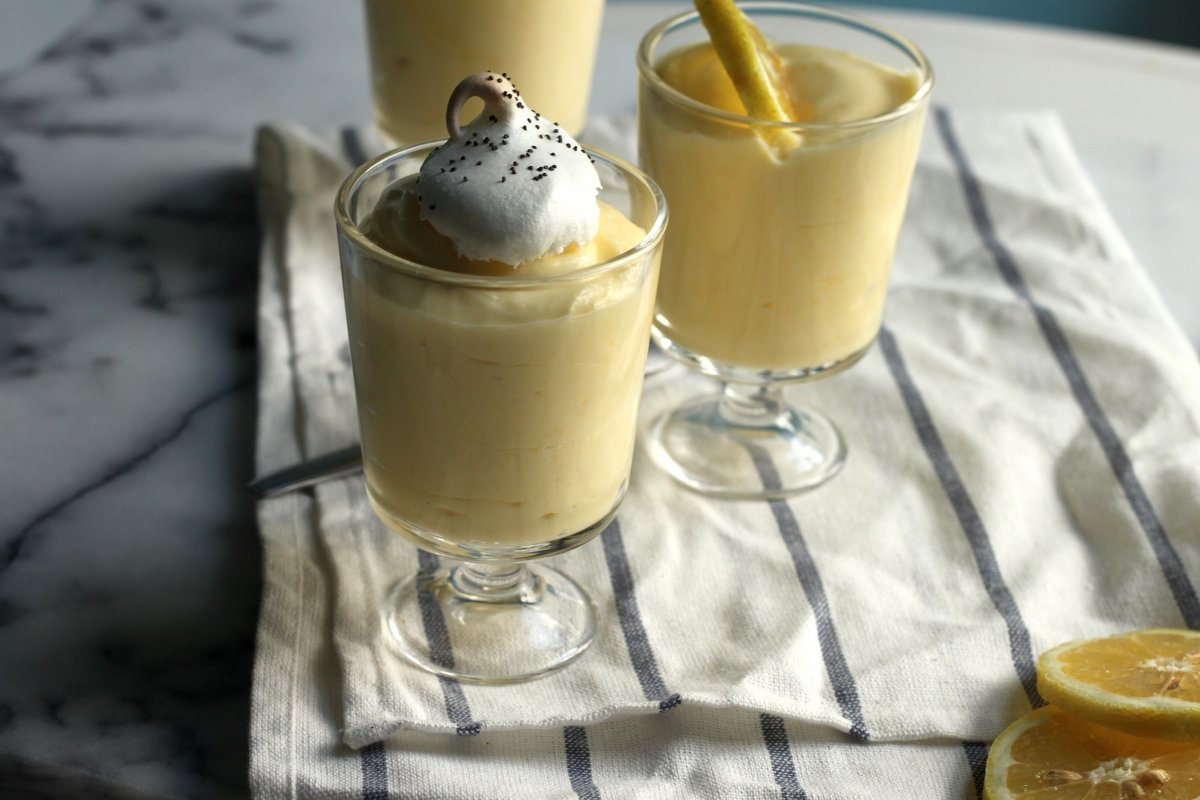 But! Let's stay focused on the pud for now! This pudding is totally luscious and creamy and such a lemon lovers dream come true! We looooooooove lemon over here, but if you don't, this pudding has a very light and creamy base that doesn't overwhelm a less welcoming palate. You can also cut back on the lemon juice if you're reeeeeally sensitive in that area. But I wouldn't 😉
Also, I made cute little baby meringues that are sprinkled with poppy seeds. They look really cute sitting on top of the pretty lemon pudding, and they also taste incredible!
Lemon Pudding with Mini Poppy Seed Meringues – Baker by Nature
Serves 6-8
For the Mini Poppy Seed Meringues
Ingredients:
2 egg whites
1/4 teaspoon salt
1/4 teaspoon cream tartar
1/2 cup sugar
1/2 tablespoon poppyseeds
Instructions:
Preheat oven to 225 degrees (F). Line a large baking sheet with parchment paper, and set aside.
Combine egg whites, salt, and cream of tartar in the bowl of a stand mixer, and beat on medium speed until soft peaks begin to form. Gradually add the sugar, and continue to beat mixture until the meringue starts to hold stiff, shiny peaks.
Carefully spoon the meringue into a pastry bag and pipe small, swirly rounds (about one inch each) onto the prepared baking sheet. Sprinkle with poppy seeds and bake for about 2 hours. Transfer meringues to a cooling wrack to cool completely.
For the Lemon Pudding
Ingredients:
1/2 tablespoon lemon zest
3/4 cup fresh lemon juice
3/4 cup sugar
4 large eggs
5 tablespoons unsalted butter
3/4 heavy cream
1/4 cup powdered sugar
Instructions:
Fit a medium sized bowl with a fine mesh sieve. Set aside.
Combine the lemon zest, lemon juice, sugar, and eggs in medium saucepan. Add butter and bring mixture to a very controlled simmer – stirring almost constantly – over medium-low heat. Once the mixture has thickened – it should be able to coat the back of a metal spoon – remove from heat and pour through the sieve. Place bowl in the refrigerator for at least 2 hours.
While the pudding chills, whip the cream and confectioners sugar together in a stand mixer until stiff peaks begin to form. When pudding is cooled, fold the cream into the pudding, stirring until completely combined.
Top each pudding with a meringue or two, and either eat at once or refrigerate until needed. Pudding will last up to 48 hours.