Calling all Peanut Butter lovers! Do I have a treat for you… Thick and incredibly chewy Peanut Butter Cookie Bars that are LOADED with chocolate chunks, peanut butter cups, reese's pieces, and peanut butter granola!
This recipe is simple, straightforward, and packed with peanut butter flavor. Home run!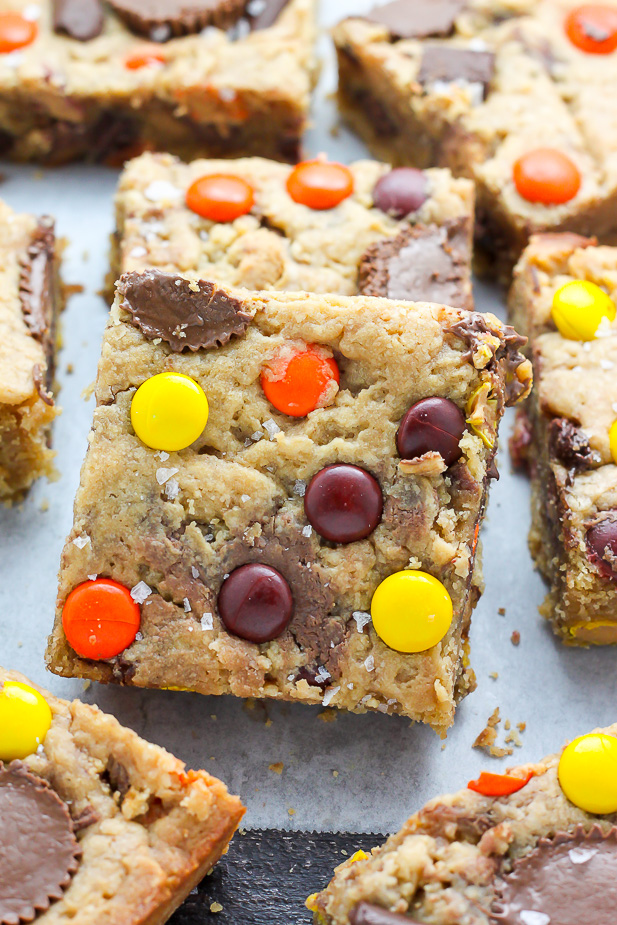 Hey hey hey. Happiest of Fridays to you! This week has felt extra long (50 hours at the day job… eewwww), so I am damn ready for this weekend to get started. Do you guys have any fun plans?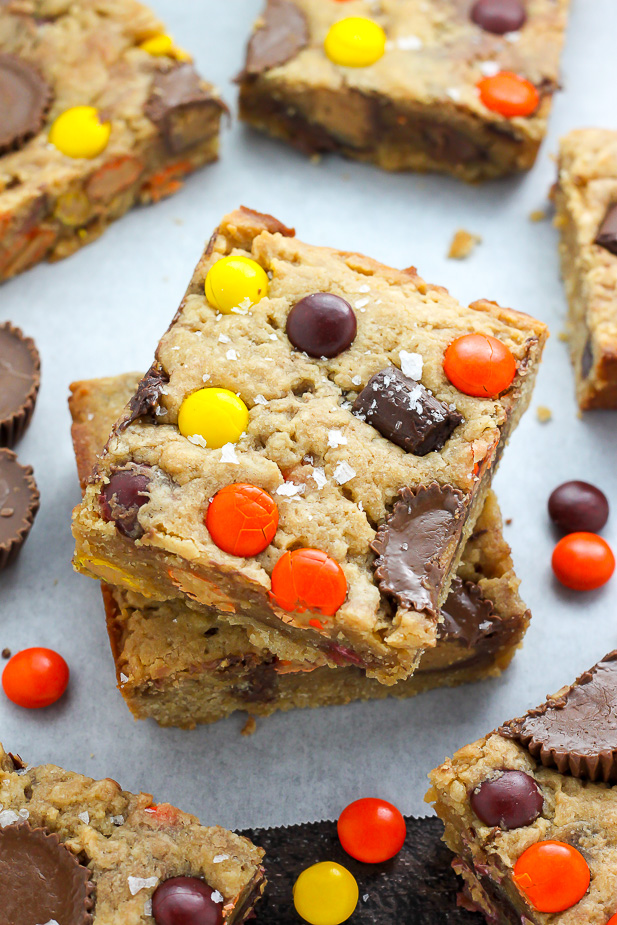 I'm actually heading home to Philly for some quality time with my adorable baby brother (who keeps reminding me he is 13 now and in fact NOT a baby), and of course, I'm bringing treats for the whole family. It's just the right thing to do… it's also kind of expected at this point 😉
I have a pretty big family (2 brothers; one sister; one sister in-law; 2 nephews; one incredibly adorable puppy; our old lady cat; mom; and dad) so when I bake for them I try to bake recipes that can easily be doubled or even tripled. P.S. the animals don't eat the baked goods… most of the time.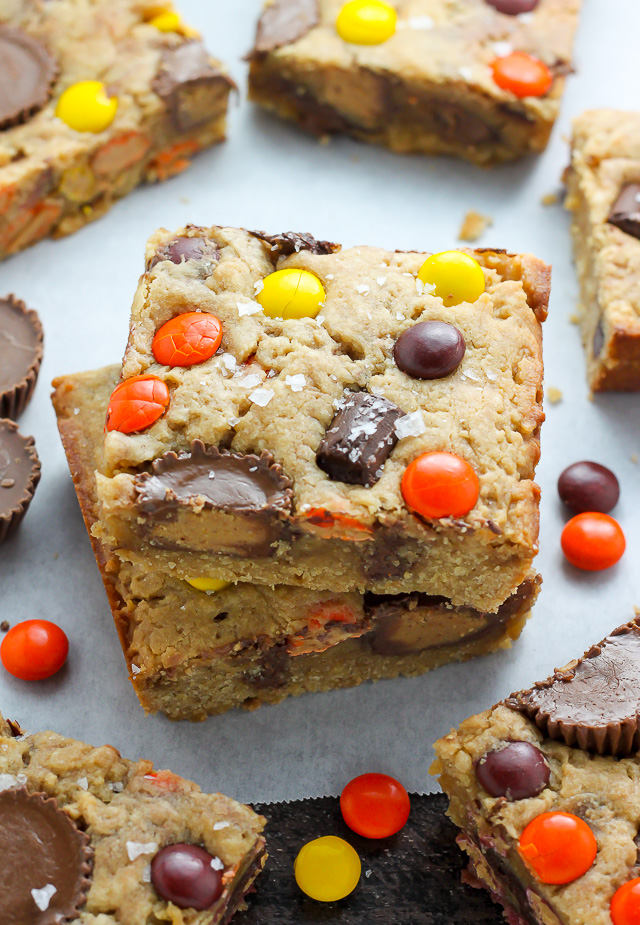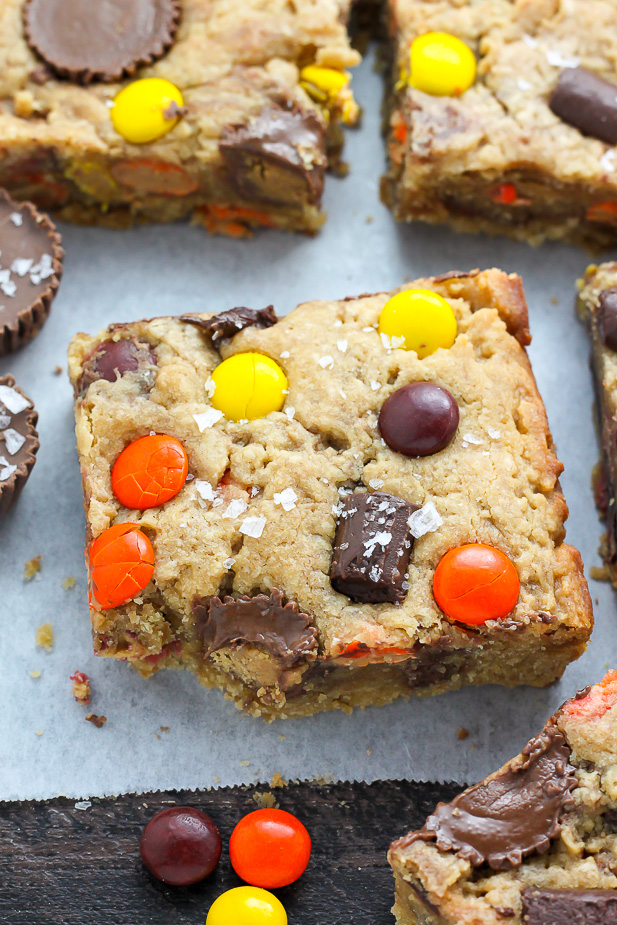 These loaded peanut butter cookie bars are thick, chewy, bursting with peanut butter flavor, exploding with pockets of gooey chocolate, topped with crunchy peanut butter candy, and finished off with a pinch of sea salt because it's all about balance, right? If you don't like mixing your sweet with your salty go ahead and leave that part out.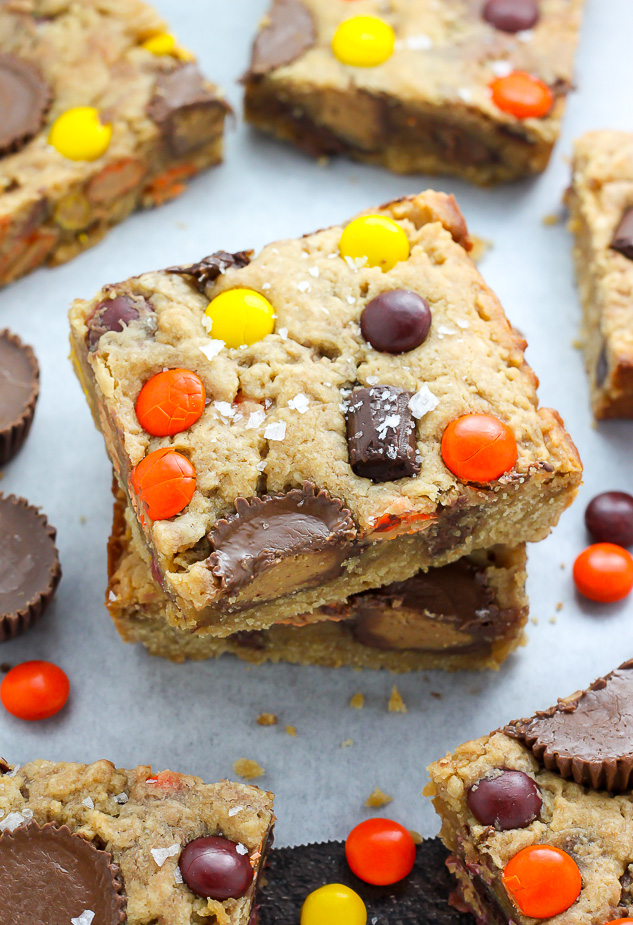 Have a wonderful weekend, friends! See you Monday… with cake? You'll just have to wait and see 😉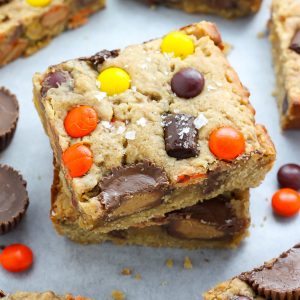 Loaded Peanut Butter Cookie Bars
Thick and chewy Peanut Butter Cookie Bars loaded with Peanut Butter Cups, Chocolate Chunks, Reese's Pieces, and so much more!
Ingredients
1/2 cup (4 ounces) creamy peanut butter
1/2 cup (4 ounces) unsalted butter
2 cups light brown sugar, packed
2 large eggs, at room temperature
2 cups all-purpose flour
1 teaspoon baking powder
1/2 teaspoon salt (table; kosher; or fine sea salt will work)
1/2 cup chocolate chunks
1/2 cup peanut butter chips
12 small peanut butter cups, cut in half
1/2 cup candy coated peanut butter candies (like reese's pieces)
1/4 cup peanut butter granola, optional
1 teaspoon flaky sea salt, optional
Instructions
Preheat oven to 350 degrees (F). Grease an 8x8 baking pan with butter or non-stick spray; set aside.

In a medium-sized saucepan combine the peanut butter and butter; heat over medium-low until the butter is completely melted; whisk well to combine; remove from heat.

Add the sugar into the saucepan and beat well until combined. Add in eggs, one at a time, beating well after each addition. Stir in the flour, baking powder, and salt, mixing just until combined.

Stir in the chocolate chunks, peanut butter chips, peanut butter cups, peanut butter candies, and peanut butter granola (if using).

Using a rubber spatula spread mixture evenly into prepared pan and bake for 25-35 minutes, or until just firm and lightly golden brown. Remove from oven and let cool completely before cutting (about 25 minutes), and then devour.
Notes
*For a prettier presentation, sprinkle some extra candy on top of the batter before baking! *Feel free to leave any ingredient out that you may not favor; these cookie bars are incredibly adaptable. *Keep an eye on the cookie bars around the 20 minute mark, you want them to be set in the center, but not firm, as they will continue to firm up once removed from the oven.