Malted Chocolate Chip Banana Pancakes are fluffy, crispy, and loaded with flavor! The malted milk powder is absolutely delicious and worth seeking out! Sure to become a new favorite pancake recipe!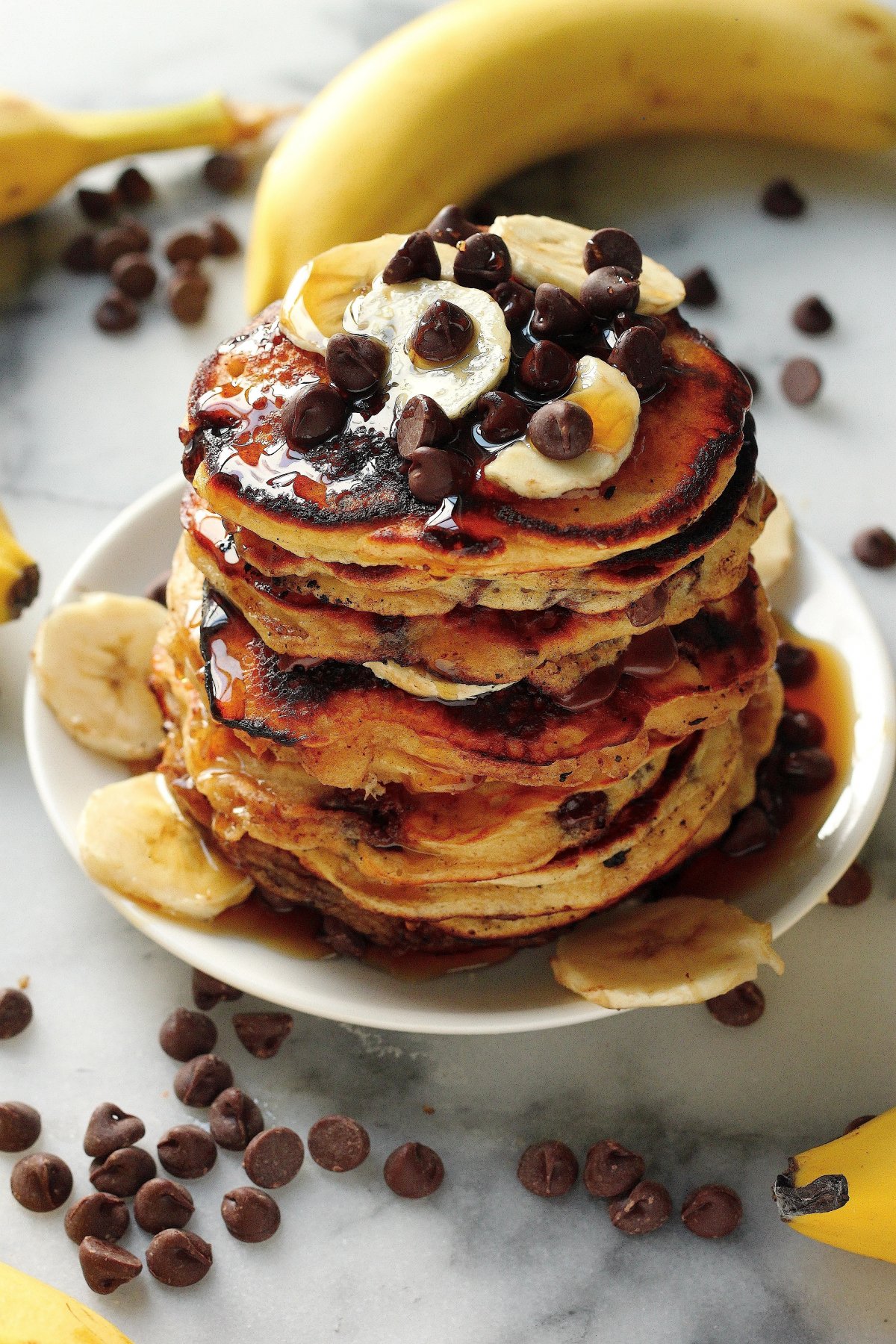 Chocolate Chip Banana Pancakes
Confession: I've never been a huge fan of waiting. I'm just no good at it! I'm impatient. Ancy, even. And when I get a craving – hoo boy! Watch out ————–> I get cray on a craving. CRAY CRAY CRAZY. I act all wrong. It's not my dandiest quality. But I'm just keeping it real. I hold tight to keeping it real.
With confession time said and done, I think it's best for all parties involved we just indulge in this craving – together – and move along with business as usual. Let's not make a thing of it.
Let's get our pancake on! Malted Chocolate Chip Banana style. You totally want these in your breakfast life. They're a game changer!
Have you cooked/baked with malted milk powder yet? I just LOVE it. It adds a subtle malty flavor that is irresistible, and not at all over powering. Ree makes delicious malted milk chocolate chip cookies using it! And Tracey uses it for MALTED waffles. Swoon city! I need to try both asap.
I have no problem finding malted milk powder in my local grocery (usually near the baking section OR the breakfast stuff) but you can also order it online. I have a few amazing recipes coming up that feature it, so stock up 🙂
Ok. So back to the pancakes! The batter for these malted chocolate chip banana beauties is thick, rich, and utterly gorgeous. It's made with Greek yogurt and a splash of milk, so protein packed they are. There's also a hearty dash of malted milk powder, a full cup of chocolate chips, and another whole cup of fresh sliced bananas! So much flavor. So much texture. Sigh… someone hit me with a stack asap.
Because the batter is a little thicker than a traditional all milk style pancake, they take just a smidgen longer on each side to cook. My advice here is patience! You want a very buttery pan over low heat, and a hesitant hand when it comes to flipping. I would say they take about 3 minutes per side, give or take 30 seconds. If you want to serve them all warm – all at once, you can preheat an oven to 200 degrees (F) and pop the cooked ones on a baking sheet to stay warm and cozy in there while you cook the rest up. I promise it works!
These Malted chocolate chip banana pancakes are the perfect way to start a day! Nothing says life well lived like a tall stack of pancakes -covered in extra syrup, bananas, and a hearty sprinkle of chocolate chips. Extra chocolate ———–> always and forever!!!
This recipe makes about 16 pancakes! Which is awesome if you dig a tall stack, are feeding your lovely ferociously hungry family, or just want leftovers. We love leftovers! And as long as you don't get any syrup on the extras, they'll keep – wrapped nice and tight in saran wrap – for about 4 days. There's nothing better than pancakes already made in the fridge. Delicious convenience at-its-best.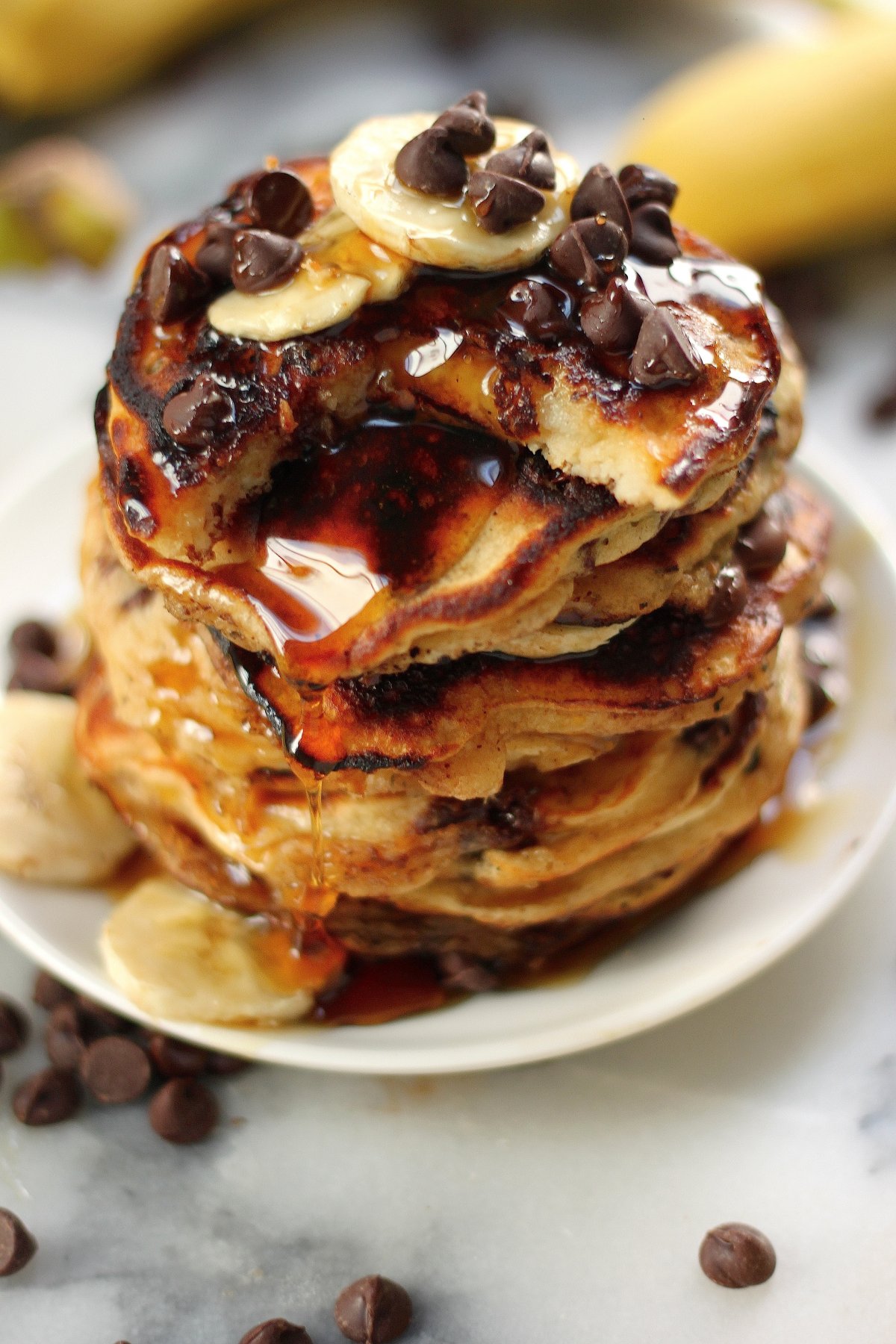 I hope you guys are off to a marvelous day! I'm getting ready to go make another pot of coffee (I totally didn't stay up till 3 watching TV…) and then, it's BAKE time. I'm re-testing some savory treats I'm hoping will be perfected today. I'm also hoping to finally watch NEBRASKA on my lunch break. It's only 34762 days late to the video store…
What are you guys up to? Whatever it is, stay Monday strong! xoxo
More Banana Pancakes Recipes:
Malted Chocolate Chip Banana Pancakes
Ingredients
3 large eggs, at room temperature and separated
1 cup whole milk Greek yogurt
4 tablespoons whole milk
2 1/2 tablespoons sugar
1/2 teaspoon salt
1 teaspoon vanilla extract
2 teaspoons baking powder
1 cup all-purpose flour
1/3 cup malted milk powder
1 cup bananas, sliced (about 1 large or 2 small bananas)
1 cup semi-sweet chocolate chips
4 tablespoons butter, for the pan
Instructions
In a large bowl whisk together the egg yolks, Greek yogurt, milk, sugar, salt, vanilla, and baking powder.

In a separate large bowl add flour, malted milk powder, sliced bananas, and chocolate chips; toss to combine, making sure the bananas are fully coated in the flour.

Add flour mixture to yogurt mixture, and stir just to combine; do not over mix! The batter will be thick, so don't worry if there's a lot of clumps left.

Add egg whites to a large bowl or the body of a stand mixer. Beat using a handheld mixer or the whisk attachment until the whites begin to form soft peaks.

With a rubber spatula fold egg whites into flour/yogurt mixture, stirring until fully incorporated.

Melt 1 tablespoon of butter in a large skillet over medium heat.

Ladle 1/3 cup scoops of the batter into the skillet, only cooking a few at a time so they don't blend together.

Cook pancakes until the edges begin to brown and the top of the batter bubbles, then flip and cook for another 1-2 minutes. Repeat for all pancake batter.

Top pancakes with syrup, bananas, chocolate, or anything else your heart desires! Serve at once.