Sweet and Summery, you'll want to make this Foolproof Cherry Pie all season long! So delicious with a cup of coffee! It's the perfect homemade cherry pie recipe for you and your family.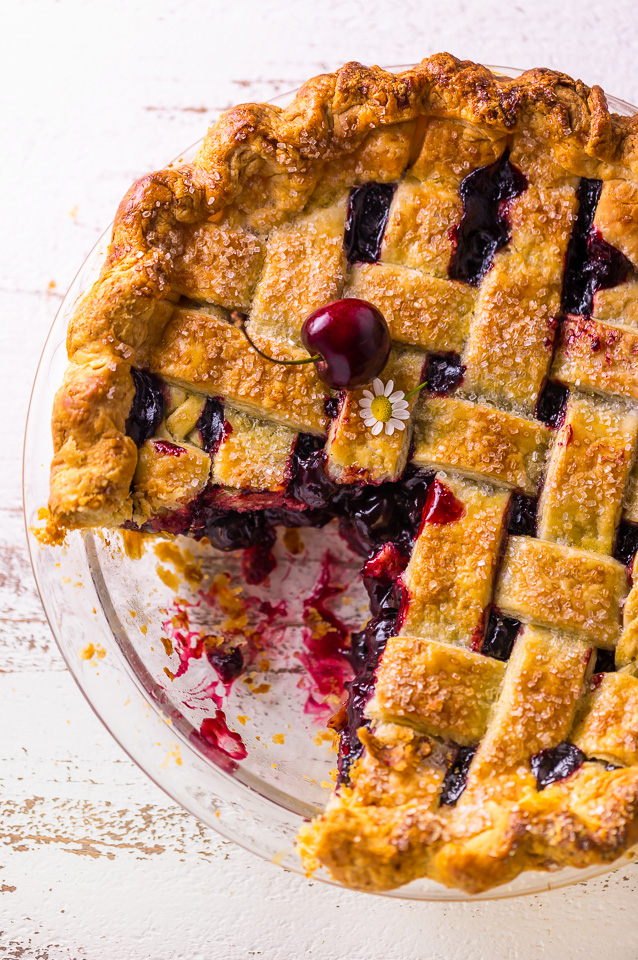 The Best Cherry Pie Recipe
This recipe is dedicated to my mom! Because literally every single time I mention I'm baking a pie her response is "what kind… cherry?" or "you know what kind of pie people love? CHERRY!".
And by people, I'm pretty sure she just means herself! But hey, I admire her persistence. Plus, she's my mom… so really, baking and dedicating a cherry pie to her is the least I can do. It's just a major bonus that I get to share it with you, too!
So this one's for you, mom! And yes, I saved you a slice 😉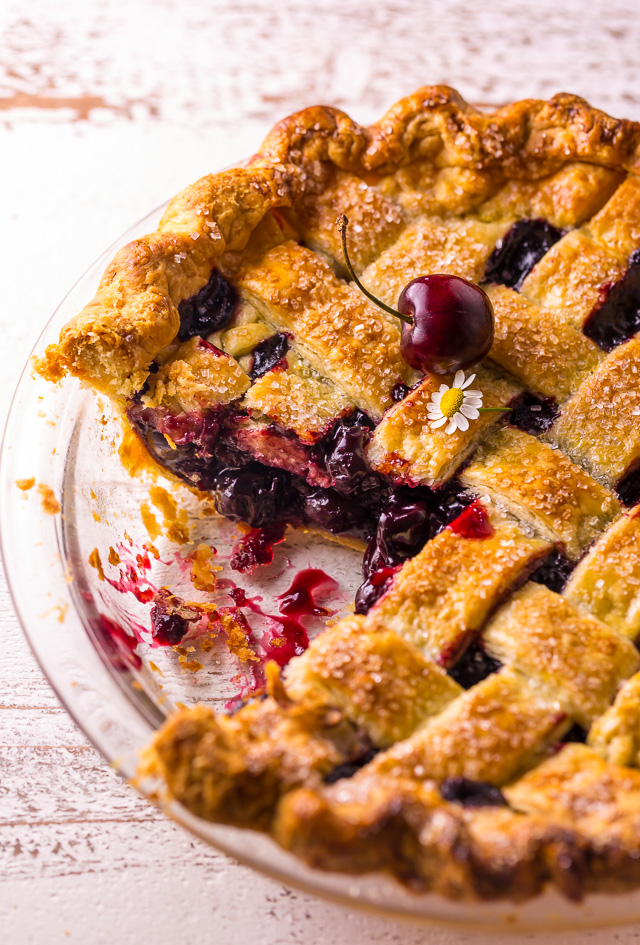 How to make Cherry Pie
Tips and Tricks for Recipe Success:
For the crust and lattice topping, you can use my foolproof all-butter pie crust! Not only is it user friendly, but it tastes absolutely delicious. And if you're new to pie crust, be sure to dive into the tips I have in that post. You'll be a pie pro before you know it!
You'll need 2 crusts to cover the top and bottom. I've included instructions for a latticed top, but feel free to do something simpler! Due to the amount of pie filling in this recipe, I don't recommend using frozen store bought pie shells. I did a test run using them and they got so soggy I couldn't even slice the pie 🙁
The Best Cherries for Cherry Pie
For the cherry pie filling, you may use your favorite cherry variety – or mix and match! But if you decide to use all sour cherries, be sure to add an extra 1/4 cup of sugar to the filling. And yes: you can make this cherry pie with frozen cherries! I actually find myself using frozen cherries in this pie a lot!
Because fruit based pies have a tendency of baking up soupy, I pre-cook the filling before adding it to the pie. This step ensures a sliceable pie each and every time! Totally worth the extra step, if you ask me. Just be sure to cool the filling completely before adding it to the crust.
Keep a close eye on the cherry pie filling after it comes to a boil. After it reaches the boiling point, it begins to thicken fast. So be sure to lower the heat right away and cook it just until it coats a spoon. You want it thick, but still juicy. Does that make sense?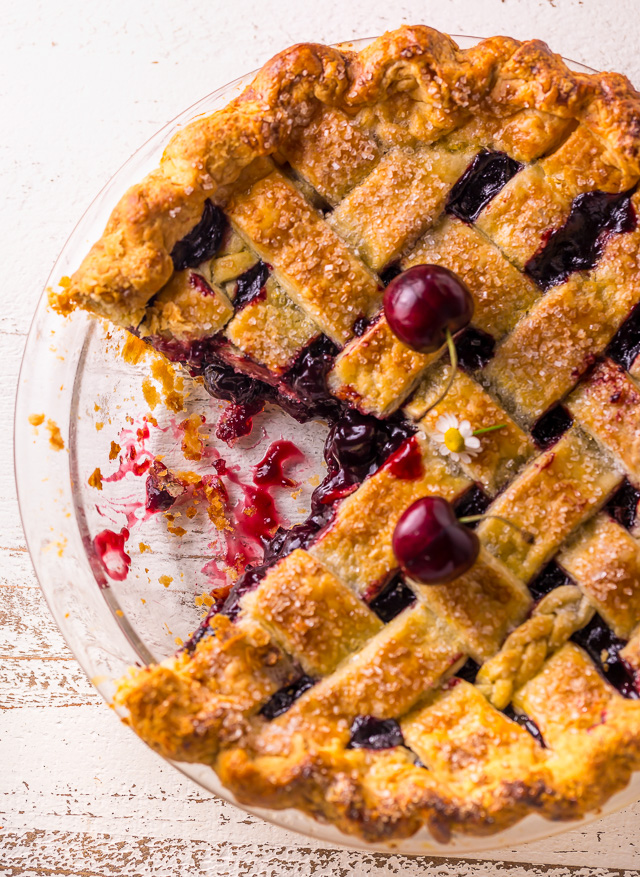 To avoid over browning, bake this pie on a rack positioned in the lower third of your oven. I also suggest loosely tenting a piece of tin foil over the pie after 25 minutes of baking. You could also use a pie crust shield.
Don't skip the egg wash! This helps the crust get that gorgeous golden brown hue.
Let your pie cool for at least 2 hours before slicing it! This allows the filling to firm up a bit.
I find this cherry pie is most delicious when eaten within 2 days, but it will keep, covered tightly and stored in the refrigerator, for up to 5 days. You can also free any leftover slices!
Want to serve your cherry pie warm? Here's what I suggest doing: allow your pie to cool completely, then reheat it right before serving. To reheat individual slices, warm them in the microwave for 25 to 30 seconds; to reheat an entire pie, warm it in the oven, at 350°F (177°C), for about 15 minutes.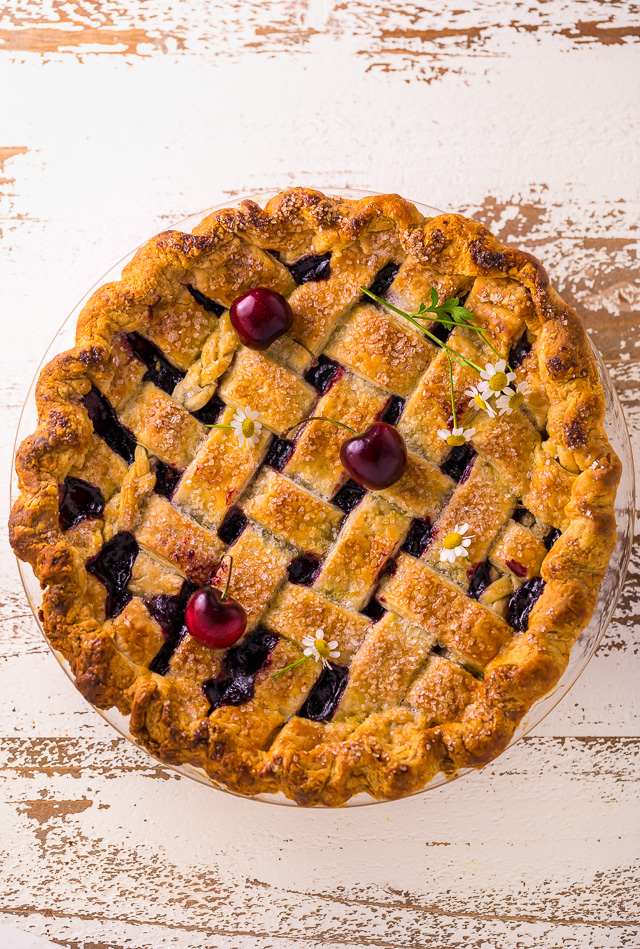 So, are you ready to make cherry pie from scratch?!
More Cherry Pie Recipes:
And if you try this recipe for Foolproof Cherry Pie, let me know what you think! Leave a comment below, and don't forget to snap a pic and tag it #bakerbynatureon instagram! Seeing your creations makes my day ♥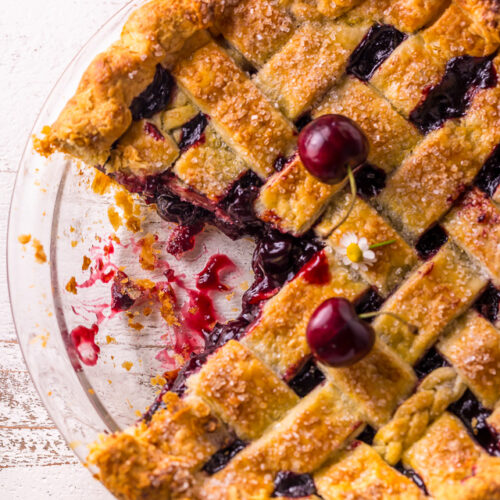 Foolproof Cherry Pie
Sweet and Summery, you'll want to make this Foolproof Cherry Pie all season long! So delicious with a cup of coffee!
Ingredients
2 pounds (about 5 cups) cherries, pitted
3 Tablespoons cornstarch
2/3 cup granulated sugar
1/2 teaspoon salt
2 teaspoons bourbon vanilla extract (regular vanilla is also fine!)
1/2 teaspoon almond extract
1 and 1/2 tablespoons fresh lemon juice
2 tablespoons unsalted butter, cut into small cubes
1 large egg
2 teaspoons water
2 Tablespoons sparkling sugar, for decoration (optional)
Instructions
Prepare the Crust:
Have ready and refrigerated one batch of foolproof all-butter pie crust. 

Remove the dough from the fridge 10 minutes before you begin rolling, as dough that is too cold will crack. Lightly flour a rolling pin and your work surface. Set the dough in the middle of the work surface and - beginning from the center of the disc - roll the dough away from you in one firm and even stoke. After each stroke, rotate the disc a quarter turn clockwise and roll again. Lightly sprinkle more flour on the work surface, on the dough, and on the rolling pin as needed. You want to use just enough to prevent the dough from sticking. As your disc of dough becomes larger, be sure not to overstretch the center of the dough. Continue rolling until the dough is 3 inches longer than the pan you are using, and around 1/8" to a 1/4" in thickness.

Carefully fold the dough in half and lay it across one side of a buttered pie pan, placing the seam of the dough in the center of the pan. Gently unfold the crust, then use your hands to fit the dough down into the pan, making sure there are no gaps between the dough and the pan. Burst any air bubbles with a fork. Do not pull or stretch the dough here!

Using kitchen scissors, trim the dough overhang to 1 and 1/2 inches, measuring from the inner rim of the pan. 

Cover the crust with plastic wrap and refrigerate for at least 1 hour, or up to 48 hours. You may also freeze for up to 2 months
Prepare the lattice strips: 
Have ready and refrigerated one batch of foolproof all-butter pie crust. 

Line a small baking sheet with parchment paper; set aside until needed. 

On a lightly floured work surface, roll out the pie dough into a 12-inch circle. 

Using a

pizza cutter

or

pastry roller

, slice the dough into 10 strips (the width of the strips is totally up to you. I prefer medium strips so I usually slice them between an inch and an inch and a half wide). Lay the strips on the prepared baking sheet and refrigerate until needed. 
For the Cherry Pie Filling:
Combine the cherries, cornstarch, sugar, salt, vanilla, almond extract, and lemon juice in a large saucepan over medium-high heat. Simmer, stirring almost constantly, until the mixture starts to thicken – about 8 minutes. Reduce heat to low and cook for another 2 minutes before removing from the heat. Transfer to a heatproof bowl and cool to room temperature.
For the Egg Wash:
In a small bowl, beat together the egg and water until well combined. Set aside until needed. 
Assembly and Baking:
Preheat oven to 425 degrees (F). 

Remove the crust and lattice strips from the refrigerator.

Using a rubber spatula, scrape the cherry pie filling into the pie crust shell. Top with cubes of butter. 

Lay 6 of the strips parallel on top of the filling, leaving about 1/2-inch between each strip. Fold back every other strip, then place another strip of dough perpendicular to the strips. Unfold the folded strips so they lay over the perpendicular strip. Continue this layering process, weaving the strips over and under each other.

Trim the edges of the strips, leaving about 1/2 inch overhang. Roll the excess dough up so it's tightly sitting on the edge of the pie plate, then crimp the edges to secure the strips with the bottom pie crust.

Brush the edges of the crust with the egg wash and sprinkle with sugar, if using. 

Place the pie on a baking sheet and bake for 15 minutes. Reduce the oven temperature to 350 degrees (F) and continue baking for 50 minutes, or until the crust is golden and the filling is bubbling.

Place pie plate on a wire rack and cool for at least 2 hours before slicing.