Decadent chocolate cupcakes stuffed with creamy nutella and topped with fresh raspberry frosting. And yes, they're just as delicious as they look.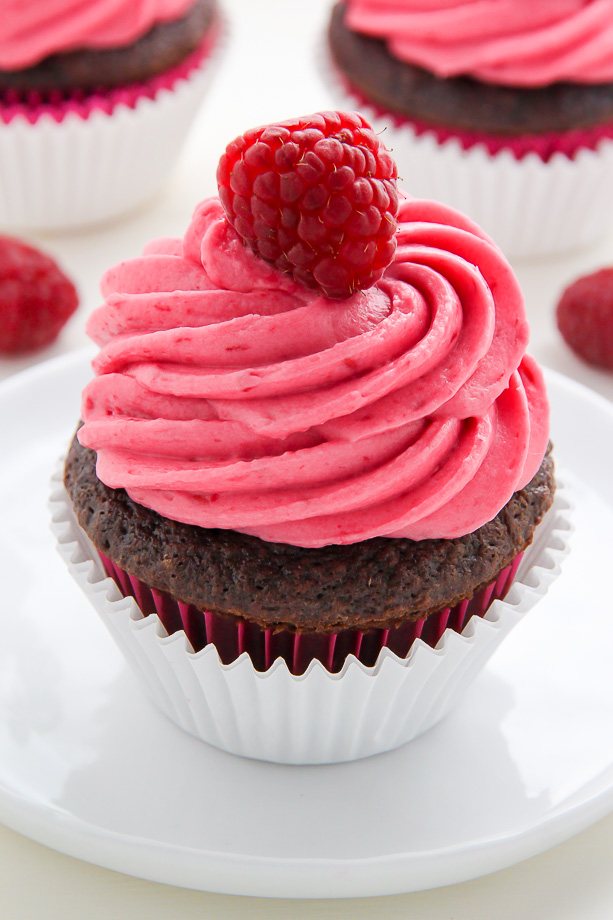 Nutella Chocolate Cupcakes
Say hello to the most decadent treat to emerge from my oven this year. I know, I know… diets and resolutions and cleanses are all the rage right now. But let me tell you, these babies are worth every rich, decadent, nutella and raspberry filled bite.
Perfect for Valentine's Day, Galentine's Day… or just as a special treat to go along with your morning coffee. #treatyoself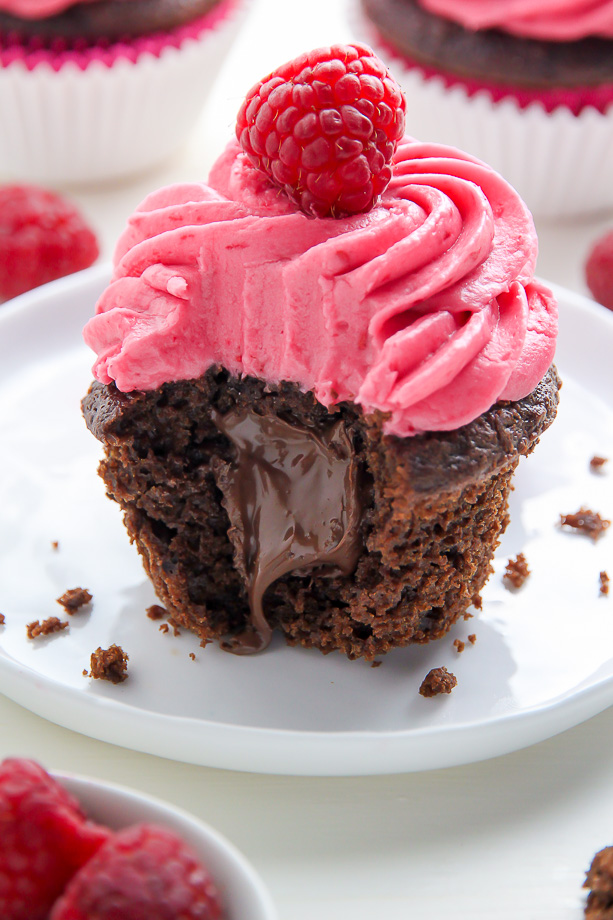 Make the Raspberry Frosting
This frosting is super fluffy, rich in raspberry flavor, and drop-dead-gorgeous.
Here are a few tips to help you along your way:
Make sure your raspberry puree has cooked down to a thick puree and has reduced to 1/4 cup. Removing the puree from heat too soon will leave you with too much liquid, so this is very important to keep in mind.
Please (please please please) let your raspberry puree cool completely. 100%. All-the-way!
If it's even still a little warm when you add it to the mix it will throw off the consistency of the frosting and leave you with a gloppy mess. We don't need that drama in our lives, now do we? The puree will take about 30 minutes to cool (in the fridge), and can be made up to three days ahead of time.
Your butter must be very soft. I like to leave two sticks out on the counter for at least an hour before unwrapping them and getting busy, but yours may soften slower or quicker depending on the temperature of your home. The butter temperature is very important here, as it gives the frosting shape and texture. You will know your butter is soft enough when you can press your finger into the top and an indentation is effortlessly made. Cold butter as well as melted butter should never be used when making this frosting. It will not work.
Once all of the sugar has been added, beat beat beat! You will beat the frosting for two whole minutes. You will need to use a stand mixer or handheld electric mixer for this step. Beating the frosting on medium-high makes it SUPER luscious and fluffy.
If for some reason your frosting seems a bit thin, add a little more confectioners' sugar; if it seems too thick, add a touch of cream. I like to start with a 1/4 cup when adding more sugar, and 1 tablespoon when adding more cream.
Don't skip the salt! Many readers have (and even friends) have informed me they don't add the salt called for in dessert recipes because "they don't like salty sweets". I feel you! But often the salt called for is to help balance out the sweetness, and in this case, is quite important for achieving a balanced taste.
I know. I'm such a nerd with my tips! But I just really want to make sure your cupcakes (and frosting!) turn out beautifully. If I missed anything, just ask in the comments below 😉
So let's get down to cupcake details. I know many of you cringe at this word, but I've got to say it – these cupcakes are supremely moist! In fact, I will go as far as to say they are the most tender cupcakes I have ever bitten into. And I've eaten a lot of cupcakes!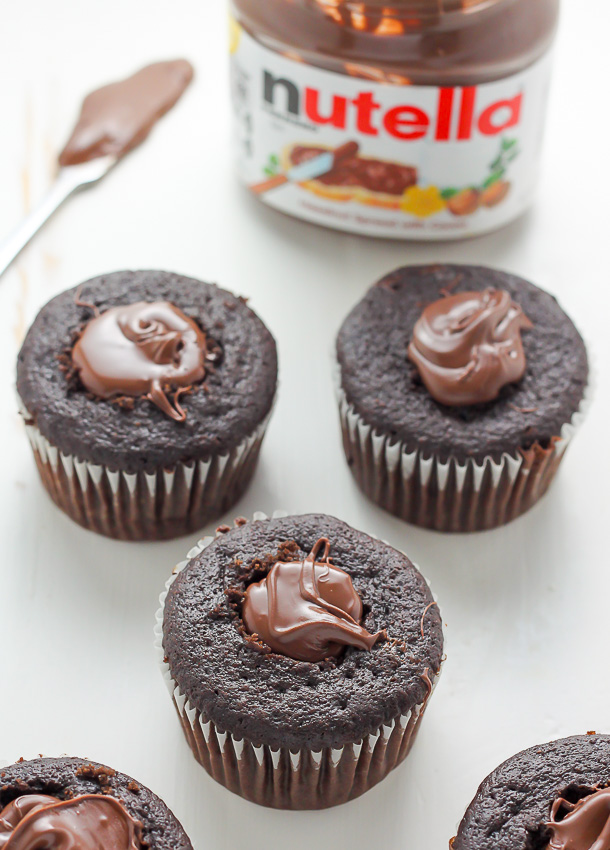 The cupcake base is supremely moist, ultra fluffy, and full of rich, decadent chocolate flavor. The batter is made with eggs, egg yolk, melted butter, oil, sour cream, and hot coffee. All of these ingredients add intense moisture and flavor to the cupcake, and I do not recommend leaving any of them out. This is a recipe I suggest following to a T. Why mess with perfection?
If you'd like to make these cupcakes ahead of time – you can! These cupcakes may be frozen, unfrosted, for up to a month.

There's nothing quite like biting into a homemade chocolate cupcake topped with fresh raspberry frosting and discovering there's a creamy pocket of Nutella hiding inside.
↓ HEAVEN.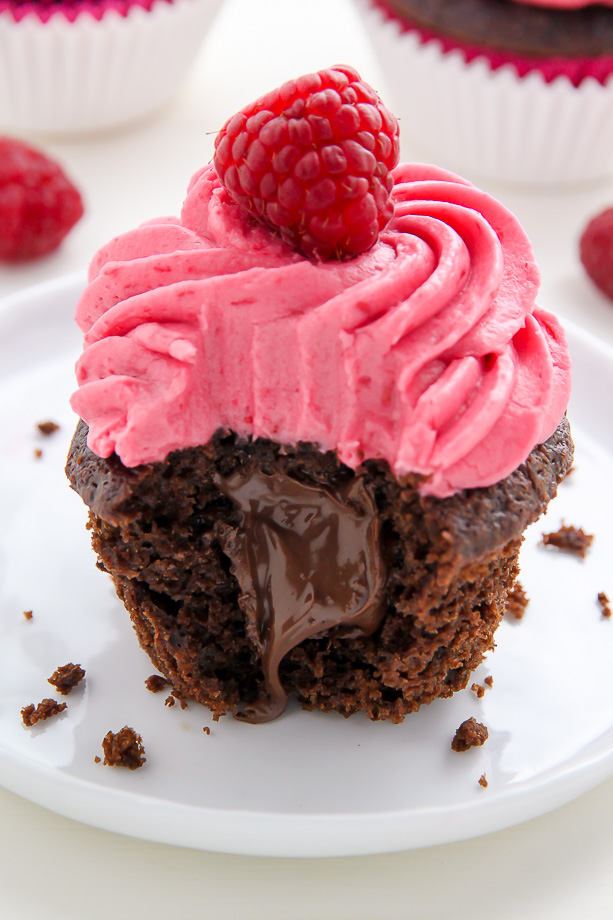 If you try this recipe, let me know! Leave a comment below and don't forget to snap a pic and tag it #bakerbynature on instagram! Seeing your kitchen creations makes my day. ♥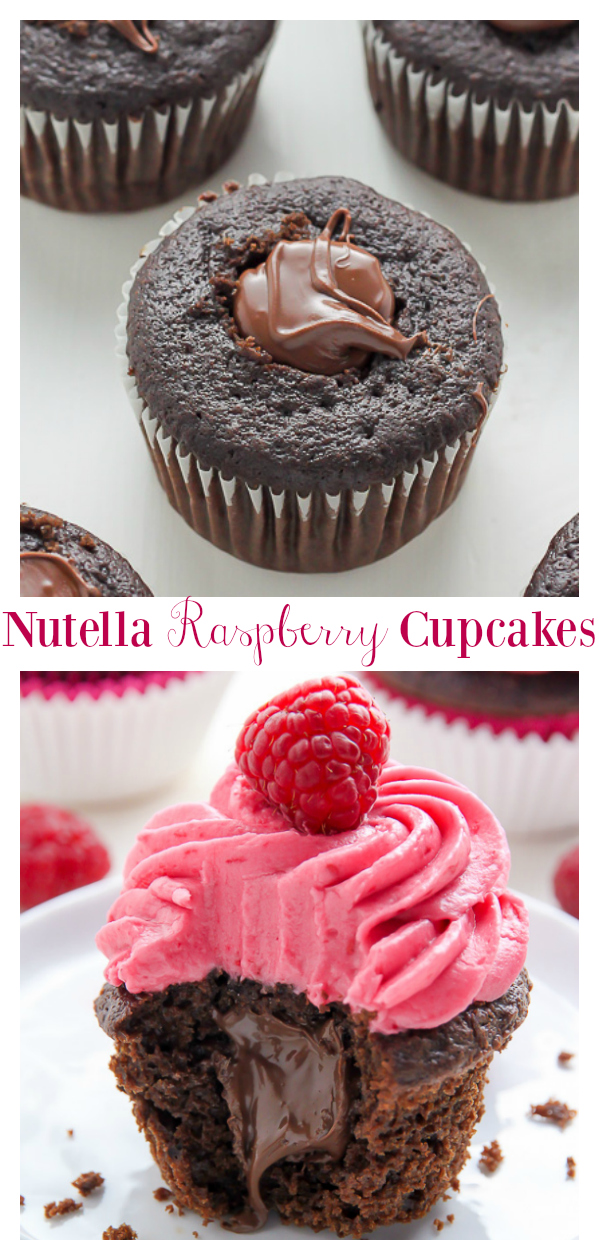 More Nutella Recipes: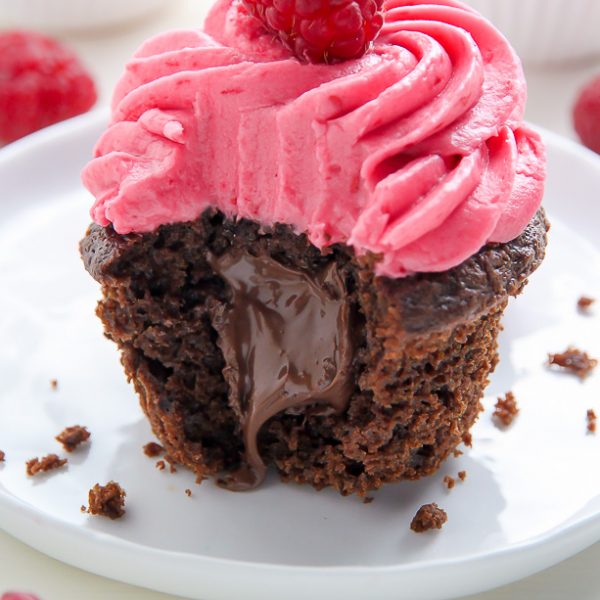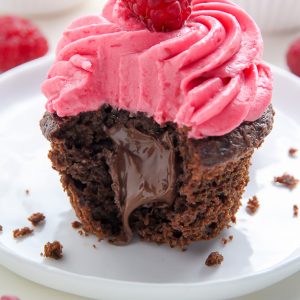 Nutella Stuffed Chocolate Cupcakes with Raspberry Frosting
Supremely moist and decadent chocolate cupcakes stuffed with creamy Nutella and topped with fresh raspberry frosting.
Ingredients
For the cupcakes:
3 tablespoons coconut OR canola oil
1 stick unsalted butter, melted and slightly cooled
1/2 cup semi-sweet chocolate chips
1 cup granulated sugar
2 large eggs + 1 large egg yolk, at room temperature
1 teaspoon vanilla
3/4 cup + 2 tablespoons all-purpose flour, not packed
1/2 teaspoon baking soda
1 teaspoon baking powder
1/2 cup unsweetened cocoa powder
1/2 teaspoon salt
1/2 cup full fat sour cream
1/2 cup hot coffee OR hot water
For the raspberry buttercream:
1 1/4 cups frozen raspberries (I think fresh would also work just fine)
2 tablespoons lemon juice
2 sticks (8 ounces) unsalted butter, VERY soft
1/2 teaspoon salt
3 1/2 cups confectioners sugar (more if needed), sifted
1 tablespoon heavy cream (more if needed)
1/4 cup fresh raspberries, for decorating (optional)
Instructions
For the cupcakes:
Preheat the oven to 350 degrees (F). Line a 12-cup cupcake/muffin tin with cupcake liners and lightly spray the liners with non-stick spray (optional but it does help them peel right off).

Melt the oil, butter,and chocolate together in the microwave, heating in 30 second increments, and stirring between increments each time. You can also melt the oil, butter, and chocolate over very low heat on the stovetop, but I find the microwave to be much easier. Whisk mixture until completely smooth and set aside to cool.

In a medium sized bowl combine the flour, baking soda, baking powder, cocoa powder, and salt; stir together until thoroughly combined; set aside.

In a large bowl, whisk together the eggs, yolk, sugar and vanilla together; beat until smooth. Add the cooled oil/butter/chocolate mixture and whisk until smooth. Add half of the flour mixture, then half of the sour cream. Repeat the process until everything is added, and be sure to mix until JUST combined - then quickly stir in the hot coffee/water. It's important not to over mix, here! Just stir until evenly combined.

Divide the batter among the 12 liners in your prepared pan, filling each cup 3/4 of the way full (you will have enough batter leftover to bake 4 more cupcakes). Bake for 16-18 minutes, or until a toothpick inserted in the center comes out clean. Cool *completely before stuffing with Nutella and frosting. Once cooled, use a small sharp knife to carve out a small hole in the center of each cupcake; do not discard the carved out cake piece. Fill each hole with two teaspoons of Nutella, then cover again with the carved out cupcake piece. Set aside and make the raspberry frosting.
For the raspberry buttercream:
Combine the raspberries and lemon juice in a small saucepan; bring to a simmer over medium heat. Once simmering, stir the mixture occasionally, breaking up the berries with a wooden spoon, until the raspberries have become soft enough to mash effortlessly. It will look like raspberry jam. Once the mixture can coat a spoon (you should have about 1/4 cup of raspberry puree) remove from heat. Allow mixture to cool completely before using. <--- That part is SUPER important!
When ready to make buttercream:
Place the softened butter in a large bowl or in the body of a stand mixer. With a handheld mixer, or with the paddle attachment on your stand mixer, beat butter on medium-high (scraping down the sides as needed) until completely smooth; about 2 minutes. Add in the raspberry puree and beat until completely combined; about 1 minute (don't worry if the mixture looks weird at this point). Add in the confectioners sugar, one cup at a time, on low speed. Once all of the sugar has been added, add in the cream and salt, then beat on high-speed for a full 2 minutes - this thickens up the frosting and makes it nice and fluffy. Frost cooled cupcakes as desired.