An easy and delicious recipe for 5-Ingredient Cannolis! This classic Italian dessert is always a crowd-pleaser. So if you've been searching for a foolproof recipe for cannoli filling, this one's for you!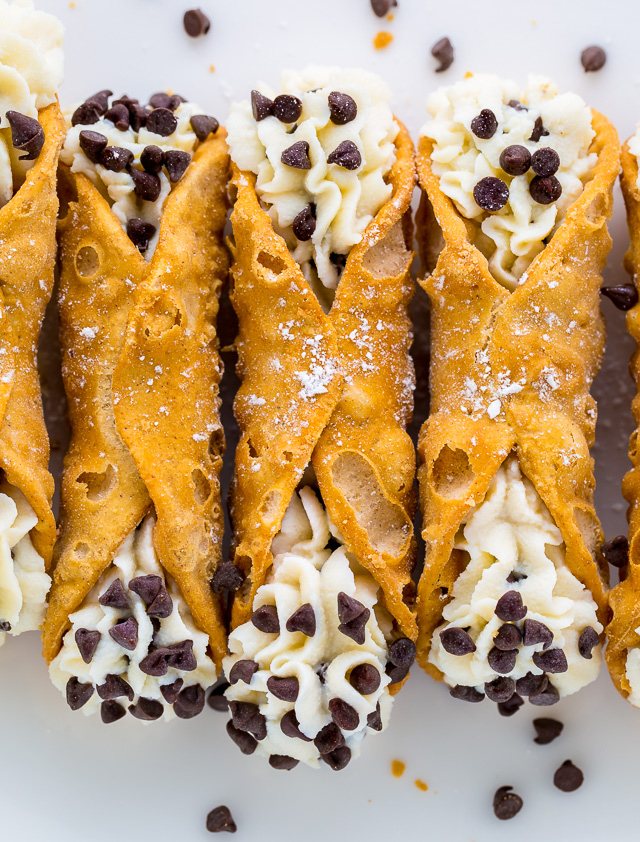 Cannoli
I woke up the other day and realized something terrible… I've never shared with you my mega simple recipe for 5-Ingredient Cannolis with you! So many recipes… so little time! But I really wanted to squeeze this one in before the holidays. So I dropped everything, walked to the store (I don't drive… did you know that?), grabbed my ingredients, and got busy. Lucky for us, this impressive recipe is sneaky simple. I'm talking 15 minutes of active work simple.
So, shall we cannoli? I promise making homemade cannoli is so much easier than you think 🙂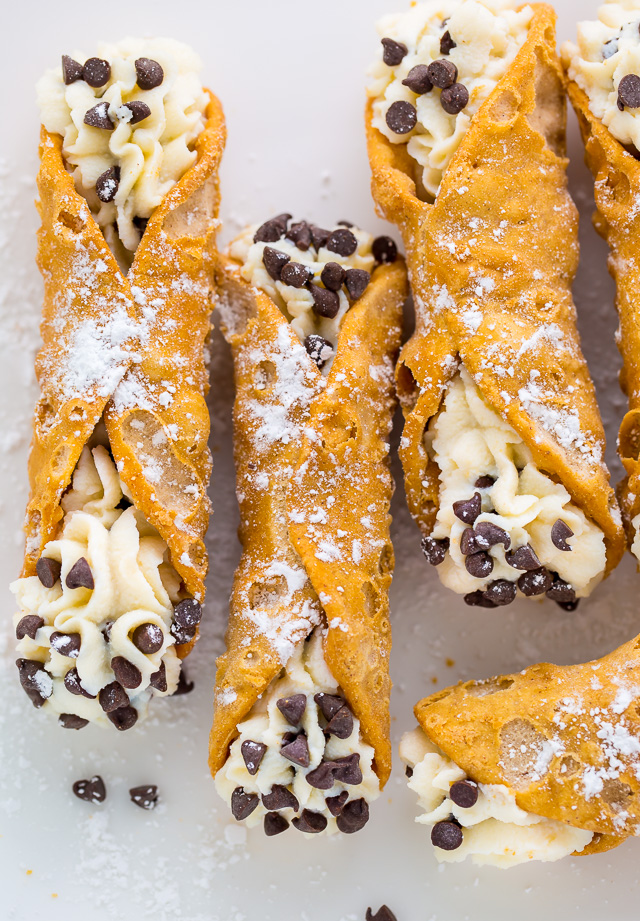 What is a Cannoli?
A Cannoli is a form of pastry that originated on the Island of Sicily. Most cannoli consist of tube-shaped shells of deep fried pastry dough that are then filled with a slightly sweet and creamy filling, that's usually made from ricotta cheese.
Every time I make this recipe I get a little nostalgic. My grandmother taught me how to make cannoli many moons ago and the memory is one of my favorites. I must confess my gran made her cannoli shells from scratch (and man were they good), but most days I just don't have time for that so I buy them from our local pastry shop or the grocery store. One day I'll get it together and post her cannoli shell recipe too, but for now, feel free to use store bought shells or make your own using your favorite recipe.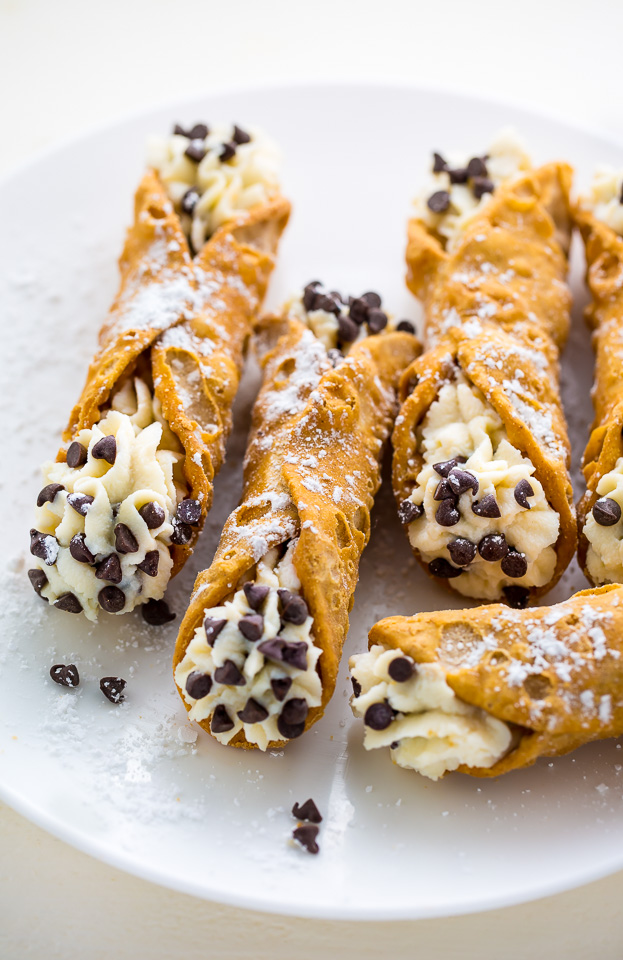 Cannoli Recipe
Ingredients:
cannoli shells, homemade or store bought will work
ricotta cheese
confectioners' sugar
mini chocolate chips
vanilla extract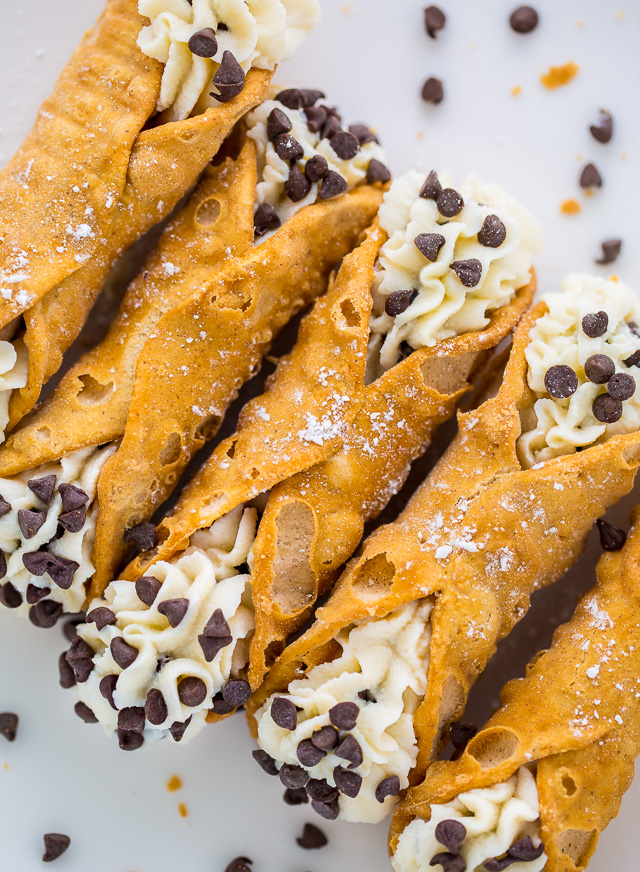 Tips and Tricks for Recipe Success:
The most important part of this cannoli recipe is draining your ricotta cheese. It MUST drain. At least 12 hours, preferably overnight. If you use it as is, your cannoli cream filling will be wet and grainy and make your shells soggy. To drain, you'll want to place the cheese in a fine mesh strainer and cover it with a piece of saran wrap. Place some pie weights (or just dry beans) on top of the saran wrap and place the strainer over a bowl. Pop the bowl in the fridge until needed. You'll be surprised to see how much liquid comes out!
As mentioned earlier, I used store bought cannoli shells. Bellino cannoli shells are very good and what I use if my local pastry shop is out of fresh ones. You can also make and use your favorite homemade cannoli shell recipe.
Although I prefer a simple cannoli with just a dash of vanilla extract, feel free to make these your own! Add in orange zest, chopped pistachios, or even sprinkles! Just be sure not to make the filling too chunky if you plan on piping it into the shells.
If you can't find mini chocolate chips at your local grocery store, you can click here to buy them online. Or use the filling as a cannoli dip and serve with broken up waffle cones or graham crackers.
Don't forget the powdered sugar! I also set aside a 1/2 cup for dusting the cannoli shells. It adds a subtle sweetness and gives the dessert a stunning presentation.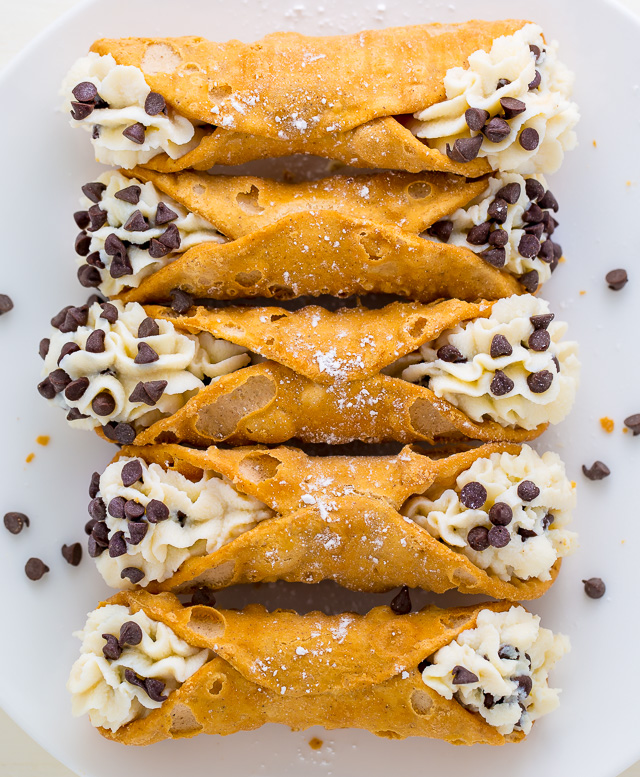 If you try this Easy Cannoli Recipe, let me know! Leave a comment below and don't forget to snap a pic and tag it #bakerbynature on instagram! Seeing your kitchen creations makes my day. ♥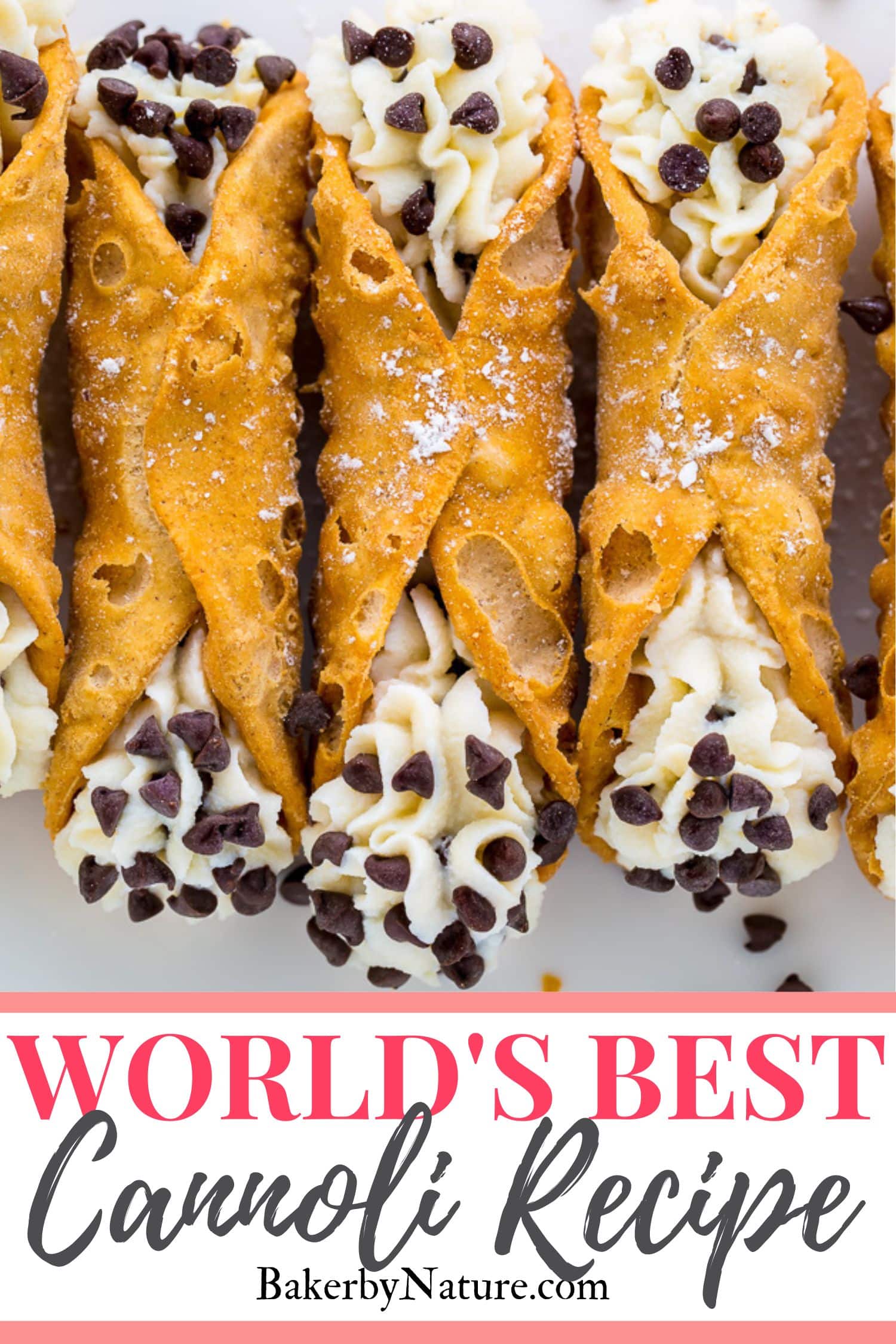 More Italian Ricotta Dessert Recipes: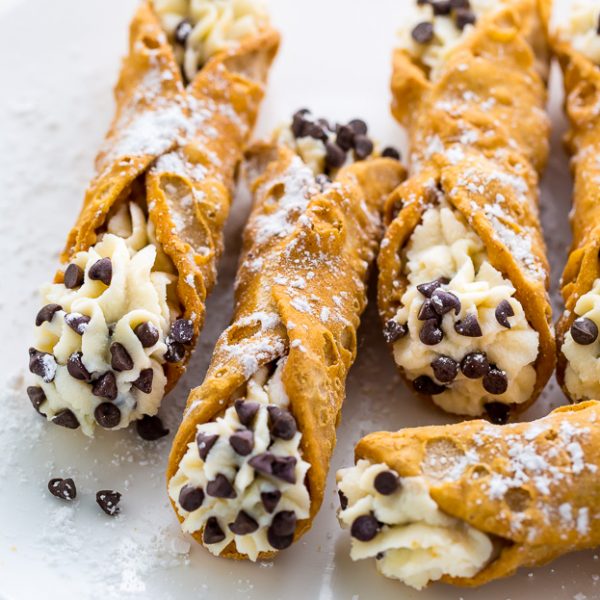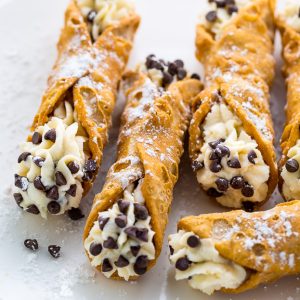 5-Ingredient Cannolis
Homemade 5-Ingredient Cannolis are super easy and so impressive!
Ingredients
8 cannoli shells, homemade or store bought will work
2 cups ricotta cheese
1 cup confectioners' sugar, plus extra for dusting
3/4 cup mini chocolate chips, divided
1 and 1/2 teaspoons pure vanilla extract
Optional:
2 teaspoons fresh orange zest
Instructions
Place the ricotta cheese into a fine mesh strainer and place it in the fridge to drain for at least 12 hours and up to 24 hours.
When you're ready to make the filling:
In a large bowl combine the drained ricotta cheese, confectioners' sugar, 1/4 cup of the mini chocolate chips, vanilla extract, and orange zest (if using); mix well. Using a spatula, carefully scrape the mixture into pastry bag fitted with a 1/2 inch open tip. Use at once, or refrigerate until needed; filling can be made up to 24 hours in advance.

When ready to serve, pipe the filling into one end of cannoli shell, filling shell halfway, then pipe into other end. If you don't have a piping bag, you may spoon the filling into the shells. Repeat with remaining shells.

Place remaining mini chocolate chips on a small plate. Dip each end of the cannoli into the chocolate chips, then lightly dust with confectioner's sugar. Serve at once.
Notes
The filling may be made and stored in the fridge for up to 24 hours. Once the cannoli shells have been filling, serve them right away. Cannolis are best eaten the day they are made.