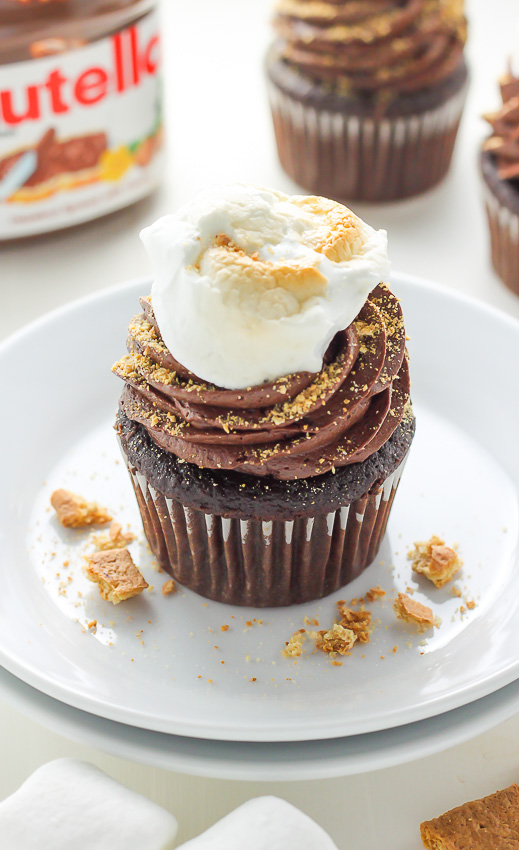 Moist and Flavorful Chocolate Cupcakes are stuffed with Nutella, topped with a Silky Chocolate Buttercream, and finished off with Graham Cracker Crumbs and a Toasted Marshmallow. Do yourself a favor – make these today!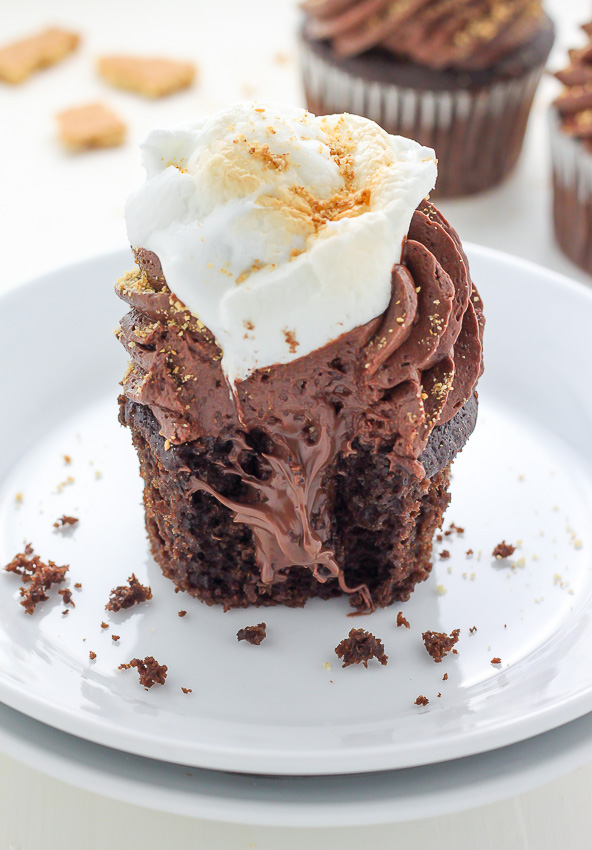 I quickly said farewell to my good intentions of "just one bite" the moment these decadent Nutella Stuffed S'mores Cupcakes hit my lips. Rich Chocolate Cake… Silky Smooth Nutella… Luscious Chocolate Buttercream… Crunchy Graham Cracker Crumbs… and Gooey Marshmallow <—– I didn't stand a chance 😉

The base of this chocolate cupcake recipe is nothing new. It's almost exactly the same recipe I use for my Super Decadent Chocolate Cupcakes. This recipe yields fluffy, rich, ultra moist cupcakes that explode with chocolate flavor in every bite! Many of my friends (and readers!) tell me it's the best chocolate cupcake they've ever had – and I agree!
The best part of these cupcakes? Each one gets stuffed with a heaping spoonful of Nutella! Go on and swoon… I'll wait 😉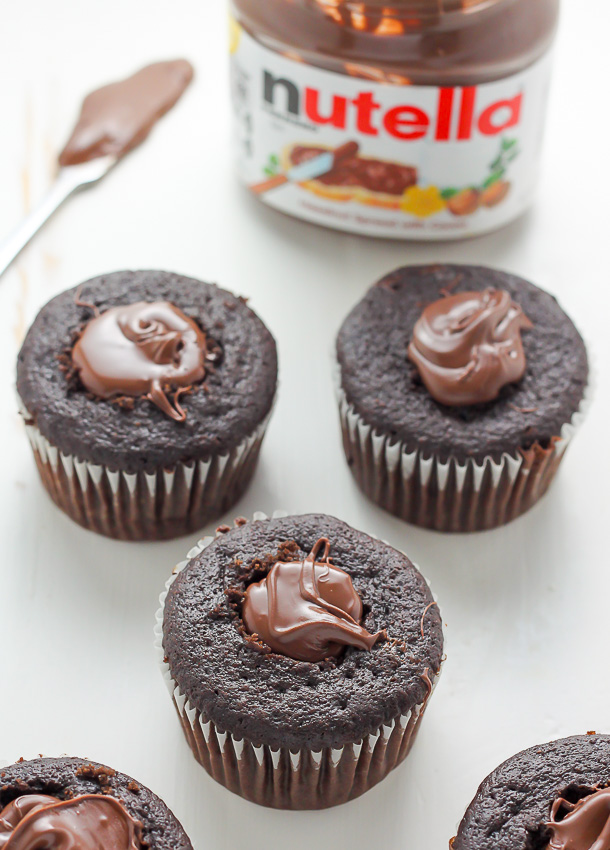 Alright. Back to business! Next up we have our Chocolate Frosting. This recipe is very easy and quite basic.
Three important tips to help you make the fluffiest, creamiest frosting around:
1) Bring your butter to room temperature. You can do this by simply leaving the butter out on the counter for an hour or so. Soft butter = creamy, dreamy chocolate frosting.
2) Sift your confectioners' sugar and cocoa powder. This step is important because confectioners' sugar and cocoa powder tend to have a lot of lumps and bumps straight out of the package. Sifting (I like to use a fine-mesh strainer here) will break up all those bumps, ensuring a silky smooth frosting.
3) Once all of your ingredients have been added to the bowl, whip the frosting on medium-high speed for a good two minutes! This whipping process is what adds that light, fluffy, almost airy feel to frosting. It's a must!
The final two steps in our s'mores cupcake adventure are surely the easiest!
For the graham cracker crumbs you have two choices:
1) Purchase a box of graham crackers and smash them up by hand (or food processor).
2) Purchase already made graham cracker crumbs (typically found in the baking aisle) and sprinkle them right on!
For the marshmallows you also have two options:
1) Place a marshmallow on top of each of the cupcakes, then use a blowtorch (kitchen torch) to char the top of each.
2) Preheat the broiler, place the marshmallows on a large baking sheet, and pop them in the hot over for a few seconds. This is the method I use (I don't trust myself with a blowtorch!) but both will work.
Spoiler Alert: These cupcakes are going to blow your mind. S'mores + Nutella = YES.
P.S. I know there are a lot of steps to this recipe, but I promise, they're easy as can be! If you have any questions about a part of this recipe (or any recipe on this site) please ask away in the comment section below. If not… grab your ingredients and get baking!

Nutella Stuffed S'mores Cupcakes
Ingredients
For the Cupcakes:
3 tablespoons Canola oil (vegetable oil or melted coconut oil may be used in its place)
1 stick (4 ounces) unsalted butter, melted and slightly cooled
1/2 cup semi-sweet chocolate chips
1 cup granulated sugar
2 large eggs + 1 large egg yolk, at room temperature
1 teaspoon vanilla
3/4 cup + 2 tablespoons all-purpose flour, not packed
1/2 teaspoon baking soda
1 teaspoon baking powder
1/2 cup unsweetened cocoa powder
1/2 teaspoon salt
1/2 cup full-fat sour cream (reduced-fat will work but produce a slightly different texture)
1/2 cup hot water (too hot to touch but not boiling)
For the Chocolate Buttercream:
1 stick unsalted butter
3 cups confectioners sugar
3/4 cup unsweetened cocoa powder
2 tablespoons sour cream
3 tablespoons whole milk or half and half
1/4 teaspoon salt
1 teaspoon vanilla
1/4 cup Nutella (or a similar chocolate hazelnut spread)
For the topping:
1/4 cup Graham cracker crumbs
12 Marshmallows
Instructions
For the cupcakes:
Preheat the oven to 350 degrees (F). Line a 12-cup cupcake/muffin tin with cupcake liners and lightly spray the liners with non-stick spray (optional but it does help them peel right off).

Melt the oil, butter,and chocolate together in the microwave, heating in 30 second increments, and stirring between increments each time. You can also melt the oil, butter, and chocolate over very low heat on the stove top, but I find the microwave to be much easier. Whisk mixture until completely smooth and set aside to cool.

In a medium-sized bowl combine the flour, baking soda, baking powder, cocoa powder, and salt; stir together until thoroughly combined; set aside.

In a large bowl, whisk together the eggs, yolk, sugar and vanilla together; beat until smooth. Add the cooled oil/butter/chocolate mixture and whisk until smooth. Add half of the flour mixture, then half of the sour cream. Repeat the process until everything is added, and be sure to mix until JUST combined - then quickly stir in the hot water. It's important not to over mix, here! Just stir until evenly combined.

Divide the batter among the 12 liners in your prepared pan. Bake for 17-18 minutes, or until a toothpick inserted in the center comes out clean. Cool *completely before filling with nutella and frosting.

Once cooled, use a small sharp knife to carve out a small hole in the center of each cupcake; do not discard the carved out cake piece. Fill each hole with two teaspoons of Nutella, then cover again with the carved out cupcake piece. Set aside and make the buttercream.
For the Chocolate Buttercream:
Sift together the confectioners sugar and cocoa powder, whisking well to ensure it's bump and lump free!

Using a handheld mixer OR a stand mixer fitted with the paddle attachment, beat the butter on medium-high speed until creamy; about 2 minutes. Reduce speed to low and slowly add the sifted sugar/cocoa powder, alternating with the sour cream and milk, then add the vanilla and salt. Once all of the ingredients have been added, beat on high speed until light and creamy and combined; beat for at least 1 minute on high-speed.
For the Toasted Marshmallows:
Place the marshmallows on a large baking sheet; set aside. Position one of your oven racks right below the broiler; preheat your oven to broil. Once the oven reaches the broiler setting, place marshmallows in the oven to toast.

Warning: The marshmallows toast almost immediately - so stay right near the oven! Once browned, quickly remove the pan from the oven and let cool for a minute or two. Using a spatula remove the marshmallows from the pan and place one on top of each frosted cupcakes. Serve at once for the best results!
Assembly:
Frost cooled cupcakes using a piping bag or knife. Top freshly frosted cupcakes (you want the frosting to still be sticky) with graham cracker crumbs, then press a toasted marshmallow on top.

Cupcakes will keep, in the fridge, in an airtight container, for up to 4 days.
You'll also love:
Nutella Chocolate Fudge Cookie Cups
Dark Chocolate Pistachio Nutella Granola Bars
One Bowl Nutella Fudge Brownies