Bananas are easily the underdog of the summer fruit world. They're not exotic, or plump, or bursting with juiciness that's only available a few weeks a year. But, oh, do they make some incredible bread. You've got to give them that. And everybody loves the underdog, right?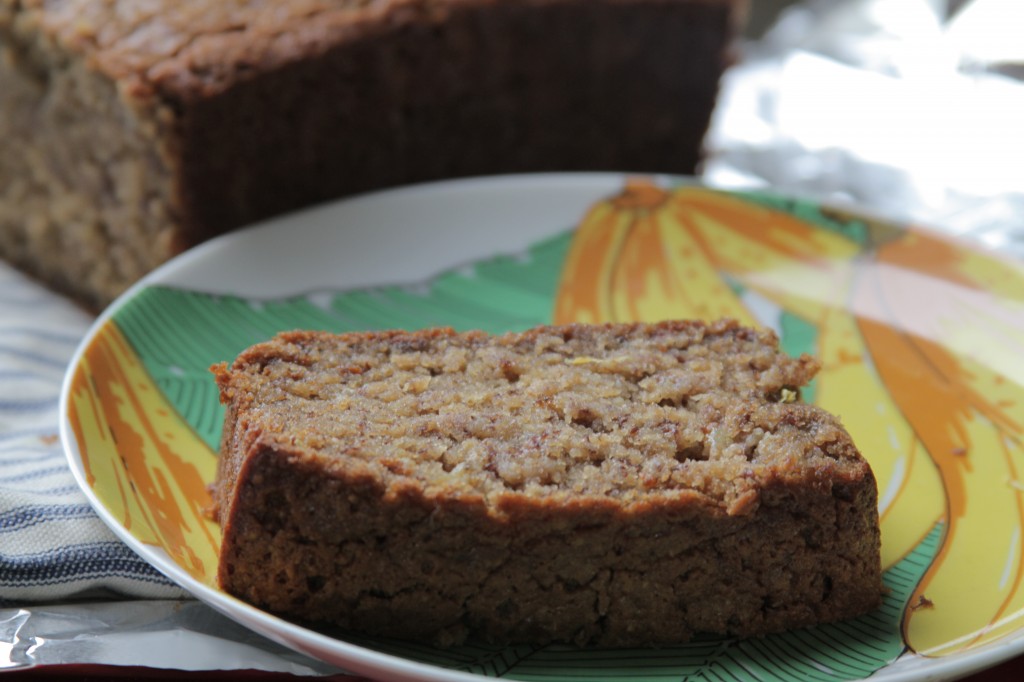 I've been playing around with banana bread recipes for a few months now. There's been the good, the bad, and the ones decked out with so much chocolate and sugar you might as well call them a cake. As much as I'm a girl obsessed with cake… it's just not what I'm was looking for in my bread. But don't worry… do I look like a girl who gives up easily?
Heck-a-No! After 6 – yes, I'm serious – attempts to find the banana bread of my dreams, this one stole the show. And my heart. AND – it's healthy. Again, I'm serious. Friends, meet my lover: the oat flour-maple banana bread. <3 <3 <3
Oat flour and maple syrup are the game changers in this bread, giving it a sweet taste and soft texture, while keeping everything healthy and natural. Have you baked with oat flour yet? I'm obsessed! And you can make it at home. Just throw some oats in the blender, grind them up, and BAM – you've got yourself some oat flour!
If you've been searching for a banana bread you can call breakfast with thinking twice, you're search is over.
Oat Flour – Maple Banana Bread – Baker by Nature
2 cups oat flour (you can make this by simply grinding up oats in the blender until they're powder)
1 teaspoon baking soda
1 1/4 teaspoons cinnamon
1/2 teaspoon salt
3/4 cup maple syrup
2 large eggs, room temperature
*1/2 cup coconut oil, olive oil, OR 1 stick unsalted butter, melted
*4 very ripe bananas, mashed
2 tablespoons greek yogurt
2 teaspoons vanilla extract
Preheat oven to 350 degrees (F). Line the bottom of a loaf pan with parchment paper and spray with non-stick spray.
In a medium bowl, sift together the oat flour, baking soda, cinnamon and salt, set aside. In a separate large bowl, beat maple syrup and eggs with a whisk until light and fluffy, about 5 minutes. Add melted butter. Add mashed bananas, Greek yogurt, and vanilla. Gently mix in dry ingredients. Pour batter into the lined loaf pan and bake for 45 minutes to an hour, or when a cake tester comes out with just a few crumbs sticking to it. Allow bread to cool completely before slicing.
*I tend to use butter in this recipe because I'm ok with it in my diet, but I have tested this cake with both oils and they have equally lovely results
* If you're on a gluten-free diet be sure the oats you use are GF.