I'm not exaggerating when I say I'm FULLY OBSESSED with this Maple Walnut Cheesecake. The brown sugar walnut crust is perfectly crunchy and the maple cheesecake filling is silky smooth and loaded with maple flavor. A gooey maple walnut topping is poured on top of the cooled cheesecake to finish off this special occasion cheesecake!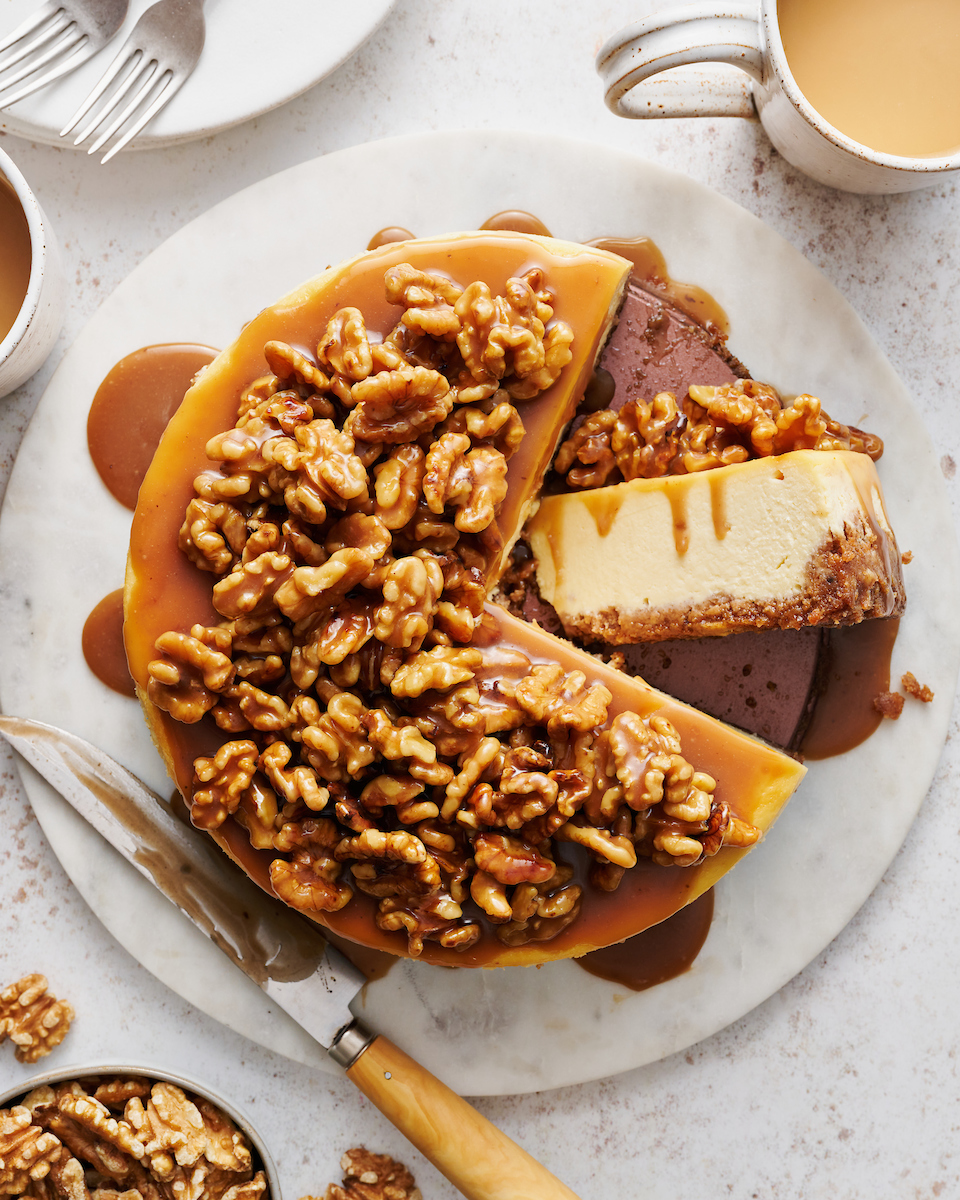 Maple Cheesecake Recipe
As a self-proclaimed cheesecake fanatic, I couldn't let Christmas in July slip by without sharing a new cheesecake recipe! And oh boy, is this one a winner. Featuring a walnut graham cracker crumb crust and a maple syrup spiked cheesecake filling, it's flavor is so cozy and delicious.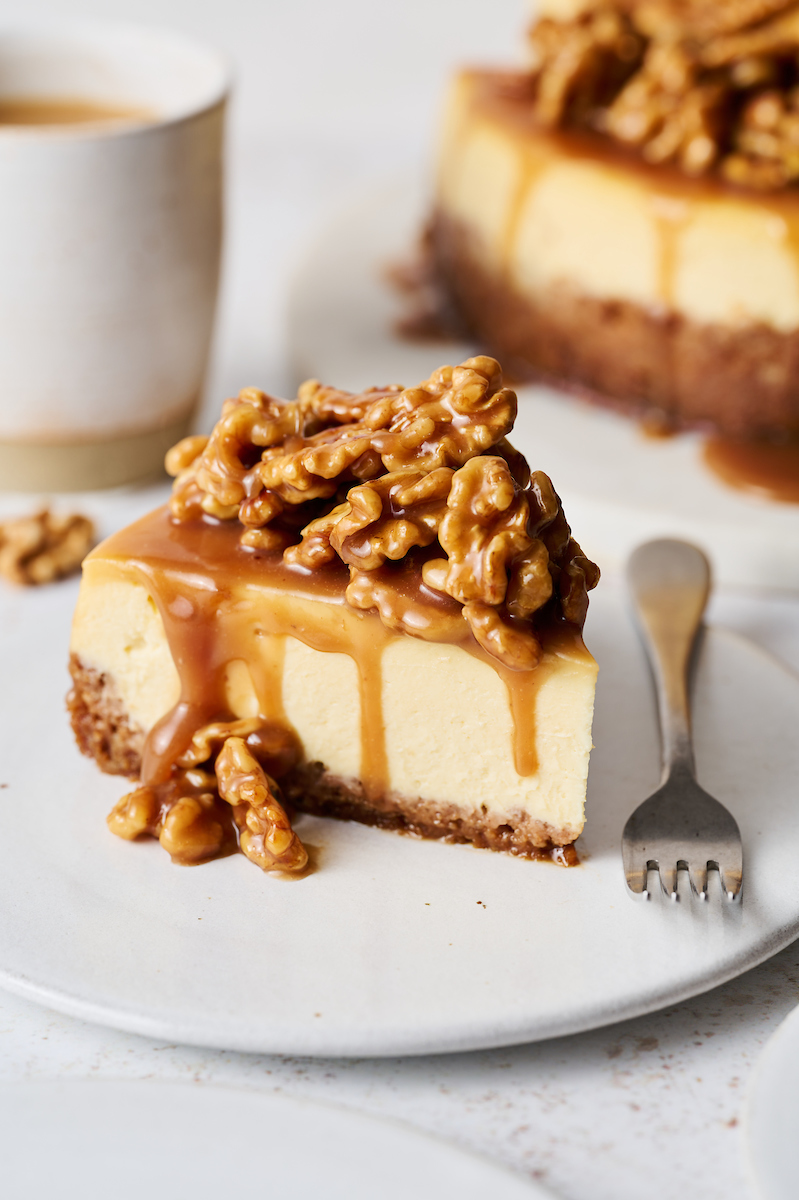 And the walnut maple bourbon syrup? Well, that's just say don't be surprised if you find yourself wanting to eat it by the spoonful. Or on top of ice cream… pancakes… or French toast!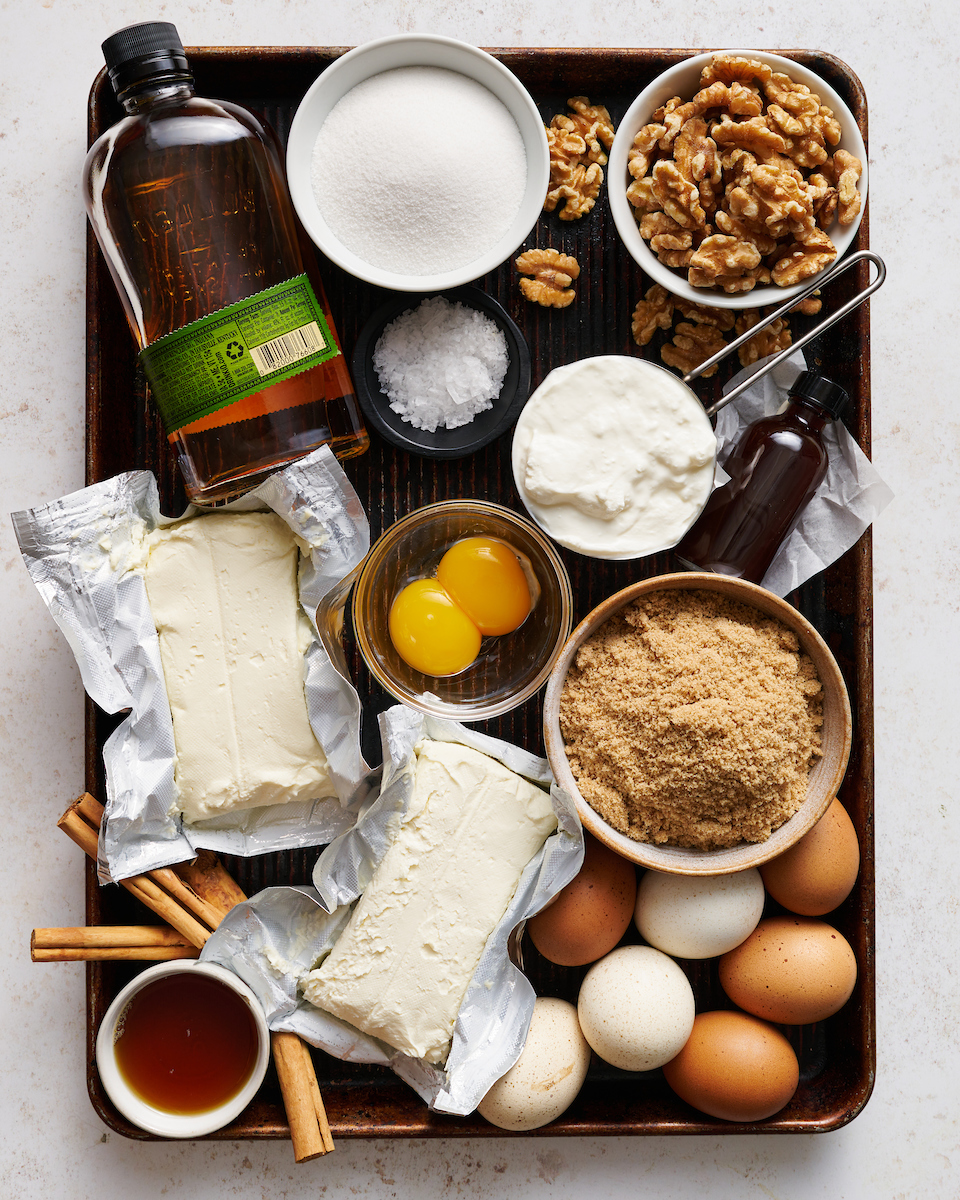 What you'll Need:
9-Inch Springform Pan: You'll want to wrap this in heavy duty aluminum foil to ensure no water leaks in when you place it in the water bath.
Food Processor: Or a high-powdered blender or electric mixer (hand mixer or stand mixer) is needed to beat the cream cheese filling smooth.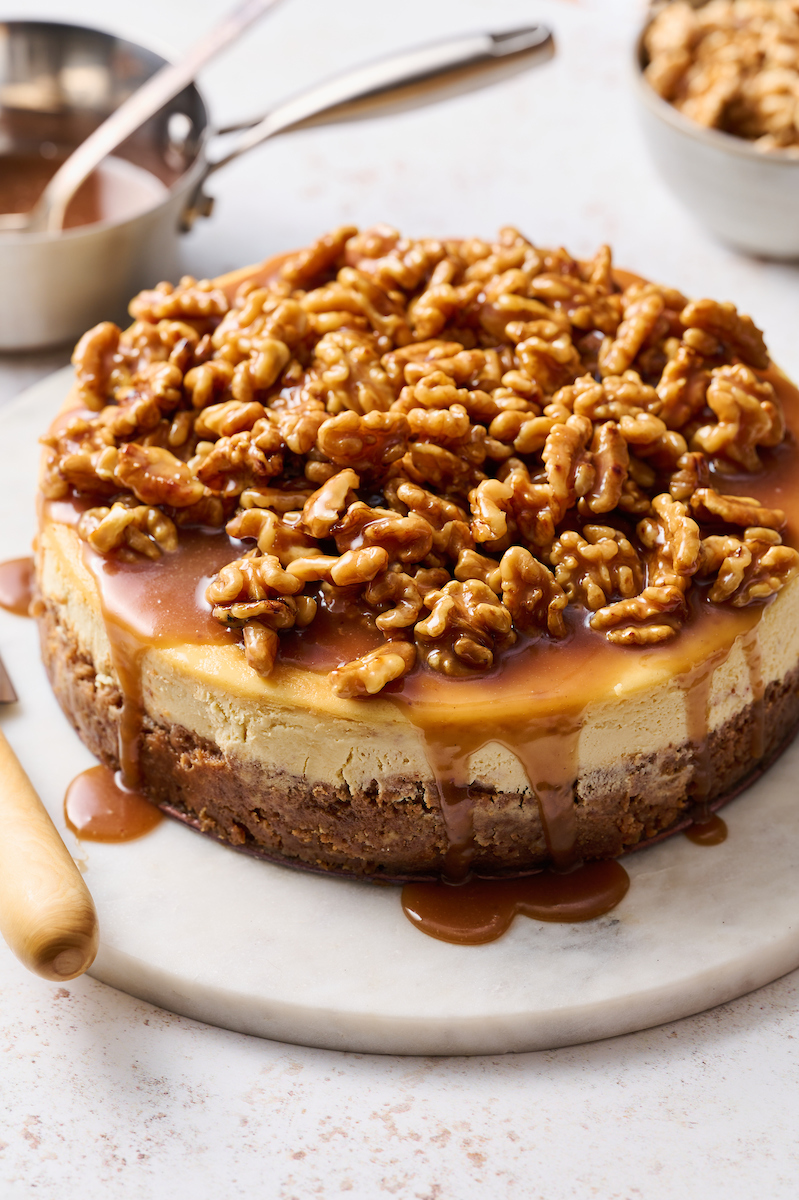 Walnuts: I love using whole walnuts, but in a pinch, chopped walnuts will suffice. Pecans can also work.
Graham Crackers: For ease, I suggest using pre-crushed graham cracker crumbs. But you may absolutely buy graham cracker sheets and pulse them into fine crumbs.
Brown Sugar: Light brown sugar works best, but dark brown sugar can be used. Please note if you use dark brown sugar the recipe will have a slightly more intense molasses flavor.
Butter: I always recommend unsalted butter, but in a pinch, salted butter will work. You'll want to either reduce or omit the salt called for.
Cream Cheese: Be sure it's softened to room temperature, otherwise when you beat the cream cheese it won't blend evenly. I suggest using block cream cheese, and my favorite brand is Philadelphia Cream Cheese!
Sour Cream: Make sure it's full-fat and at room temperature. If you cannot find sour cream, full-fat plain Greek yogurt is the best substitute.
Granulated sugar: Adds sweetness. Should not be reduced or substituted.
Vanilla Extract: Always use real pure vanilla extract, not artificial or imitation. In this recipe, a bourbon vanilla is also delicious.
Eggs: You'll use whole eggs, as well as egg yolks. You may save your egg whites for another recipe (you can even freeze them) or discard them.
Maple Syrup: Be sure to use high-quality maple syrup here for the best flavor. It doesn't need to be grade b or super expensive, but it shouldn't be pancake syrup, which is loaded with artificial flavoring.
Maple Extract: If you can't find this, you can omit it. But it does enhance the maple flavor and is worth the investment if you enjoy baking maple desserts.
Heavy Cream: AKA whipping cream. This should not be subbed with milk!
All-purpose Flour: Gives our creamy cheesecake filling just a bit of density in texture.
Salt: Balances flavors and helps avoid the recipe tasting overly sweet.
Bourbon: You can buy one of the little bottles from the liquor store if you don't consume bourbon often. You may also use whiskey or rye, instead of bourbon. Or skip this ingredient entirely.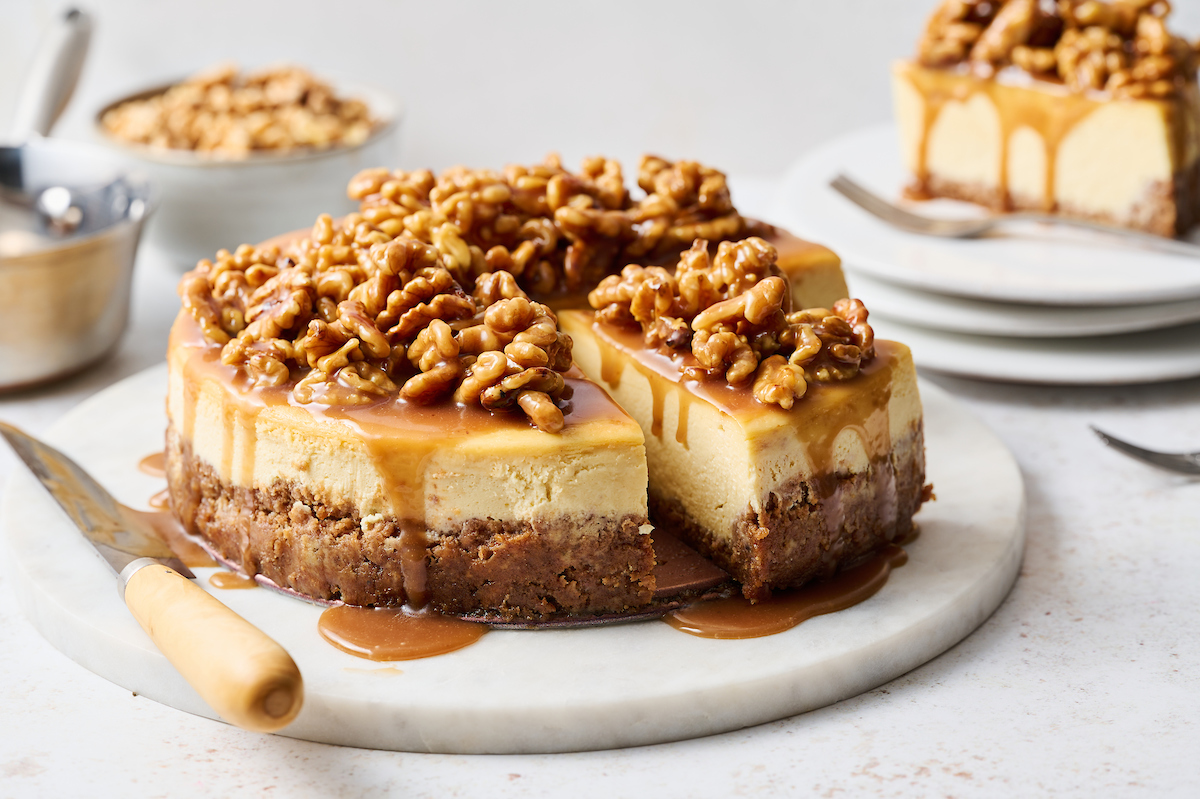 Cheesecake Tips and Tricks:
Be sure to press your crust firmly down the bottom and sides of the pan. Then cool completely before adding the cheesecake batter.
When you bake the crust, you'll preheat the oven to 350. Don't forget to lower the oven temperature to 325 degrees when you remove the crust, as the cheesecake bakes at a lower temperature.
In a large bowl combine the cream cheese and sour cream and beat EXTREMELY WELL. This is where you want to do the majority of your beating, scraping the sides and bottom of the bowl needed. You want to get all the lumps out now, so you don't have to over beat the mixture later.
Now you'll add in the sugar and vanilla and beat smooth. Once you add the eggs, you want to pulse or beat on LOW speed, and just until combined. Over beating once you've added the eggs will allow too much air into the batter, which can cause to over rising in the oven, and sinking once it's removed from heat.
Place your cheesecake in a water bath. If you're new to this process, check out my guide on how to make an easy water bath for a cheesecake.
Be sure to cool your cheesecake COMPLETELY before slicing!
You can make the topping in advance and pour into a small bowl, then gently reheat for 10 to 15 seconds before adding it to the cheesecake.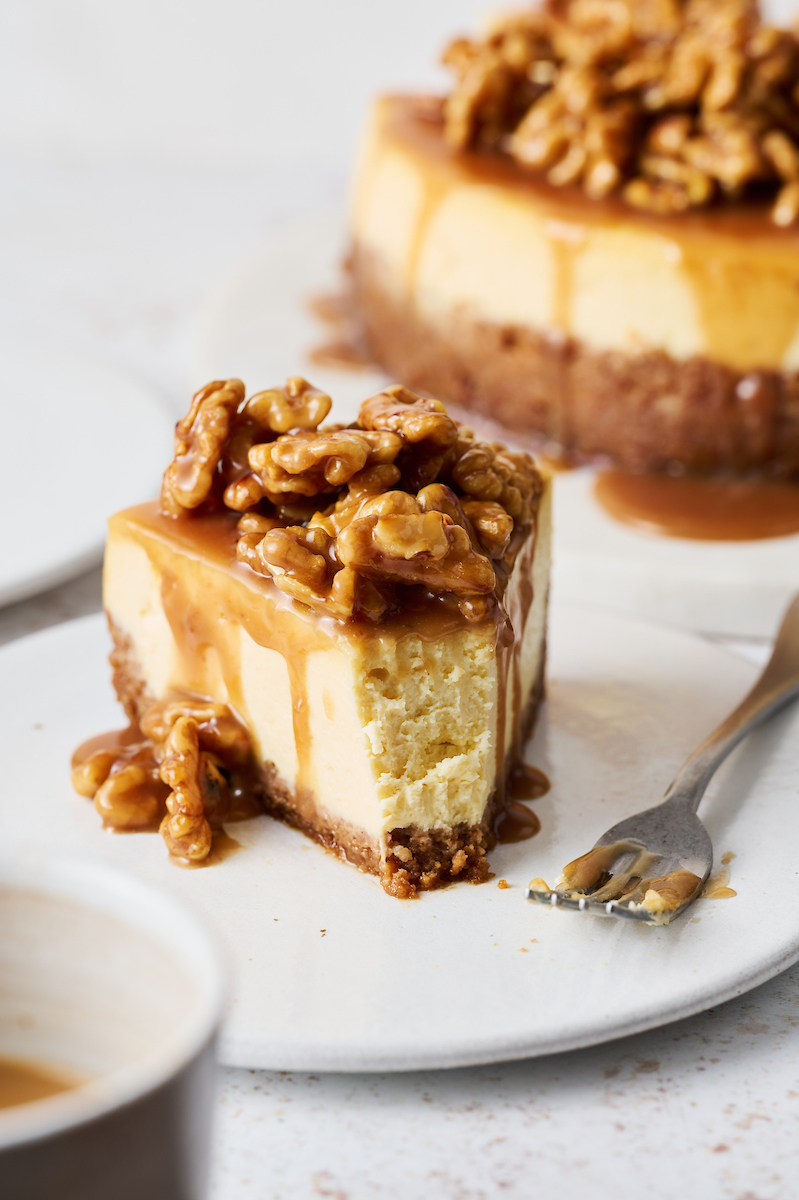 More Cheesecake Recipes: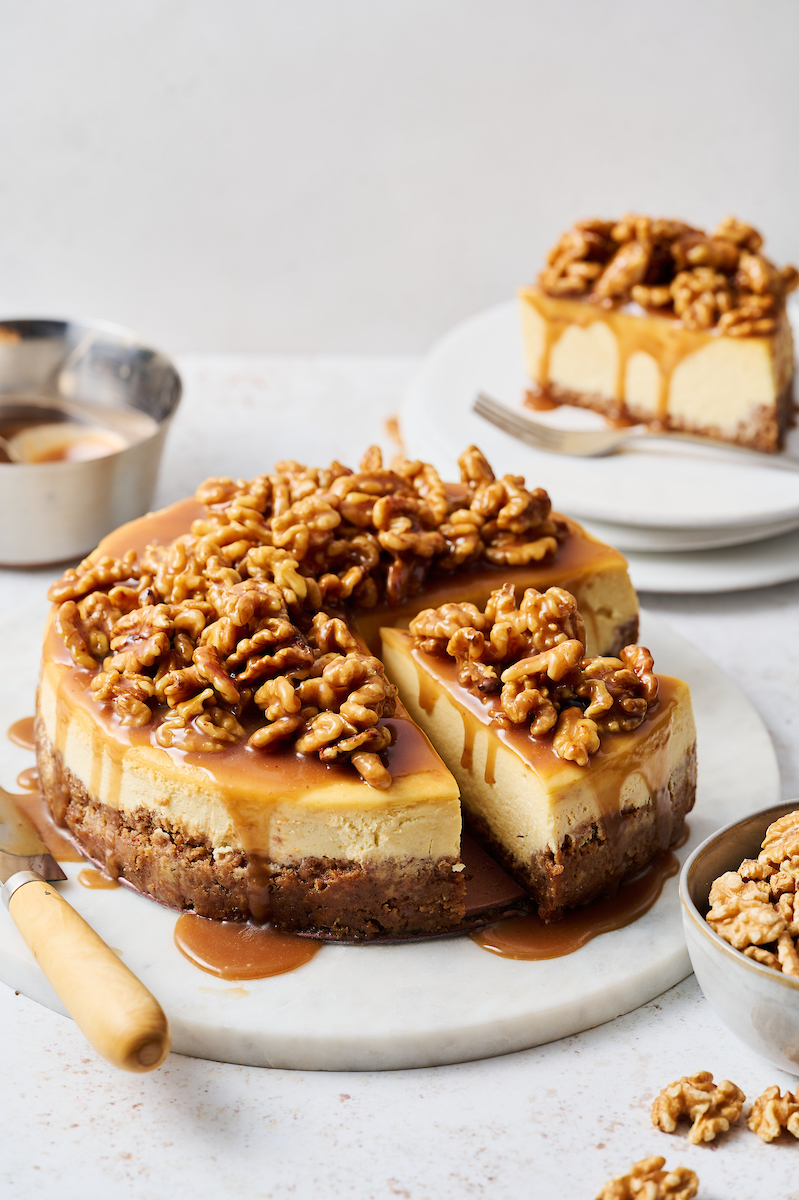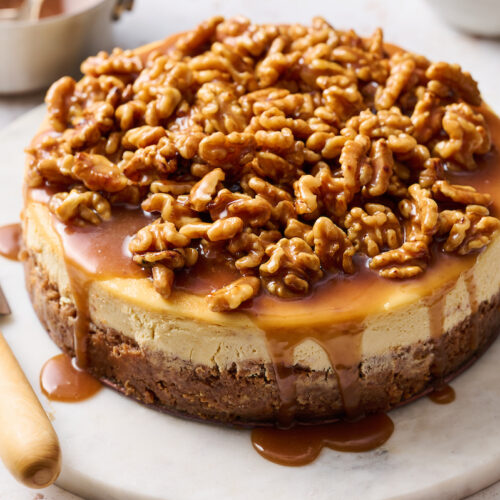 Maple Walnut Cheesecake
This Maple Walnut Cheesecake features a brown sugar walnut crust,maple cheesecake filling, and a gooey maple walnut topping.
Ingredients
For the Brown Sugar Walnut Crust:
1/2 cup (57g) walnuts lightly toasted and cooled
2 cups (171g) graham cracker crumbs
1/3 cup (71g) light brown sugar packed
1/4 teaspoon salt
1/2 cup (113g) unsalted butter melted
For the Maple Cheesecake:
4 bricks (906g) full-fat cream cheese room temperature
1 cup (227g) full-fat sour cream room temperature
3/4 cup (149g) granulated sugar
2 teaspoons vanilla extract
5 large eggs room temperature
3 large egg yolks room temperature
2/3 cup (208ml) high-quality maple syrup
1/2 teaspoon maple extract
1/4 cup (57ml) heavy cream room temperature
1 and 1/2 Tablespoons (21g) all-purpose flour
For the Maple Walnut Topping:
6 Tablespoons (84g) unsalted butter
2/3 cup (142g) light brown sugar packed
1/4 cup (57ml) heavy cream
1/4 teaspoon salt
2 cups (227g) walnuts whole or roughly chopped, lightly toasted
1 teaspoon vanilla extract
2 Tablespoons (24ml) high-quality maple syrup
1 Tablespoon (14ml) bourbon
Instructions
For the Brown Sugar Walnut Crust:
Preheat the oven to 350 degrees (F). Wrap the bottom and sides of a 9" springform pan with extra wide heavy duty aluminum foil. I recommend doing several diligent layers here to ensure no water creeps through when you place the pan in the water bath.

Lightly spray the pan with non-stick spray, then set aside.

Place the walnuts in the body of a food processor and pulse until the nuts have been completely pulsed to fine crumbs.

In a large bowl combine the walnuts crumbs, graham cracker crumbs, sugar, cinnamon and salt. Add in the melted butter and, using a rubber spatula, stir well to combine. 

Pour crust into the prepared pan. Firmly pat the mixture into the prepared pan, working it from the center and up the sides. 

Bake for 10 minutes. Place crust on a cooling rack while you prepare the filling.

Reduce oven temperature to 325 degrees (F).  
For the Maple Cheesecake:
In the body of a large food processor, beat the softened cream cheese and sour cream until completely smooth, scraping the bowl as needed. 

Add sugar and vanilla and beat smooth, scraping down the sides and bottom of the bowl as needed.

On low speed, add in the eggs and yolks, one at a time, just until combined.

Add in the maple syrup, maple extract, and heavy cream and pulse on low until just combined. Finally, using a rubber spatula, fold in the flour, mixing just until combined. 

Pour filling into the prepared crust and, using a silicone spatula, smooth the top. 

Place the cheesecake pan into a large, deep pan. Fill the pan with 2 and ½- inches of hot water. This is your water bath and will help ensure your cheesecake comes out crack free.

Carefully place the pan in the oven and bake for 1 hour and 20 minutes. Turn the oven off and let the cheesecake sit, undisturbed, for 30 more minutes, inside the oven with the door shut. The cheesecake should still be lightly golden brown, set around the edges, and slightly wiggly in the middle.

Remove cake from the oven and gently run a knife very around the edge of the cake. Place the cheesecake on a cooling rack and cool completely, then loosely cover the pan with saran wrap and chill for at least 6 hours. Do not remove the pan until completely cooled!
For the Maple Walnut Topping:
In a large skillet over low heat, melt the butter. Add in the brown sugar and cook, stirring with a whisk, until the sugar has melted and mixture is bubbling, about 2 minutes.

Add in the heavy cream and salt and whisk to combine. Add in the walnuts and, using a rubber spatula, fold them into the liquid mixture until they're completely coated. Remove from heat and stir in the vanilla, maple syrup, and bourbon.

Cool for 10 minutes, mixing occasionally as it cools. Then scrape the mixture on top of the chilled cheesecake. Slice and Serve.