Loaded with warm spices and plenty of pumpkin, this homemade pumpkin coffee cake is the perfect cozy recipe to kick off fall baking! The crunchy streusel on top if so buttery, and the sweet glaze is spiked with maple syrup for extra flavor. Delicious with a big mug of coffee or a pumpkin spice latte!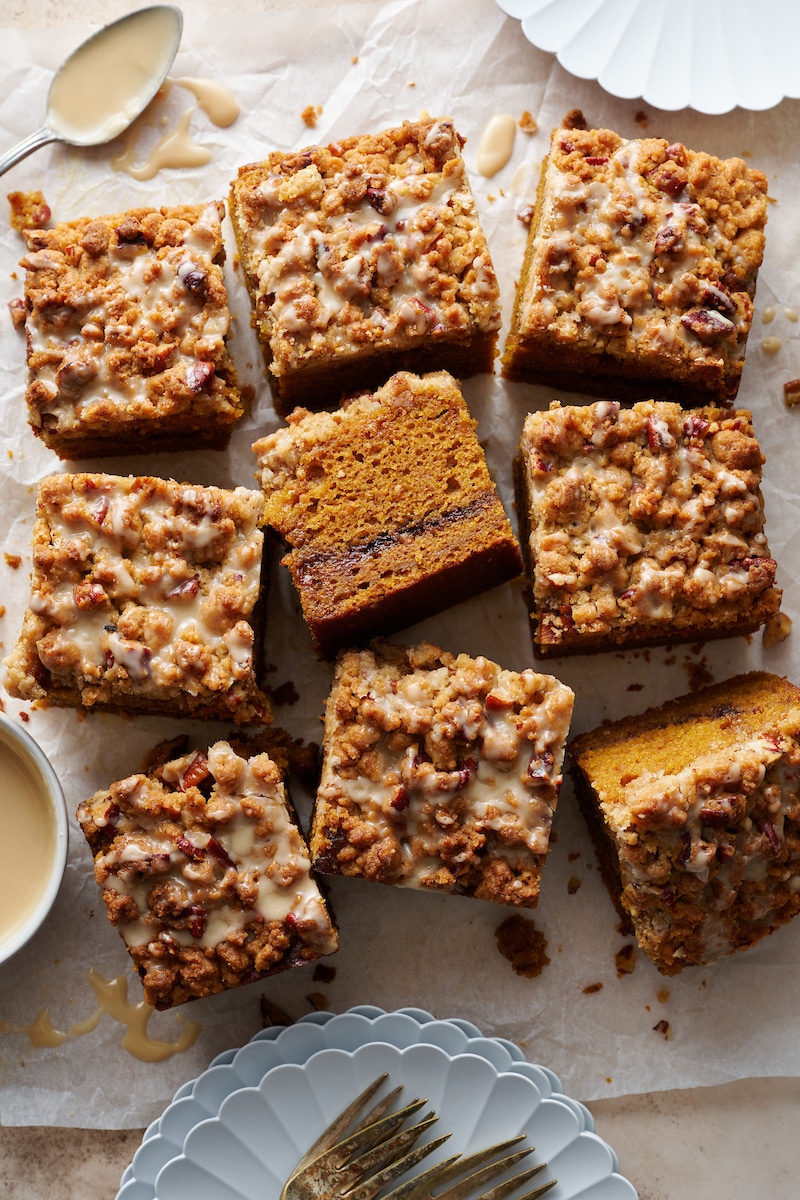 Pumpkin Coffee Cake Recipe
It's September! And that means I finally have the green light to start sharing all things pumpkin, right?! I sure hope so… because I have not one, but 5(!!!) brand new pumpkin recipes coming for you this month.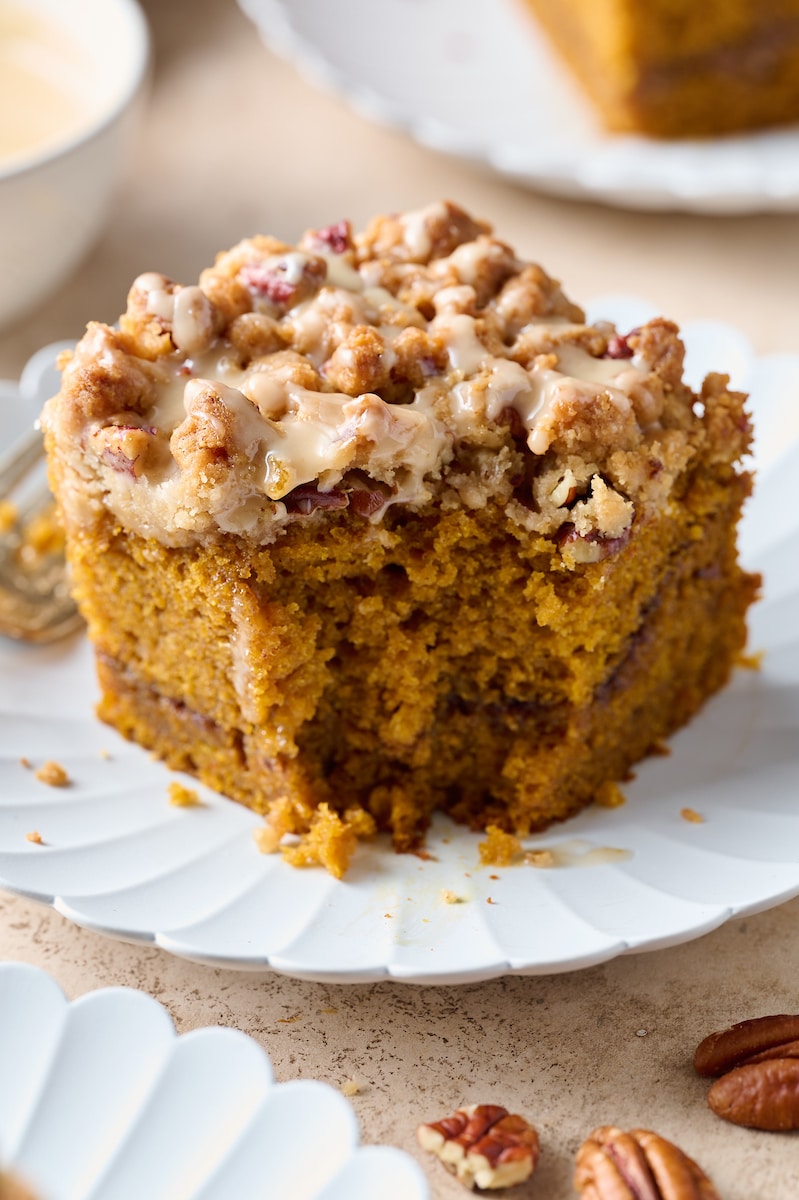 There will be sweet, savory, and snack-y pumpkin recipes. So there's something for everyone!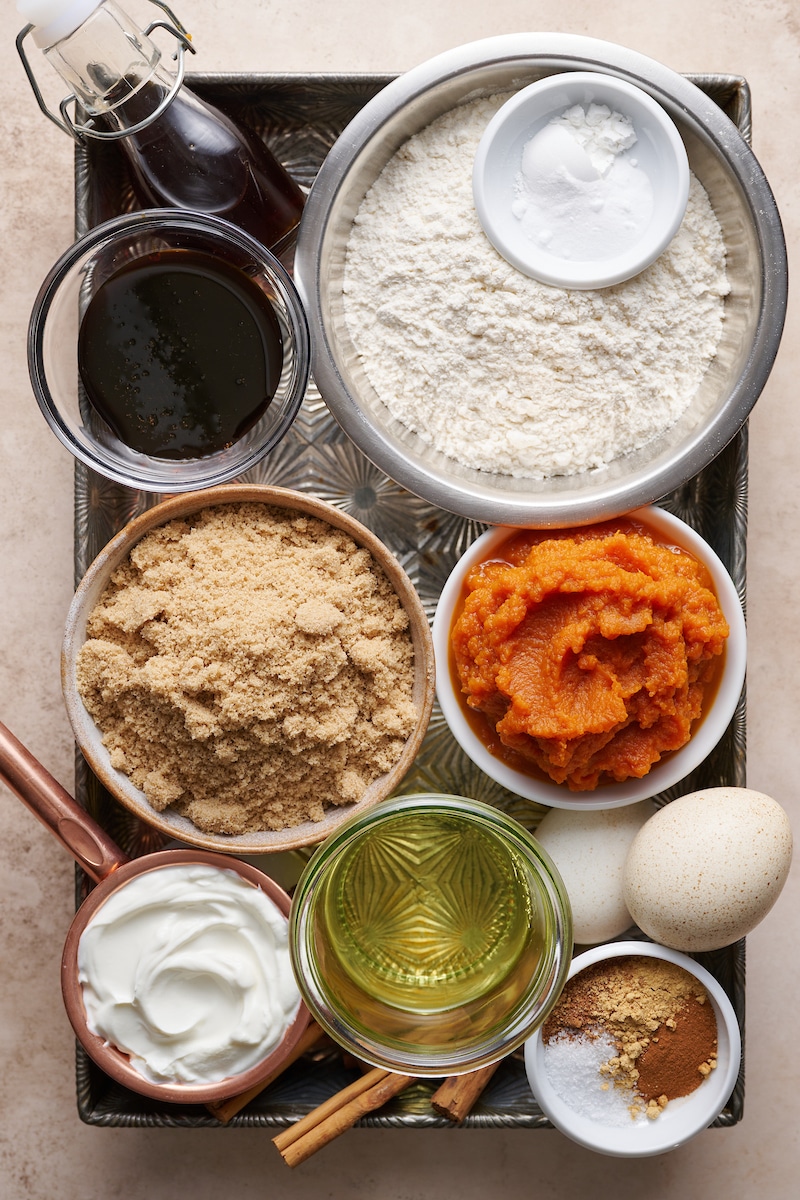 And we're kicking this off with this heavenly pumpkin crumb cake. It's moist, bursting with pumpkin flavor, and topped with tons of streusel topping. Plus, a to-die-for maple glaze. Perfect for a breakfast treat, afternoon snack, or dessert. Or all three! I won't judge. So without further ado, let's bake some cake!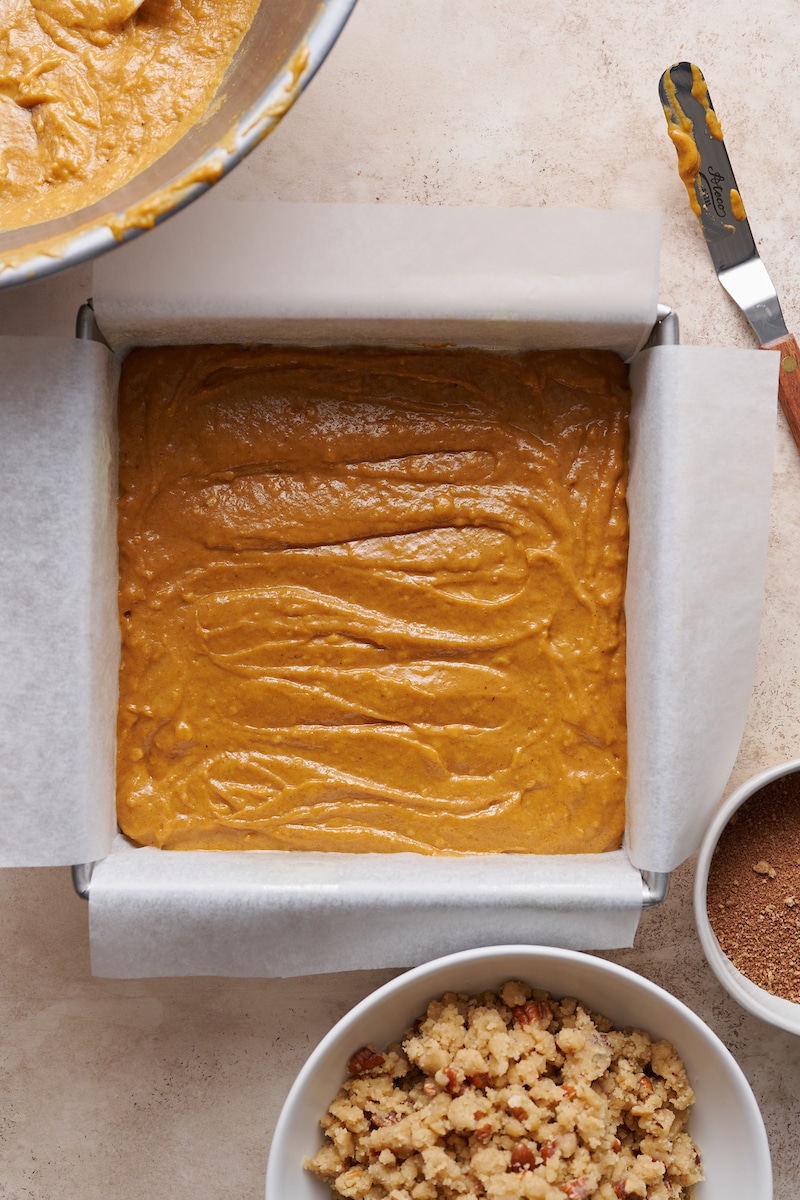 Let's Bake Pumpkin Coffee Cake
The first thing you'll want to do is make the crumb topping. You'll want to combine the all-purpose flour, pecans, salt, and light brown sugar in a mixing bowl, then drizzle in the melted butter. Feel free to do this step up to an hour before you plan on baking the cake!
Next, you'll make the filling. Again, this step can be made hours before you plan on assembling the cake batter. Just cover and set it aside until needed.
Onto making the pumpkin cake batter! This is definitely the most time consuming step, but I promise, it's not hard. You'll combine all of the ingredients – except the flour – in a large bowl. Then gently fold in the flour into the bowl and combine. Don't over mix here or your cake will be dry.
Scrape half of the batter into the baking pan. Then sprinkle with the filling, being sure to cover all of the batter. Then add the remaining batter on top. Finally, you'll sprinkle on those buttery crumbs!
Bake until the crumbs are golden brown and a toothpick inserted in the middle comes out clean!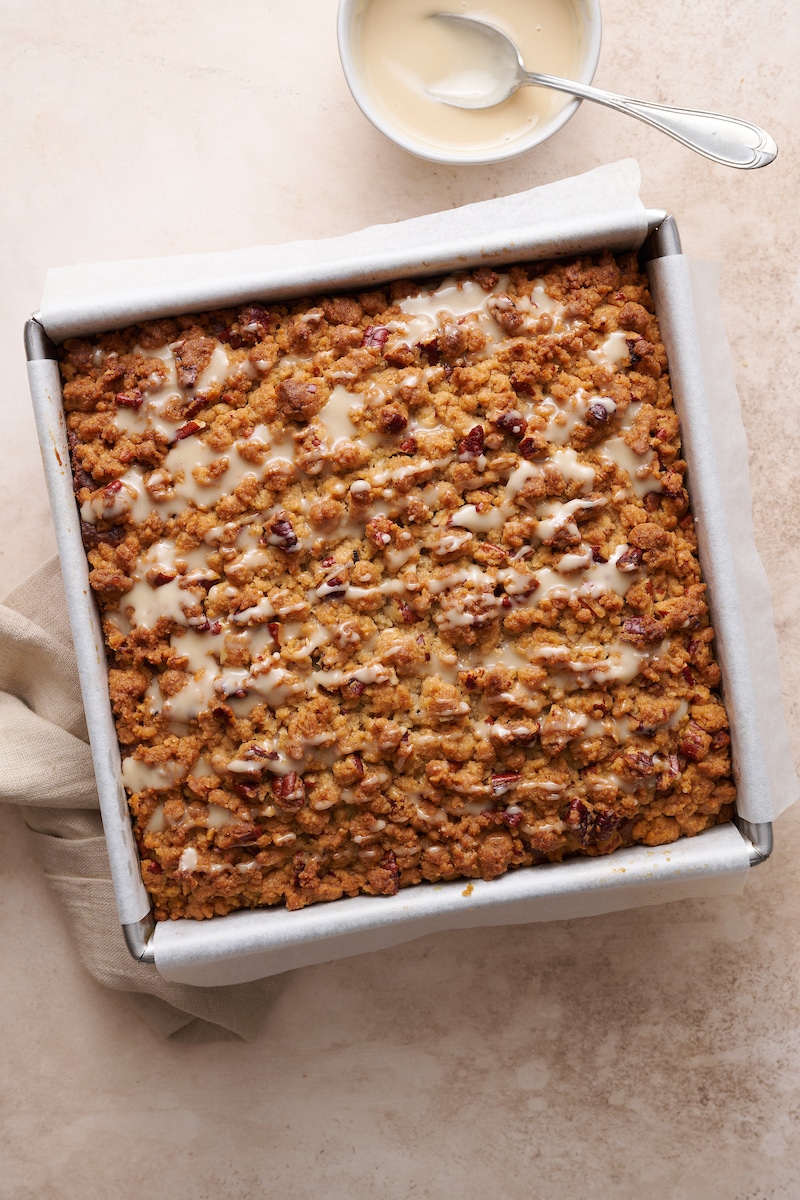 Tips and Tricks for Recipe Success:
Bring your sour cream and eggs to room temperature before you begin baking – at least 30 minutes. Cold ingredients don't bond!
Use pure pumpkin puree, not pumpkin pie filling! If you must use pumpkin pie filling, omit all of the spices called for.
Allergic to pecans? Omit from the recipe or replace with an equal amount of walnuts.
If you don't have the individual spices called for, use 3 and 1/2 teaspoons of pumpkin pie spice instead. The flavor won't be exactly the same, but it'll be close.
I don't suggest using blackstrap molasses because their flavor is intense and overwhelming. Look for classic or mild molasses instead.
No maple syrup? Omit from the glaze recipe, or skip the glaze all together. This cake is delicious without it, or with a simple dusting of powdered sugar on top.
For best results, use a metal or aluminized steel baking pan. If you use a glass or ceramic baking pan, you'll need to increase the baking time. Start with an extra 5 minutes and keep an eye from there. You'll know it's done when a toothpick inserted in the middle comes out clean.
I suggest cooling the cake in the pan, on a cooling rack, until completely cool! But be sure to cool it for at least for 1 hour. Otherwise the cake will fall apart when cut.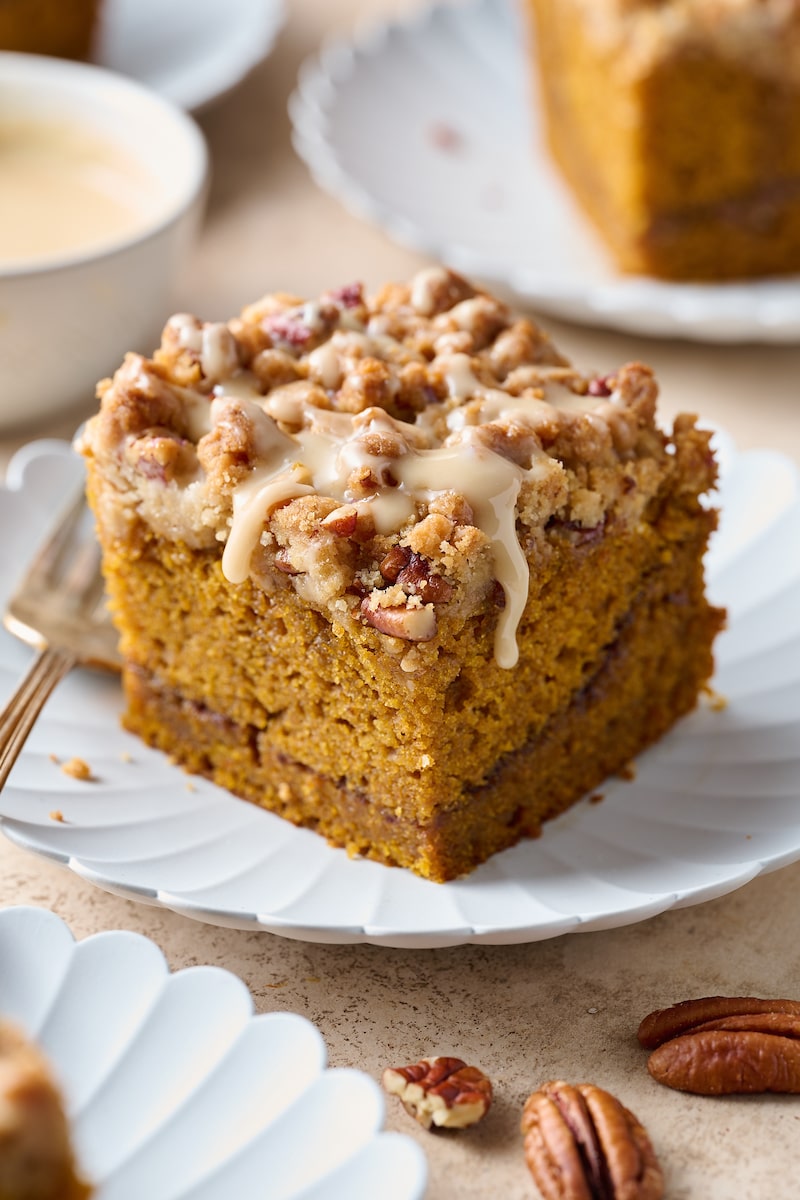 More Coffee Cake Recipes: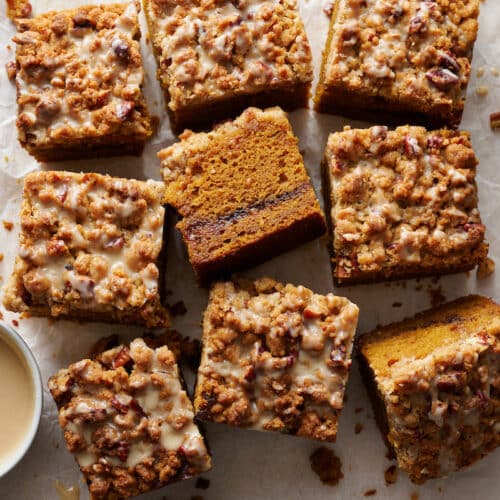 Pumpkin Coffee Cake with Maple Glaze
Moist and loaded with pumpkin flavor, this pumpkin coffee cake is topped with buttery crumbs and a delicious maple glaze. So good with a cup of coffee!
Ingredients
For the Crumb Topping:
1 cup (120g) all-purpose flour
1/2 cup (57g) pecans roughly chopped
1/2 cup (106g) light brown sugar packed
1/4 teaspoon salt
1/2 cup (113g) unsalted butter melted
For the Filling:
1/3 cup (71g) light brown sugar packed
1/2 teaspoon ground cinnamon
1 teaspoon unsweetened cocoa powder regular or Dutch-process (both work fine!)
For the Cake:
2/3 cup (151ml) oil vegetable or canola
1/2 cup (113g) full-fat sour cream room temperature
2 and 1/2 Tablespoons (35ml) regular molasses not the blackstrap variety
2 large eggs room temperature, lightly beaten
2 teaspoons vanilla extract
1 cup (213g) light brown sugar packed
1 and 1/4 cups (312g) pumpkin puree not pumpkin pie filling
1 and 1/2 teaspoons ground cinnamon
1 teaspoon ground ginger
1/2 teaspoon ground nutmeg
1/2 teaspoon salt
1 teaspoon baking powder
1/2 teaspoon baking soda
2 cups (240g) all-purpose flour
For the Glaze:
1/2 cup (57g) confectioners' sugar sifted
2 Tablespoons (28ml) pure maple syrup not pancake syrup
1/2 Tablespoon (7ml) milk
1 teaspoon vanilla extract
Instructions
For the Crumb Topping:
In a medium bowl, combine the flour, pecans, brown sugar, and salt. Stir in the melted butter, mixing just until combined.

Set aside while you prepare the rest of the recipe. The mixture will absorb the butter as it sits and become more crumbly by the time you're ready to use it.
For the Filling:
In a medium bowl, combine the brown sugar, cinnamon, and cocoa powder until evenly combined. Set aside until needed. 
For the Cake:
Preheat the oven to 350 degrees (F). Line an 8-inch square metal baking pan with parchment paper, allowing two of the sides to overlap. Spray the parchment paper, and any exposed pan, with nonstick baking spray. Set aside. (Note: if you use a glass or ceramic baking pan/dish, you may need to increase the bake time).

In a large bowl, whisk the oil, sour cream, molasses, eggs, vanilla, brown sugar, pumpkin, spices, salt, baking powder, and baking soda together until smooth.

Using a rubber spatula, fold in the flour, stirring just until smooth and completely combined. Do not over mix. 

Spread half of the batter into the prepared pan, spreading it all the way to the edges. 

Sprinkle the filling evenly on top of the batter.

Then spread the remaining batter on top of the filling. 

Sprinkle the crumb topping evenly over the batter in the pan.

Bake for 55 to 60 minutes, or until the crumbs are golden brown, don't look wet, and a toothpick or cake tester inserted into the center comes out clean.

Remove the cake from the oven and place it on a wire rack to cool. Cool completely before removing from the pan, slicing in squares, and serving. Serve with coffee! 
For the Glaze:
In a medium bowl, whisk together the confectioners' sugar, maple syrup, milk, and vanilla. (If the mixture appears too thick to drizzle, add a teaspoon more of milk, until desired texture is reached.)

Drizzle on top of cake and let set, about 5 minutes, before serving.