Who needs the bakery when you can make this Old-Fashioned Banana Cake with Creamy Chocolate Frosting right at home?! This luscious dessert is sure to become a favorite.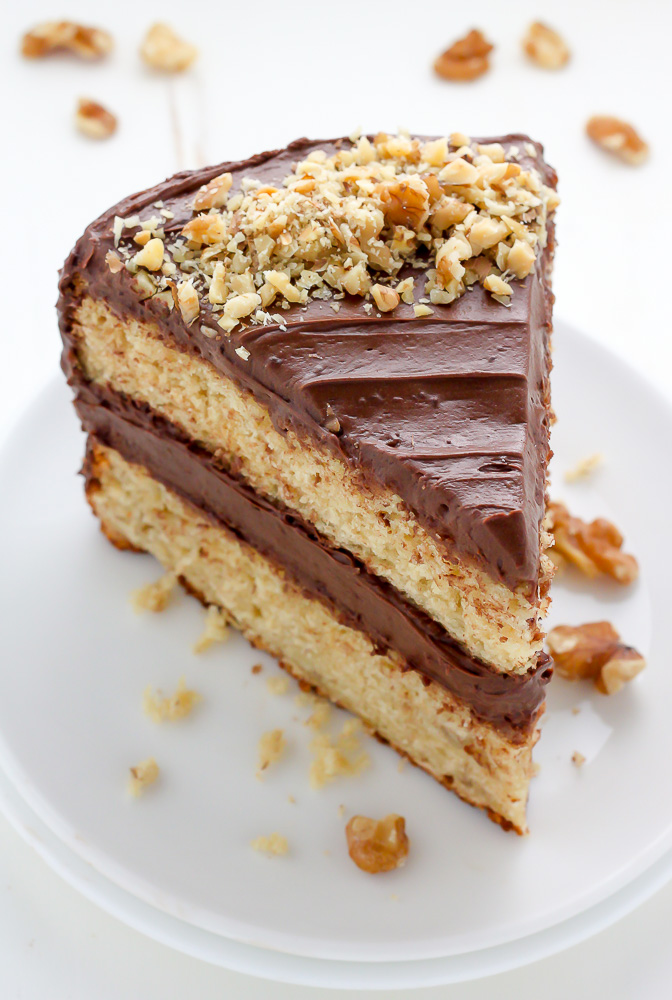 I've made so many cakes in my life that at times… it can be hard to pick a favorite. That said, I typically desire a cake that's layered, super moist, and loaded with frosting. <—– Basically everything a cake should be (always).
Recently I came to the realization that I'd never shared with you my recipe for old-fashioned banana cake and I literally (and I mean l-i-t-e-r-a-l-l-y) ran into the kitchen to remedy this issue at once! This recipe – which comes from my 93 year old grammy! – for banana cake with super rich chocolate cream cheese frosting evokes so many happy childhood memories that I actually teared up a little while making it… baking it… and finally, eating it. Happy tears, of course. Dessert is powerful like that.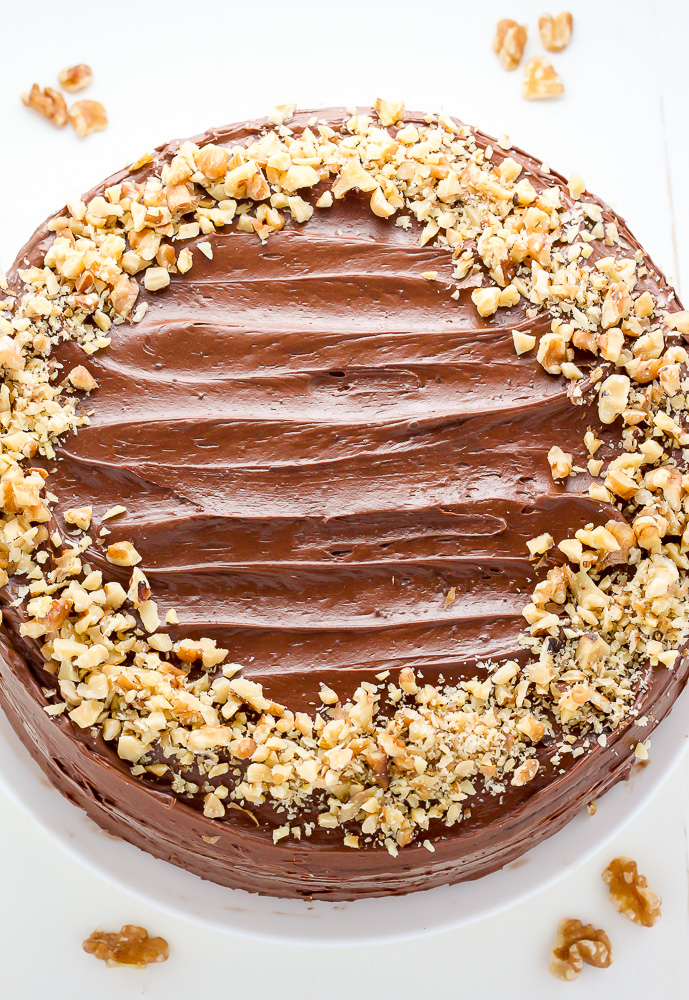 The base of this recipe is a rich and utterly moist banana cake. The batter is made up of the usual suspects: flour, sugar (light brown, in this case), oil, eggs, vanilla, and spices.
The two key ingredients: VERY ripe bananas and sour cream. I always use full-fat sour cream when I'm baking, but I think a low-fat version could work if you're willing to sacrifice a tiny bit of texture.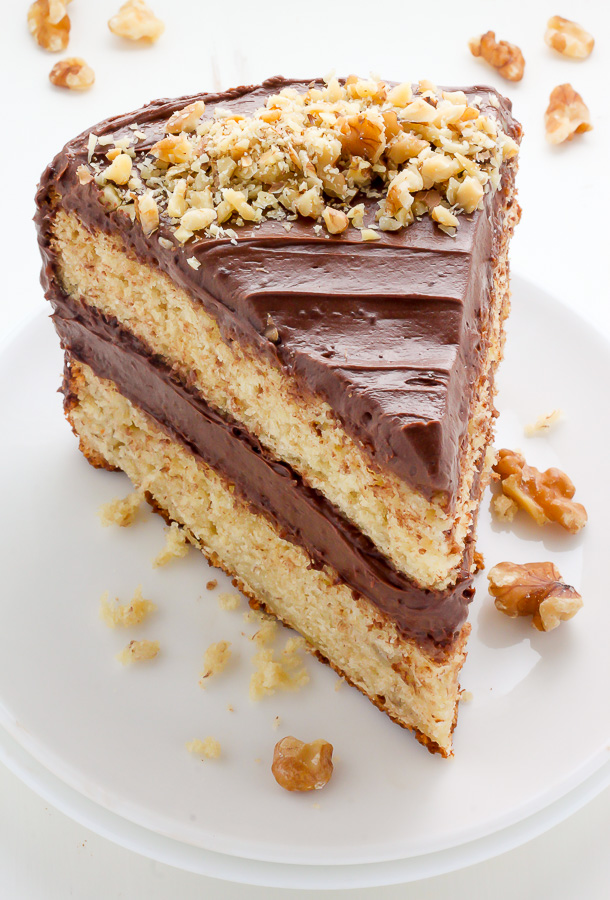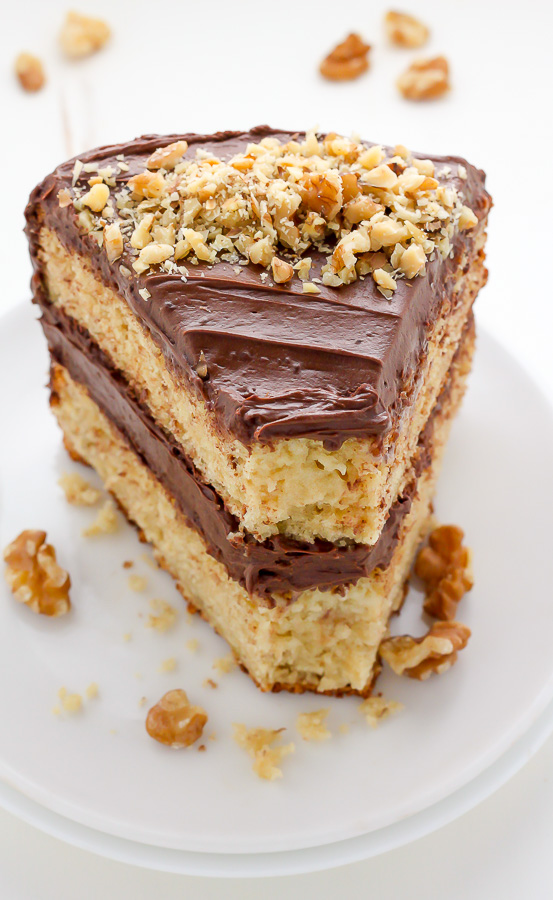 Important: The bananas must be very ripe in order for this cake to work, so please keep that in mind when you're planning to bake this. The ripe bananas add sweetness and moisture to this cake – two things you definitely don't want to miss out on!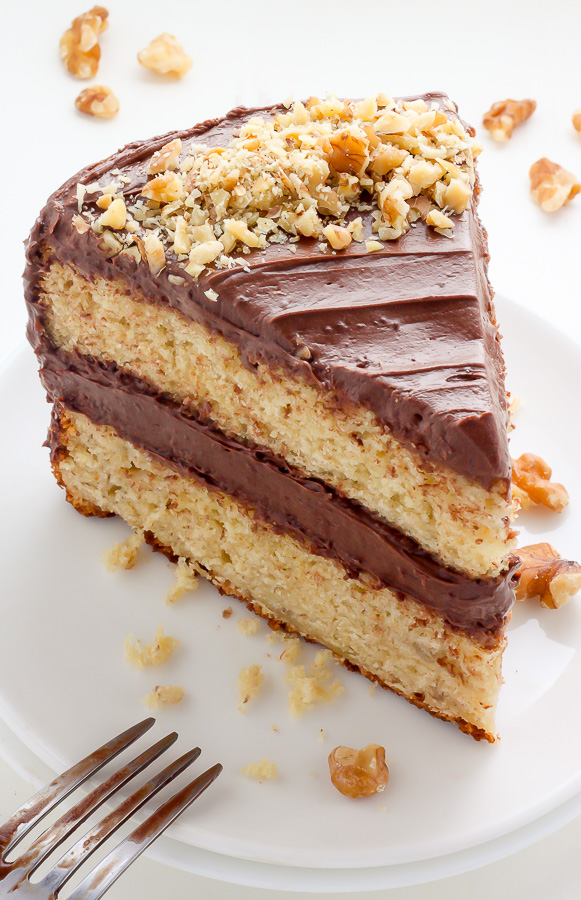 Time to discuss the frosting! This chocolate cream cheese frosting is seriously the stuff dreams are made of; It's creamy, rich, and not too sweet.
The ingredients you'll need to make this: cream cheese, unsalted butter, cocoa powder, confectioners sugar, vanilla, salt, and heavy cream.
I know I say this every time… but please don't skip the salt! You won't taste it; it just helps balance out the sweetness of the frosting. Also! Be sure to set your butter and cream cheese out on the counter for at least 45 minutes before blending; they need to be very very soft in order to cream properly.
Pro tip: Sift your confectioners' sugar and cocoa powder through a fine-mesh sieve before adding them to the mix to ensure a silky smooth frosting without a bump in sight!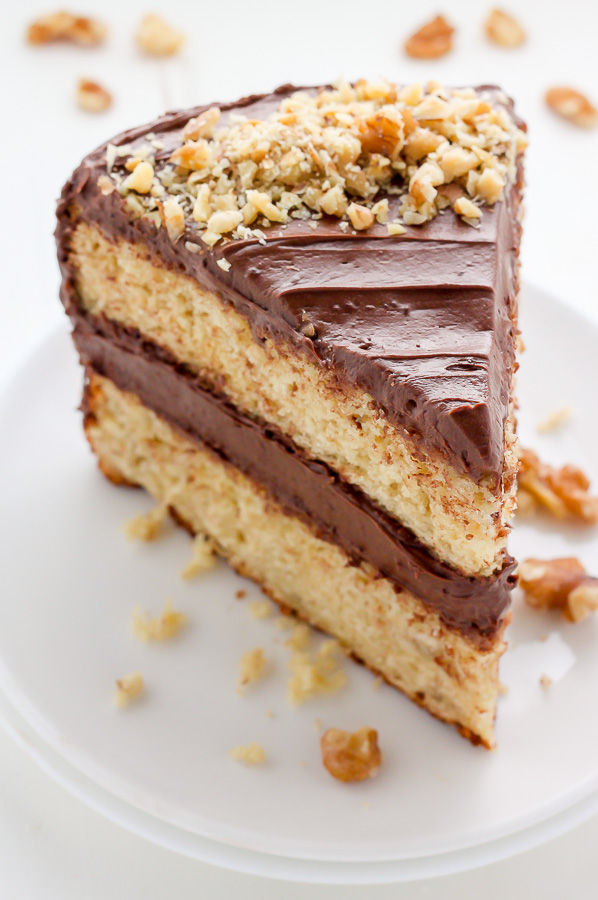 When it comes to decorating cakes, I am religiously casual. For this cake (the very one you see in these photos!) I used a butter knife and a large rubber spatula; nothing more, nothing less. I like to do a quick crumb coat just to seal everything in (this simply means spreading a thin layer of frosting over the naked cake and letting it set for a few minutes), then slather the remaining frosting on niiiiice and thick.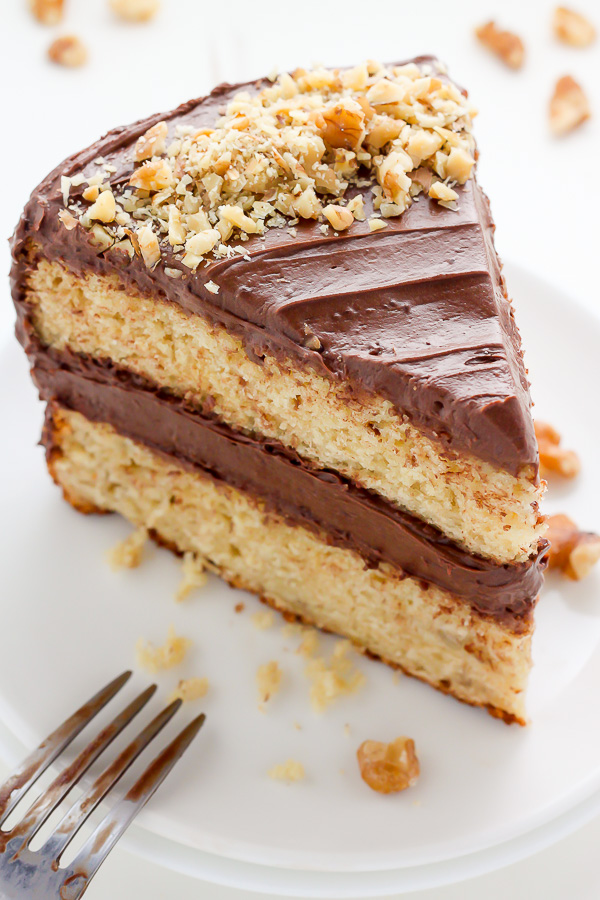 I decorated the top of this cake with cinnamon toasted walnuts (want that easy recipe?) and really enjoyed both the look and taste of the chocolate/banana/nut combination. Feel free to decorate your cake with sprinkles, nuts, chopped toffee bits, chocolate chips, etc.
The decorating world is truly yours for the taking when it comes to this cake!
Want my advice? Step away from the computer screen now and get baking! This cake is your destiny 😉

Old-Fashioned Banana Cake with Chocolate Cream Cheese Frosting
A family favorite, this Old-Fashioned Banana Cake with Chocolate Cream Cheese Frosting is sure to win you over!
Ingredients
1 1/2 cups VERY RIPE bananas, mashed (about 4 large bananas)
4 cups flour (not packed)
2 teaspoons baking powder
1 1/2 teaspoons baking soda
1 teaspoon salt
1 teaspoon cinnamon
1/4 teaspoon nutmeg
1/4 teaspoon ground ginger
1 cup vegetable oil (coconut oil may also be used)
2 cups light brown sugar, packed
5 large eggs
2 teaspoons vanilla
1 1/2 cups full-fat sour cream
For the Chocolate Cream Cheese Frosting:
(1) 8 oz Package Cream Cheese (I recommend full-fat but lower fat may work), very soft
4 ounces unsalted butter, very soft
3 cups confectioners' sugar, sifted
3/4 cup cocoa powder, sifted
1/4 teaspoon salt (I love using fine sea salt but any variation will work)
1 teaspoon vanilla extract
1 tablespoon heavy cream, more only if needed
Instructions
Preheat oven to 350° (F). Grease and flour two 9" springform pans OR three 9" round cake pans. *The springform pans are deep enough to hold the batter split in two, but if you don't own them, just make it into three cakes - we don't want oven overflow!

Mash bananas well and place them in a small bowl; set aside.

In a medium-sized bowl combine the flour, baking powder, baking soda, salt and spices; set aside.

In a large bowl combine the oil and brown sugar; beat well to combine; about 2 minutes.

Beat in eggs, one at a time, beating well after each addition. Stir in vanilla.

On low speed (or very slowly if mixing by hand) add in the flour mixture alternately with the sour cream. Using a rubber spatula, fold in bananas just until combined.

Pour batter into prepared pans and bake in preheated oven for 45-60 minutes, or until a cake tester inserted in center comes out clean.

Allow the cakes to cool in the pan for 20 minutes before transferring to a cooling rack to cool completely.

While the cakes chill, you can make your frosting!
For the Chocolate Cream Cheese Frosting:
Combine the cream cheese and butter in a large bowl or in the bowl of a stand mixer. Using a handheld electric mixer or the paddle attachment on the stand mixer, beat the butter and cream cheese on medium-high speed until light and fluffy, scraping down the sides of the bowl as needed; about 2 minutes. Reduce the mixer speed to low and gradually add in the sifted confectioners' sugar and cocoa powder. Add in the salt, vanilla, and heavy cream and beat on medium-high speed for 2 full minutes. If the mixture appears too thick, add more cream, one tablespoon at a time, until desired consistency has been reached.

Spread frosting on cooled cake layers and decorate as desired.
Notes
Please use 3 cake pans if you do not own springform pans!
You'll also love:
Dark Chocolate Brownie Cupcakes with Salted Caramel Frosting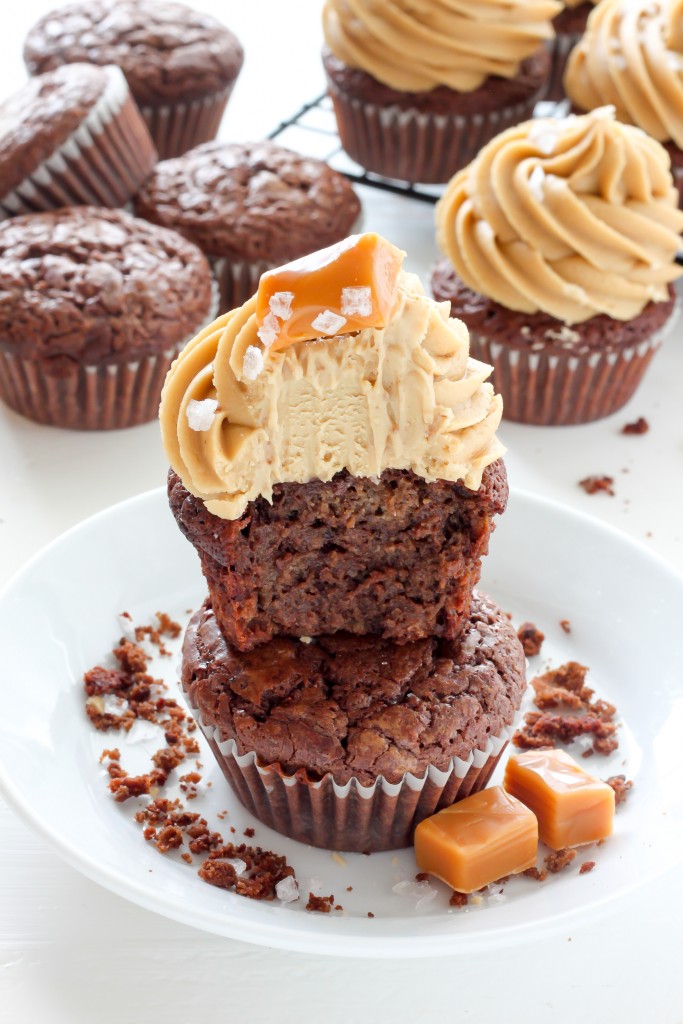 Brown Sugar Cinnamon Swirl Butterscotch Banana Bread
Greek Yogurt Chocolate Cake