I've been on a bit of a salted caramel bender lately, so it felt appropriate to kick-start this week off with dark chocolate brownie cupcakes piled high with salted caramel frosting. Also, there's a giveaway! This recipe right here is from a famous little blogger you might know as JOY THE BAKER. The one and only. It's from her latest book Joy the Baker Homemade Decadence: Irresistibly Sweet, Salty, Gooey, Sticky, Fluffy, Creamy, Crunchy Treats
, and as you might have guessed, I'm giving you a chance to win a copy! But that's not all – I'm also giving away the holy grail of kitchen appliances – a KitchenAid 6 Qt. Professional Series Standmixer. 
Not bad for a Tuesday, right?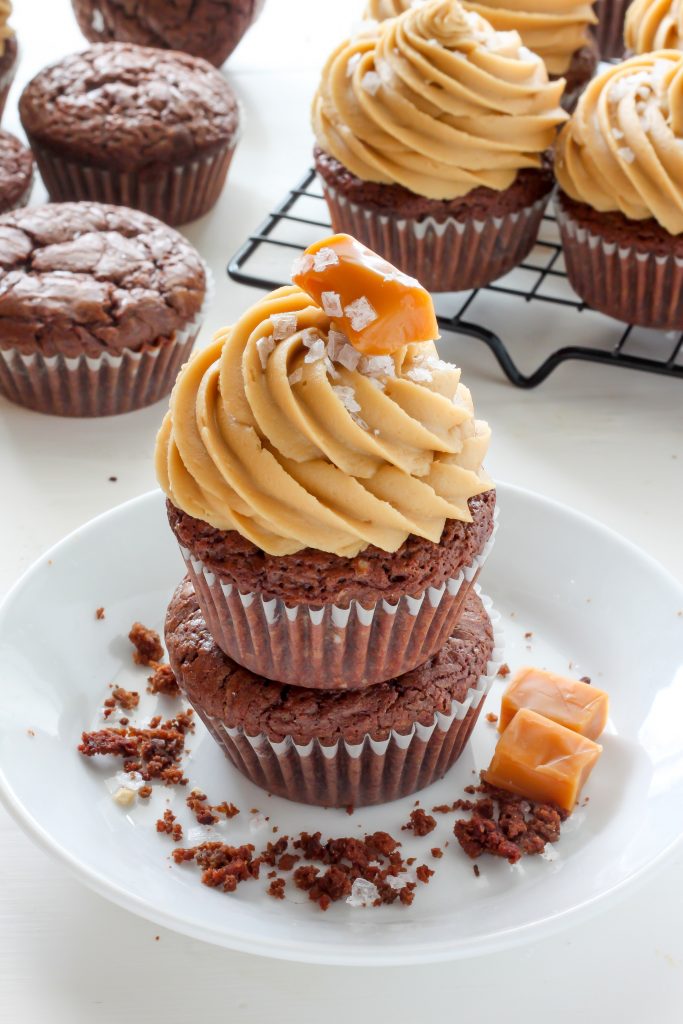 Alright, so let's jump into this recipe with both feet! We begin at the base of this delicious dessert: the dark chocolate brownie cupcake! These cupcakes are rich, fudgy, and utterly decadent. They are slightly more dense and chewy than a typical chocolate chocolate cupcake, but um, that's because they're brownie cupcakes! The tops of the baked cupcakes will be shiny and kind of crinkly (just like a tray of brownies fresh from the oven), so don't panic if they look a little different than what you're expecting. They're going to satisfy you 100%!
Now that we've worked out the brownie cupcake situation, let's mosey on into salted caramel territory. This frosting is legit! Sweet, salty, and very easy to eat by the spoonful… straight from the mixing bowl. Whaaaa? Joy would approve <— I'm 99.5% sure of it.
But don't eat all of it, ok? We need some for our cupcakes!
Making this frosting is a little different than the usual "beat butter; add sugar; add cream; you're done" scenario. You're going to start by making a caramel sauce. This is really easy and only takes a few minutes on the stove-top. My biggest piece of advice here is to stay close while the caramel is cooking. Caramel happens fast, and if you walk away to check your email or feed your dog, you may very well return to a pot full of burnt ingredients. And that would a shame.
Once the caramel is cooked and cooled (just a few minutes!), you're going to add it to a mixing bowl, add in some confectioners' sugar, and beat it until it's nice and smooth. You'll add more sugar as you go, and beat it on high for a few minutes. Then it's done! See? Not too scary, right? Now you're free to decorate your brownie cupcakes as you please! I chose to swirl the frosting on high, sprinkle with flaky sea salt, and finally top with a chewy little caramel. I'm dramatic like that.
Wanna know how you can enter for a chance to WIN a copy of Joy the Baker Homemade Decadence: Irresistibly Sweet, Salty, Gooey, Sticky, Fluffy, Creamy, Crunchy Treats
AND a KitchenAid 6 Qt. Professional Series Standmixer? It's easy. Pop over to Joy's blog (that's a treat in itself!), poke around, then come back here and leave me a comment stating which recipe of hers you'd try first! Be sure to leave your comment (with a valid email) in the section below.
Spoiler Alert: I'm giving away a copy of Joy the Baker Cookbook: 100 Simple and Comforting Recipes
tomorrow (and another awesome surprise!) so be sure to tune in and check it out!
4/2/2015 Update: Giveaway has ended and the winner has been contacted via email.
Dark Chocolate Brownie Cupcakes with Salted Caramel Frosting and a Giveaway
Yield 12 cupcakes
Rich Dark Chocolate Brownie Cupcakes topped with a mind blowing Salted Caramel Frosting! These are irresistible!
Ingredients
For the Dark Chocolate Brownie Cupcakes:
1 cup (2 sticks) unsalted butter
8 ounces dark chocolate, chopped (I used high quality chocolate chips here)
1 cup light brown sugar, packed
1 teaspoon instant espresso powder (optional)
2 teaspoons pure vanilla extract
4 large eggs plus 1 egg yolk, at room temperature
1 cup all-purpose flour (be sure not to pack your flour here)
1/2 teaspoon salt
1/4 teaspoon baking powder
1/2 cup bittersweet chocolate chips
For the Salted Caramel Frosting:
1/2 cup (1 stick) unsalted butter
1/2 cup heavy cream
2 teaspoons pure vanilla extract
1 cup packed light brown sugar
1/2 teaspoon salt
3 cups confectioners' sugar, sifted
Instructions
Preheat oven to 350 degrees (F). Line a cupcake pan with liners; set aside.
Place the butter and chocolate in a heat-proof bowl and place that bowl over a saucepan of gently simmering water, making sure the bottom of the bowl does not touch the simmering water. Stir until the butter and chocolate are completely melted. Add in the brown sugar, espresso powder (if using), and vanilla; whisk well to combine. Remove from heat and allow mixture to cool for a few minutes.
Once the mixture has slightly cooled, add in the eggs and yolk, one at a time, beating well after each addition. Whisk in the flour, salt, and baking powder - careful not to over mix here! Fold in the chocolate chips.
Divide the batter among the prepared cupcake cups.
Bake until a wooden pick inserted in the center comes out clean, about 21-25 minutes. Allow the cupcakes to cool in the pan for 20 minutes before transferring them to a wire rack to cool completely.
In the meantime, make your frosting!
For the Salted Caramel Frosting:
In a medium-sized saucepan over medium-heat, combine the butter, cream, vanilla, brown sugar, and salt. Cook, stirring occasionally, until the sugar melts and the mixture comes to a low simmer; about 4 minutes. Remove the mixture from heat and let it cool for 2 minutes, then transfer the mixture into the bowl of an electric mixer fitted with the whisk attachment. Add 2 cups of confectioners' sugar to the bowl and beat on medium-low speed until well combined. Add in another 1-2 cups of confectioners' sugar and beat until thick and fluffy; 4-6 minutes. Frost cooled cupcakes as desired.
Notes
This recipe is from the Joy The Baker Homemade Decadence Cookbook. The recipe is written in my own words and all opinions are, as always, my own. This giveaway is not sponsored; it's just because I love you guys!
Nutrition Facts
Serving Size 1 cupcake
Amount Per Serving
% Daily Value
* Percent Daily Values are based on a 2,000 calorie diet. Your daily values may be higher or lower depending on your calorie needs.
You might also love these One-Bowl Lemon Ricotta Cupcakes
These Salted Caramel Pretzel Pecan Bon Bons are also delicious!
And these Dark Chocolate Salted Caramel Dipped Marshmallows are off-the-hook!