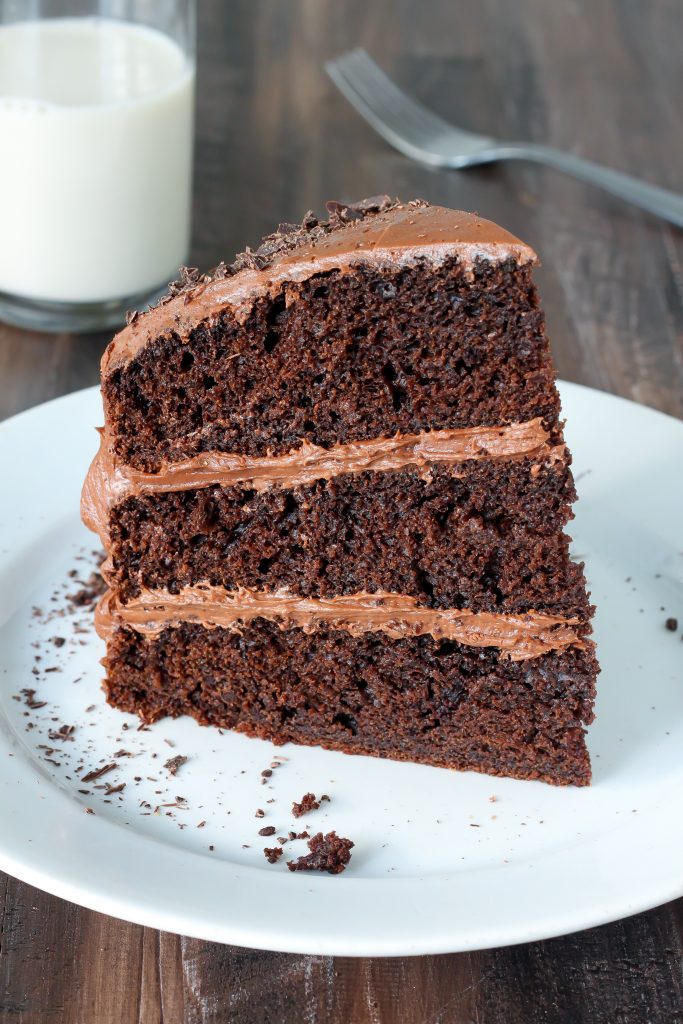 Homemade Chocolate Cake topped with creamy chocolate frosting —> the secret ingredient is Greek yogurt! This decadent cake is seriously soft, fluffy, and full of chocolate va-va-voom.
Calling all chocolate lovers! Clear your calendars because you've got plans. More specifically, you've got a hot date with this here Greek Yogurt Chocolate Cake. I mean seriously… with its rich, chocolatey crumbs and fluffy chocolate frosting, you're going to want to make this as-soon-as-possible! Trust me, you'll thank me on your second slice – er – bite… 😉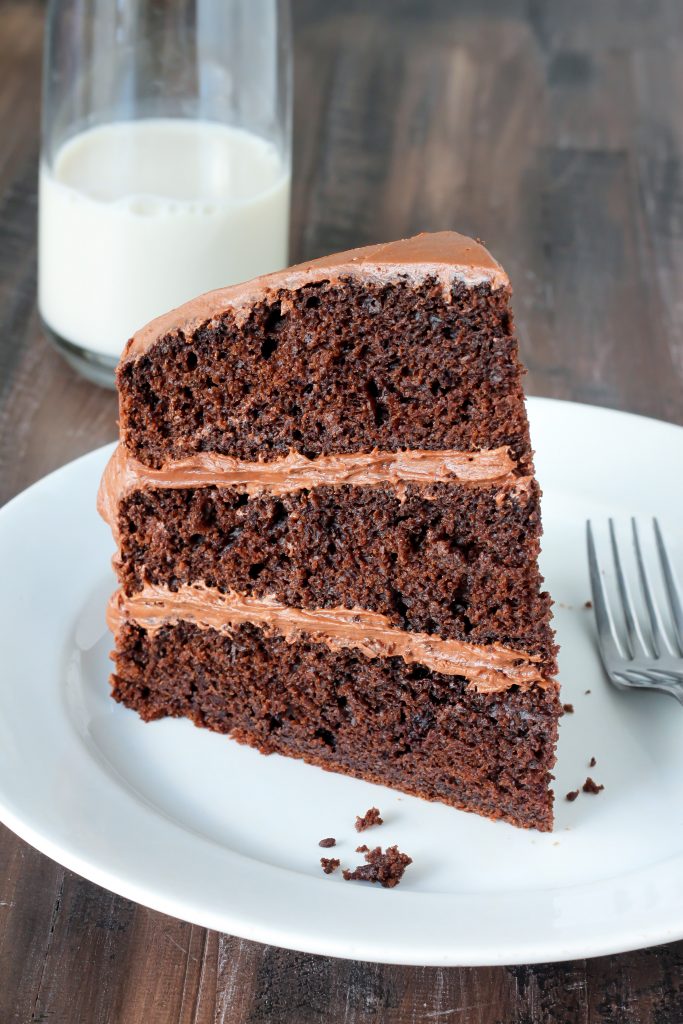 If you're bonkers for recipe details like me, here are my top 5 tips to baking up the perfect chocolate cake:
1) Do not – I repeat, do not – pack your flour. I find this is generally one of the biggest downfalls for home bakers. Packed flour is going to result in dry cake. No ifs, ands, or buts about it. I'm telling it like it is… because I love ya!
2) Use high quality cocoa powder, if possible. I know… it's expensive. But if you're going to invest in baking an amazing chocolate cake, the ingredients really do count. So buy the best you can afford. Or choose one you're familiar with and already know you enjoy flavor wise. The cocoa does shine in this cake! Oh yes it does 🙂
3) Keep an eye on the cake while it's baking. The truth is all of our ovens run a little bit differently, so it's wise to peak in on your cake while it's baking to make sure it's not done early. It also might need a few extra minutes in the oven, depending on the internal temperature situation you've got going on. If you bake a lot, an oven thermometer is always a good idea. I bought mine for 3 bucks at the drugstore!
4) Use the hot water OR coffee. You'll notice that I give you an option here… I do this because some readers will not enjoy the subtle coffee taste while others will love it (I prefer using coffee VS water, but I am a coffee person). The important thing here is to just use ONE. The hot liquid is essential to this cake, so please please please don't leave it out. Yes, the batter will be on the thinner side, but don't worry – It's supposed to be that way 🙂
5) Do me a teeny tiny favor? Read the recipe – twice. One of the most important parts of baking is knowing exactly what needs to go into the recipe and how it needs to be done. If you screw up, more often than not you'll either have a less than stellar outcome, or be forced to toss the ingredients and start from the beginning. I always read the recipes I post two times, to make sure I don't miss anything. I recommend you do it too – that way we're both on the same page 🙂 I can't tell you how many times I've flash-read a recipe only to find myself half way through and freaking out because I missed an essential ingredient or method… it happens to the best of us.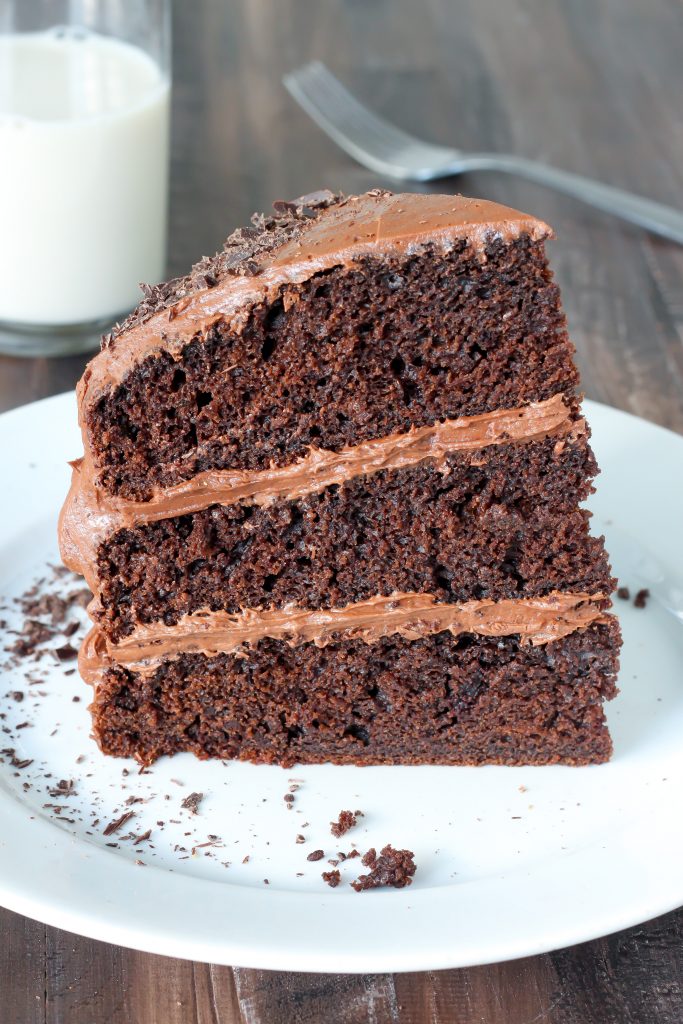 Moist, fluffy, and loaded with chocolatey goodness, this is the perfect treat for chocolate lovers everywhere! The recipe for this luscious cake is below – please shout out any questions you might need help with in the comment section below. I love you guys and I am here to help you with your questions! xoxo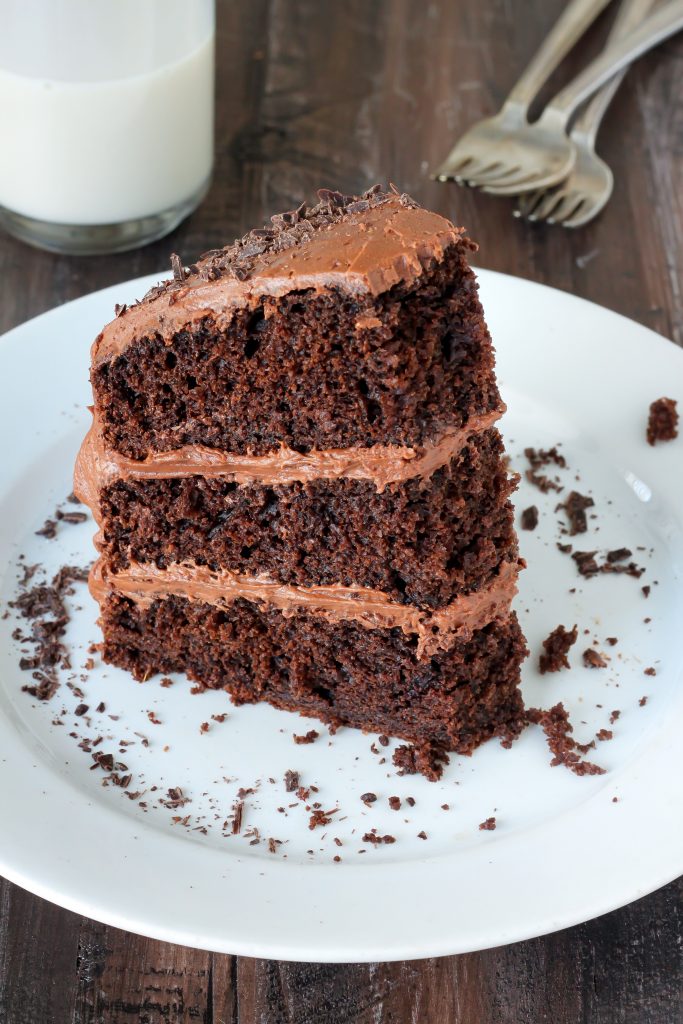 Greek Yogurt Chocolate Cake
Rich and incredibly moist, this Greek Yogurt Chocolate Cake is sure to become a new favorite with chocolate fans!
Ingredients
For the Greek Yogurt Chocolate Cake:
3 3/4 cups all-purpose flour
3 1/4 cups granulated sugar
1 1/2 cups unsweetened cocoa powder
2 teaspoons baking powder
1½ teaspoons baking soda
1 teaspoon salt
1 cup whole milk
1 cup Full-Fat Greek Yogurt
1 cup coconut oil OR canola oil (coconut oil should be liquified)
4 large eggs + 2 large egg yolks
6 tablespoons unsalted butter, melted
1 tablespoon vanilla extract
1 1/2 cups strong hot coffee OR hot water
For the Greek Yogurt Chocolate Frosting:
5 cups confectioners sugar, sifted
1 1/4 cups unsweetened cocoa powder, sifted
2 sticks (8 ounces) unsalted butter, VERY soft
1/3 cup Full-Fat Greek Yogurt
1/3 cup Half and Half
1/2 teaspoon salt
2 teaspoons vanilla
Instructions
For the Greek Yogurt Chocolate Cake:
Preheat oven to 350º (F). Prepare three 9-inch metal cake pans by spraying them generously with baking spray or generously buttering and lightly flouring. Set aside.
Add flour, sugar, cocoa, baking powder, baking soda, and salt to a large bowl or the bowl of a stand mixer. Whisk through to combine or, using your paddle attachment, stir through flour mixture until combined well. Set aside.
In a large bowl combine the milk, Greek yogurt, oil, eggs, yolks, butter, and vanilla; mix well to combine. Slowly add the wet ingredients into the dry ingredients, mixing until just combined. Then, carefully, add the hot coffee OR water to the cake batter. Beat on medium-low speed until evenly combined. Be careful not to over mix here - it's easy!
Distribute cake batter evenly between the prepared cake pans. Bake for 25-28 minutes, or until a toothpick or cake tester inserted in the center comes out clean.
Remove from the oven and allow the cakes to cool for about 10 minutes before removing from the pan and transferring to a wire rack cool completely.
In the meantime, make the Greek Yogurt Chocolate Frosting:
Sift together the confectioners sugar and cocoa powder, whisking well to ensure it's bump and lump free!
Using a handheld mixer OR a stand mixer fitted with the paddle attachment, beat the butter on medium-high speed until creamy; about 2 minutes. Reduce speed to low and slowly add the sifted sugar/cocoa powder, alternating with the Greek yogurt and half and half, then add the vanilla and salt. Once all of the ingredients have been added, beat on high speed until light and creamy and combined; beat for at least 1 minute on high.
Frost cooled cake layers as desired.
Notes
*Half and half is a product found in most dairy sections; it is half milk, half heavy cream. If you cannot find it, simply mix half milk and half cream together.
Courses Dessert
Cuisine Cake
Nutrition Facts
Serving Size 1 Slice of cake
Amount Per Serving
% Daily Value
* Percent Daily Values are based on a 2,000 calorie diet. Your daily values may be higher or lower depending on your calorie needs.