Holy Moly! Peanut Butter Blossom Blondies… where have you been all my life? So much silky peanut butter flavor bursting from one chewy, little square! And the mini kisses on top? Yes, yes, yes. Chocolate and peanut butter ————-> They can do no wrong!
Speaking of peanut butter… we don't see enough of it around here, do we…? I know you love it. I do, too. But see, the guy I live with – and ya know, love –  isn't a fan (…?), and so, it tends to get pushed to the back burner, only to rear its creamy, nutty, oh-so-addiciting head when I really get a craving. Thank goodness for cravings! They wake you up.
Since this was a craving situation – meaning I needed peanut butter, and fast – a long, complicated recipe was not at all in the cards. Patience has never been my strong suit! So, after dipping the spoon in the jar a few times (hello, quick fix), I came to the conclusion a pan of peanut butter blondies would be the path I choose for this PB baking adventure.
Blondies are great for times like this because they're utterly simple in ingredients, only take a few minutes to assemble, and really have no limits as far as how you flavor them. They also take less than 20 minutes to bake and make your home smell amazing in the process. So ya know, I call that a dessert WIN!
I chose to fashion these blondies after one of my all-time favorite cookies – peanut butter blossoms. Also known as "those peanut butter cookies with the kisses in the middle". Yeah, those. They're a classic! They're also very addicting – especially in blondie form. I may or may not have eaten 3 straight from the pan. I'm not telling!
The base of these blondies are dense, chewy, and totally packed with a wonderful punch of peanut butter – what more could you ask for, right!?
Well, how about a crunchy sugar lid and rows upon rows of mini- kisses?! You definitely won't want to skip out on those guys! They give these blondies an extra kick of crunch and creaminess that make these a must for any and all chocolate peanut butter fans. A MUST 😉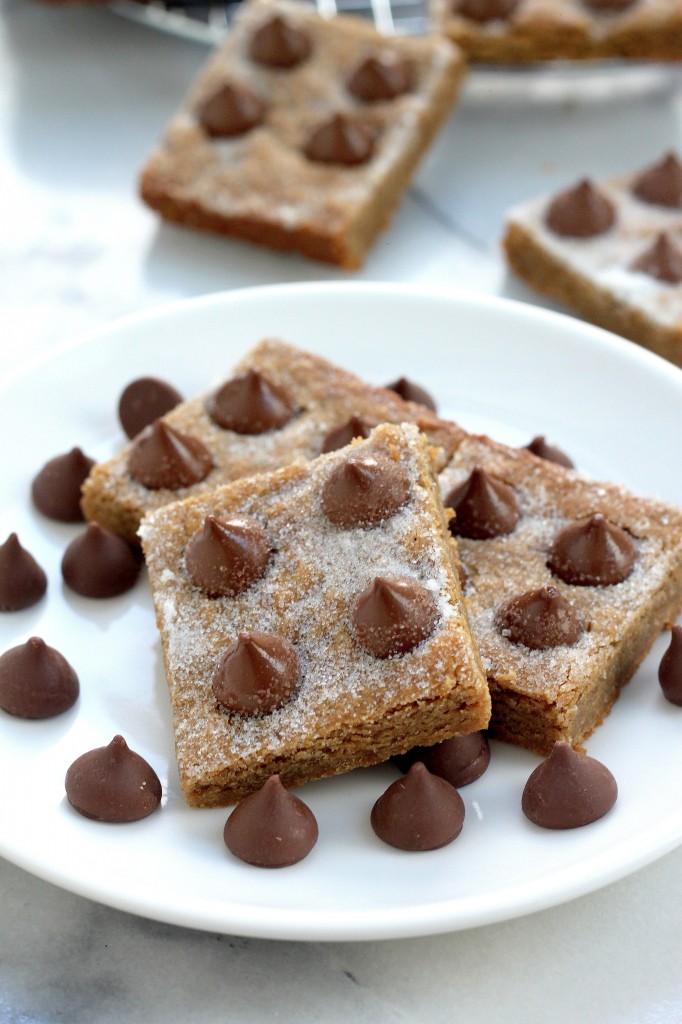 Peanut Butter Blossom Blondies
Ingredients
4 tablespoons unsalted butter, melted
1 cup dark brown sugar, packed
1/2 cup creamy, unsweetened peanut butter
3 teaspoons whole milk
1 large egg, at room temperature
1 1/2 teaspoons vanilla extract
1/2 teaspoon salt
1 cup all purpose flour
1 tablespoon granulated sugar
1 bag mini kisses (I found them at target)
Instructions
Preheat oven to 350 degrees (F). Grease a 9×9-inch pan, line with parchment paper, then grease the parchment paper.

In a medium saucepan over medium heat, melt butter and sugar together - whisking occasionally - until the butter is just melted. Remove from the burner. Add the peanut butter and milk, mix together well, and allow the mixture to cool for 2-3 minutes. Quickly whisk in the egg and vanilla extract.

Whisk together salt and flour. Add dry ingredients all at once to the wet ingredients. Stir until just incorporated.

Pour the batter into the prepared pan and smooth the top with a rubber spatula. Sprinkle the top with the granulated sugar. Bake for 14- 18 minutes, or until the edges are golden and the center is set.

Right after removing the pan from the oven, carefully press the kisses into the top of the hot blondies. Let cool completely before cutting.