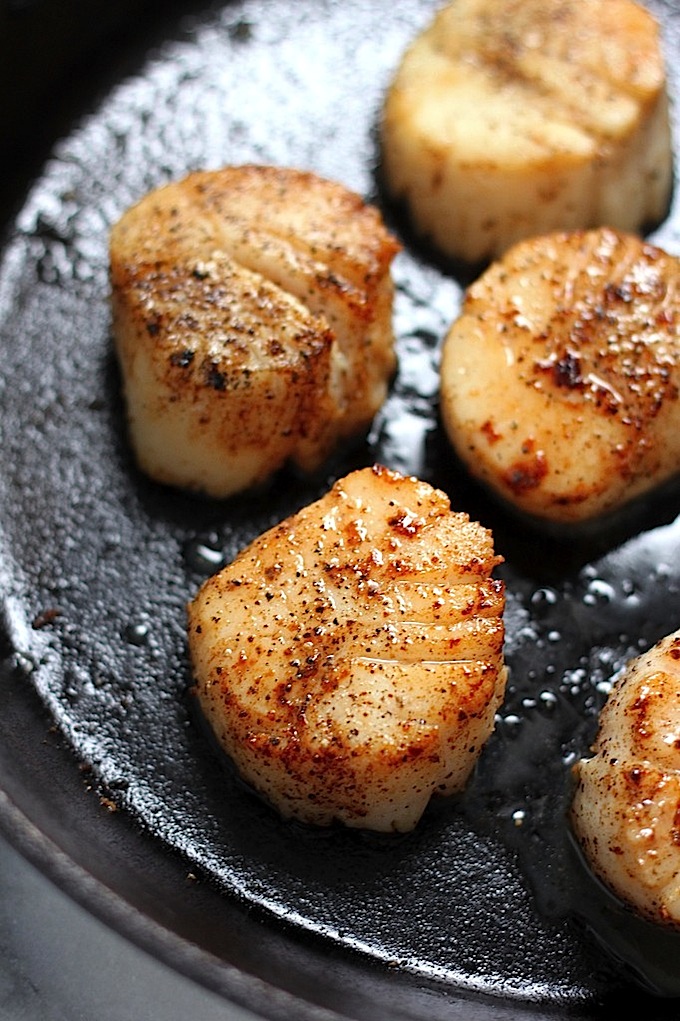 Scallops are one of those things that are SO simple to cook, and yet, so simple to screw up. I have to admit I botched a few batches myself back in the day (it was like eating rubber!), but with their hefty price tag, I quickly made it my mission to learn the key to a perfectly seared scallop. And by perfect, I mean a scallop with a flavorful crust and an interior so tender it basically melts in your mouth. That's perfection!
The good thing about this whole post is that perfectly seared scallops are easy as 1-2-3. I totally was going to type "easy as pie", but ya know, these little guys are waaaay simpler than that whole situation 😉
The first thing you want to do is make sure you have good quality scallops. I know they're pricey, but I think that if you're going to put in the effort – especially with seafood – freshness and quality are always key, so get the best you can.

MY RECENT VIDEOS
Once you've selected your scallops, all you need to do is pat them dry, sprinkle them well with salt and pepper (freshly grated is always the best!), and toss them in a buttered hot skillet. Now! Here's where you need to pay attention – do not over cook these babies! I repeat: DO NOT OVERCOOK. Pardon the yelling; but that part is so crucial!!!
Oh, and serve these sensational scallops right away!!! They shouldn't wait more than a few minutes before entering a mouth. And just a heads up – they always taste best fresh from the skillet, so I'd suggest stealing one or two straight from the pan before serving 😉
Perfectly Seared Scallops
Ingredients
1 pound sea scallops, patted dry
1 tablespoon unsalted butter
1 tablespoon olive oil
Freshly ground sea salt
Freshly ground black pepper
Lemon for squeezing, optional
Instructions
Remove tiny side muscle from the scallops if they have them, then rinse with cold water and pat dry with a paper towel.
Add the butter and oil to a large saute pan over high heat.
Generously salt and pepper the scallops. Once the butter/oil combo begins to smoke, gently add the scallops, making sure they are not touching. Sear scallops for 1 1/2 minutes on each side - not touching them at all while they're searing. The scallops should have a nice golden crust on each side and be translucent in the center. Serve right away!!!
If you don't already own a cast-iron skillet, RUN – don't walk – and buy one today! I use mine every single day and know it'll be something I pass down to my kids. This is the one I have (we actually own 3!) and I highly recommend it!
You'll also love:
Perfect Pan Seared Steaks

One-Pan Cacio e Pepe (Great with scallops!)
*this post contains an affiliate link; all opinions are truly my own