One of the things that drives me cray-cray-craaazy about our current apartment is the major lack of windows. And by lack of, I'm talking 2 windows in the whole place! And those are in our bedroom. During the Winter it's not so bad… it actually keeps the place warmer. But now that Summer is here, I want to see the sun SHINE! And since there's no natural light in the kitchen, it's basically the last place I want to spend a ton of time. I want to cook my food and get the heck outta there! Thank goodness for one-pan meals! … Cause ain't nobody got time for piles of dirty dishes! Am I right?
This one-pan fish dish is a true beauty! Everything gets cooked in the same skillet, so at the end of the meal, you're looking at very minimal clean up. I love that!
First the tomatoes are poached in olive oil. Poached tomatoes are such a treat! And the process couldn't be simpler. All it takes is olive oil and patience. You'll cook the tomatoes on suuuuuuper low, and once their skins start to shrivel up, you'll know they're ready. I chose to slip my tomatoes out of the skin and serve them naked (hehehe), but you can totally leave them on if you don't want to get your hands messy. Up to you! Both ways are truly tasty.
Once the tomatoes are cooked, you'll remove them from the skillet, and add one sprig of basil and one sprig of mint. You'll want to choose a hearty sprig here, because you're going to remove it after a few minutes. Basically you're just infusing the oil with the basil and mint. Infused oil = very flavorful fish!
And here's where our lovely swordfish comes in. After you've removed the herbs, you'll add the swordfish and let it sear for about 4 minutes – or just until golden brown. Then, pop it in the oven for another ten minutes.
Then… guess what? You're done! It's time to eat! A beautiful, healthy, flavorful meal with little to no effort and one pan to wash! I call this winning, friends. xoxo
One-Pan Sicilian Swordfish with Spicy Olive Oil Poached Tomatoes
Ingredients
2 cups cherry tomatoes
1/2 cup olive oil
2 teaspoons salt
1 teaspoon Tabasco hot sauce
1 sprig fresh basil
1 sprig fresh mint
Salt and pepper
1 pound swordfish, cut into 2 or 4 fillets (depending on how hungry you are/how many guest you're feeding)
Instructions
Preheat oven to 425 degrees (F).

Heat oil over medium flame in a large heavy bottomed skillet. Add tomatoes, stir to coat, and reduce heat to medium-low. Cook for 15 minutes, stirring occasionally. Add salt and hot sauce, stir, and partially cover; cook for another 15 minutes. At this point the skins should look blistered and shriveled. Using a slotted spoon transfer tomatoes to a clean plate.

Add basil and mint to remaining oil. Stir herbs around the pot for 1 minute, then discard. Increase the flame to medium-high.

Generously sprinkle salt and pepper on both sides of the swordfish. Add the fish to the pan and sear for 3-4 minutes, or until the underside has a nice golden crust. Flip fish, and transfer pan to preheated oven. Bake for 10 minutes.

Carefully remove pan from oven. Top swordfish fillets with poached tomatoes and their juices, sprinkle with additional fresh herbs if desired, and serve at once!
And check out these other easy seafood recipes! …
Perfectly seared scallops are an amazing treat!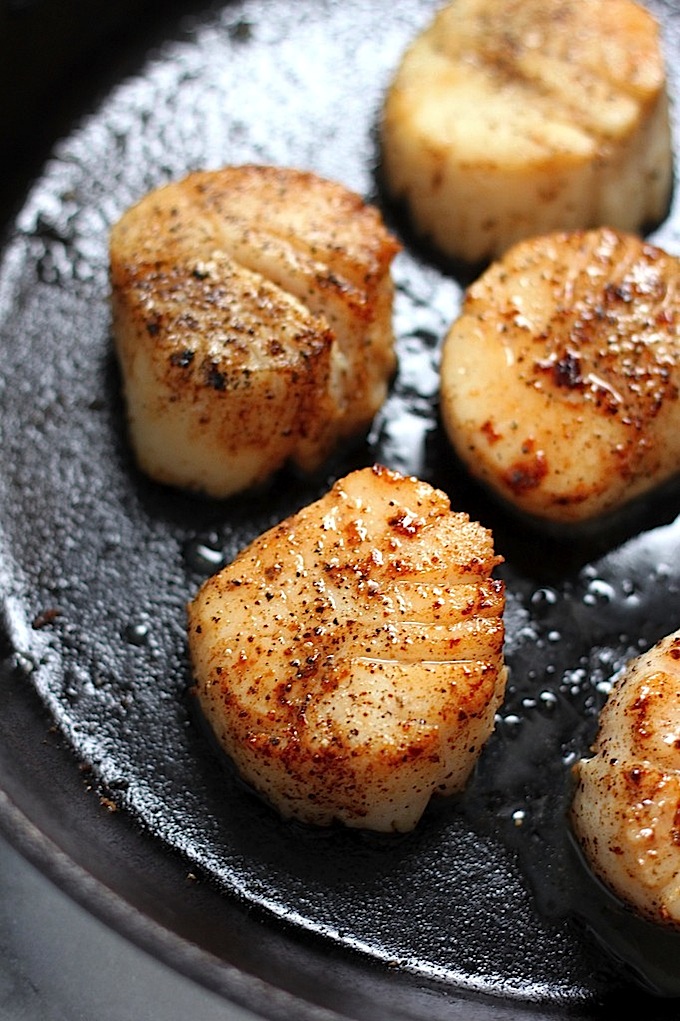 Sweet and Spicy Sriracha Baked Salmon is a delightful 20 minute meal!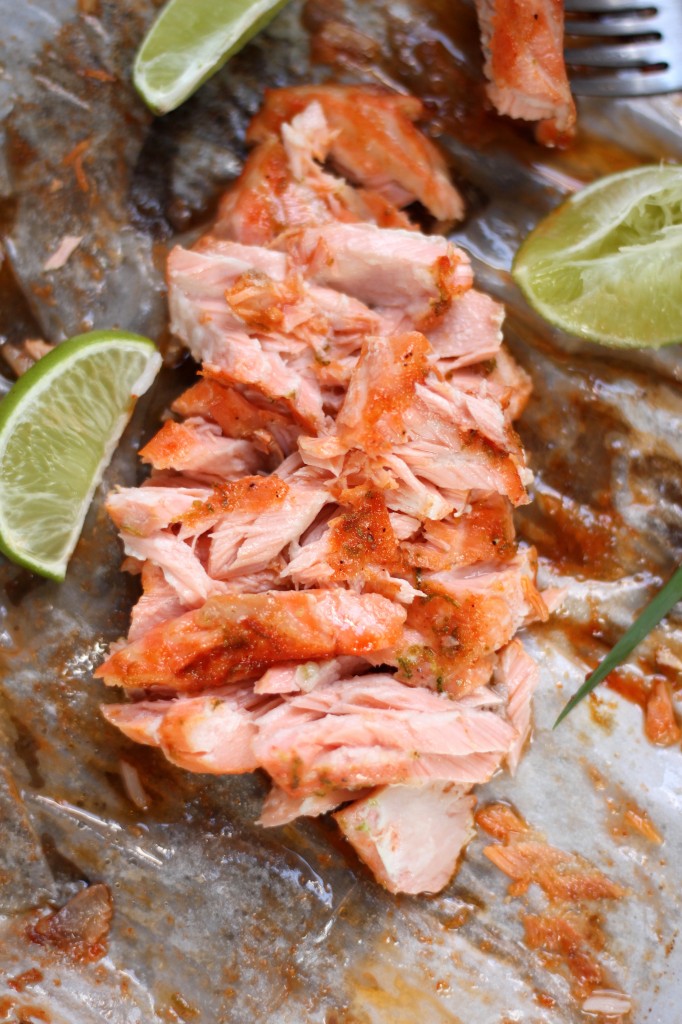 Or try these adorable smoked salmon and cream cheese cucumber bites for a fishy fix FAST!