If you'e a pumpkin lover, you're in luck because this recipe makes Pumpkin Chocolate Chip Muffins AND bread! Moist, fluffy, and loaded with real pumpkin flavor! Perfect for breakfast or as an afternoon snack!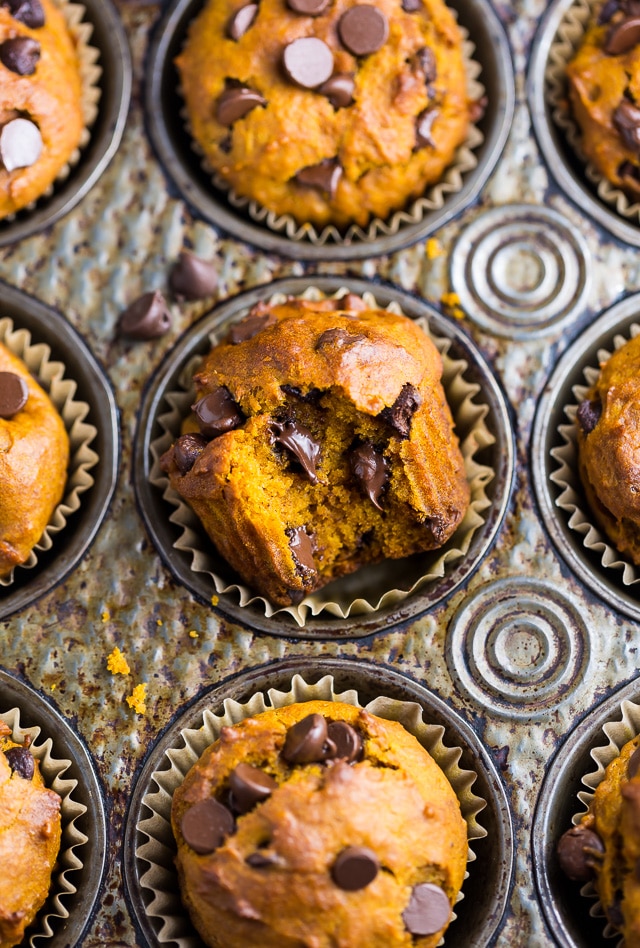 Pumpkin Muffins
It's officially Fall and you know what that means, right? It's time to bust out the pumpkin and get baking! And I have just the recipe to get you started: Pumpkin Chocolate Chip Muffins and Bread!
↑ And yes, you read that right! Because I know you love options as much as I do, I created this recipe to yield pumpkin chocolate chip muffins AND pumpkin chocolate chip bread.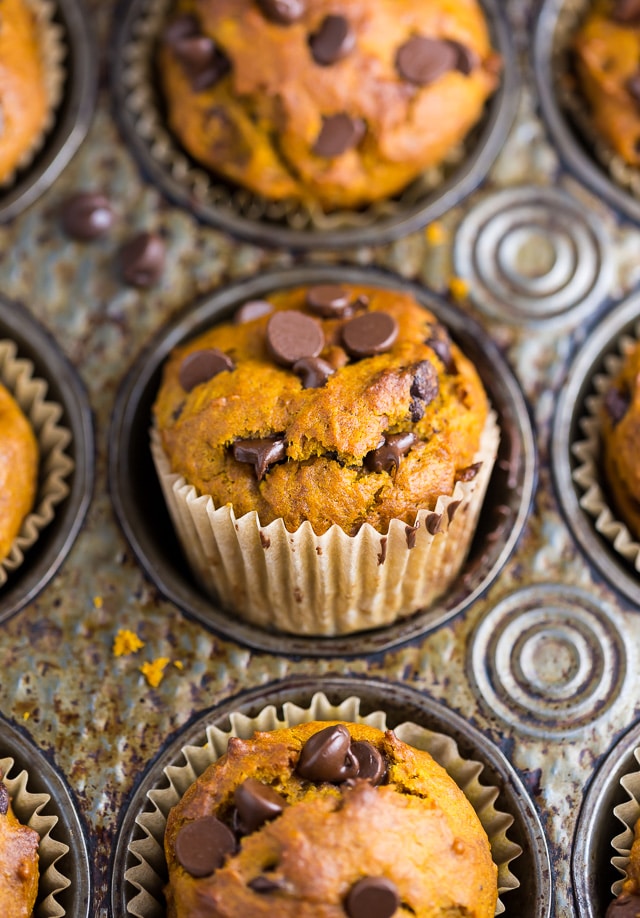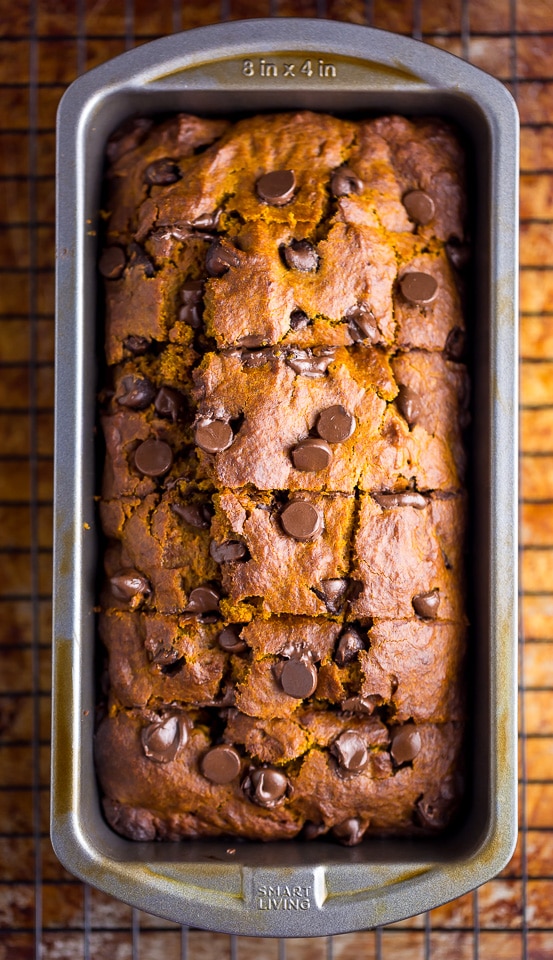 But that's not all, my friend. Since many of us love baking, but also love saving calories, I replaced half of the sugar in this recipe with Stevia In The Raw® Bakers Bag. Stevia In The Raw® is a zero calorie sweetener made from the sweet leaves of the stevia plant.  Baking with the Stevia In The Raw® Bakers Bag couldn't be easier as this product measures cup for cup with sugar, so no conversion is necessary.  And as a result, I was able to shave a whopping 580.5 calories off of the recipe! And most noteworthy, this change did not affect the taste or texture.
Less calories, same great taste! What's not to love?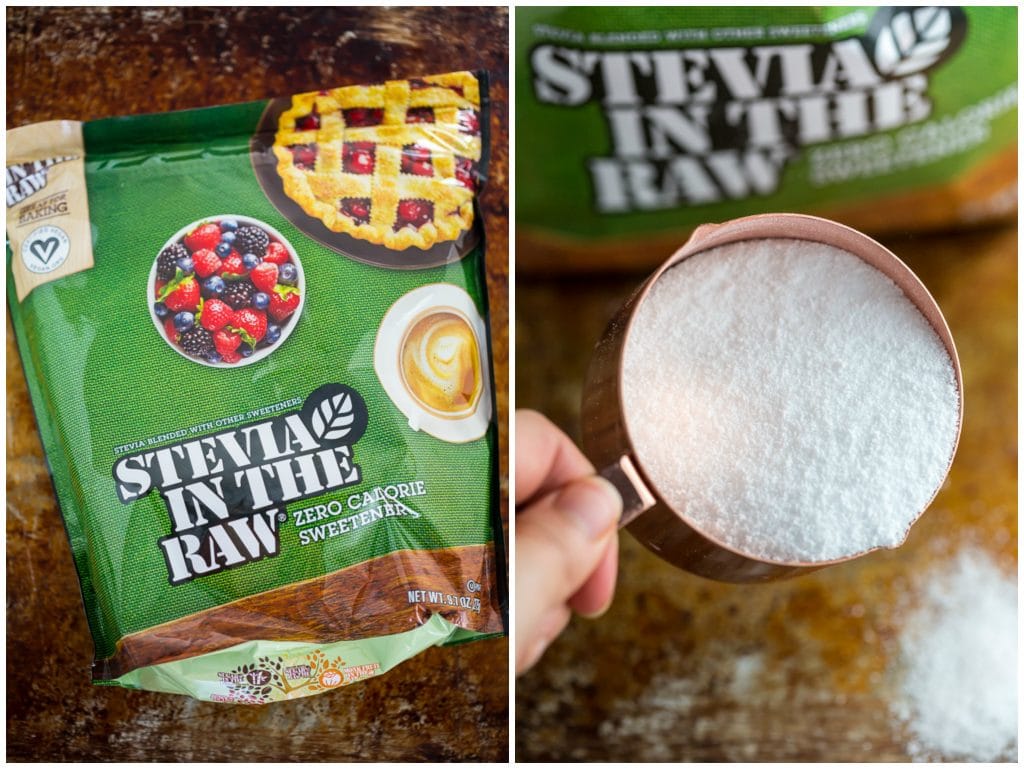 First of all, if you're new to baking with Stevia In The Raw®, don't fret! I know it can be intimidating to use a new ingredient in your kitchen, but I'm sharing all of my tips below! And once you try it, I'm almost certain you'll be as hooked as I am. And if you have any questions, just ask me in the comment section. I'm always here to help!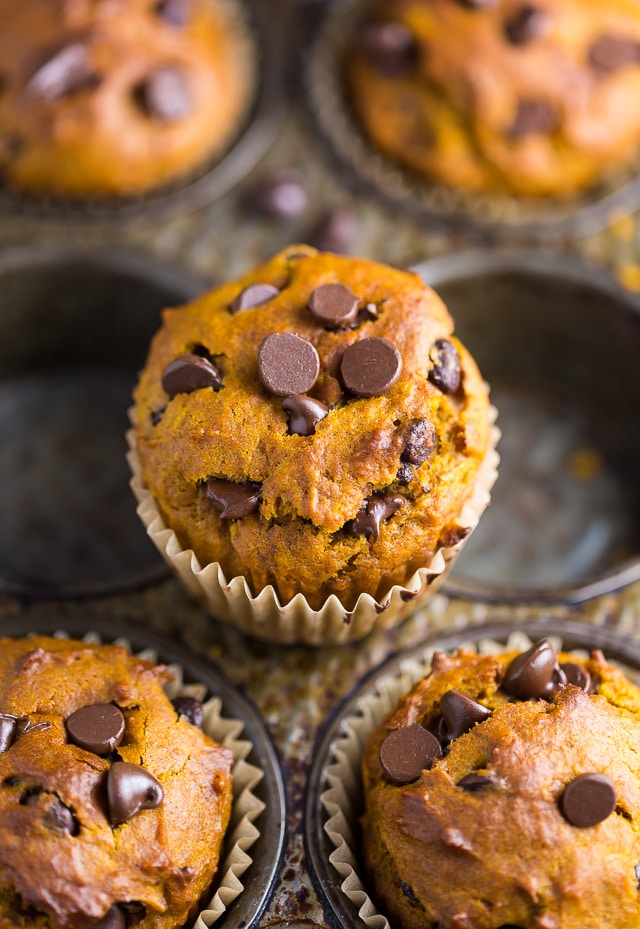 Tips and Tricks for Recipe Success:
You can purchase Stevia In The Raw® online or use this tool to find a retailer near you. And check out their coupons and deals here.
Light brown sugar may be used in place of the dark brown sugar, but this will alter the flavor slightly. And while it probably seems like a tempting idea to just replace all of the sugar and just use  Stevia In The Raw®, I must advise against it!  Regular Sugar is still needed in any baking recipe to ensure proper browning, rising and caramelizing.  My tip is to replace about half of the sugar in this or any other baking recipe with Stevia In The Raw® Bakers Bag.
This recipe is insanely moist and flavorful thanks to an entire can of pumpkin, fresh squeezed orange juice, and molasses. You can use bottled OJ if that's all you have on hand. But be sure to use light molasses, and not the blackstrap variety. Finally, be sure you use pure pumpkin puree and not pumpkin pie mix, which has added ingredients we don't want for this recipe.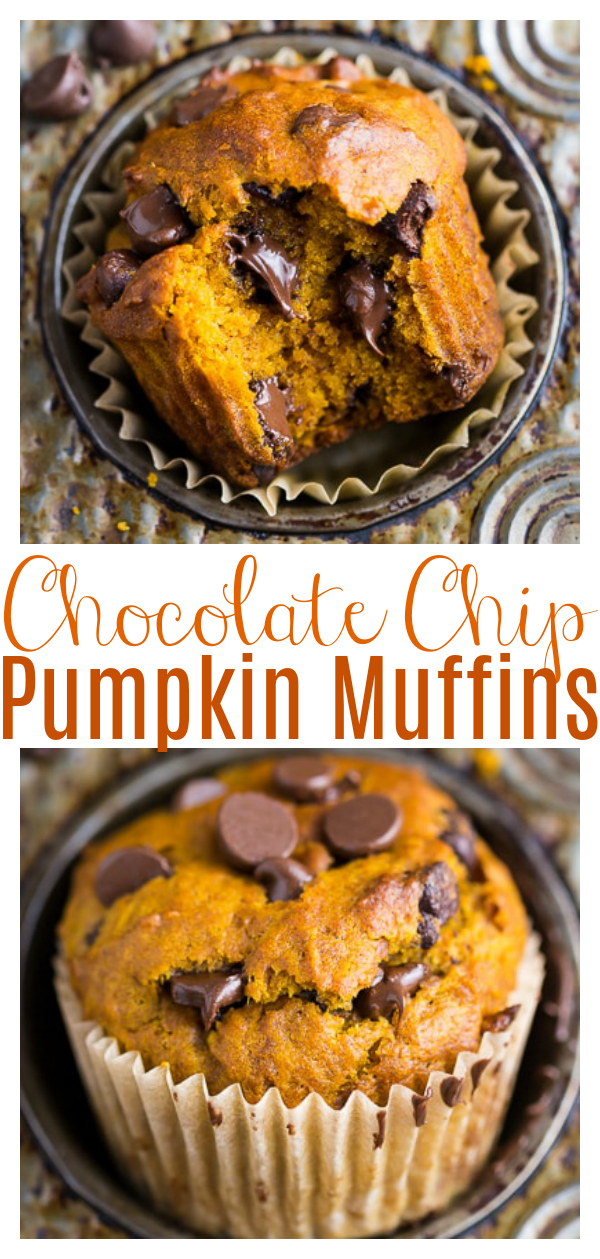 If you try this recipe for Chocolate Chip Pumpkin Muffins and Bread, leave a comment below and don't forget to snap a pic and tag it #bakerbynature on instagram!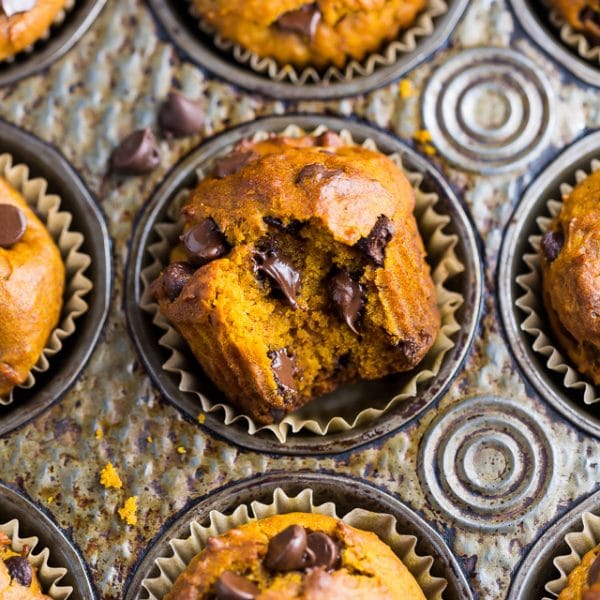 Pumpkin Chocolate Chip Muffins and Bread
An easy recipe for Pumpkin Chocolate Chip Muffins and Bread!
Ingredients
Ingredients:
3 cups all-purpose flour
1 teaspoon ground ginger
1 teaspoon ground cloves
3 teaspoon ground cinnamon
1 teaspoon ground nutmeg
1 teaspoon baking soda
1 teaspoon baking powder
1/2 teaspoon salt
3/4 cup Stevia In The Raw® Bakers Bag
3/4 cup dark brown sugar, packed
1 cup vegetable oil
3 large eggs, at room temperature
2 teaspoons vanilla extract
(1) 16-ounce can 100% pure pumpkin
2 tablespoons unsulphured molasses
1/4 cup fresh squeezed orange juice
1 and 1/2 cups semi-sweet chocolate chips
Instructions
Instructions:
Preheat oven to 400° (F). Line a 12 cup muffin tin with paper liners and set aside. Spray an 8x4 inch loaf pan with non-stick baking spray and set aside. 

In a large bowl combine the flour, spices, baking soda, baking powder, and salt; set aside until needed.

In a separate large bowl combine the Stevia In The Raw® Bakers Bag, brown sugar, and oil; whisk well to combine. Beat in the eggs, one at a time, beating well after each addition. Add in the vanilla, pumpkin, molasses, and orange juice and beat until combined. Using a rubber spatula, fold in the flour mixture, stirring just until combined. Fold in chocolate chips.

Fill the muffin cups up first, filling each mold 3/4 of the way full. Scrape remaining batter into prepared loaf pan.

Bake the muffins first, for 18 to 22 minutes, or until the tops are golden and a cake tester inserted in the center comes out clean. Allow muffins to cool in the pan for at least 10 minutes before transferring to a serving platter.

Place the pumpkin loaf in the oven and bake for 20 minutes, then reduce the heat to 350° (F) and continue baking for another 35 to 40 minutes, or until the top is shiny and a cake tester inserted in the center comes out clean. Cool pumpkin loaf in the pan completely before transferring it to a cutting board and slicing.