Moist and fluffy Red Velvet Cake with Cream Cheese Frosting! This Southern Classic is always a crowd-pleaser!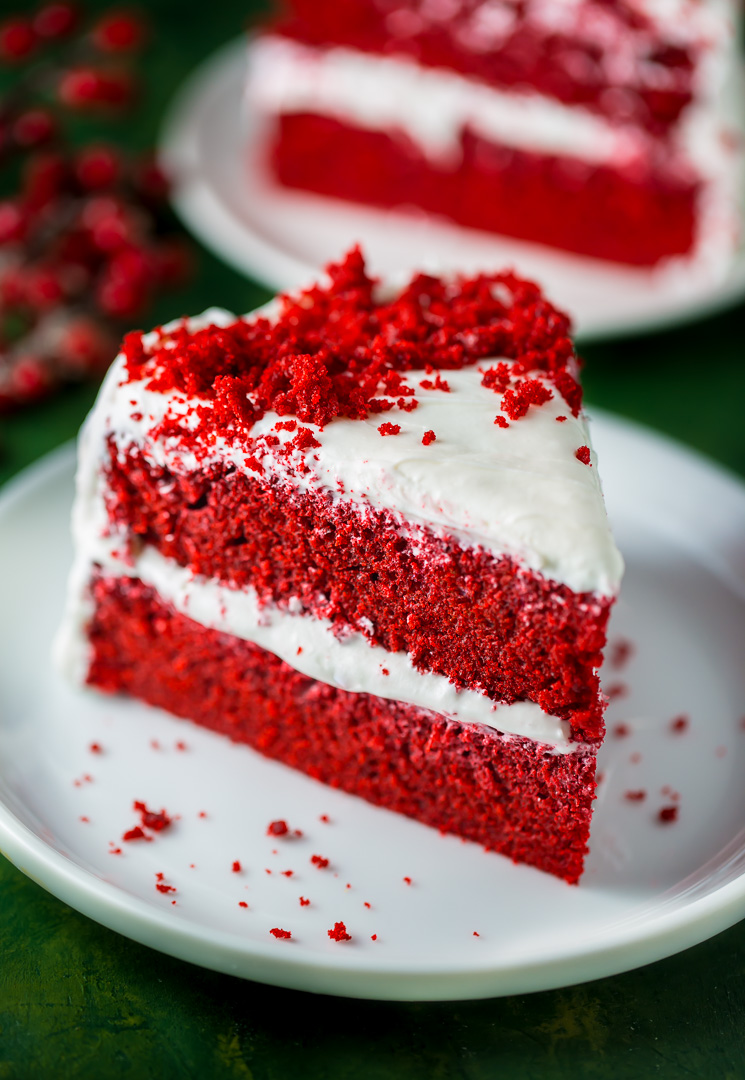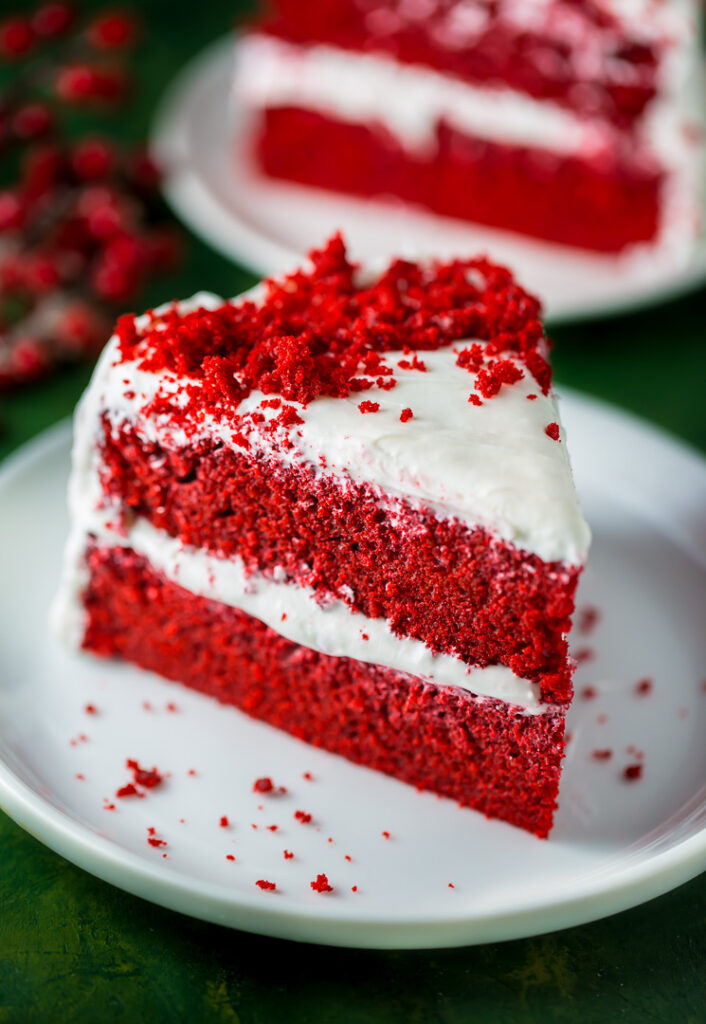 Red Velvet Cake and Cream Cheese Frosting
I'm a lover of all things red velvet. Red velvet cupcakes, red velvet donuts, and of course, classic red velvet cake!!! So when I started brainstorming recipes for the upcoming holiday season, I knew a stunning red velvet layer cake had to be on the menu! It's just so festive.
In my opinion, this red velvet cake is everything red velvet cake should be. Each slice is:
moist and fluffy
super FLAVORFUL
perfectly sweet
slightly tangy
vibrantly colored
slathered in cream cheese frosting
and utterly delicious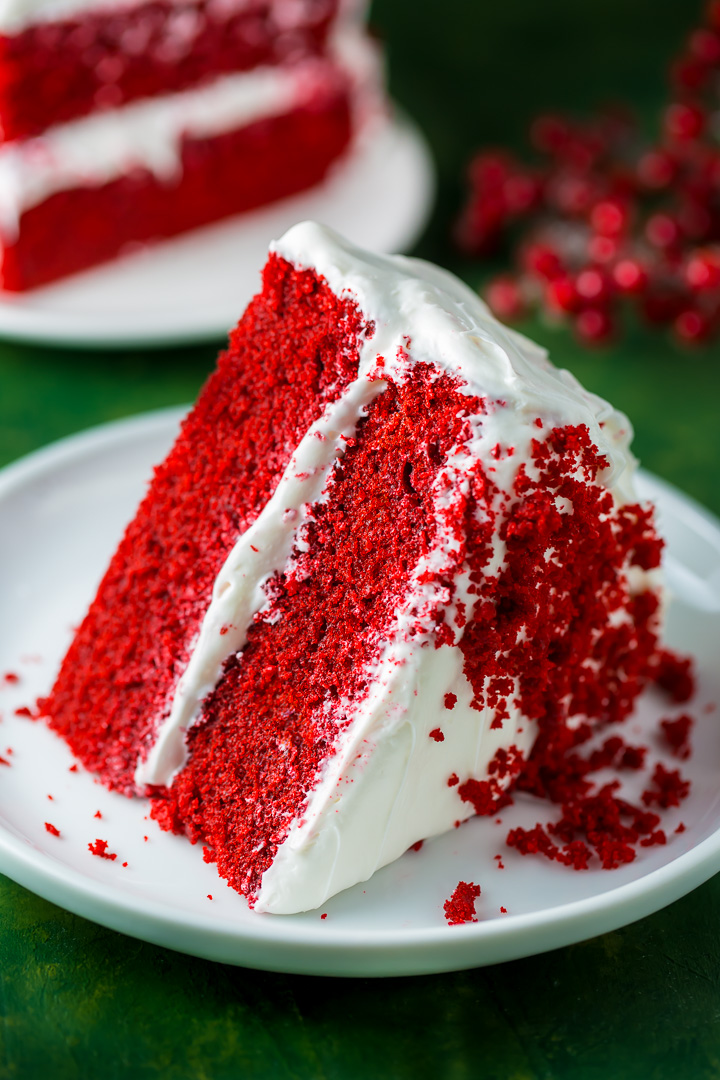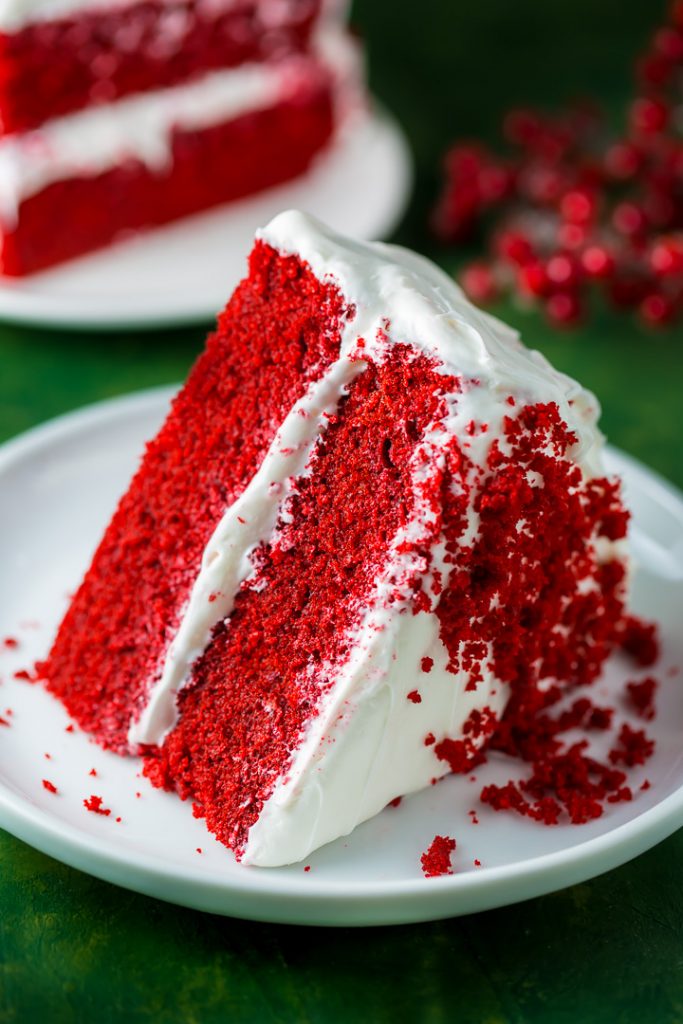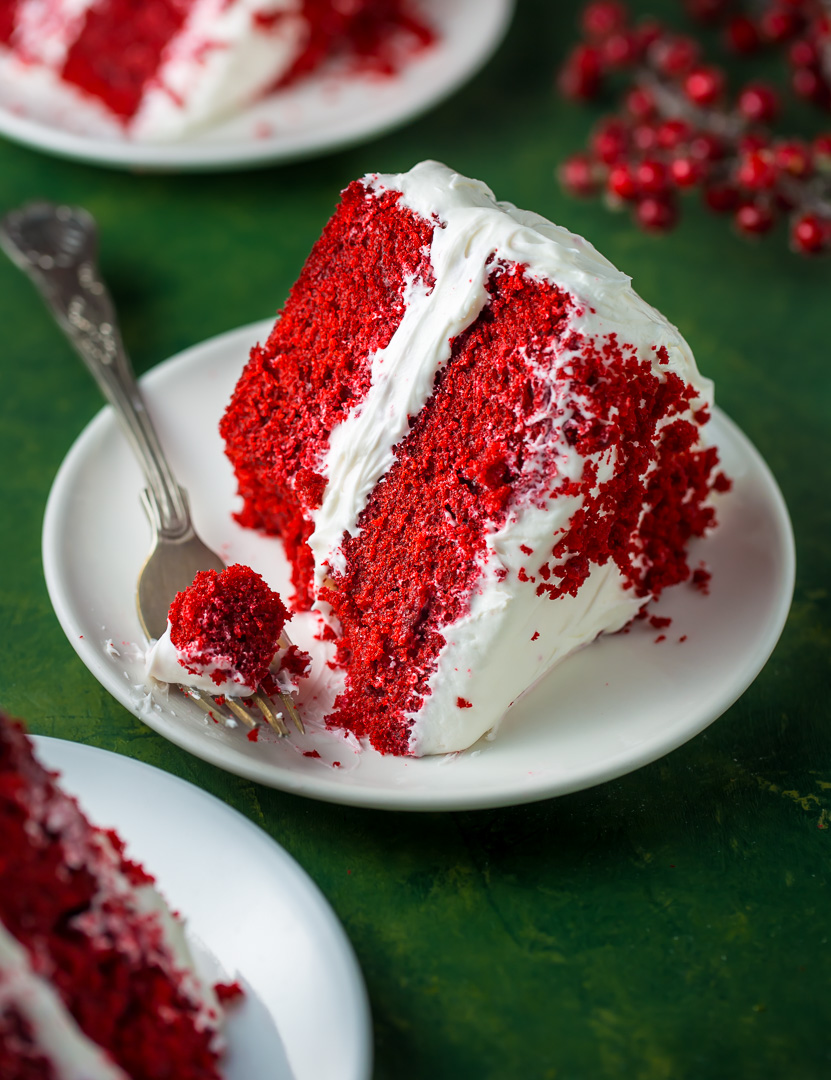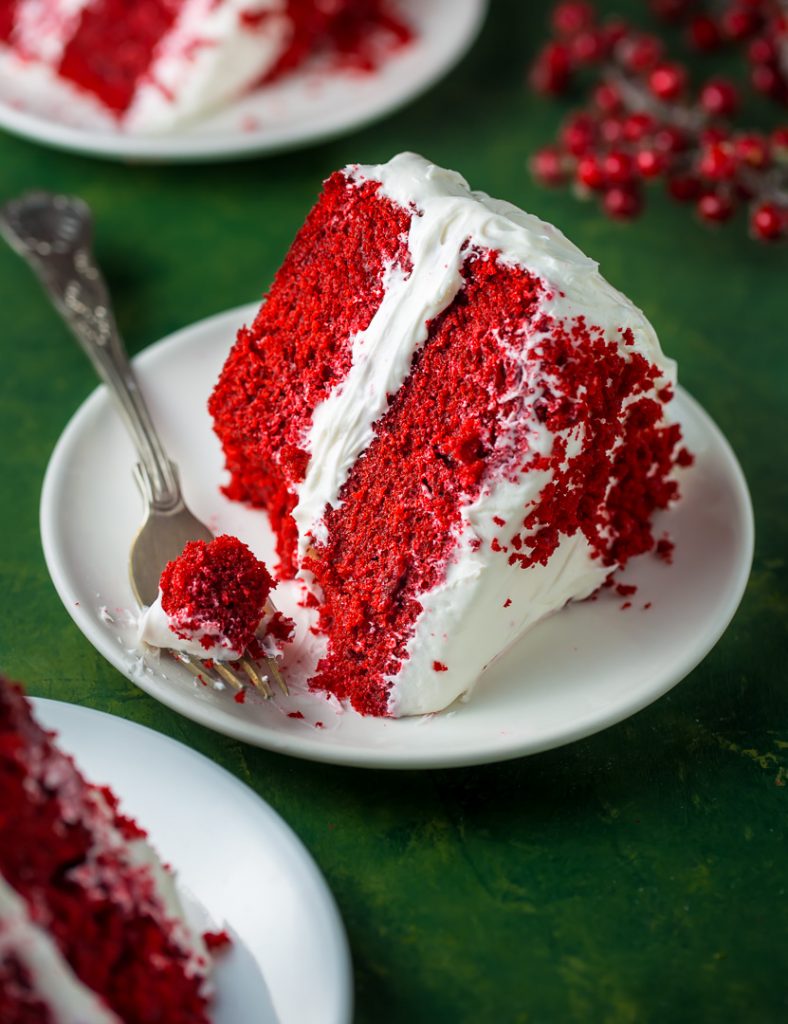 Red Velvet Cake Recipe Cream Cheese Frosting
Tips and Tricks for Recipe Success:
This recipe requires cake flour. Cake flour is extra finely ground flour which gives this red velvet cake its moist, delicate crumb. In most grocery stores you can find cake flour in the baking aisle. You can also order it online here.
If you can't find cake flour and don't feel like buying it online – don't fret! Making your own cake flour is easy and only requires two ingredients: cornstarch and all-purpose flour. Here's what you do: For every 1 cup of flour called for in the recipe, remove 2 Tbsp of flour. Then add in 2 Tbsp of Cornstarch for every 1 cup of flour (you're replacing the tablespoons of flour taken out with cornstarch). Sift this mixture a few times (you want it well combined) and that's it – you just made ready-to-use cake flour.
When you measure your flour, be sure you're not packing it into the measuring cup. Packed flour will yield a dense and dry red velvet cake.
Buttermilk is a must for this recipe! If you cannot find buttermilk at your local grocery store, you can make a buttermilk substitute. You'll need 1 scant cup of milk (scant meaning just a little less than a whole cup) and 1 tablespoon of lemon juice or apple cider vinegar. You'll measure the 1 scant cup of milk and then stir in the tablespoon of lemon juice or vinegar. Then simply allow the mixture to stand at room temperature for 5. At this point you're ready to go! The milk should be slightly thickened, with tiny curdled bits floating around. It won't be as thick as regular buttermilk, but it will make a fine substitution for this recipe.
For best results make sure your butter, eggs, yolks, and buttermilk have all come to room temperature before you begin baking.
For the frosting, you'll want to make sure your butter and cream cheese are VERY soft before you begin.
If you'd like your cake to look exactly like mine does in these photos, simply top it with red velvet cake crumbs (instructions for this are in the recipe box at the end of this post).


More Cake Recipes:
This vibrant red velvet cake is sure to brighten up any holiday table! ♥♥♥
If you try this Red Velvet Cake, let me know! Leave a comment below and don't forget to snap a pic and tag it #bakerbynature!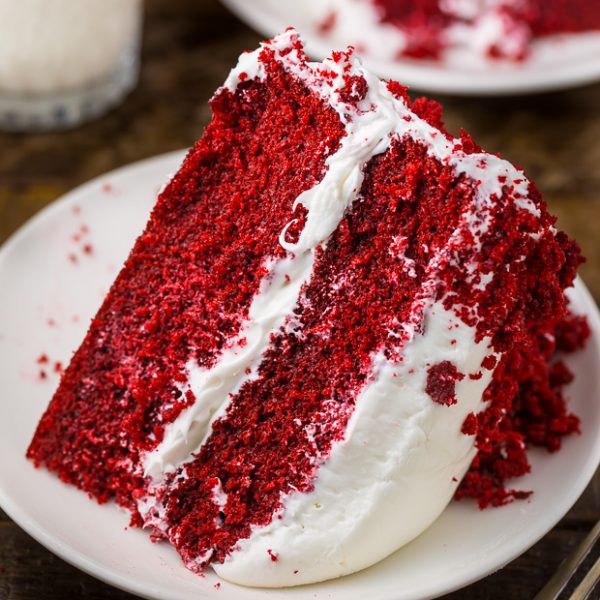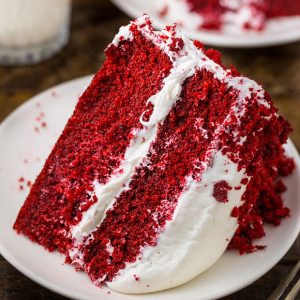 Red Velvet Cake with Cream Cheese Frosting
The perfect Red Velvet Cake with Cream Cheese Frosting!
Ingredients
For the Red Velvet Cake:
3 cups cake flour
3 tablespoons unsweetened cocoa powder
1 and 1/4 teaspoons baking soda
1 stick (4 ounces) unsalted butter, at room temperature
1 cup light brown sugar, packed
1 cup granulated sugar
1 tablespoon vanilla extract
3 large eggs plus 2 egg yolks
3 tablespoons red food coloring, more or less according to your color preference
2 teaspoons apple cider vinegar
1 cup buttermilk
1 cup vegetable oil
For the Cream Cheese Frosting:
2 blocks (16 ounces) full-fat cream cheese, VERY soft
1 stick (4 ounces) unsalted butter, VERY soft
1 tablespoon vanilla pure extract (omit if you want a stark white frosting)
4 cups confectioners' sugar, sifted, more if needed
Instructions
For the Red Velvet Cake:
Preheat oven to 350 degrees (F). Cut out two 9-inch round segments of parchment paper to line your cake pans with. Spray two 9" round cake pans generously - sides and bottom - with nonstick cooking spray, then place the parchment paper cut out in the bottom of the pans and spray again. It's important to make sure every bit of pan and paper are sprayed so your cakes don't get stuck. Set pans aside.

In a medium-sized bowl sift together the cake flour, cocoa powder, and baking soda; set aside. In the bowl of a stand mixer fitted with the paddle attachment, beat the butter and both sugars until light and fluffy, scraping down the sides of the bowl as needed. Beat in the vanilla extract. Add in the eggs and egg yolks, one at a time, beating well after each addition. Add in the red food coloring and apple cider vinegar and beat smooth. With the mixer on low speed, gradually add in the dry ingredients, alternating with the buttermilk. Finally beat in the oil, mixing just until combined.

Divide the batter evenly among the prepared pans and bake for 40 to 45 minutes, or until the tops are firm and and a cake tester (or toothpick) inserted in the center comes out clean, or with a few moist (but not wet) crumbs clinging to it. Allow the cakes to cool in the pans for 5 minutes before gently running a knife around the edges to loosen any stuck bits, then turning them out onto a cooling rack to cool completely. While the cakes cool, you can make the frosting.
For the Cream Cheese Frosting:
In the bowl of a stand-mixer fitted with the paddle attachment, or in a large bowl using an electric handheld mixer, beat the cream cheese, butter, and vanilla on medium-high speed until completely smooth; about 2 minutes. Reduce the speed to low and gradually add the sifted confectioners' sugar. Once all of the sugar has been added beat on high-speed for 1-2 minutes.
Assembly:
Using a serrated knife, carefully trim the raised top of each cake. Set the cake trimmings aside - you'll use them for decoration later. Transfer one cake layer to a large plate or cake stand. Spread a thick layer of frosting on top, then gently add the second cake layer, pressing down lightly to seal them together. Frost the top and sides of the cake. Crumble up the cake trimmings and sprinkle them on the top and sides of the cake. Slice and serve, or store in the fridge for 2 days.