Red velvet donuts topped with cream cheese frosting! Baked, not fried, they're super moist and fluffy! Perfect for Christmas morning and ready in just 20 minutes!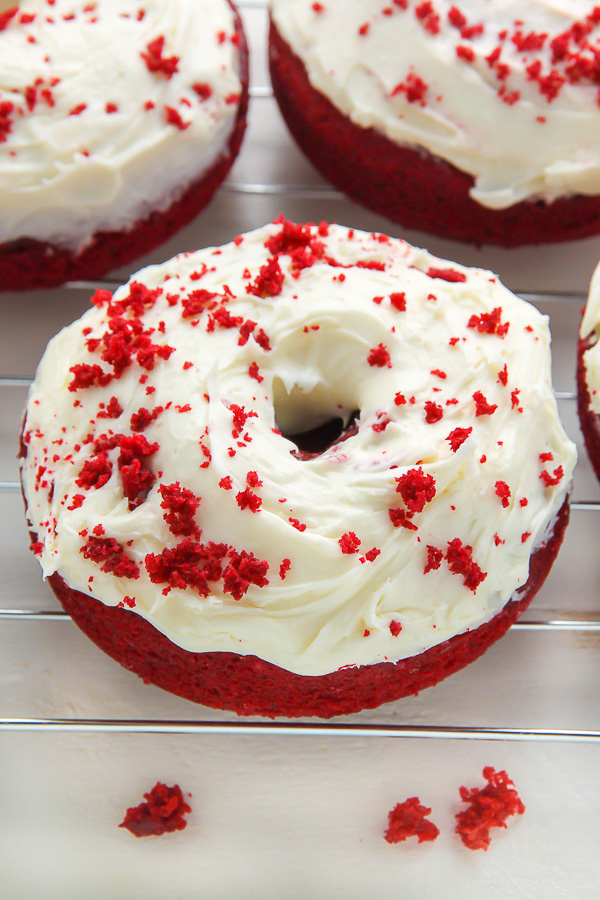 Baked Red Velvet Donuts
Happy Friday! I hope you have some fun on the books for this weekend? I'm currently on my way to PA for a much needed girl's weekend. So basically a weekend of talking, wine drinking, and eating await me. #lifeisgood
Right before I packed my bags this morning I whipped up a batch of these red velvet donuts for the road. I actually made these donuts a few times last week, working hard on getting the taste and texture just right. Once I had those details down, it was time to make them again, photograph them, and share them with you! ← That last part is my favorite part.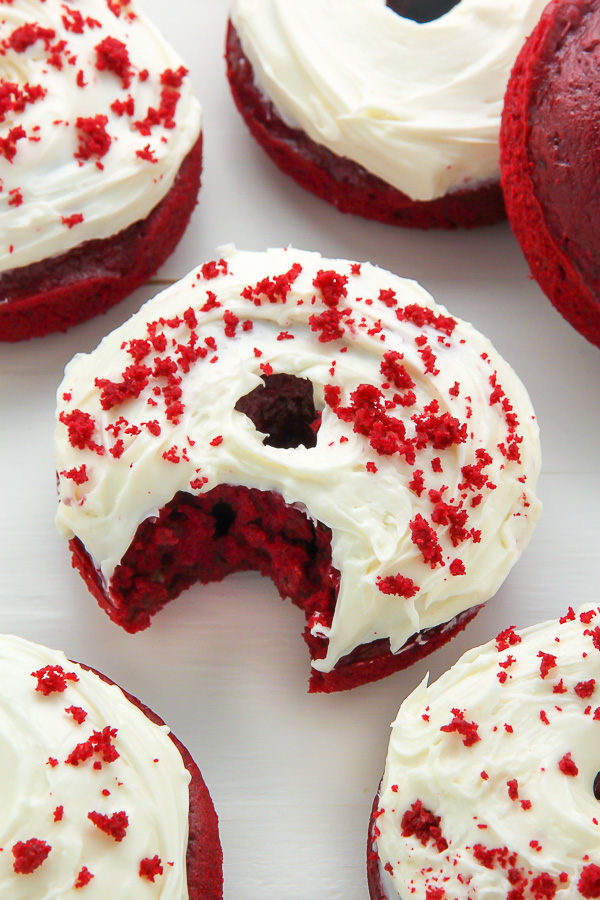 Red Velvet Donut Recipe
There are two simple steps to these delicious donuts. The moist and flavorful donut and the sweet and fluffy cream cheese frosting. Let's start with the donut part.
These donuts are baked, making them easy and pretty foolproof. Important to know: you will need a donut pan to make this recipe. You can click HERE
to see the donut pan I've been happily using for the past 3 years.
You're also going to need all-purpose flour, cocoa powder, baking powder, buttermilk, brown sugar, an egg, vanilla, butter, red food coloring, and a pinch of salt.
You're going to melt the butter before whisking in the sugar and vanilla, and then the egg. From there you'll add in the dry ingredients, whisk them into the wet mixture, then fold in the buttermilk and finally, the food coloring. The amount of food coloring you use is totally up to you. I used 2 teaspoons to achieve this vibrant red hue ↓↓↓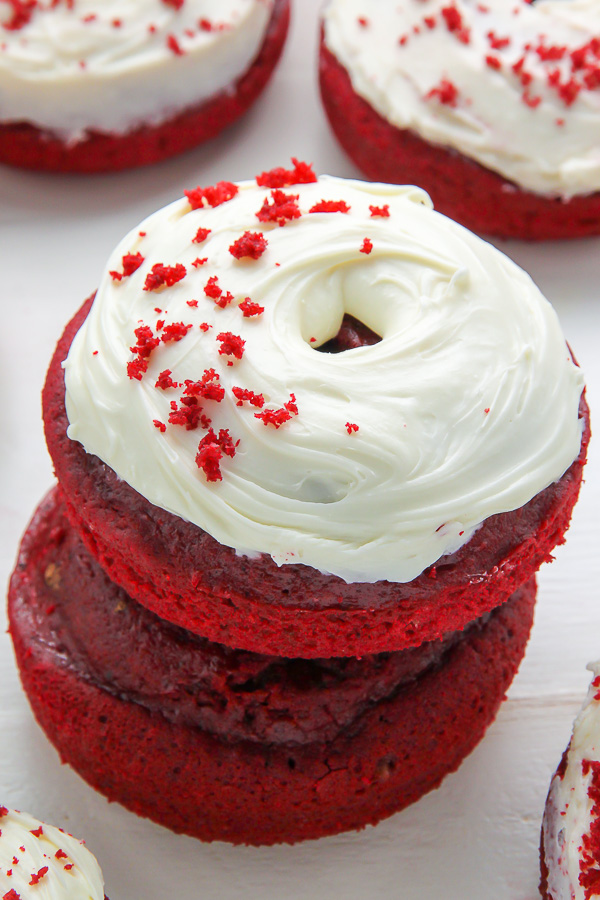 For the cream cheese frosting you will need cream cheese (duh), butter, vanilla extract, a touch of salt, and confectioners' sugar. You'll want to make sure your cream cheese and butter are both very soft before beginning this process.
To bake the donuts you're going to preheat your oven to 350 degrees (F). Pro tip: Make sure you generously grease your donut pan before filling the molds. If you don't, they will stick.
Bake the donuts for 9-10 minutes, or until they're just firm enough to spring back slightly when touched. Make sure you cool them completely before frosting them!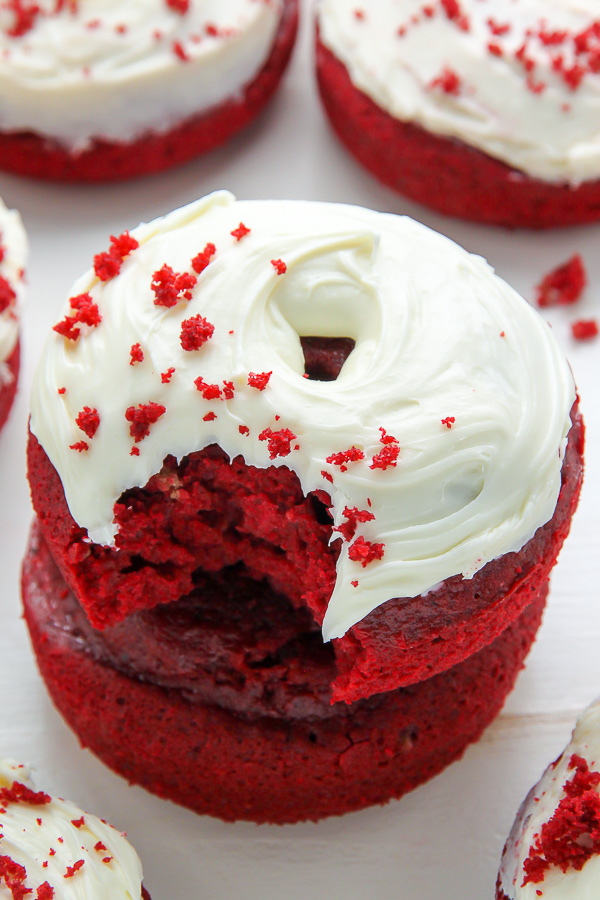 Don't be surprised if you find yourself dreaming up any excuse to bake these.
If you try this recipe, let me know! Leave a comment below and don't forget to snap a pic and tag it #bakerbynature on Instagram! Seeing your kitchen creations makes my day. ♥
More Red Velvet Recipes: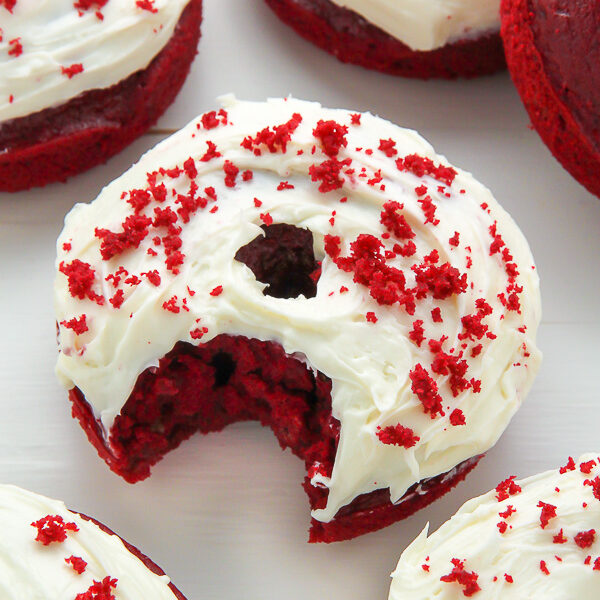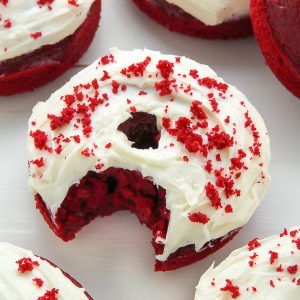 Red Velvet Donuts
Baked red velvet donuts topped with cream cheese frosting! Ready in just 20 minutes.
Ingredients
For the red velvet donuts:
1 cup all-purpose baking flour
2 tablespoons cocoa powder
1/2 cup dark brown sugar
1/2 teaspoon salt
1 teaspoon baking powder
1/2 cup buttermilk
2 1/2 tablespoons butter, melted
1 teaspoon pure vanilla extract
1 large egg, at room temperature
2 teaspoons red food coloring
For the cream cheese frosting:
3 ounces cream cheese, VERY soft
3 tablespoons unsalted butter, VERY soft
1 teaspoon pure vanilla extract
2 cups confectioners' sugar, sifted
1-2 tablespoons milk
Instructions
For the red velvet donuts:
Preheat oven to 350 degrees (F). Generously grease a doughnut pan and set aside.

In a large bowl whisk together the dry ingredients. In a separate bowl whisk together the buttermilk, melted butter, vanilla, and egg. Gently fold the wet mixture into the dry mixture - don't over mix! Fold in red food coloring and stir until combined.

Spoon mixture into prepared doughnut pan, and bake for 10 minutes, or until the doughnuts spring back when lightly pressed. Allow doughnuts to cool a few minutes in the pan before transferring to a wire wrack to cool for a few more minutes.
For the cream cheese frosting:
In the bowl of a stand-mixer fitted with the paddle attachment, or in a large bowl using an electric handheld mixer, beat the cream cheese, butter, and vanilla extract on medium-high speed until completely smooth; about 2 minutes. Reduce the speed to low and gradually add the sifted confectioners' sugar. Add in the milk. Once the milk is combined beat frosting on high-speed for 1-2 minutes.

Spread frosting on cooled donuts.