Rich, creamy Roasted Strawberry Greek Yogurt Cheesecake gets a lightened up makeover! The simple graham cracker crust is thick, buttery, and the perfect base for this decadent treat. Just be warned – it's addicting!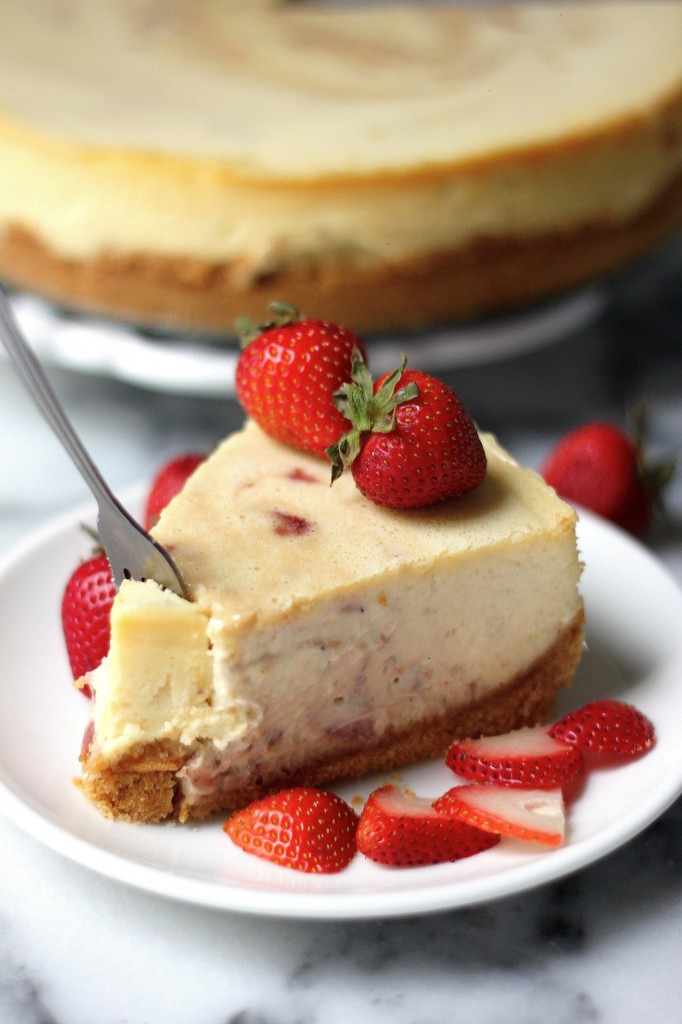 Hello friends! Do you know Georgia? She's the doll that runs The Comfort of Cooking, and guess what? Today is her SURPRISE virtual baby shower!!! I'm so excited to be contributing to the party. Oh, and Georgia… SURPRISE! Hope we got you 🙂
The theme for this party is pink, which is only fitting as G will be welcoming a precious little girl into the world very soon. I decide to incorporate a pop of pink into a creamy, Greek yogurt cheesecake with the help of some very gorgeous roasted strawberries.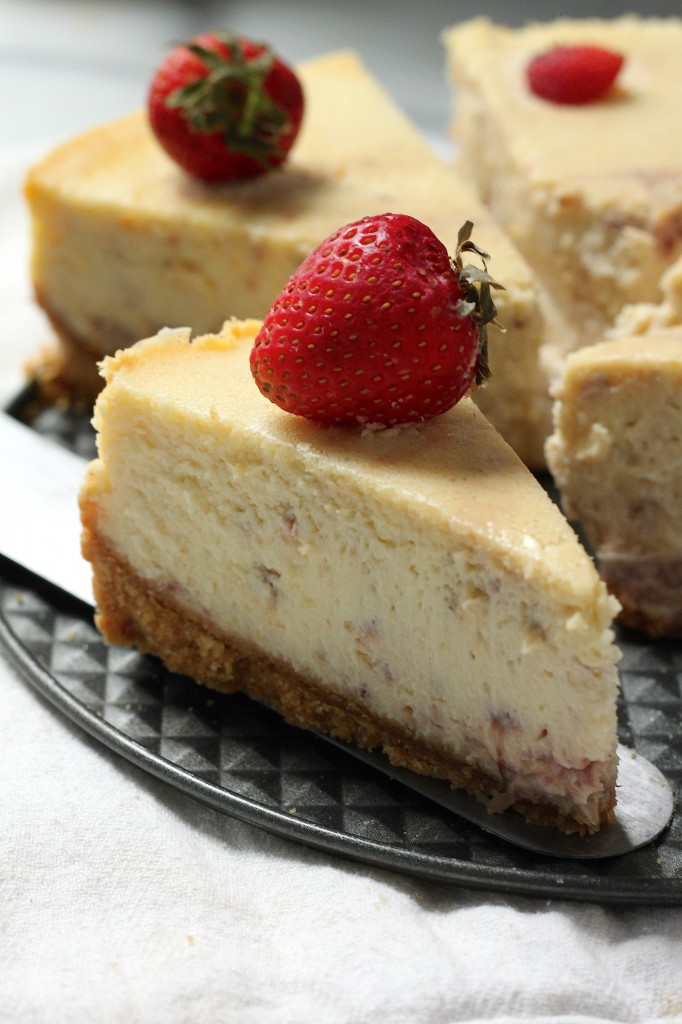 The cheesecake itself is a thick, hearty batter spiked with wonderfully smooth Greek yogurt. I've been wanting to make a Greek yogurt cheesecake for ages now, and after finally nailing this recipe, I'm not sure I can go back to the regular all cream cheese version! It adds just the most delightful creaminess and tang, and to be honest, I just love baking with Greek yogurt. It's such a baking babe!
The graham cracker crust is not only a dream to bite into, but it's obnoxiously simple to whip up in seconds. And, it all happens in the body of your blender. Just toss everything in, pulse-pulse-pulse, and you've got yourself a thick, tasty cheesecake crust. Winning!
Top each slice with a few fresh strawberries, OR, if you're feeling luxurious, a dollop of of whipped cream, and DIG IN!
Happy baby shower, Georgia! Sending you all the love and happiness in the world for you and your gorgeous family. Now, get over here and help me eat this cake 😉 xo
Roasted Strawberry Greek Yogurt Cheesecake
Ingredients
For the cheesecake batter:
(3) 8 oz packages of cream cheese, softened
1 1/2 cups FULL FAT Greek yogurt
5 large eggs + 3 egg yolks
1 1/2 cups granulated sugar
3 tablespoon all purpose flour
2 teaspoons vanilla extract
For the roasted strawberry swirl:
(1) 16 oz container strawberries, sliced
1/4 cup sugar
1 tablespoon coconut oil
2 tablespoons maple syrup
2 tablespoons water
1 teaspoon lemon juice
2 teaspoons corn starch
For the Graham Cracker Crust:
2 cups graham crackers, pulsed into crumbs
1/3 cup sugar
1/4 teaspoon salt
6 1/2 tablespoons butter, melted
Instructions
For strawberries:
Preheat oven to 375 degrees (F). Line a large baking sheet with parchment paper.

In a small bowl toss sliced strawberries with sugar and oil.

Pour strawberries onto prepared baking sheet and cook for 20-25 minutes, or until soft and bubbling.

Allow strawberries to cool slightly, then add them into the body of a food processor. Add the maple syrup, water, lemon juice, and corn starch, and pulse until smooth. Set aside to cool until needed.
For crust:
In the body of a blender combine graham crackers, salt, and sugar. pulse until the crackers have been completely smashed to crumbs. Add melted butter; stir well to combine. Press down into a 9-inch springform pan; set aside.
For filling:
Beat cream cheese and Greek yogurt in a blender until smooth. Add eggs, egg yolk, and sugar, pulse until well combined. Add flour and vanilla and pulse for another 30 seconds, or until flour has completely disappeared into the batter. Don't over mix!

Pour filling into crust, and spread evenly. Dollop strawberry filling on top, and swirl gently with a knife.

Wrap the bottom of the pan WELL in aluminum foil. Place pan in a large, deep dish, then fill the dish half way with HOT water from a kettle. This is your water bath. NO CRACKS 🙂

Place pan in the oven and cook cheesecake for 1 hour and 20 minutes. Turn oven off and let the cheesecake sit for 30-35 minutes inside the oven. The cheesecake should be still slightly wiggly just in the center. Remove cake from oven, run a knife very gently around the edge of the cake, and let it sit in the pan for 15 more minutes before covering loosely with plastic wrap and refrigerating for at least 4 hours. When ready to serve, top with a dollop of whipped cream and enjoy!