These lightened up Greek yogurt Lemon Blueberry Scones are topped with a sweet lemon glaze. Simply irresistible!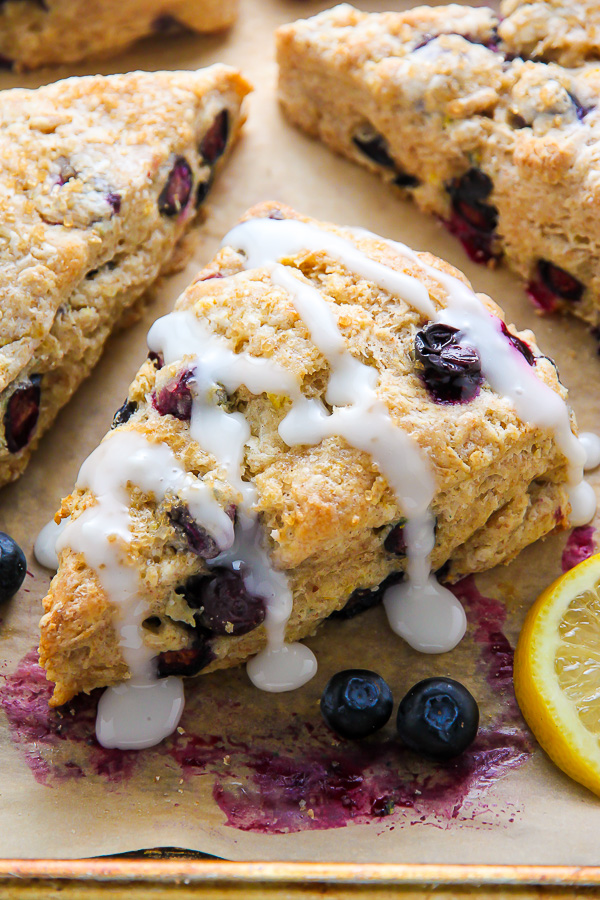 Lemon Blueberry Scone Recipe
When it comes to scones, this ain't my first rodeo. Over the past few years I've been churning out flaky, flavorful scones like nobodies business. Chocolate chip, bacon jalapeno, sour cream and chive, blackberry lime, strawberries and cream, zucchini, and cranberry ricotta. You name it, I've probably made it. Or will, very very soon. What can I say? I'm a scone fanatic! #noshameinmygame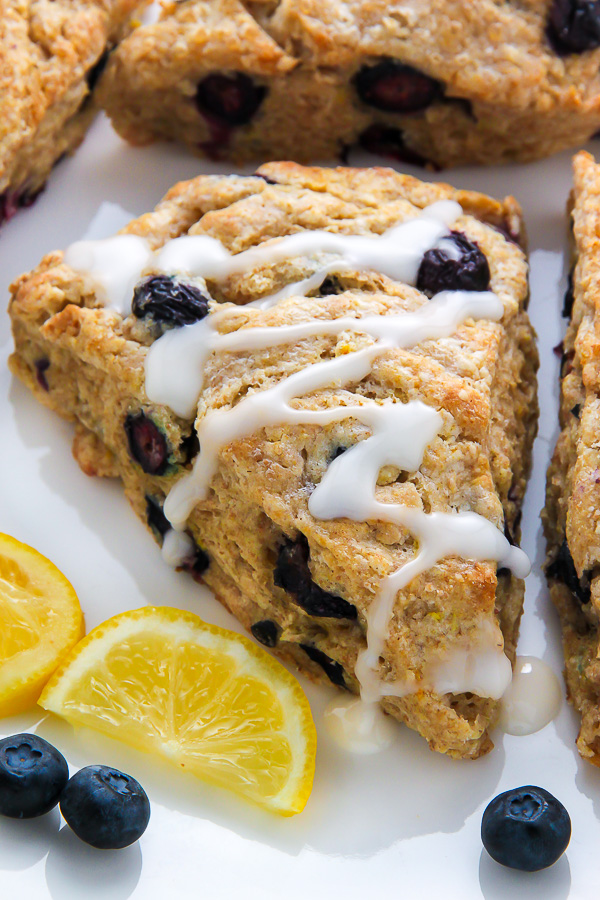 Today I'm adding these vibrant lemon blueberry scones to the recipe archive. You'll be very happy to know these scones are:
flaky
buttery
melt-in-your-mouth tender
slightly crunchy at the edges
bursting with juicy blueberries
flavored with fresh lemon
topped with sweet lemon glaze
perfect with a cup of coffee (or tea)
and impossible to resist.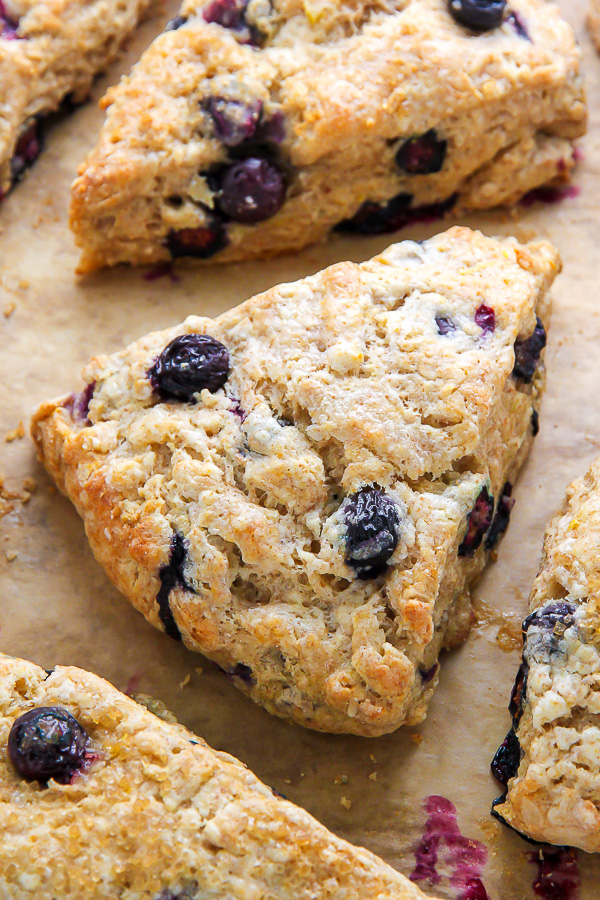 To make these scones you're going to need flour (I used a combination of all-purpose and whole wheat), baking powder, baking soda, granulated sugar, salt, butter, vanilla extract, Greek yogurt (I used non-fat), milk, eggs, and blueberries. For the blueberries, you can use fresh or frozen.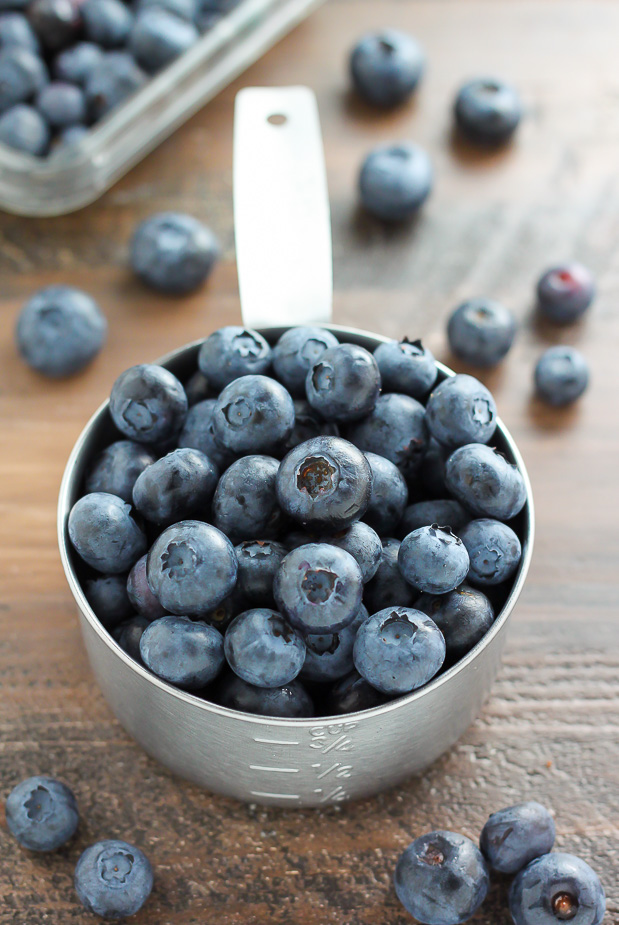 Now. I've said it before, and I'll say it again: the key to flaky, bakery style scones is COLD BUTTER.
Why cold butter? Read on! Cold butter is what creates scones that are flaky, just slightly crumbly, and tender. If your butter is warm and melts before baking, you're going to loose those buttery layers that are essential to a scone. When it comes time to add the butter into the dough, you should resist using your hands, since body heat will quickly melt the butter. Instead, use a pastry cutter or two forks. My favorite method is grating the butter then quickly working it into the dough with two forks.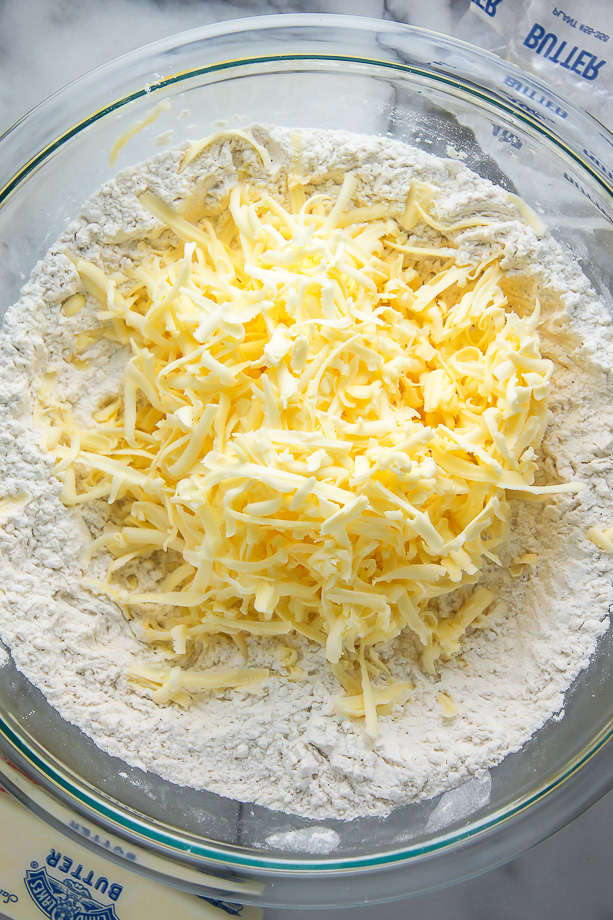 To cut the scones, simply grab a large knife and slice the circle into 8 even triangles. And remember, scones are forgiving treats, so don't beat yourself up if they look a little rustic. The key is to work quickly and try not to handle the dough too much. If you find your dough is warm or very sticky, simply pop it back into the fridge or freezer for a few minutes and let it chill, then get back to work.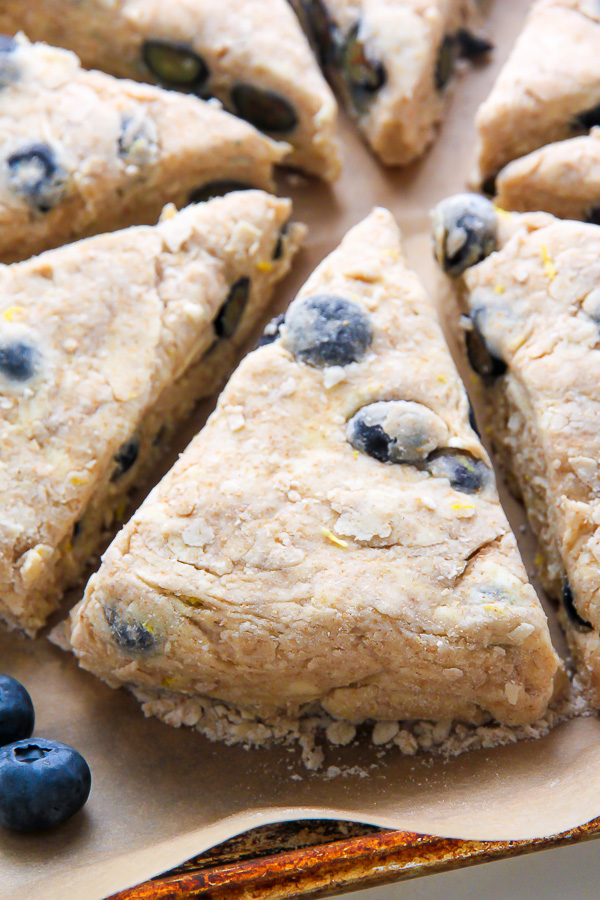 I chose to top these scones with a light and lovely lemon glaze. This part is totally optional, but I find it enhances the fresh blueberry flavor. If you're watching your sugar intake, go ahead and skip the glaze. Trust me, these are perfectly delicious as is. Especially when they're fresh from the oven. With a giant mug of coffee… mmm! Anyone else getting hungry?!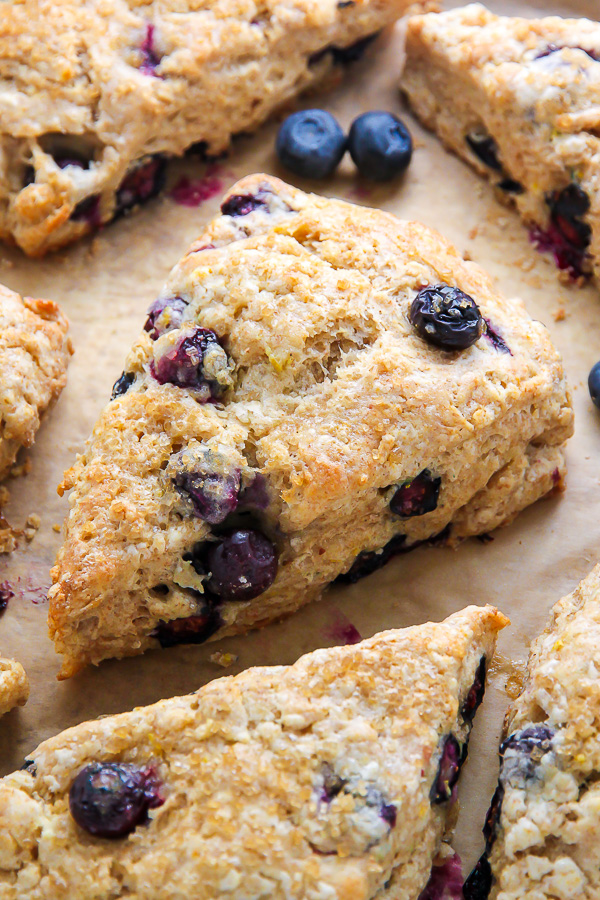 Do yourself a favor and make these blueberry lemon scones today!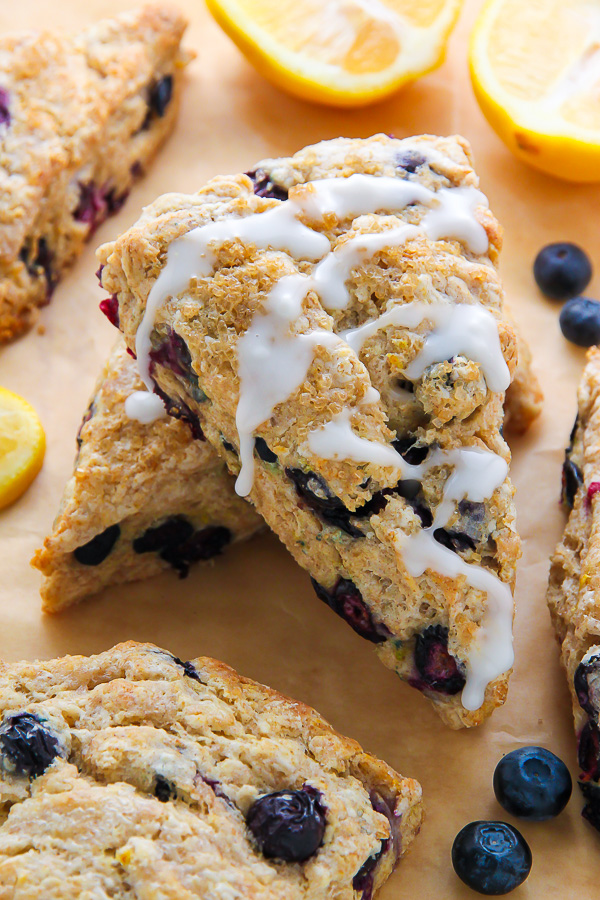 More Blueberry Scone Recipes:
If you try this recipe, let me know! Leave a comment below and don't forget to snap a pic and tag it #bakerbynature on Instagram! Seeing your kitchen creations makes my day. ♥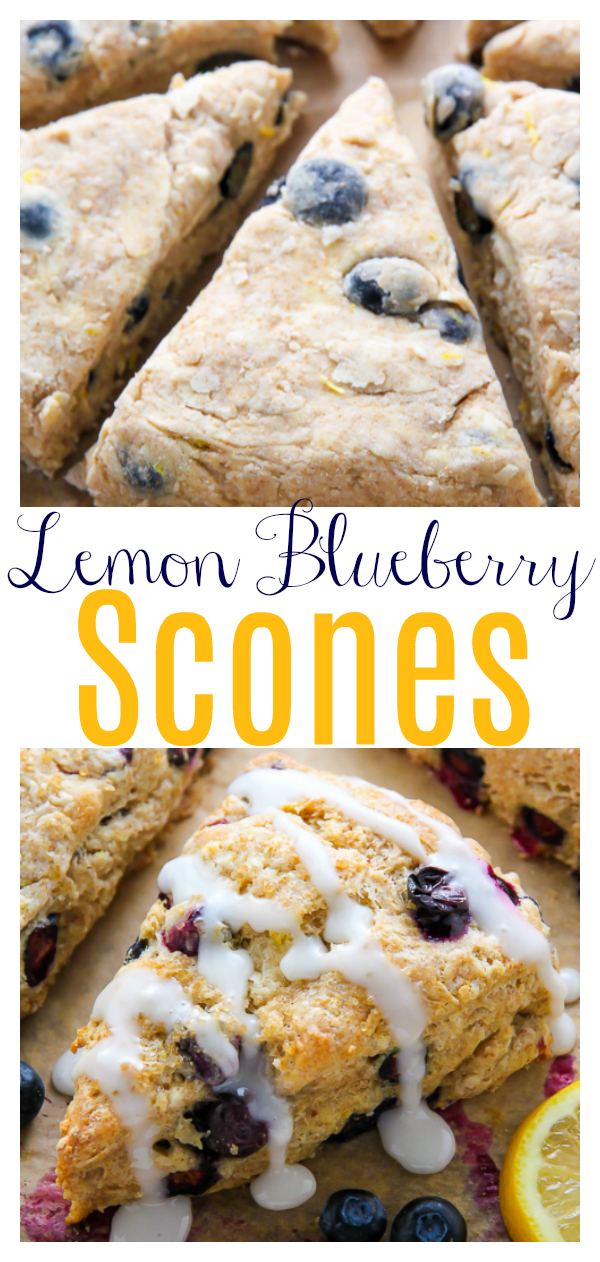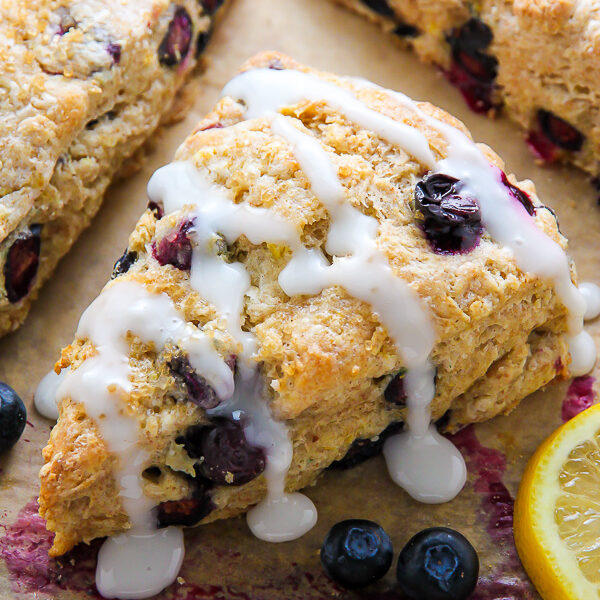 Greek Yogurt Blueberry Scones
Moist and crumbly blueberry scones topped with a light lemon glaze. Made with whole wheat flour and Greek yogurt, making it a healthier choice for breakfast or dessert.
Ingredients
1 and 1/2 cups all-purpose flour
1 cup whole wheat flour
1/2 teaspoon salt
1 tablespoon baking powder
1/2 teaspoon baking soda
1/4 cup granulated sugar
1 teaspoon lemon zest
1 stick (4 ounces) unsalted butter, VERY cold and cut into tiny pieces
1 large egg, beaten
1/2 cup non-fat Greek yogurt
3 tablespoons whole milk
2 teaspoons pure vanilla extract
1 cup blueberries, fresh or frozen (If using frozen, do not thaw first)
For the egg wash:
1 large egg, beaten
1 teaspoon milk or water
2 tablespoons sugar, for sprinkling
For the (optional) lemon glaze:
2 tablespoons fresh lemon juice
3/4 cup confectioners sugar
Instructions
Preheat oven to 400°(F). Line a large baking sheet with parchment paper; set aside.

In a large bowl mix together flours, salt, baking powder, baking soda, sugar, and lemon zest.

Cut the butter into small cubes then quickly work it into the mixture (using your fingers) until lit resembles a coarse meal.

In a small bowl, whisk together the egg, Greek yogurt, milk, and vanilla, then add to flour and butter mixture. Use a fork to stir everything together until just moistened.

Add in the blueberries and gently fold them into dough with a spatula - don't worry if some of the berries break up a bit.

Pour the shaggy dough out onto a clean, floured work surface and shape the dough into an 8-inch circle. Cut the dough into 8 wedges and carefully transfer to the prepared sheet.

Lightly brush each scones with the egg wash, then sprinkle the top of each scone with sugar.

Bake for 18-20 minutes, or until the tops are lightly golden brown.

Cool for about 10 minutes, then make your glaze.
For the glaze:
In a small bowl whisk together the lemon juice and confectioners sugar. Drizzle over warm scones and serve at once.