A delightful blueberry scone recipe that's flavored with lemon zest and topped with sweet lemon glaze! These scones bake up golden brown and are best served straight from the oven with a hot cup of tea or coffee.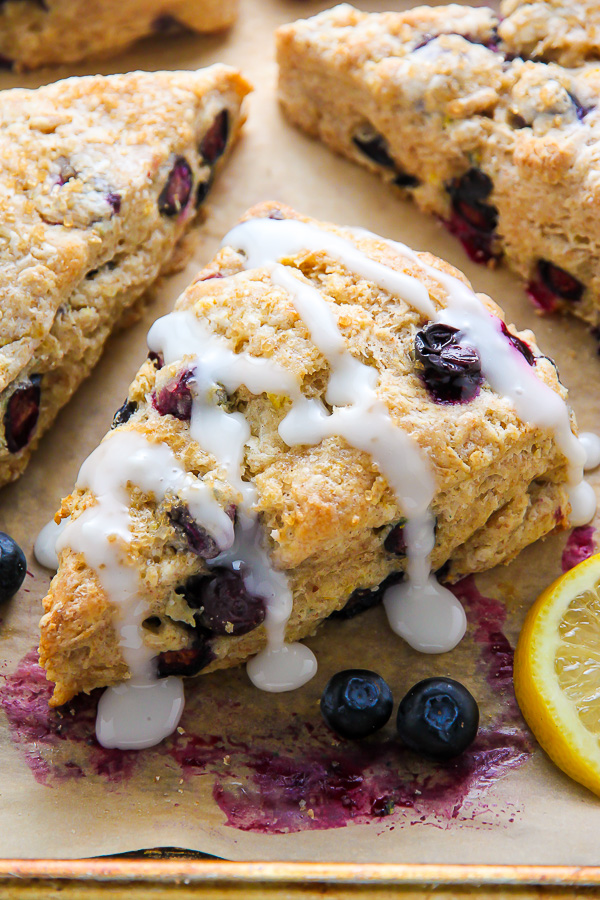 Lemon Blueberry Scones Recipe
If you've ever had a bad scone, it's pretty easy to think you hate all scones. I know this for a fact, because believe it or not… I too was once a "scone hater". But what if I told you there's a world of great scones out there? I'm talking flaky, buttery, melt-in-your-mouth scones that will make your knees buckle and your heart flutter! I promise, these scones exist. And today's recipe is one of them!
These perfect lemon blueberry scones are:
buttery, flaky, and tender
slightly crunchy at the edges
bursting with juicy blueberries
flavored with fresh lemon zest
topped with sweet lemon glaze
and so darn perfect with a cup of tea or coffee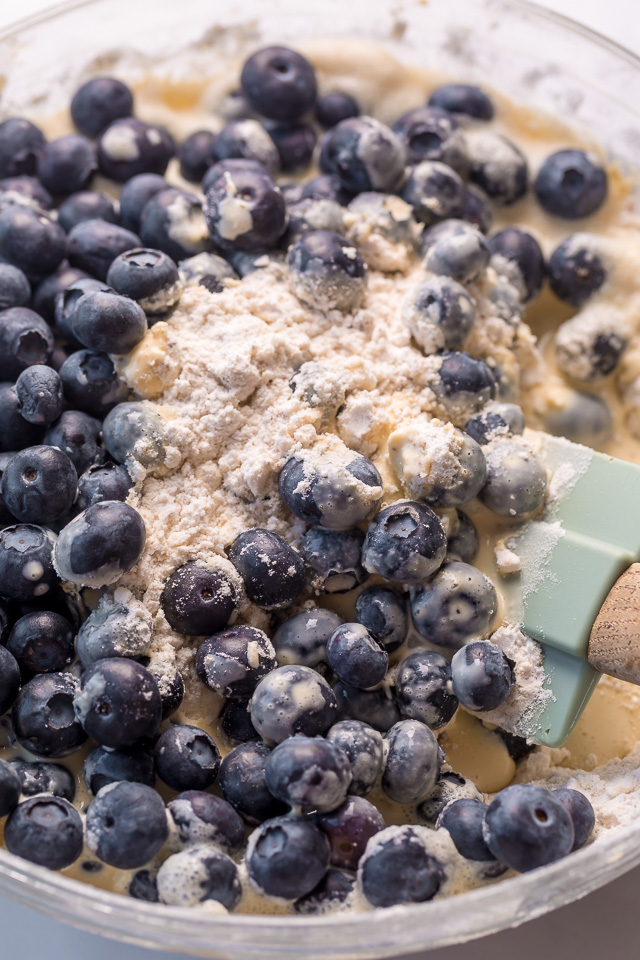 Ingredients for Lemon Blueberry Scones
All-Purpose Flour: I do not suggest substituting this with any other variety of flour.
Whole Wheat Flour: If you cannot find whole wheat flour, simply use all all-purpose flour.
Baking Powder: 1 whole tablespoon helps puff these scones up and give them a good rise.
Baking Soda: Just a small amount helps the scones spread out while baking.
Salt: Balances the sweetness and enhances all of the other delicious flavors in this recipe.
Sugar: You'll use 3 varieties of sugar in this recipe. Granulated sugar sweetens the scone dough, sparkling sugar gets sprinkled on top of the cut scones, and powdered sugar is used in the lemon glaze. The sparkling sugar is optional.
Lemon: You'll use both the lemon zest and the lemon juice. You'll need a citrus zester or box grater to properly zest the lemon.
Butter: Be sure your butter is VERY cold before you cut it into the flour mixture.
Egg: Use a large egg and unlike most recipes, you don't want it at room temperature. Use a very cold egg, straight from the fridge.
Greek Yogurt: If you cannot find this ingredient, full-fat sour cream will work.
Milk: Unlike many scone recipes that call for heavy cream, this one uses milk, which creates a tender scone with a touch less fat. I also find using milk makes the dough easier to work with.
Vanilla: Always use pure vanilla, not imitation or artificial vanilla. In a pinch, this ingredient may be omitted.
Blueberries: While fresh or frozen blueberries will technically work, I do find using fresh blueberries is the better option. They bake up juicer and are much easier to work into the scone dough.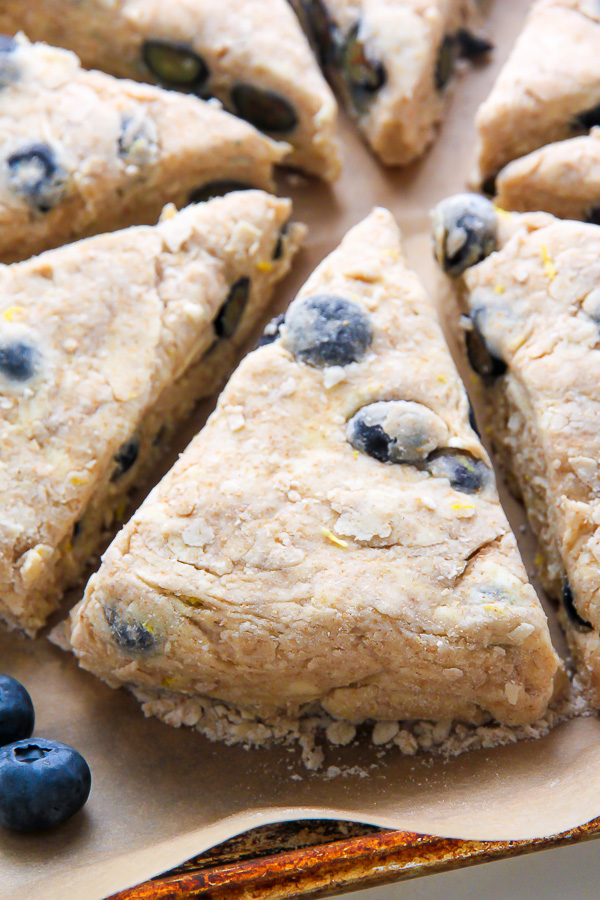 Baking Equipment Needed: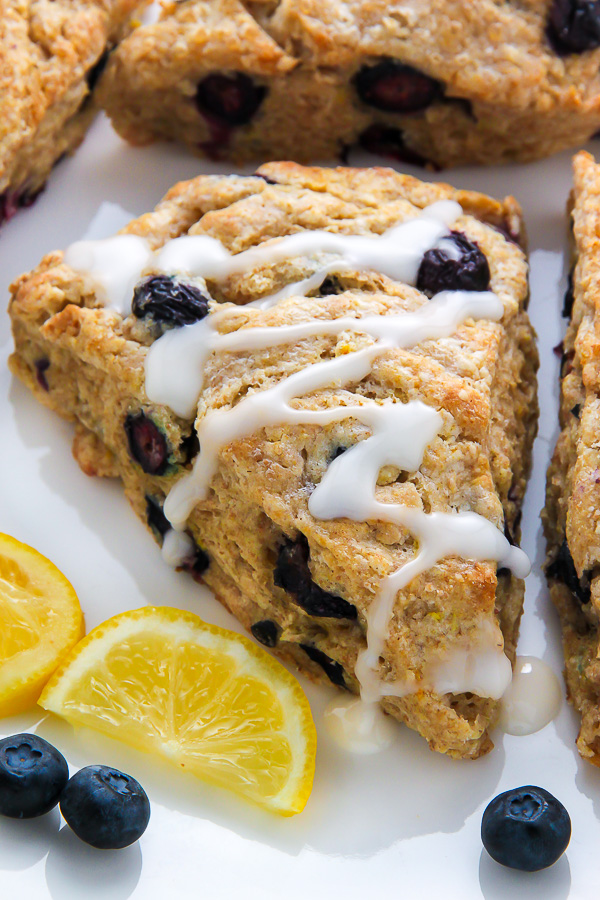 How to Make Lemon Blueberry Scones
Scone Prep: Preheat the oven to 400 degrees so it's ready when you are. Nothing worse than remembering you forgot to preheat while the tops of the scones are already brushed with egg wash! Line a large baking sheet with parchment paper; and set it aside until needed.
Make the Scone Dough: In a large bowl mix together the flour, sugar, baking powder, baking soda, and lemon zest. Work the cold butter into the dry ingredients until the mixture is crumbly. Then whisk in the wet ingredients and blueberries. Don't worry if some of the berries break or get smashed during this process.
Knead the Dough: Pour the shaggy dough out onto a large, lightly floured surface. Use your hands to shape the dough into an 8-inch circle. Then use a large knife or bench scraper to cut the top of the scone dough into 8 wedges.
Transfer: Carefully transfer the scones to the prepared baking sheet. If any of them stick the counter, use a spatula to loosen them.
Egg Wash: Lightly brush the top of each cut scone with the egg wash, then sprinkle with sparkling sugar. You don't have to use sparkling sugar, but it makes the scones extra sweet and pretty.
Bake the Scones: They'll take about 18-20 minutes to fully bake. The tops should be golden brown and there shouldn't be any raw or wet dough spots visible. Once baked, allow the scones to cool on the baking tray while you make the lemon glaze.
Make the Glaze: In a small bowl whisk together the lemon juice and confectioners sugar. If the glaze appears too thick, simply thin it out with more lemon juice. And if the glaze appears too thin, add more confectioners' sugar until you're reached the desired thickness. Drizzle the sweet lemon glaze on top of the warm scones and serve at once.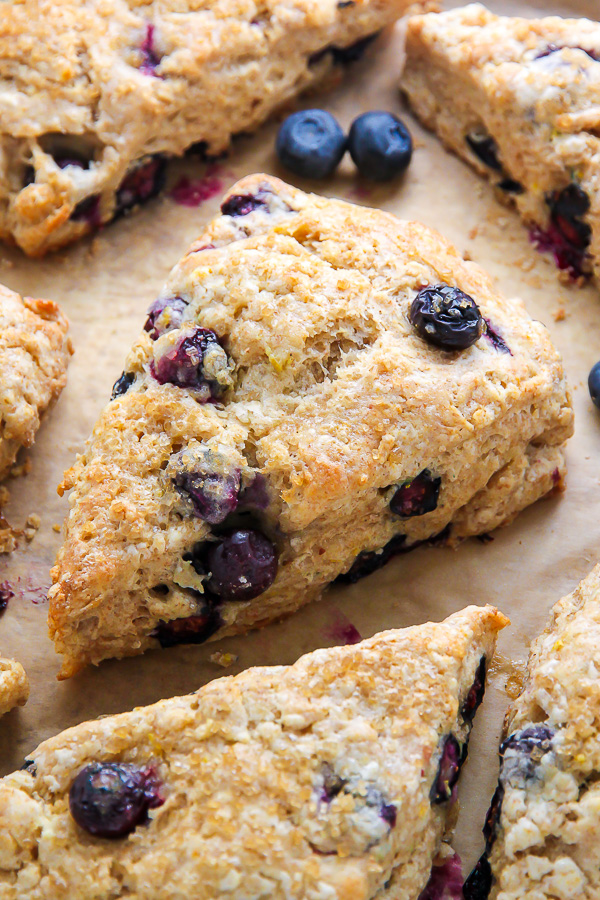 How to Store Scones?
These blueberry scones are definitely best served within a few hours of baking, but they will keep, wrapped tightly in plastic wrap, and stored at room temperature, for 48 hours. If you want to reheat a scone, simply preheat the oven to 300 degrees and place a scone on a baking sheet and bake for 2 to 3 minutes. Just make sure the scone is unwrapped! You never want to put plastic wrap in the oven.
More Blueberry Scones: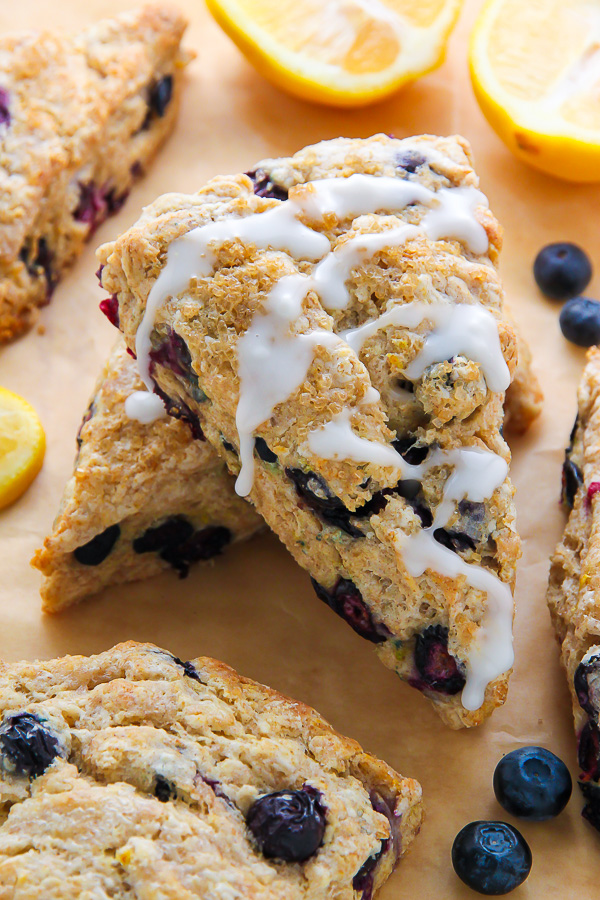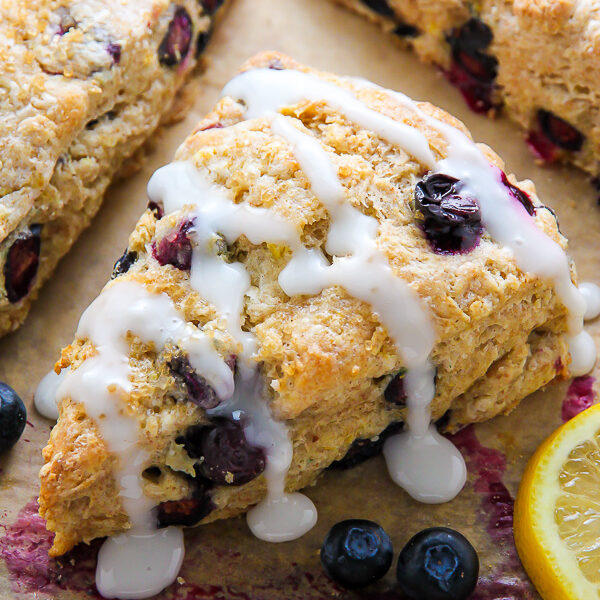 Greek Yogurt Blueberry Scones
Moist and crumbly blueberry scones topped with a light lemon glaze. Made with whole wheat flour and Greek yogurt, making it a healthier choice for breakfast or dessert.
Ingredients
1 and 1/2 cups all-purpose flour
1 cup whole wheat flour
1/2 teaspoon salt
1 tablespoon baking powder
1/2 teaspoon baking soda
1/4 cup granulated sugar
1 teaspoon lemon zest
1 stick (4 ounces) unsalted butter, VERY cold and cut into tiny pieces
1 large egg, beaten
1/2 cup non-fat Greek yogurt
3 tablespoons whole milk
2 teaspoons pure vanilla extract
1 cup blueberries, fresh or frozen (If using frozen, do not thaw first)
For the egg wash:
1 large egg, beaten
1 teaspoon milk or water
2 tablespoons sugar, for sprinkling
For the (optional) lemon glaze:
2 tablespoons fresh lemon juice
3/4 cup confectioners sugar
Instructions
Preheat oven to 400°(F). Line a large baking sheet with parchment paper; set aside.

In a large bowl mix together flours, salt, baking powder, baking soda, sugar, and lemon zest.

Cut the butter into small cubes then quickly work it into the mixture (using your fingers) until lit resembles a coarse meal.

In a small bowl, whisk together the egg, Greek yogurt, milk, and vanilla, then add to flour and butter mixture. Use a fork to stir everything together until just moistened.

Add in the blueberries and gently fold them into dough with a spatula - don't worry if some of the berries break up a bit.

Pour the shaggy dough out onto a clean, floured work surface and shape the dough into an 8-inch circle. Cut the dough into 8 wedges and carefully transfer to the prepared sheet.

Lightly brush each scones with the egg wash, then sprinkle the top of each scone with sugar.

Bake for 18-20 minutes, or until the tops are lightly golden brown.

Cool for about 10 minutes, then make your glaze.
For the glaze:
In a small bowl whisk together the lemon juice and confectioners sugar. Drizzle over warm scones and serve at once.