Homemade Greek Yogurt Blueberry Waffles topped with Fresh Blueberry Sauce. Fluffy, crispy, phenomenal. The perfect waffle recipe for special breakfast and brunch at home occasions!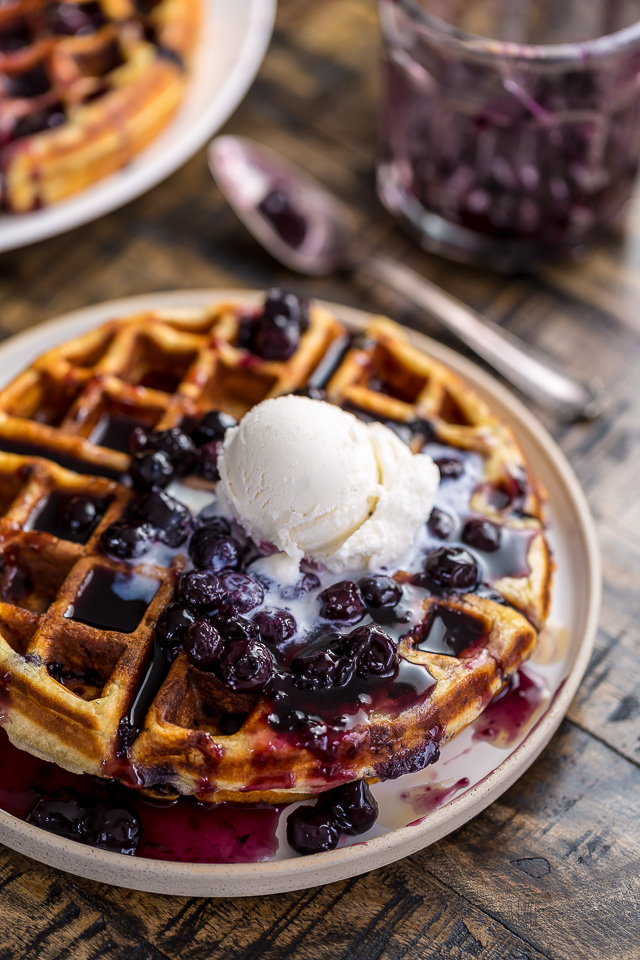 Blueberry Waffle Recipe
Hey hey and Happy weekend! AKA the two days out of the week we get to stay up late, sleep in, and stuff ourselves silly with breakfast food. Also, pizza and Netflix… in sweatpants.
↑ Have mentioned how much I love the weekend?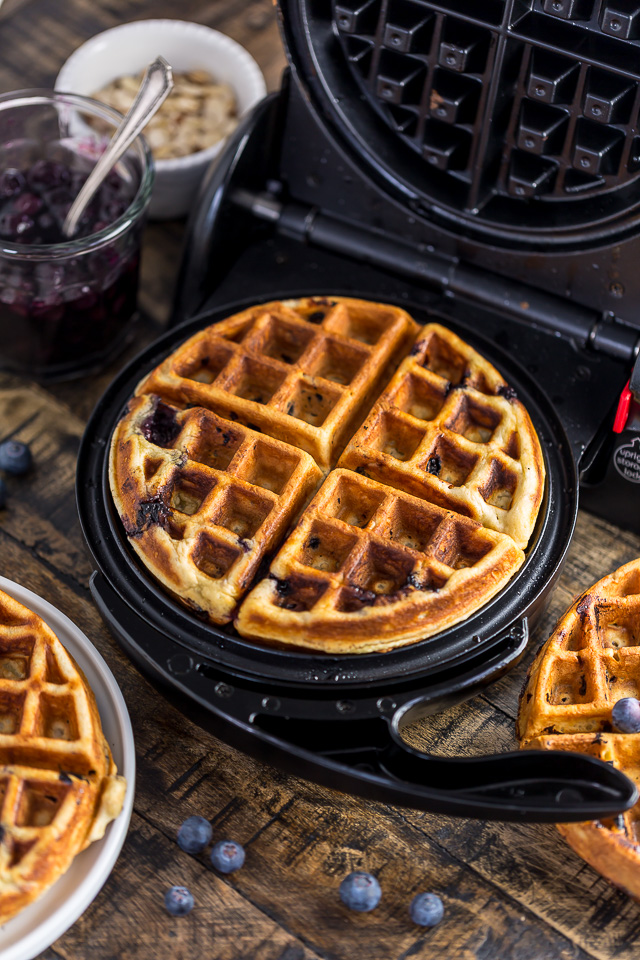 But this weekend isn't just any regular weekend! Because tomorrow is Mother's Day!!! And although I've already shared with you 18 awesome recipes sure to make mom swoon, I couldn't resist popping in to tempt you one more time.
Don't you think mom would just love to wake up to a giant stack of blueberry waffles… covered in blueberry sauce… with really really good coffee… and a mimosa… served to her in bed… on a cute little tray with flowers? I'm just kind of spitballing here, but I think ALL of that sounds pretty great.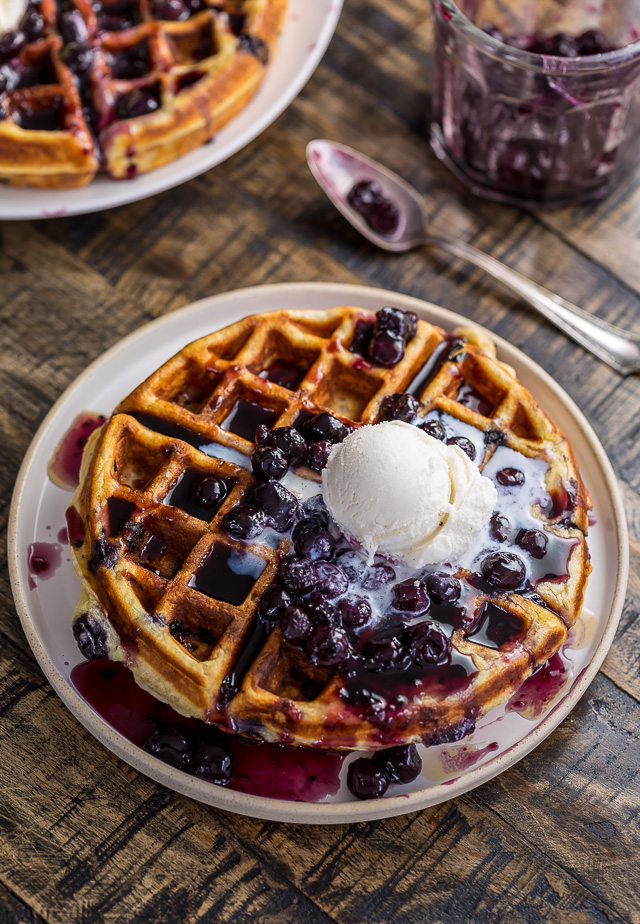 But I digress! Back to the waffles. I've been wanting to make Greek yogurt waffles forever, and last weekend the cards finally aligned. With a tub of almost expired Greek yogurt sitting in the fridge, two pounds of blueberries resting on the counter, and a nearby jug of maple syrup giving me a wink of encouragement, I knew it was time to take dream to reality.
After a two fails and a reasonable amount of frustration (waffle fails are the worst), these beauties were born: Greek Yogurt Blueberry Waffles with Fresh Blueberry Sauce! Crispy, fluffy, and exploding with blueberries… each bite is nirvana.
How to Make Blueberry Sauce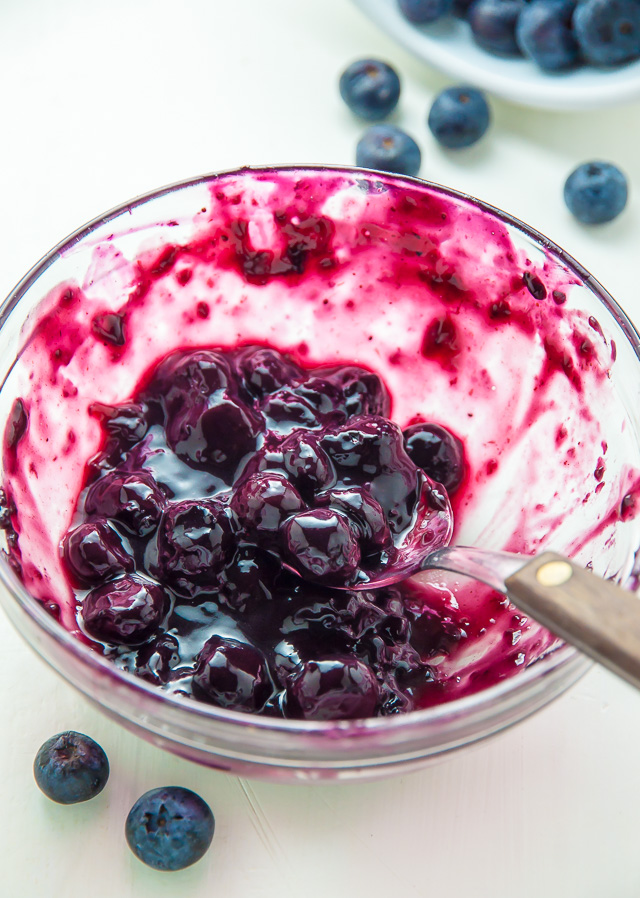 The fresh blueberry syrup is so easy and so delicious!!!
It's made with blueberries, orange juice, maple syrup, and just a touch of cornstarch. You'll simply combine these ingredients in a saucepan and boil until thickened. That's it!!!
I won't be the least bit surprised if after tasting it you want to drizzle it on your oatmeal, ice cream, pancakes, cookies, brownies, blondies, boyfriend… ←wait, what!? Kidding with that last one (or am I…?!). Just checking to see who's still paying attention 😉
So bust out that waffle iron and put it to work. Wishing you a wonderful weekend full of all good things! And to all you mamas out there – Happy Mother's Day!
More Blueberry Recipes:
If you try this recipe for Greek Yogurt Waffles with Fresh Blueberry Sauce, let me know! Leave a comment below and don't forget to snap a pic and tag it #bakerbynature on Instagram! Seeing your kitchen creations makes my day. ♥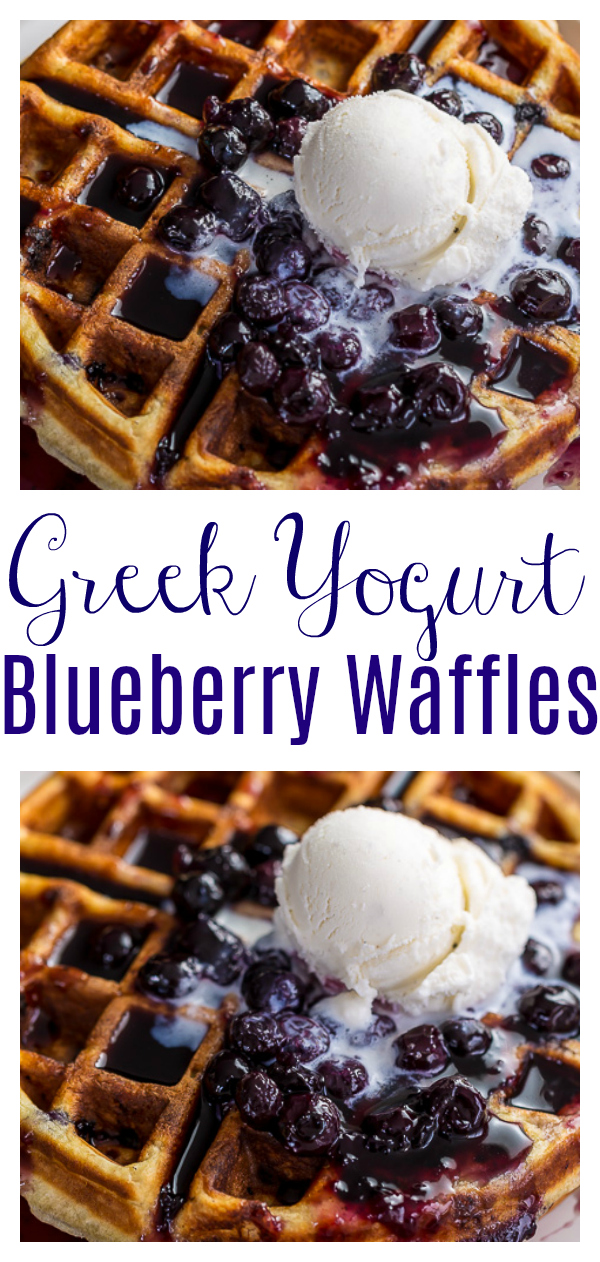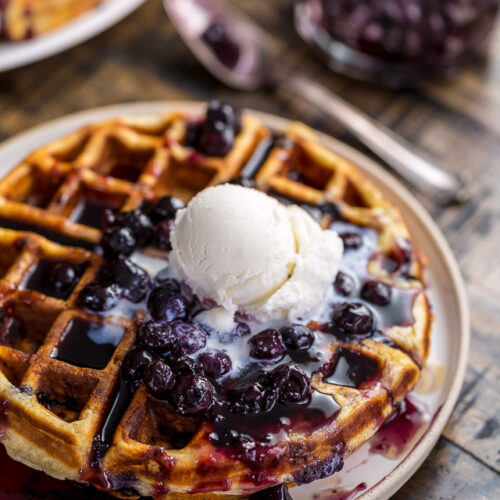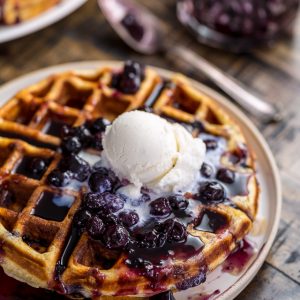 Greek Yogurt Blueberry Waffles with Fresh Blueberry Sauce
Homemade Greek Yogurt Waffles topped with Fresh Blueberry Sauce!
Ingredients
Greek Yogurt Blueberry Waffles:
2 cups all-purpose flour
2 and 1/2 teaspoons baking powder
1/2 teaspoon salt
3 Tablespoons granulated sugar
1 and 1/4 cups whole milk
3/4 cup full-fat Greek yogurt
3 large eggs, at room temperature
1/4 cup unsalted butter, melted
1 cup fresh or frozen blueberries, if using frozen, do not thaw first
Fresh Blueberry Sauce:
1 cup fresh or frozen blueberries, if using frozen, do not thaw first
1/3 cup orange juice, divided
2 tablespoons maple syrup
1/2 tablespoon cornstarch
Instructions
Greek Yogurt Blueberry Waffles:
In a large bowl, combine the flour, baking powder salt. and sugar; set aside. In a separate large bowl, whisk together the milk, yogurt, eggs, and butter; stir into dry ingredients just until moistened. Fold in blueberries.

Using a 3/4 cup measuring cup, scoop batter, and pour onto a preheated waffle iron. Cook until waffle is browned and crispy on the outside, about 5 minutes. Repeat with remaining batter.

Meanwhile, make your fresh blueberry sauce.
Fresh Blueberry Sauce:
In a small saucepan, placed over medium-heat, add the blueberries, 3 tablespoons of the orange juice and all of the maple syrup. Bring to a boil. In a small bowl combine cornstarch and remaining orange juice and whisk until smooth; gradually stir into berry mixture. Bring back to a boil and cook, stirring constantly, for about 2 minutes, or until thickened. Serve warm with waffles.