Soft and fluffy blueberry pancakes made with whole wheat flour, Greek yogurt, and just a smidgen of brown sugar. Breakfast, brunch, or brinner worthy!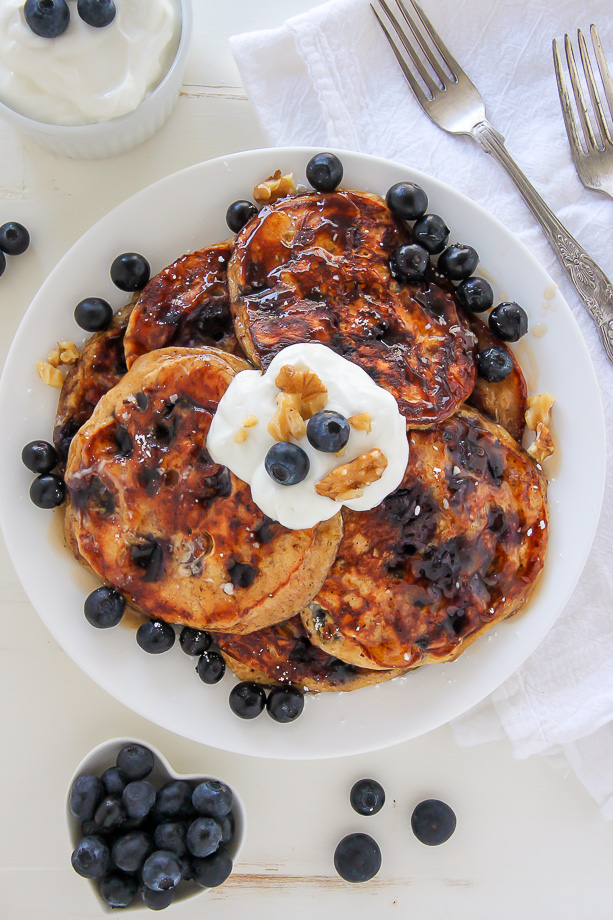 Greek Yogurt Blueberry Pancakes
Happy Wednesday! With the weekend just a few days away, I think it's time for some treat yourself food. So… what's your favorite way to treat yourself on the weekend?! For me it's pancakes, in bed, with creamy coffee and a side of Netflix. Currently we're on a Criminal Minds kick; what are you guys watching?!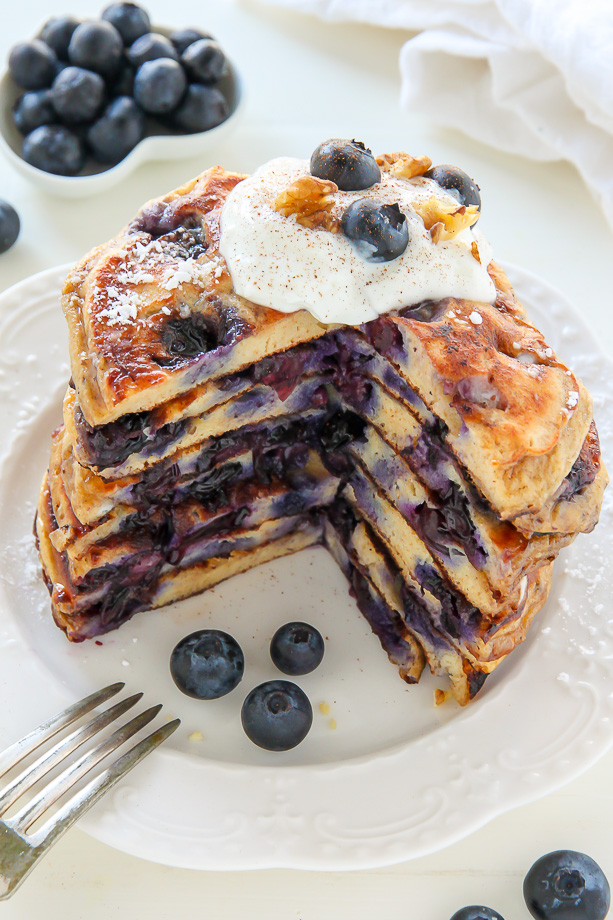 If your pancake love is strong, but you're trying to eat a little lighter this year, I offer these whole wheat Greek yogurt blueberry pancakes as an option. They're made with protein packed non-fat Greek yogurt, whole wheat flour, and just a very small amount of brown sugar. The recipe comes together in just one bowl (meaning just one dirty dish to wash!!!) and can easily be doubled if need be. Topped with a dollop of creamy Greek yogurt, extra blueberries, and pure maple syrup – these pancakes are a DREAM!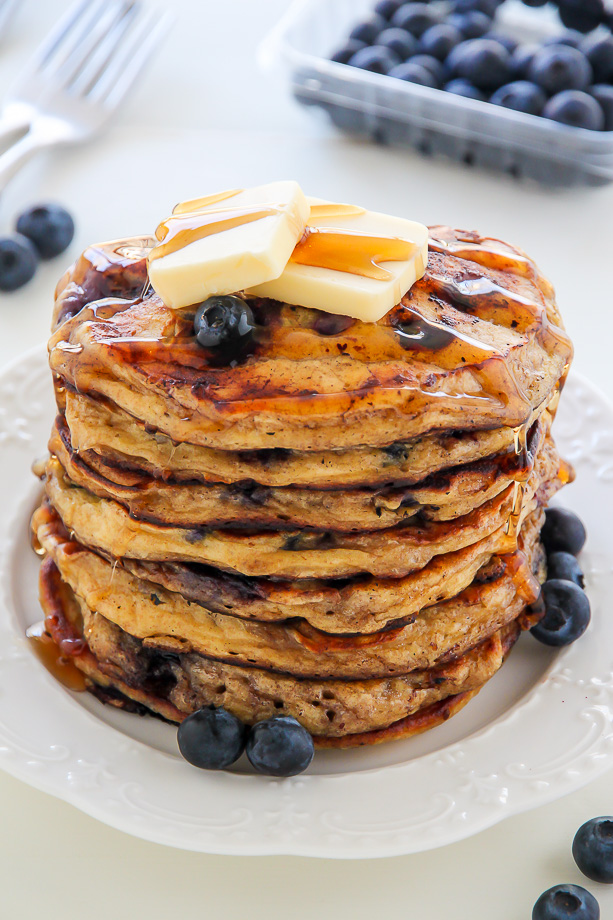 So what will you be making for breakfast this weekend?! Only 2 more days… ♥♥♥
If you try this recipe, let me know! Leave a comment below and don't forget to snap a pic and tag it #bakerbynature on instagram! Seeing your kitchen creations makes my day.
More Pancake Recipes: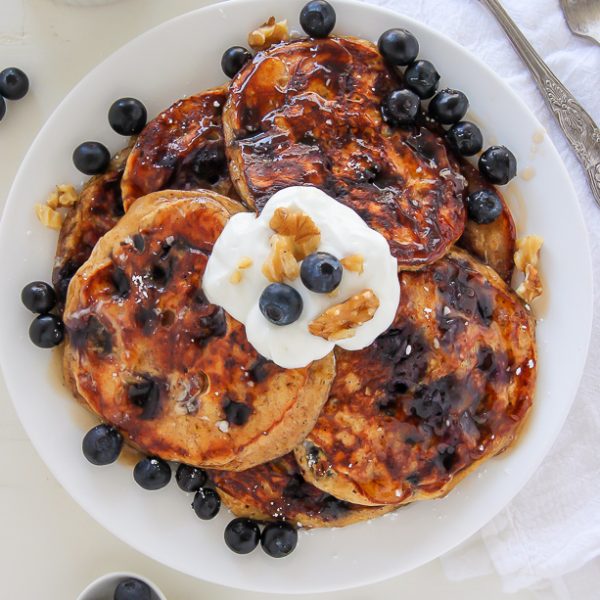 Whole Wheat Greek Yogurt Blueberry Pancakes
Start the day off right with a stack of these light and fluffy blueberry pancakes!
Ingredients
3 large eggs, at room
1 cup fat-free plain Greek yogurt
1/4 cup milk (I used almond milk, but any variety will work)
3 teaspoons vanilla extract
3 tablespoons light brown sugar, packed
1/2 teaspoon salt
2 and 1/2 teaspoons baking powder
1/3 cup + 2 tablespoons whole wheat flour
1/3 cup all-purpose flour
1 cup fresh blueberries
4 tablespoons butter, for the pan
Maple syrup, for serving
Instructions
In a large bowl add the eggs, Greek yogurt, milk, and vanilla; whisk well to combine.

Add in the brown sugar, salt, baking powder, and flours and whisk just to combine; do not over mix! The batter will be thick, so don't worry if there are a few clumps left. Fold in the blueberries with a rubber spatula.

Melt 1 tablespoon of butter in a large skillet over medium-low heat.

Once hot, ladle 1/3 cup scoops of the batter into the skillet, only cooking a few at a time so they don't blend together.

Cook pancakes until the edges begin to brown and the top of the batter bubbles, then flip and cook for another 1-2 minutes. Repeat for all pancake batter.

Top pancakes with syrup and extra blueberries, or anything else your heart desires! Serve at once.