With 99.% of my loved ones scattered across multiple states and counties, I'm always on the hunt for recipes that not only mail well, but make great gifts. In my family homemade presents are always the ones most loved, and since we have a BIG family, it definitely helps cut costs comes holiday season.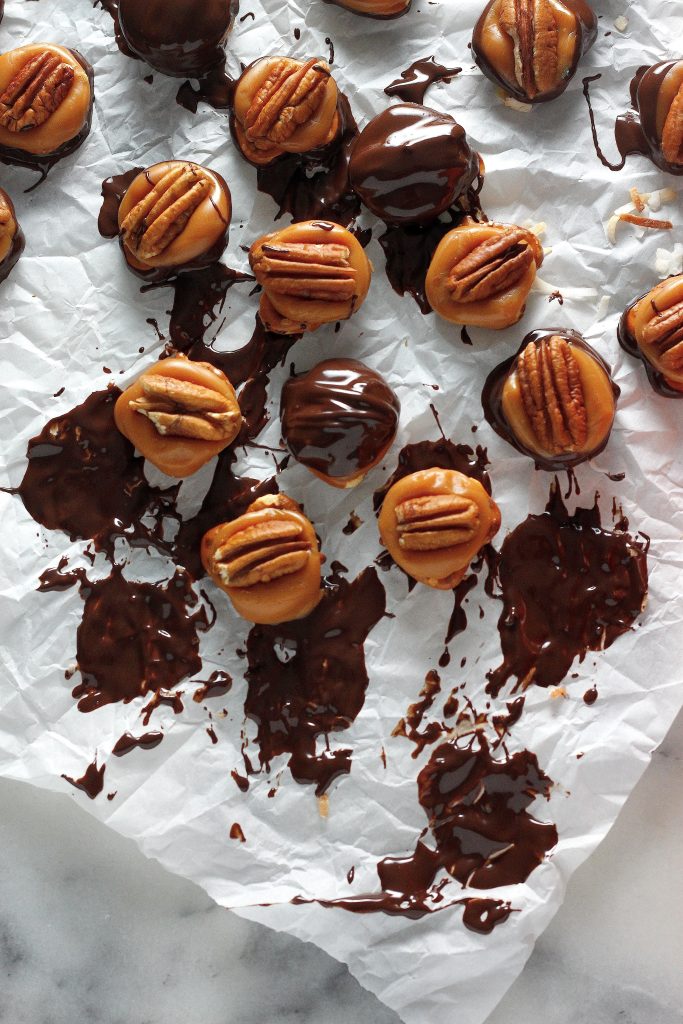 These salted caramel pretzel pecan bon bons are definitely going to be in high demand this year! Crunchy pretzels topped with soft, chewy caramel, salty pecans, and, if desired, a sprinkle of toasted coconut.
They're pure perfection!
This recipe yields 40 bon bons, meaning you could eat 10 and still have enough to make 3 loved ones very happy! I find 10 bon bons per bag/box is the perfect amount for gifting! But you can of course give more/less, as you see fit.
Because I love you – step by step pics! <3
First you're going to line your baking sheet with the pretzels. So seriously simple.
Next place a caramel on top of each pretzel…
And bake them for 7-8 minutes. You want the caramel soft enough to accept the pecan, but definitely not melted! So keep an eye.
Once the caramel pretzels have emerged from the oven, you'll want to quickly press a toasted pecan into the top of each one. Mmm!!! Things are getting good!!!
Do you know what time is? Chocolate o'Clock! You'll need 10 ounces of chopped chocolate…
and you'll melt it down with a smidge of coconut oil, vanilla, and cinnamon. YUM—>I want to drink it straight. Chocolate shots anyone?
Now it's time to get messy. You'll dunk each bon bon in the melted chocolate (I find lining the table with parchment paper during this process really helps when it comes time to clean up) and then sprinkle the toasted coconut on top, if using. You may also choose to only dunk the bottoms, or dunk the bottoms and drizzle the tops with chocolate, or, well, there are endless creative options here! Feel free to be as wild or modest as you feel… you know I went MAD crazy with the chocolate, right? I am a chocoholic through and through. I have my mother to thank for that 😉
The chocolates will need to come to room temperature before you eat/box them, so be sure to keep that in mind.
Salted Caramel Pretzel Pecan Bon Bons are SO easy to make and really do make an amazing gift to any chocolate lover! I also like to make a big batch and slip a few in C's lunchbox everyday as a special treat. I'm such an enabler 😉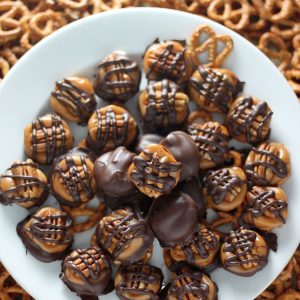 Salted Caramel Pretzel Pecan Bon Bons
Salted Caramel Pretzel Pecan Bon Bons
Ingredients
40 Mini-pretzels (be sure to use whole, unbroken ones)
40 Kraft Caramels, Unwrapped
10 ounces, Baker's Semi-sweet Chocolate
1/4 teaspoon cinnamon
1/2 teaspoon vanilla
1 tablespoon coconut oil
40 whole Pecan Halves, toasted
1/2 cup toasted Baker's shredded coconut, optional
Instructions
Preheat oven to 325 degrees (F).

Line a large baking sheet with parchment paper or a silicone baking mat. Arrange the pretzels in neat rows on the pan, then top each pretzel with an unwrapped caramel. Place the pan into the oven for 6 minutes, or until the caramels are softened; remove the pan from the oven.

Gently press a toasted pecan half onto each caramel; set aside and cool completely.

In the meantime, melt the chocolate, coconut oil, cinnamon, and vanilla. You can do this on the stovetop or in the microwave.

When the caramel covered pretzels have cooled, remove them from the baking sheet.

Place a few in the bowl of melted chocolate, stir them around to coat completely, then remove them one at a time, allowing excess chocolate to drip off; repeat until all pretzels have been dipped; transfer to a parchment paper lined baking sheet. Top wet chocolate with coconut, if using.

Allow chocolate coating to cool completely before serving.