Learn How to make easy Salted Caramel Sauce with this foolproof recipe! Made with six simple ingredients you probably have in your kitchen right now! No candy thermometer required!
Salted Caramel Sauce Recipe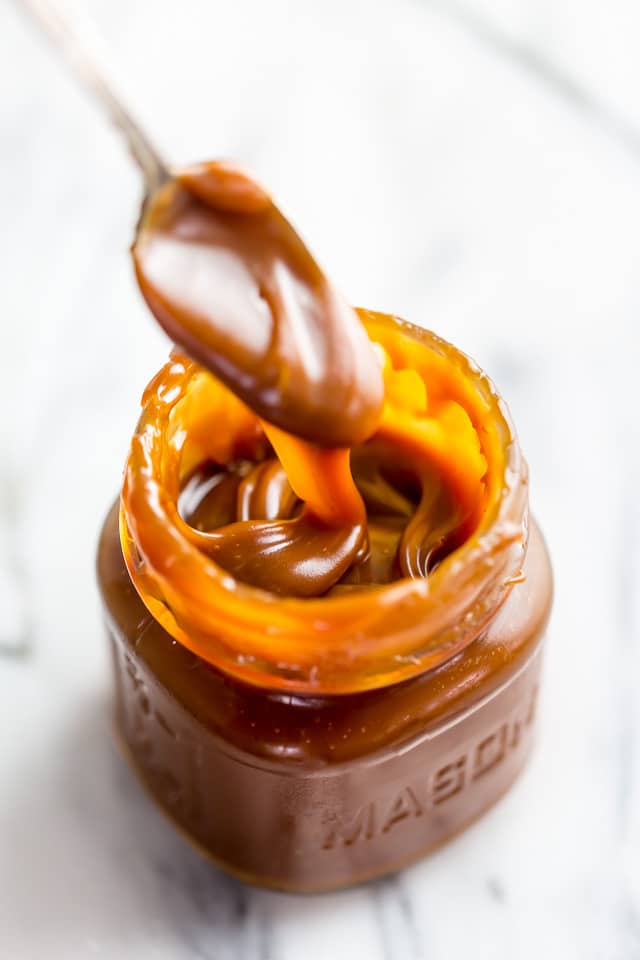 How to Make Caramel Sauce
Last month we went to LA for my 30th birthday and celebrated with a 5 day marathon of my favorite activity: eating. Because we all know calories don't count on your birthday, right?
One of the places we indulged at was Salt & Straw; a Venice beach ice cream shop notorious for its creative flavors… and long lines. After 45 minutes of waiting, we finally reached the counter and sampled a bounty of impressive flavors. But the one that really won me over was the sea salt with caramel ribbon. I know… it sounds pretty basic, but it was incredible! So naturally, I've been trying to recreate a homemade version that does my memory justice. The first step? Make a killer salted caramel sauce!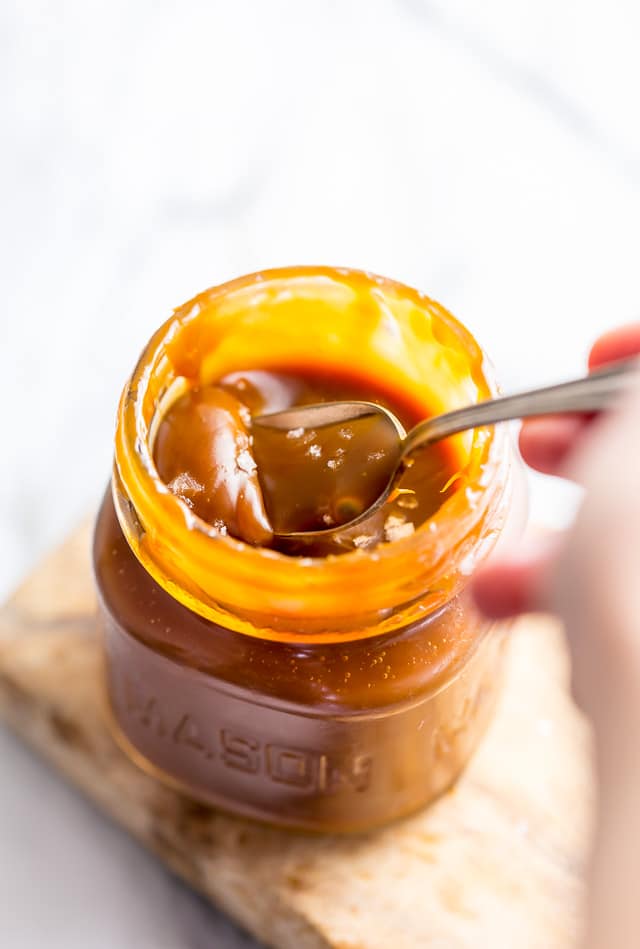 So, that's just what I did. And honestly, this sauce is so good I've all but forgotten about making the ice cream! Because drizzling this stuff on top of a bowl of store bought vanilla is almost just as good ♥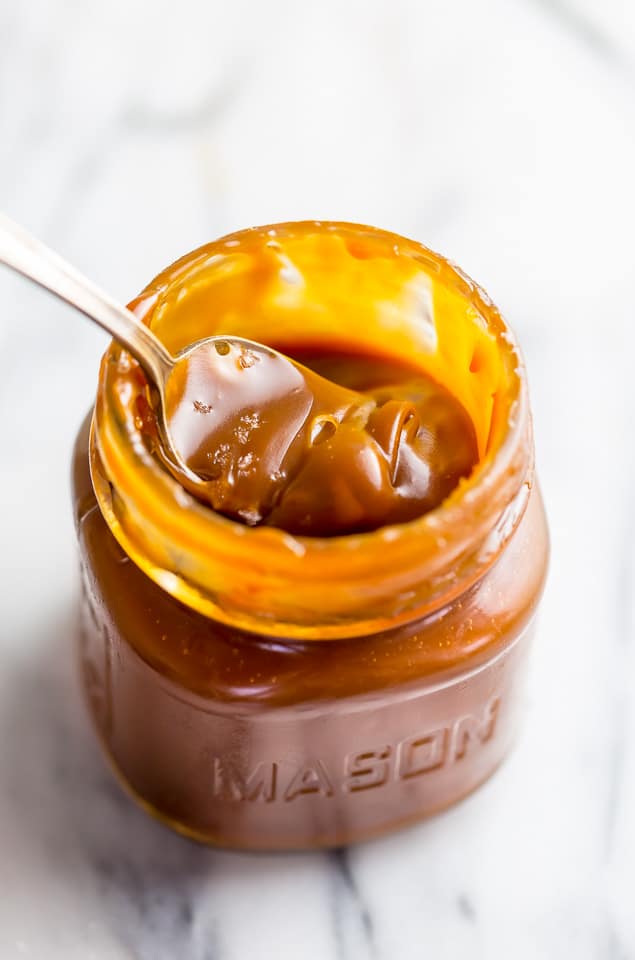 And just for the record, this salted caramel sauce is not just for ice cream! It's way more versatile than that. It's great on apples, brownies, cookies, cakes, etc. And you can use it in most recipes that call for salted caramel sauce!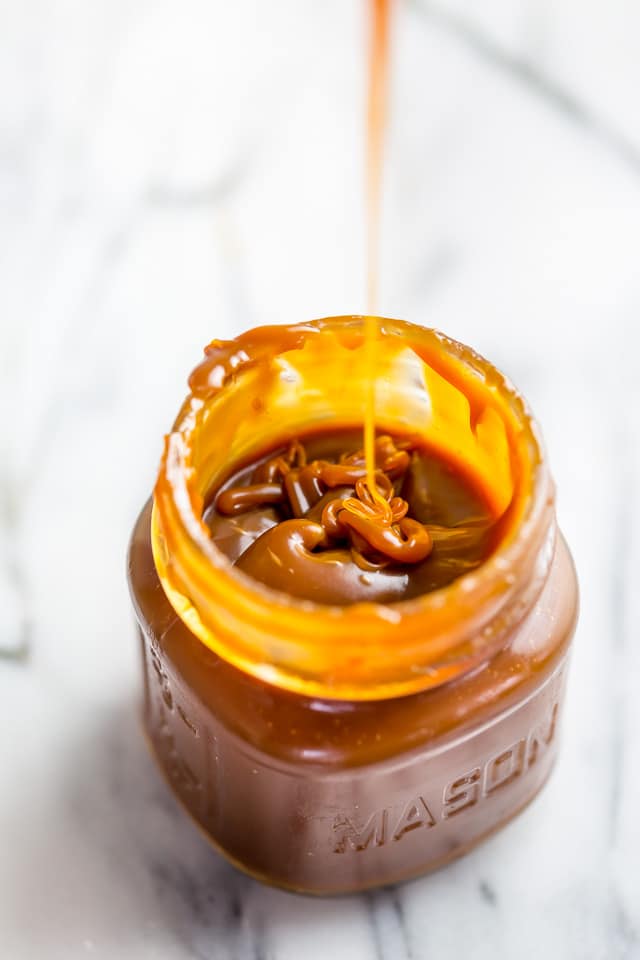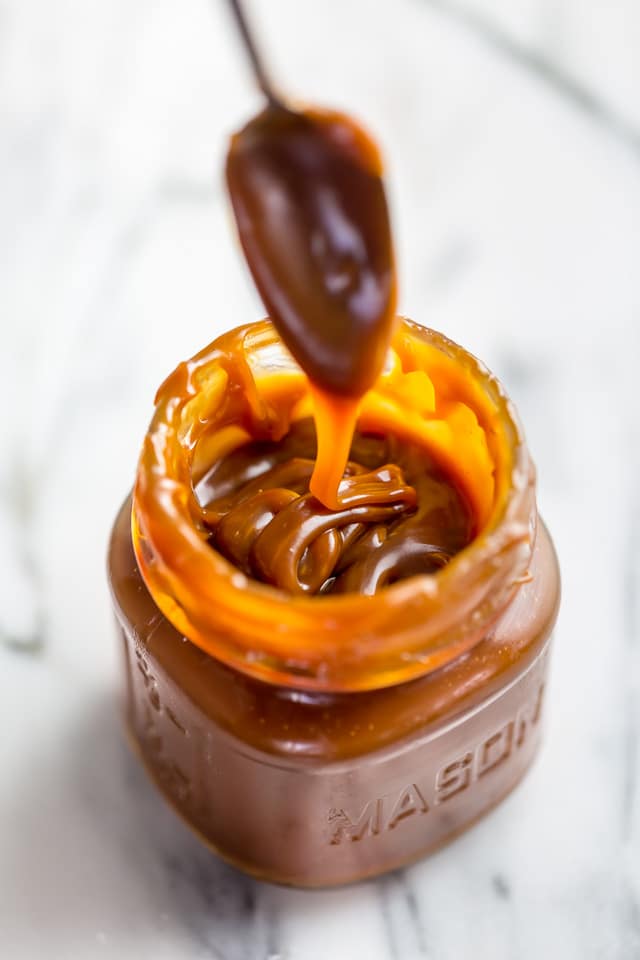 Tips and Tricks for Recipe Success:
You're going to want to use a pot with very tall sides, because when you add the cream to the caramel it will bubble up furiously!
Speaking of the pot, be sure to use a high-quality heavy metal pot. Most cheap cookware is very thin and heats unevenly, so avoid using them for caramel. I also don't recommend non-stick pans since high-heat can damage them. I love using this Kitchenaid saucepan.
Once you've added the sugar and water to the pan, you'll want to whisk them together until combined, then avoid stirring the rest of the time. Instead, occasionally, and gently, tilt the pan side-to-side to help the ingredients cook evenly and avoid burning. This no-stir method helps avoid sugar crystals from forming.
The caramel takes time to develop, so be patient while it boils. You want it to reach a deep golden brown color before removing it from the heat. Removing it too soon can cause gritty caramel.
Once you've removed your caramel from the heat you want to add your cream right away! Make sure you've placed it in a spouted measuring cup so you can slowly add it in. As mentioned earlier, the mixture will aggressively bubble up, but as long as you used a tall sided pan, it won't overflow. Be sure to whisk the mixture together well after adding the cream.
Because the caramel is so hot when it comes off the stove, it will look very thin. However once it cools it will thicken up quite a bit. If you'd like to return the caramel to a liquid form, simple reheat it in the microwave or on the stove top.
Be sure to use quality sea salt. I recommend Maldon because it's flaky, flavorful, and easy to find!
Finally, if you burn your caramel… there's unfortunately no method of saving it. Just toss it and start over again.
Salted Caramel Sauce Recipes:
If you try this recipe for Easy Salted Caramel Sauce, let me know! Leave a comment below and don't forget to snap a pic and tag it #bakerbynature on instagram! Seeing your kitchen creations makes my day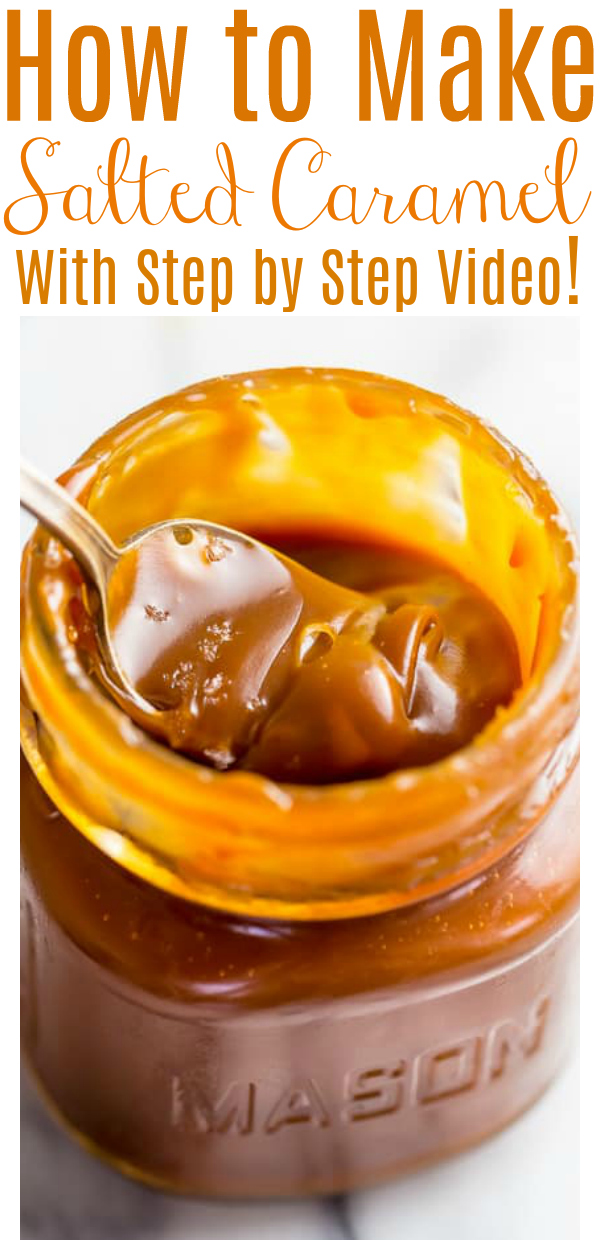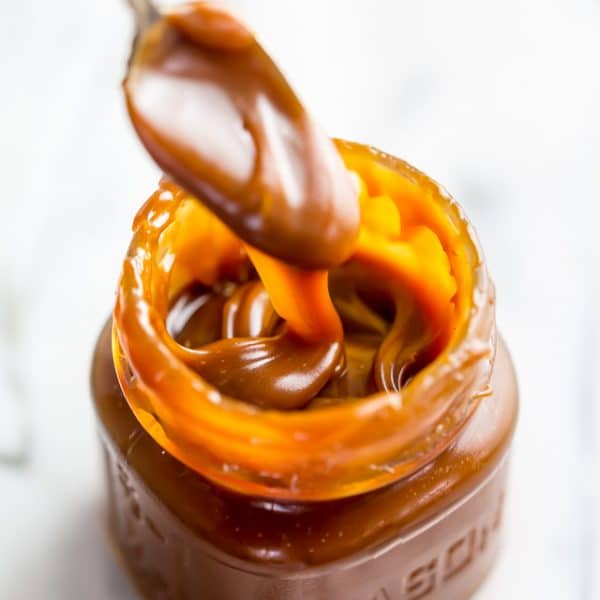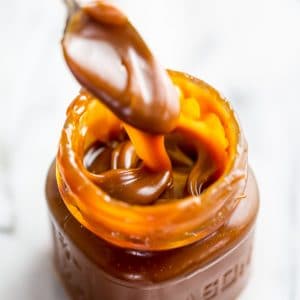 Easy Homemade Salted Caramel Sauce
This is an easy and foolproof recipe for Salted Caramel Sauce! If you have 20 minutes, you can make this!
Ingredients
1 cup granulated sugar
1/2 cup water
4 ounces (1 stick) butter
1/2 cup heavy cream
1/2 tablespoon pure vanilla extract
1 teaspoon flaky sea salt
Instructions
Whisk together granulated sugar and water in a medium-sized saucepan with tall sides.

Cook over medium-low heat until the sugar is completely dissolved, about 3 to 5 minutes, but maybe a little longer depending on your stove.

Add in the butter and bring the mixture to slow boil over medium-heat. Continue cooking until the mixture turns a deep golden brown/copper color, about 9 to 10 minutes, maybe longer depending on your stove. Do not stir during this process!

Once the caramel reaches this color, remove from heat and immediately add in the heavy cream. Be very careful during this step - the caramel will hiss and bubble up aggressively!

Finally, stir in the vanilla and sea salt. Vigorously whisk the mixture smooth and set aside to cool. Store caramel in the fridge until needed.
Notes
You may use salted or unsalted butter.
You may make this caramel sauce up t0 2 weeks in advance. Just be sure to tightly cover it (I love storing mine in mason jars)  and store it in the refrigerator.
Heavy cream can be found in the diary aisle in most grocery stores. Whipping cream may also be used. Do not use milk!
All stoves run a little differently, so be sure to watch the caramel as it evolves, and time accordingly. You might need to add an additional 5 or even 10 minutes to the boil time if your stove top runs low.