This Salted Caramel Apple Crisp features a juicy apple filling and a buttery crumb topping! A scoop of vanilla ice cream on top is so delicious! And you can use my easy salted caramel sauce for this recipe!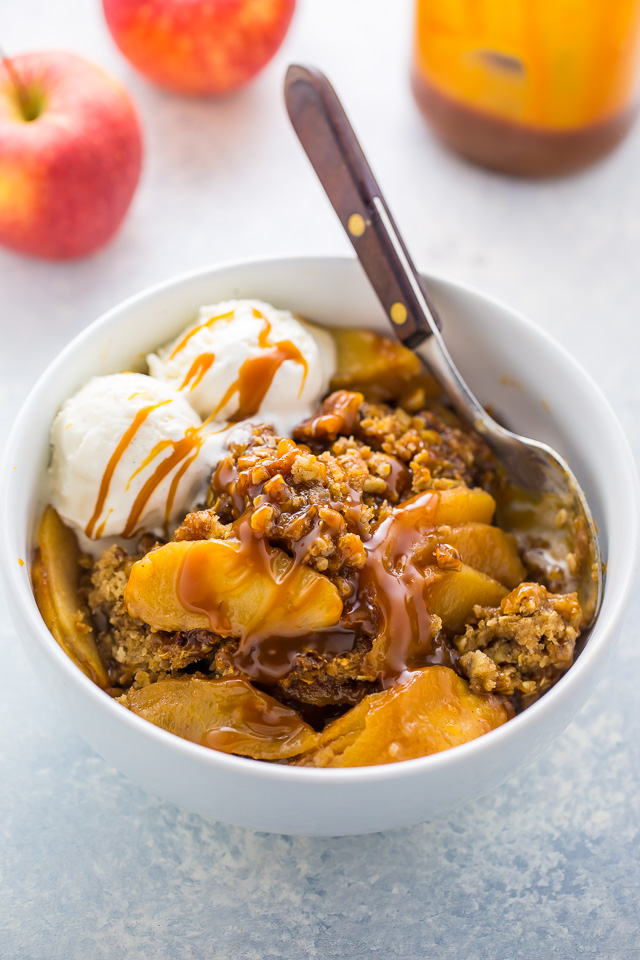 Caramel Apple Crisp Recipe
Winter is officially in full swing here in the Hudson Valley! which means I'm craving all of the cozy things all of the time. Fuzzy sweaters, scented candles, hot showers, mugs of coffee, and a warm bowl of salted caramel apple crisp can make even the most miserable day more manageable!
One of the best things about this caramel apple crisp dessert is that it's SO easy! No crust to roll, no dough to chill, no pie to cool. Simply slice some fresh apples, make your topping, pour everything into a baking dish and bake in your preheated oven until the topping is golden.
To serve, add some ice cream or beat heavy cream until nice and fluffy viola – you'll have homemade whipped cream!
This crisp features everything you love about apple pie, without all of the work!
Best Caramel Apple Crisp Recipe
Tips and Tricks for Recipe Success:
You may use homemade salted caramel sauce or store bought salted caramel sauce for this recipe.
Don't slice your apples too thin or they'll become soggy as they bake. Medium-sized slices will yield the best results.
This salted caramel apple crisp is best served warm, the same day it's made. However leftovers will keep, covered in the fridge, for 3 days.
I love to use a variety of apples in this dessert, but just one type will also work. I find granny smith, jonagold, mutsu, and braeburn are all great baking apples.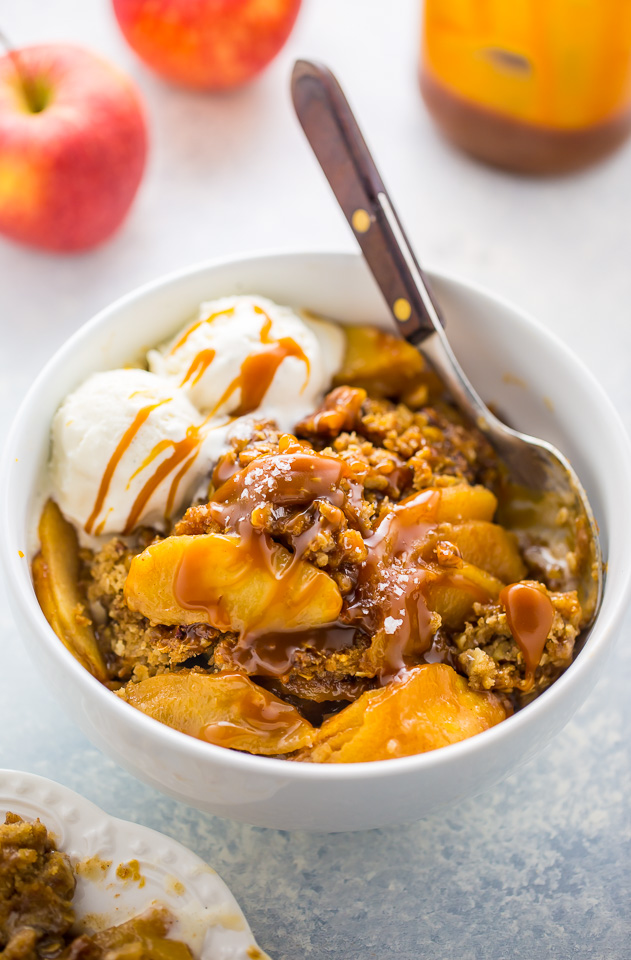 Treat yourself to a batch of salted caramel apple crisp! And don't forget the ice cream 😉
More Salted Caramel Recipes:
More Apple Crisp Recipes:
Salted Caramel Apple Crisp
An easy recipe for Salted Caramel Apple Crisp! So good with a scoop of vanilla ice cream!
Ingredients
For the Apple Filling:
10 cups sliced apples (see post for more on this)
1 teaspoon fresh lemon juice
1 and 1/2 tablespoons all-purpose flour
1/2 cup granulated sugar, packed
1/2 teaspoon ground cinnamon
1/2 teaspoon nutmeg
For the Crumb Topping:
1 cup all-purpose flour
1 cup packed brown sugar
1/2 cup quick-cooking oats
1/2 cup pecans, chopped
1 teaspoon baking powder
1 teaspoon ground cinnamon
1/4 teaspoon ground nutmeg
1/2 cup (4 ounces) unsalted butter, cold and cubed
Instructions
Preheat oven to 375 degrees (F).
For the Apple Filling:
Lightly grease a 9x13 inch baking dish. Place the sliced apples in a large bowl and toss with the lemon juice; set aside.

In a medium bowl combine the flour, granulated sugar, cinnamon, and nutmeg. Sprinkle this mixture over the apples and toss well to coat. Pour mixture into prepared baking dish and set aside while you make the crumb topping.
For the Crumb Topping:
In a large bowl combine the flour, brown sugar, oats, pecans, baking powder, nutmeg and cinnamon.

Using a pastry blender or two forks, cut in the cold butter until the mixture resembles a coarse meal.

Sprinkle over apple mixture.

Bake in preheated oven for 45 to 50 minutes, or until the crumb is golden and the apples are tender.

Drizzle with salted caramel sauce and serve warm, with flaky sea salt and ice cream, if desired.