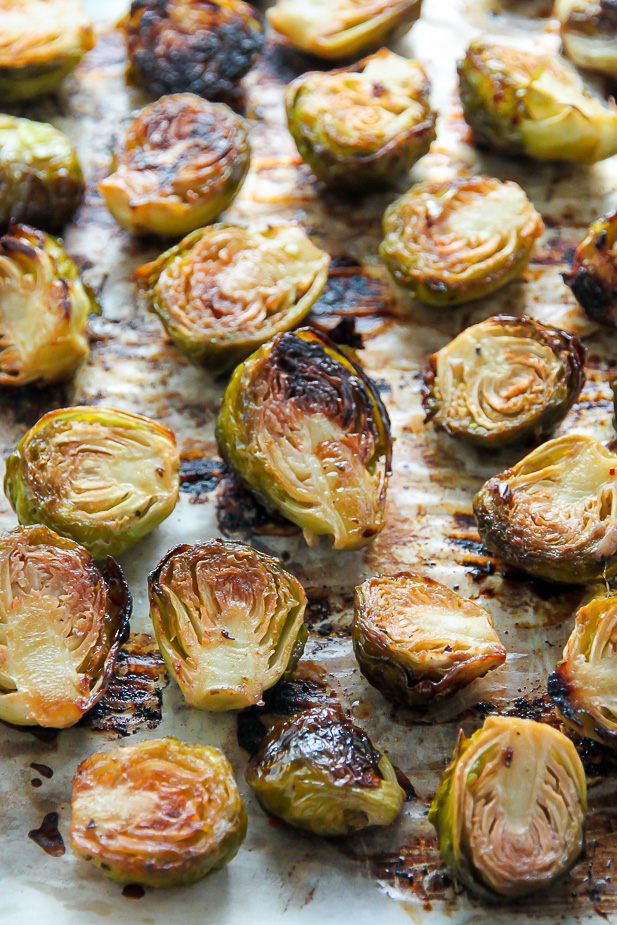 Sicilian Roasted Brussels Sprouts
Yield 6 servings
Crispy and flavorful Lemon Garlic Brussels Sprouts! Perfect side for dinner.
Ingredients
1 1/2 pounds Brussels Sprouts
3 tablespoons extra virgin olive oil
1/2 teaspoon crushed red pepper flakes
2 tablespoons fresh lemon juice, separated
2 cloves garlic, finely chopped or grated
1/4 teaspoon salt
1/2 teaspoon freshly ground black pepper
1/2 cup Parmesan cheese, grated
2 tablespoons balsamic vinegar
Instructions
Preheat oven to 400 degrees (F). Line a large baking sheet with parchment paper; set aside.
Cut off the ends of the brussels sprouts and slice them in half, vertically. Toss them in a large bowl with the olive oil, crushed red pepper flakes, lemon juice, garlic, salt and pepper. Pour them out onto the prepared baking sheet and roast for 35 to 40 minutes, or until lightly brown and crispy on the outside. Shake the pan every 10 minutes or so to ensure they brown evenly. Once removed from the oven, transfer sprouts to a large serving bowl, stir in balsamic vinegar and cheese, mixing well to coat. Taste and adjust seasonings as needed (I typically add a little extra salt and lemon juice). Serve warm.
Courses Dinner
Cuisine Italian
Amount Per Serving
% Daily Value
Recipe by Baker by Nature at https://bakerbynature.com/sicilian-roasted-brussels-sprouts/