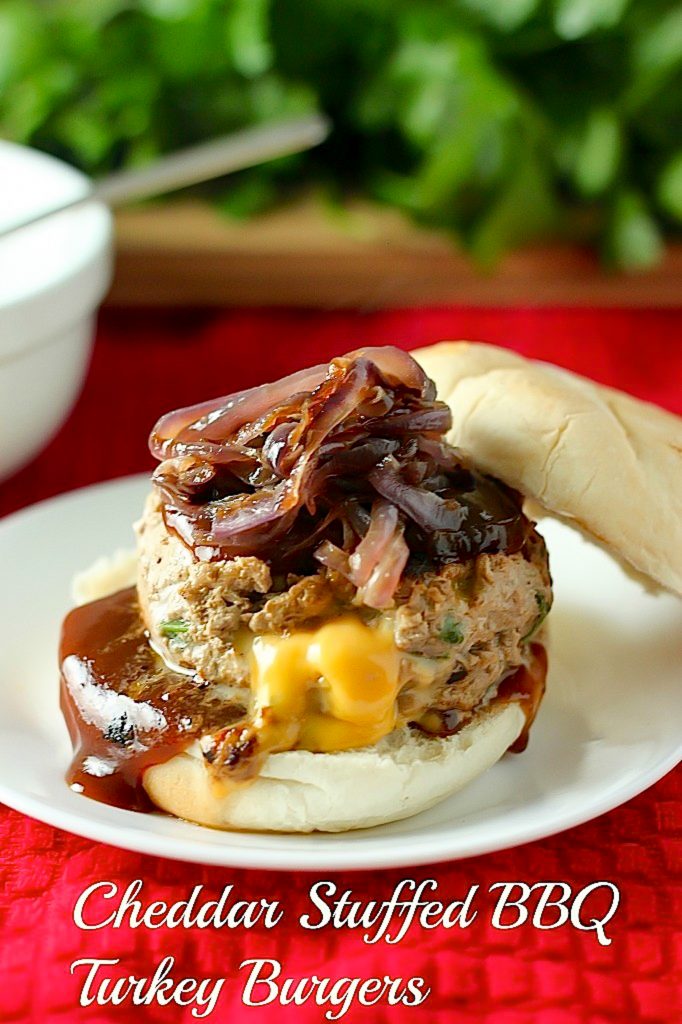 Looking for a fun way to doll up your next turkey burger? Stuff them with cheese and BBQ sauce!!! Juicy, flavorful, and so simple to whip up in 30 minutes… everyone loved this Summer meal!
Today we're taking a quick break from dessert to talk dinner! More specifically ————-> to talk about this simple, budget friendly, totally decadent turkey burger recipe. Yum-may!!!
Question: Are you a fan of turkey burgers? I wasn't sold on them until recently, but now I AM HOOKED. I blame (thank) this easy, cheesy recipe for that.
A few things I'm loving about this recipe:
1) Quick, simple steps! Seriously. The assembly couldn't be simpler.
2) There's some sneaky spinach in the meat mix. Yep. And guess what? It works. Green and delicious? Win.
3) Flavor flavor flavor. There is so much juicy, cheesy, BBQ boom flavor in every bite. <3
4) All of the cheese. I <3 cheese. Always and forever. Kraft Velveeta + Classic American melted, gooey and smooshed inside a burger?! The end.
These burgers are stuffed with cheese, which may sound a little intimidating if you've never done this before. Have no fear! It couldn't be easier. And to help you get stuffing, I clicked a few step by step photos… just in case 😉
Step #1: Place the turkey, bbq sauce, spinach, salt, and pepper in a large bowl.
Step#2: MASH!!! It all together. With your hands!
Step #3: Divide meat into 4 patties, and stuff with cheese. YUM.
Step #4: Top each patty off with a little more meat, and seal them up. The better you seal, the better chance you have of keeping all the cheese inside during the cooking process.
Step #5: Cook the patties. You can do this on the grill. Or on the stove top. Either way, they'll come out looking something like'a thiiiiis. Mmmm!
Step #6: DEVOUR.
Savory BBQ Turkey Burger Heaven. Nuff said 😉 xoxo
Simple Dinners: Double Cheddar Stuffed BBQ Turkey Burgers
Ingredients
For the onions:
1 large red onion
2 tablespoons olive oil
1 teaspoon salt
1 teaspoon sugar
For the turkey burgers:
1 pound lean ground turkey
1/2 cup baby spinach leaves, finely chopped
1 large egg
1 tablespoon Kraft Brand BBQ sauce plus more for drizzling
1 teaspoon salt
1/2 teaspoon ground black pepper
4 slices Cheddar Cheese, each slice cut into 4 (like a square)
4 slices Kraft VELVEETA cheese slices, each slice cut into 4 (like a square)
4 hamburger buns
Instructions
For the onions:
Place 2 tablespoons of oil in a large skillet over medium heat. Add onions and cook, stirring occasionally, for 20 minutes, or until softened and slightly caramelized. Add salt and sugar and cook for another 10 minutes. Remove pan from heat and set aside.
For the burgers:
Place ground turkey meat, chopped spinach, egg, bbq sauce, salt and pepper in a large bowl. Mix (using your hands or a large, strong spatula) until well combined. Divide meat into 4 even balls, then remove a small golf ball sized chunk from each patty. Roll the larger balls of meat into even patties, then press 4 squares of the cheddar cheese on top of 4 squares of the VELVEETA cheese. Press the cheese stack into the center of the large patty, then top the cheese with the golf ball sized meat ball, pressing it down and sealing the cheese in.

Heat a large skillet or grill over medium-high flame. Add oil or butter to the skillet, if using, then add the patties. Cook for about 5 minutes per side for a medium cooked burger.

Place burger on bun, and top with onions and bbq sauce. Serve at once.