My Lightened Up Chicken Parmesan Lasagna features 4 fabulous layers: Creamy ricotta cheese; gooey mozzarella; a pop of Parmesan; tangy marinara; flavorful chicken; crunchy panko bread crumbs; and of course – the NOODLES! This is one Sunday Supper you don't want to miss.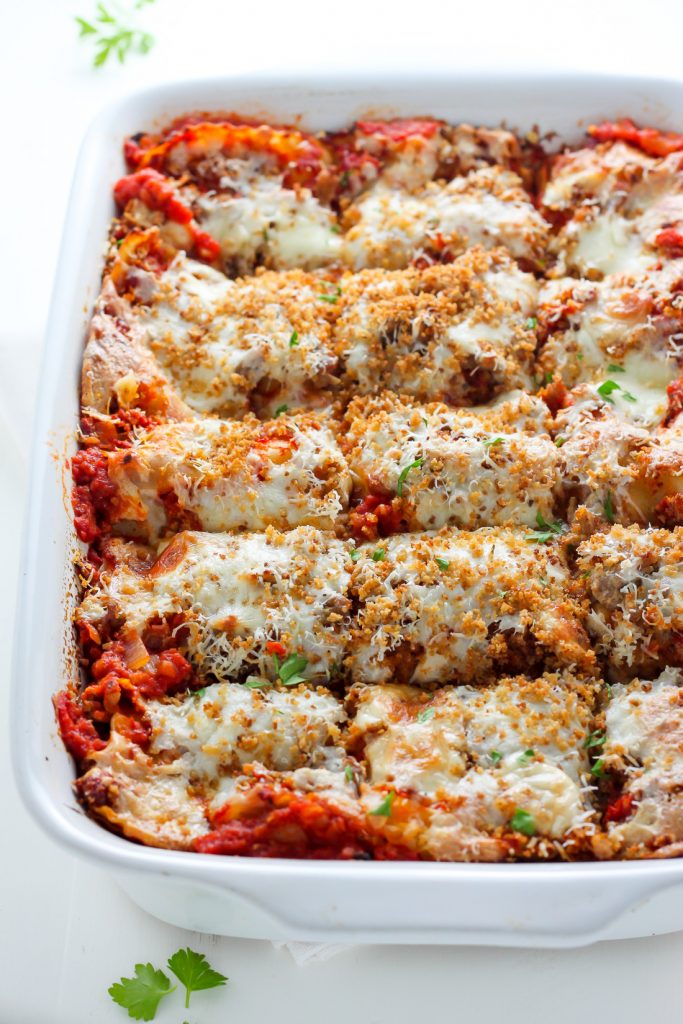 Any day… any hour… any season of the year, if you ask me my favorite food the word "PASTA" will fall out of my mouth honestly and effortlessly. Pasta is my favorite food. More specifically, this Simple Spaghetti Fra Diavolo. When S and I moved into our very first apartment we were on such a tight budget I must have made that dish 3 times a week! Add a cheap bottle of wine and and a little loaf of crusty bread <—— HEAVEN.
But I digress. Today I'm here to tell you about my newest pasta love – Lightened Up Chicken Parmesan Lasagna. This not so simple (there are quite a few steps) but very straightforward recipe has won my heart and has definitely become a close runner up in the title for "best dinner option when you're craving comfort food".
1) 99.9% of this recipe can be done ahead of time. I made this while baking 3 other recipes and found it easy to do one step at a time, then assemble and bake right before dinner, making this a great make ahead meal.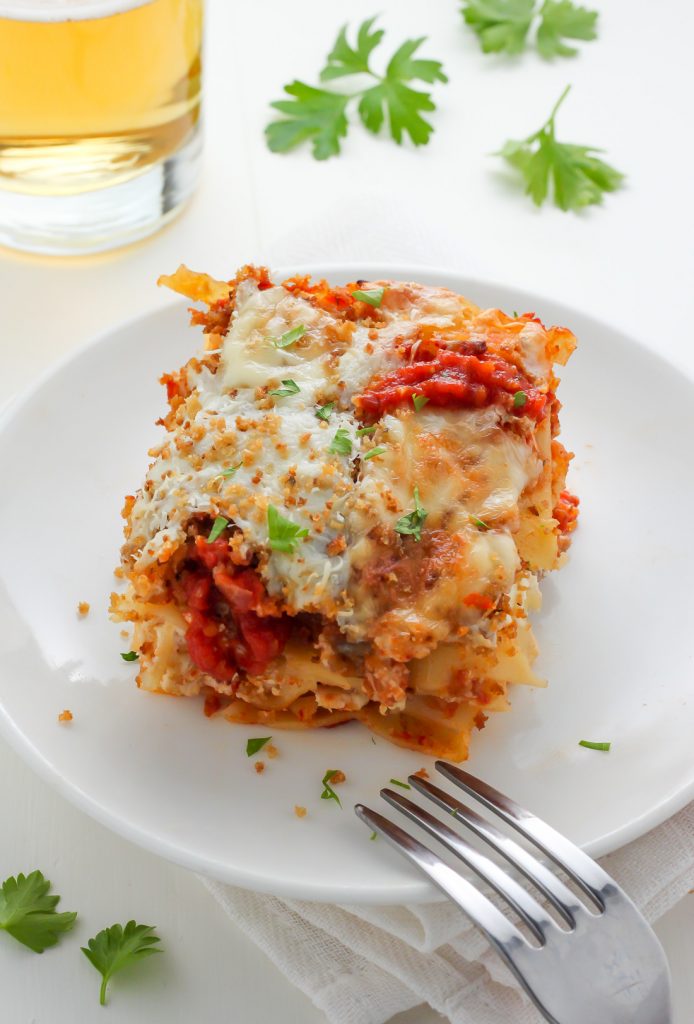 2) This recipe is lightened up! I use ground chicken here, which is hearty, full of protein, and low in all the naughty stuff. I also cut the ricotta cheese waaaaaay down. Many recipes call for up to 2 pounds! I used 2 cups in this recipe, and still found it plenty creamy. I also cut calories by only using the Parmesan and Panko on top of the lasagna. True Story: My cheese loving better half proclaimed this was THE BEST lasagna he'd ever had! <—- If this doesn't prove less is more, I don't know what does ;)3) If you're a smaller family like us, you can freeze this meal, or eat some for dinner then live on the leftovers for lunch all week long! We went with the second option and I have to say – much to my surprise – even by the fourth day I was not sick of lasagna for lunch. It reheats like a dream and will last up to 4 days covered in the fridge.
4) ALL OF THE FLAVORS; ALL OF THE TEXTURES. Seriously though, if you're a sucker for big Italian flavor this recipe is for you. If you love soft noodles (with those wonderful crispy edges) baked in layers of sauce, chicken, and cheese, you guessed it – this recipe is for YOU.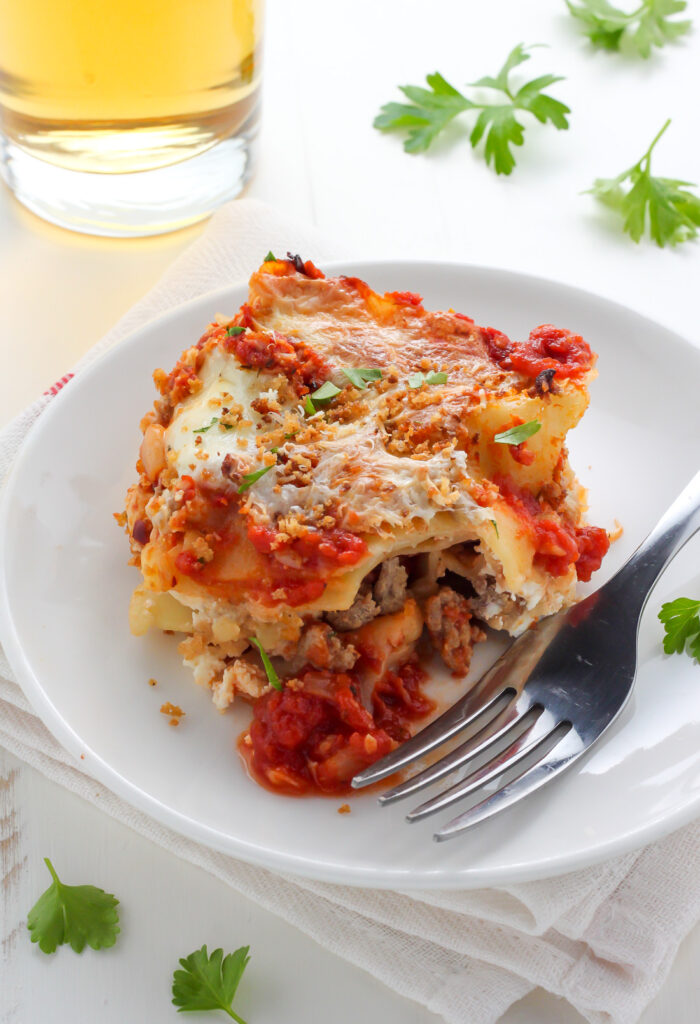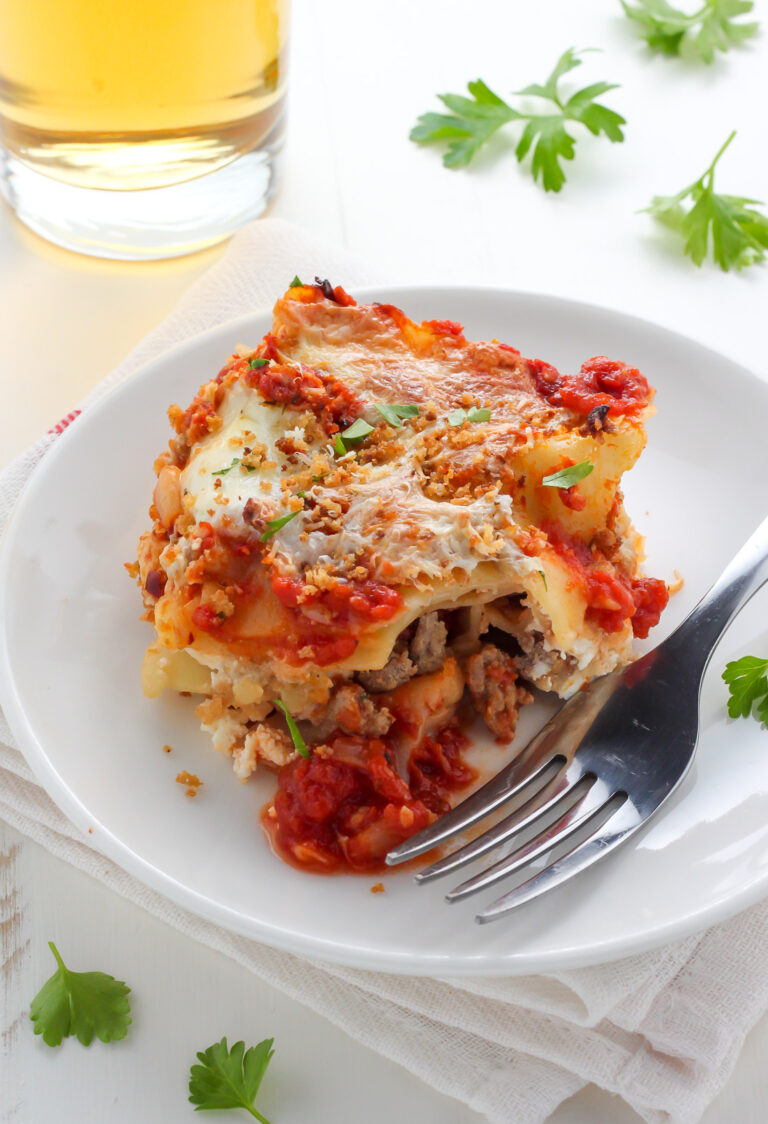 In non-food related news – how is your weekend so far? We're taking it suuuuper easy. My best friend is flying in Tuesday, so tomorrow will be full of cleaning, baking, and just getting everything in order. But today? Today is all about extra creamy iced coffees, strolling through the farmer's market, hopping in the car for a day trip to a near by town we've been itching to visit, and a late afternoon TV marathon (I just started watching The Good Wife and am HOOKED). What have you guys been up to? xoxo
P.S. For the sauce in this recipe feel free to use your favorite store-bought brand, or try making it homemade! Here's a link to my Classic Marinara Sauce.

Lightened Up Chicken Parmesan Lasagna
A Chicken Parmesan twist on Classic Lasagna!
Ingredients
For the Ground Chicken:
2 teaspoons olive oil (I used extra virgin but use whatever brand/variety you like best)
3 cloves Garlic, minced
2 teaspoons Italian Seasoning
1/4 teaspoon Crushed Red Pepper Flakes, optional (but they give a nice kick!)
1 lb. Ground Chicken
1/4 teaspoon Salt
1/4 teaspoon Freshly Ground Black Pepper
For the Panko:
1 tablespoon Olive Oil
1/3 cup Whole Wheat Panko Bread Crumbs
For Lasagna:
12 Lasagna Noodles, boiled according to package
2 1/2 cups Ricotta Cheese (I used whole-milk here, but you may use skim)
1 large egg + 1 egg yolk, at room temperature
1/2 teaspoon salt
1/2 teaspoon freshly ground black pepper
1 tablespoon fresh parsley, chopped
2 tablespoons fresh basil, chopped
3 1/2 cups Marinara Sauce, Store-bought or Homemade will work OK
2 cups shredded mozzarella cheese
1/4 cup Parmesan Cheese, finely grated
Garnish:
Fresh Basil and Parsley, chopped
Instructions
For the Ground Chicken:
Heat the oil in a large skillet over medium-heat. Add the garlic, Italian seasoning, and crushed red pepper flakes (if using); saute for 2-3 minutes. Add in ground chicken, salt, and pepper and cook - breaking the meat up with a wooden spoon - until golden brown and cooked all the way through; 6-8 minutes. Transfer the chicken mixture to a clean plate; set aside. Return empty pan to the burner - you will use this again for the panko.
For the Panko:
Heat the olive oil (in the same skillet you used for the chicken) over medium-high heat. Add in the panko bread crumbs and cook, stirring frequently, until crispy and golden. Remove from heat and transfer breadcrumbs to a small bowl; set aside.
For the Lasagna:
Boil 12 lasagna noodles according to package directions. While they're boiling, prepare the ricotta cheese.
For the Ricotta:
In a large bowl, combine the ricotta, egg, egg yolk, salt, pepper, parsley, and basil; set aside.
Assembly:
Preheat oven to 375 degrees (F). Spread a 1/4 of marinara sauce on the bottom of a 9x13 pan. Layer with 4 lasagna noodles, 1/3 of the chicken mixture, 1/4 cup of the marinara sauce, and 1/2 cup of the ricotta cheese, and a 1/4 cup of the mozzarella cheese. Repeat this two more times, topping the final layer of noodles with remaining meat, sauce, ricotta, mozzarella, panko bread crumbs, and finally, the Parmesan cheese, in that order. Cover the lasagna tightly with a piece of lightly oiled foil. Bake for 40 minutes, then remove the foil and bake uncovered for 15 more minutes. Allow the lasagna to rest for 10 minutes before cutting and serving. Garnish with fresh parsley and basil.
Nutrition Facts
Serving Size 1 Slice
Amount Per Serving
% Daily Value
* Percent Daily Values are based on a 2,000 calorie diet. Your daily values may be higher or lower depending on your calorie needs.