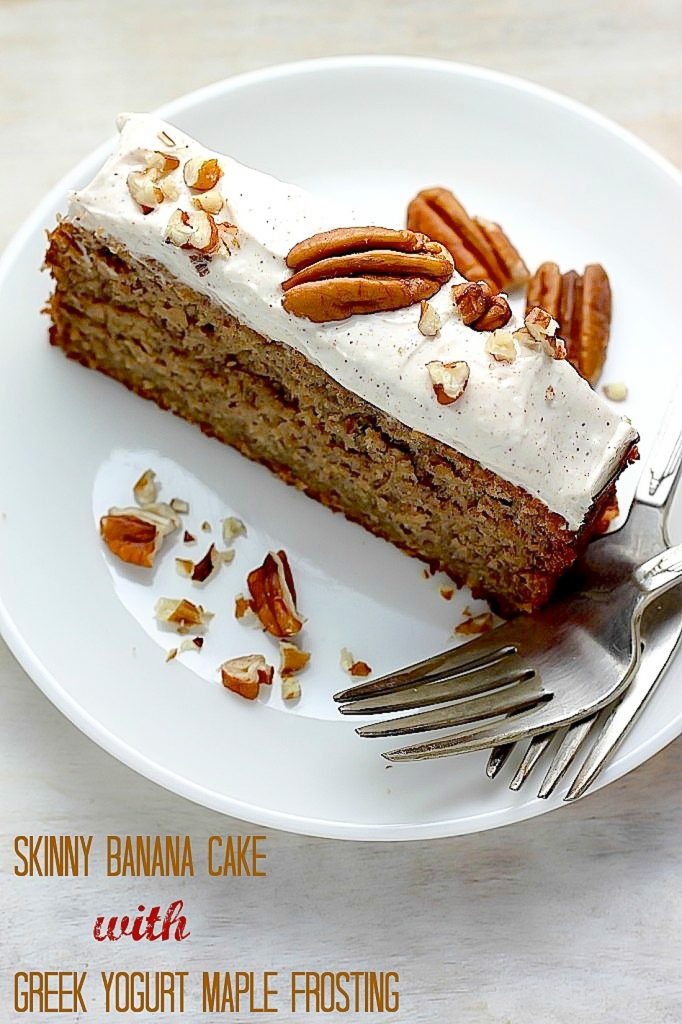 Tender and moist homemade banana bread topped with a light Greek yogurt frosting that's sweetened with cinnamon and just a touch of maple syrup… this skinny banana cake is a truly delightful treat morning, noon, or night! 
Hello, hello friends! Today I'd like you to meet my favorite "I really want something sweet but also really don't want to go overboard with anything crazy and feel like crud from the sugar crash" dessert.
Honestly, I make this Skinny Banana Cake with Maple Frosting at least once a month. Moist tender banana bread + creamy maple frosting + crunchy pecans… I mean, what's not to love?! The fact that it's healthy enough for breakfast and/or a midnight snack makes it a sure winner all around. Even C loves this cake! And that's saying a lot… he is not a fan of "healthified dessert". I think it's the super moist cake slathered in sweet frosting that sold him. It's irresistible!!!
Ok. So time to come clean… the base of this cake is really banana bread. I'm sure you don't mind, right??? Banana bread + frosting though… obviously cake now. The addition of frosting always makes it cake, right?
Moving on… 😉
I originally posted the recipe for this oat flour-maple banana bread a few years ago, and it has been a personal favorite ever since. I buy banana JUST to make this! The recipe uses ALL oat flour – which can be made simply by blending up some oats until they're powder – which results in a light crumb that also just happens to be naturally gluten-free. If you're sensitive to gluten, just be sure to check that your oats are GF! The recipe also uses maple syrup as the sweetener. I always try to use the best stuff I have, as the maple flavor really carries through. There is ZERO processed sugar in this recipe, which I love. A lot of our friends and family have dietary restrictions that keep them from tasting all of my dessert creations, but basically ALL of them can have this cake! Sometimes I buy 4 pounds of bananas in advance just so I can be ready to make this cake at all times 😉 It's that popular! 
Now, let's talk about the frosting! It's made with cream cheese, Greek yogurt, cinnamon, and maple syrup. That's it! Not an ounce of butter or confectioners' sugar. Perfect for my friends who like a sweeter treat! I played around with this frosting a lot, and found that while using zero fat Greek yogurt is OK, fat-free cream cheese is not… trust me on this! The cream cheese helps give the frosting its thick, creamy consistency, so it's important not to mess with that.
This frosting also needs to be refrigerated for 10 minutes before use. I recommend that you "frost" the cake right before serving, and keep the leftovers in an airtight container in the fridge. We've never had this cake last longer than 2 days in our house, but I have a good feeling it may last up to 3… let me know if you have that much self-control 😉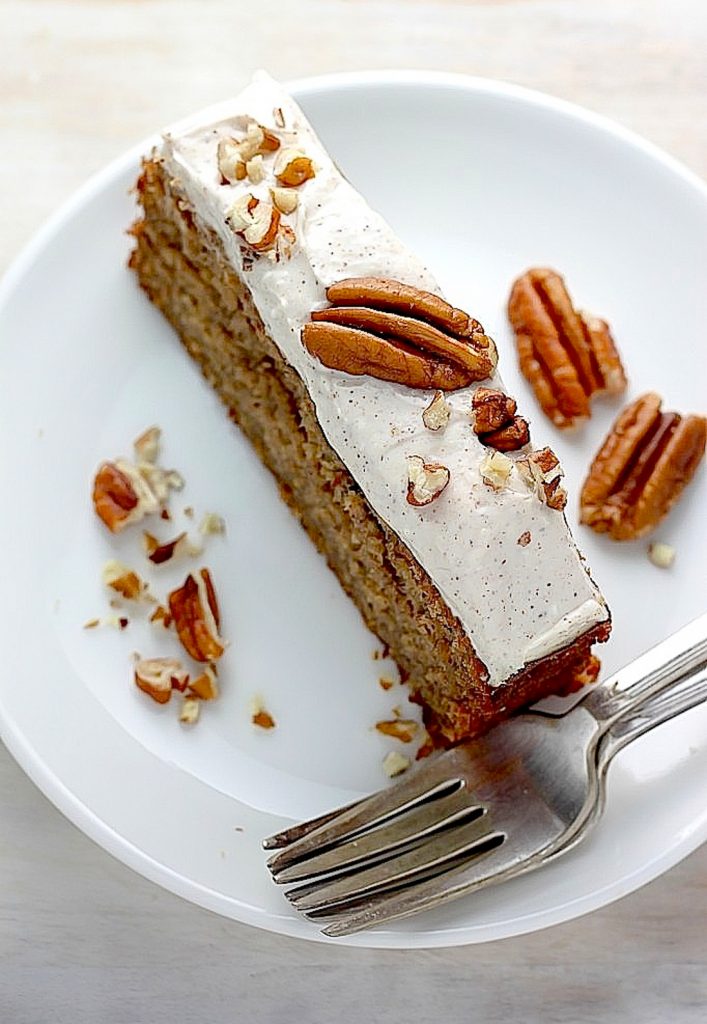 When it comes time to frost the cake, simply slather the frosting on top, and sprinkle with crunchy pecans! You could probably use walnuts here, too – if you're not a pecan fan. For the Oat-flour Maple Banana Bread recipe, click here, and the frosting recipe follows below.
I can't wait for you to try this one! I know I'm raving an awful lot about banana cake… but once you taste the combination of perfectly moist, dense, and richly flavored banana bread paired with creamy cinnamon maple frosting… you'll understand exactly what I'm talking about. xoxo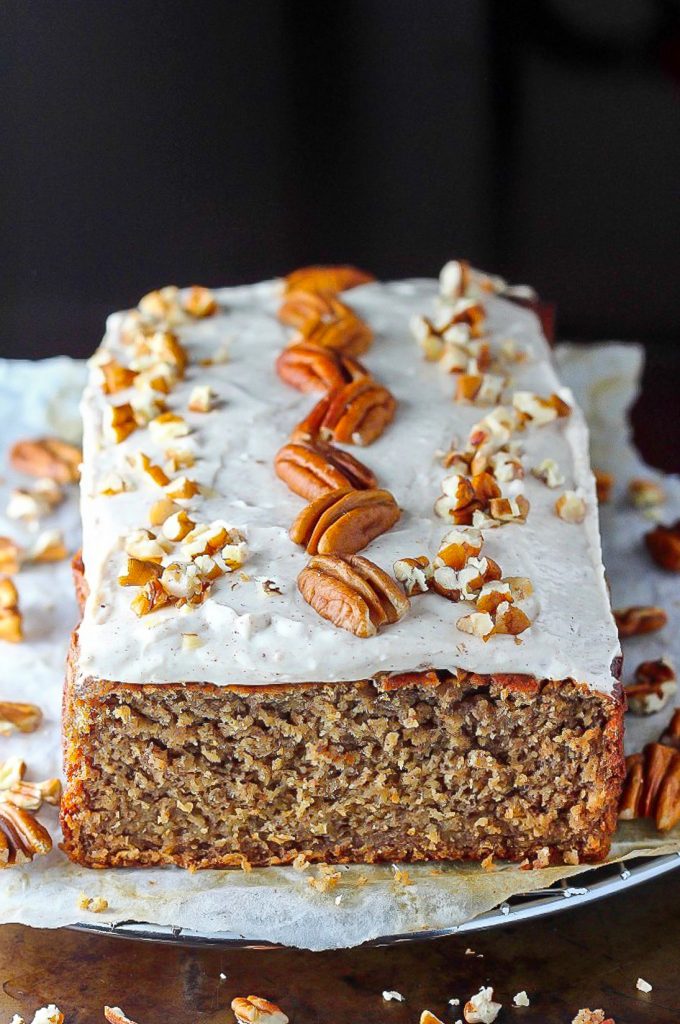 Skinny Banana Cake with Maple Frosting
Ingredients
For the Banana Bread please follow the link in the post; it will take you to the recipe.
For the Greek Yogurt Maple Frosting:
4 ounces cream cheese, softened and cut into small chunks
(1) 6 oz container plain, non-fat Greek yogurt
1 1/2 tablespoons maple syrup
1/2 teaspoon cinnamon
1/2 cup chopped pecans, toasted if preferred
Instructions
Place cream cheese and yogurt in a large bowl or the bowl of a stand mixer fitted with the whisk attachment. Beat on medium speed until light and fluffy and completely combined; about 2 minutes. Add the maple syrup and cinnamon and beat until combined. Be sure there are no clumps of cream cheese left before removing the frosting from the bowl.

When ready to serve banana bread, simply spread frosting on top, and decorate with pecans. Refrigerate frosting until needed, and frost cake right before serving.