Inspired by Mexican Chili Hot Chocolate, these Spicy Dark Chocolate Brownies are rich, flavorful, and undeniably delicious!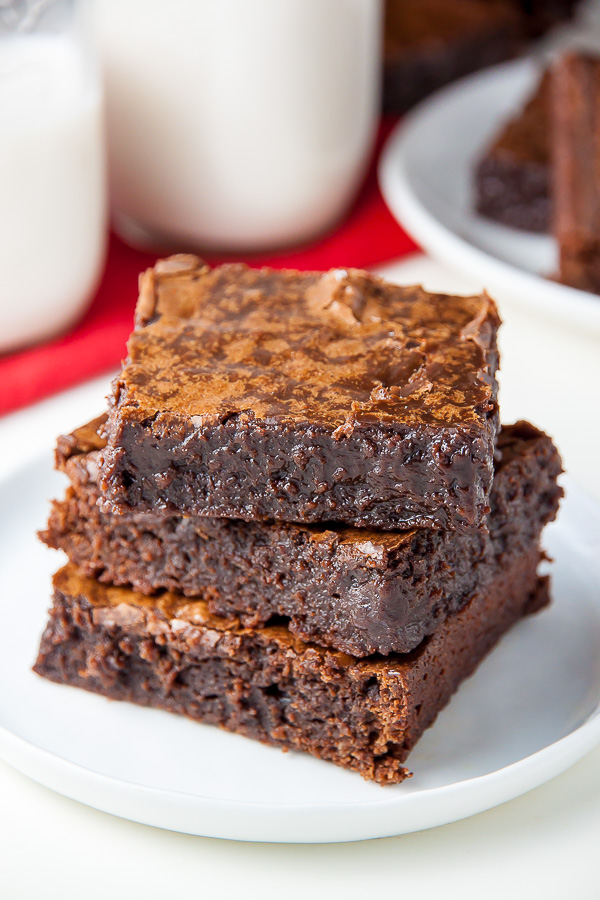 Chocolate Chili Brownies
Over the past few months I've become absolutely smitten with the combination of chocolate and spice. Chili! Chipotle! Cayenne! I don't discriminate; I love them all.
This fiery infatuation was first sparked when my little brother came up for a visit and made us a batch of Mexican Chili Hot Chocolate (recipe coming soon!). Then this feisty ice cream entered my life – I should warn you, it's totally addicting! I've bought over 5 pints in the last few months… then I went broke (they're like 8 bucks a pint – eek!). Followed closely by these cookies… and now, spicy brownies. Clearly, I'm a girl obsessed. I just can't get enough.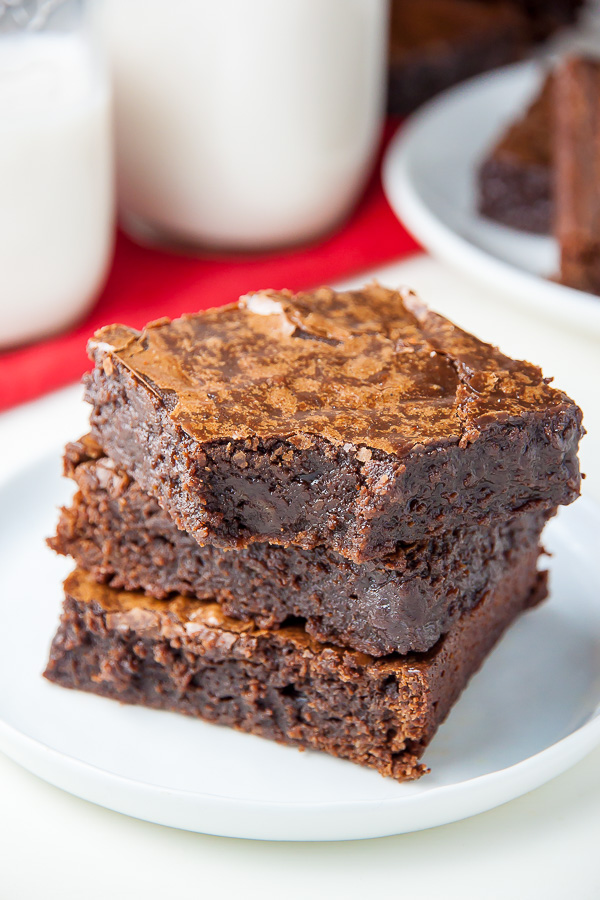 But I digress. Let's focus on what's important here; let's focus on the spicy brownies.
These Spicy Brownies are gooey on the inside, flaky on the outside, and have just enough spice from the cayenne pepper, cinnamon, and nutmeg to make them exciting and absolutely irresistible.
Tips and Tricks for Recipe Success:
Although I provide an estimated bake time in the recipe box below, it's important to keep an eye on your brownies as they're baking. Every oven runs a little different, so yours may be done as early as 20 minutes. When the edges are set, the top is shiny, and the center is just a little jiggly, they're ready to come out of the oven! And don't worry about that wiggly center; the brownies cool in the pan and firm up a lot during that time.
When you measure your flour, be sure you're not packing it into the measuring cup. Flour should be lightly spooned into the measuring cup, then gently leveled off using the flat side of a knife.
Your eggs should be at room temperature before being added to the batter. Batters made with cold ingredients don't come together smoothly, so be sure to take the extra step and bring them to room temperature.
Here's a quick trick for the eggs: to bring cold eggs to room temperature, simply place them in a bowl of warm water for 15 minutes. Just be sure you don't use hot water!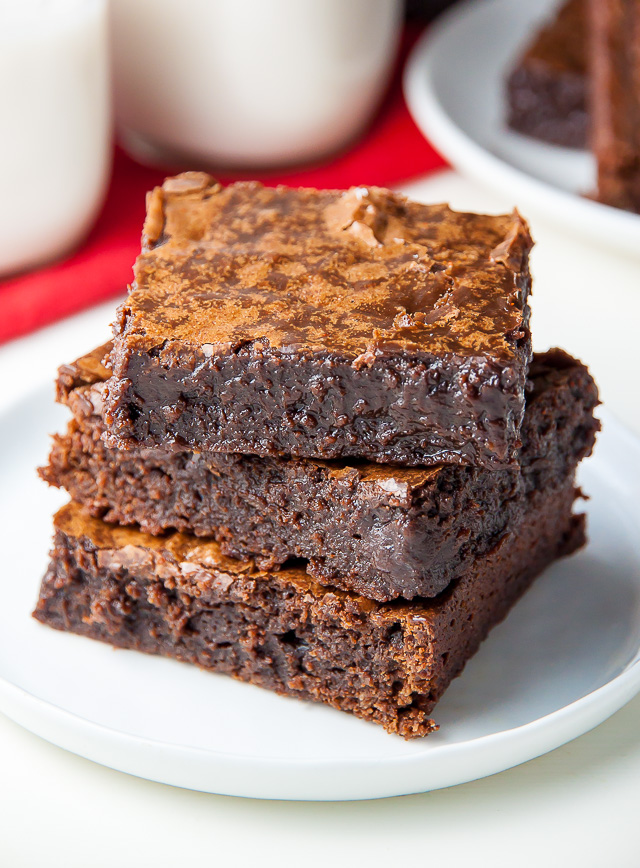 More Brownie Recipes:
If you try this recipe for Chili Brownies, let me know! Leave a comment below and don't forget to snap a pic and tag it #bakerbynature on Instagram! Seeing your kitchen creations makes my day. ♥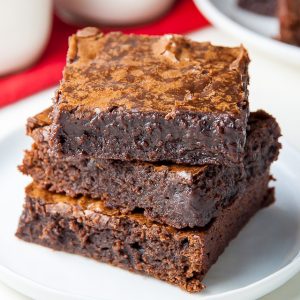 Spicy Dark Chocolate Brownies
Spicy Dark Chocolate Brownies are thick, fudgy, and so flavorful!
Ingredients
1 and 1/4 cups all-purpose flour
3/4 teaspoon salt
1 and 1/4 teaspoons cinnamon
1/2 teaspoon cayenne pepper
1/4 teaspoon nutmeg
2 tablespoons unsweetened cocoa powder
12 ounces dark chocolate, chopped (I used 60% dark chocolate)
1 cup unsalted butter (8 ounces), cut into small pieces
1 teaspoon instant espresso powder
2 teaspoons vanilla extract
1 cup granulated sugar
1 cup light brown sugar, packed
5 large eggs, at room temperature
Instructions
Preheat the oven to 350 degrees (F). Line a 9×13 inch baking pan with parchment paper, allowing two of the sides to slightly overlap. Spray parchment paper and exposed pan with non-stick baking spray and set aside. In a medium bowl, whisk the flour, salt, cinnamon, cayenne, nutmeg, and cocoa powder together, set aside.

Place the chocolate, butter and instant espresso powder in a large bowl and set it over a saucepan of slightly simmering water, stirring occasionally, until the chocolate and butter are completely melted and smooth. Turn off the heat, keeping the bowl over the water. Stir in the vanilla, then add in both the sugars. Whisk until completely combined, then remove the bowl from the pan. The mixture should be room temperature.

Add 3 of eggs to the chocolate mixture and whisk until combined. Add the remaining eggs and whisk until just combined. Do not over beat the batter at this stage or your brownies will be cakey.

Sprinkle the flour mixture over the chocolate mixture and, using a rubber spatula (not a whisk), fold the flour mixture into the chocolate until just a bit of the flour mixture is still visible. Pour the batter into the prepared pan and smooth the top. Bake in the center of the oven for 28-30 minutes, rotating the pan halfway through the baking time, or until a toothpick inserted into the center of the brownies comes out with a few moist crumbs sticking to it. Let the brownies cool completely, then lift them out of the pan using the parchment paper. Cut into squares and serve.

Store at room temperature in an airtight container or wrap with plastic wrap for up to 3 days.
Notes
Recipe should be followed exactly as written for best results.