I make absolutely no effort in hiding my overflowing obsession with Chinese food. I just love it! It may be my favorite take-out option of all time. And I love me some take-out…
Guilty pleasures…!!!
The main reason I <3 Chinese food SO much definitely has a lot to do with fried rice. FRIED RICE!!! Ugh. Even just typing those words gets me excited. It's just the ideal meal when you're looking to not only fill your belly, but fill it with tons of flavor/spice/texture/and awesomeness.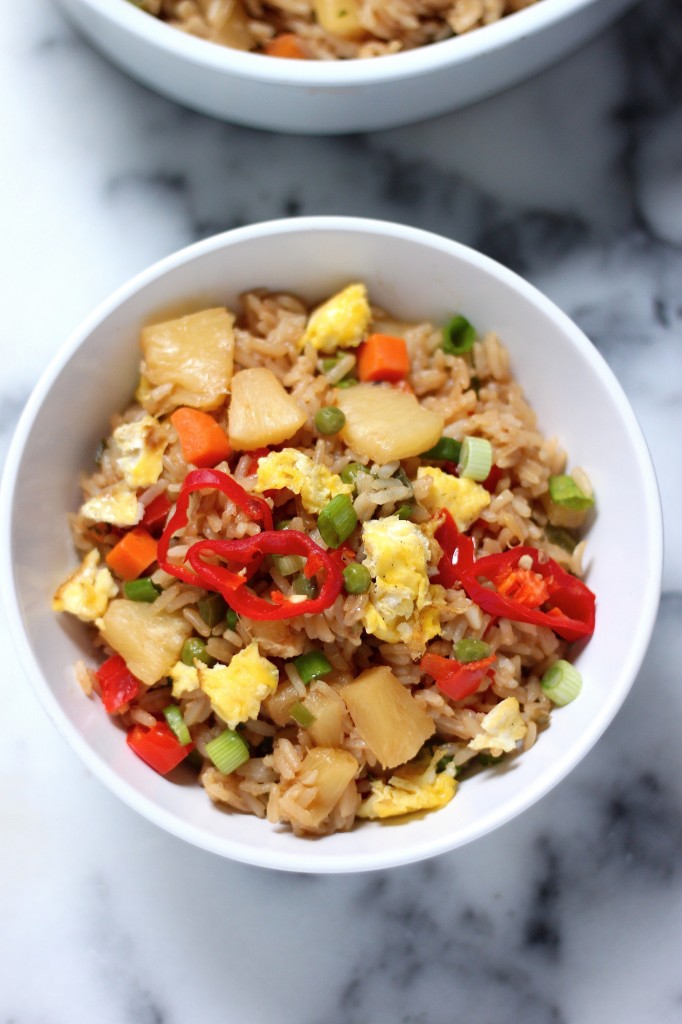 In an effort to do less take-out and more make-in, I went to town over the weekend testing some fried rice recipes. This spicy pineapple version was far and away the BIG winner!
What I loved so much about this fried rice is that it has just the right balance of heat and sweet thanks to the fresh jalapeño peppers and pineapple chunks that burst through in every bite. It's a flavor explosion! In the very best way.
Red bell pepper, carrots, peas, scallions, and scrambled eggs also appear in this fried rice. These great ingredients add all sorts of great flavor/ texture diversity in this dish!
Plus, doesn't it always feel good having a hefty amount of veggies in something with the word "fried" in the title 😉 All about balance!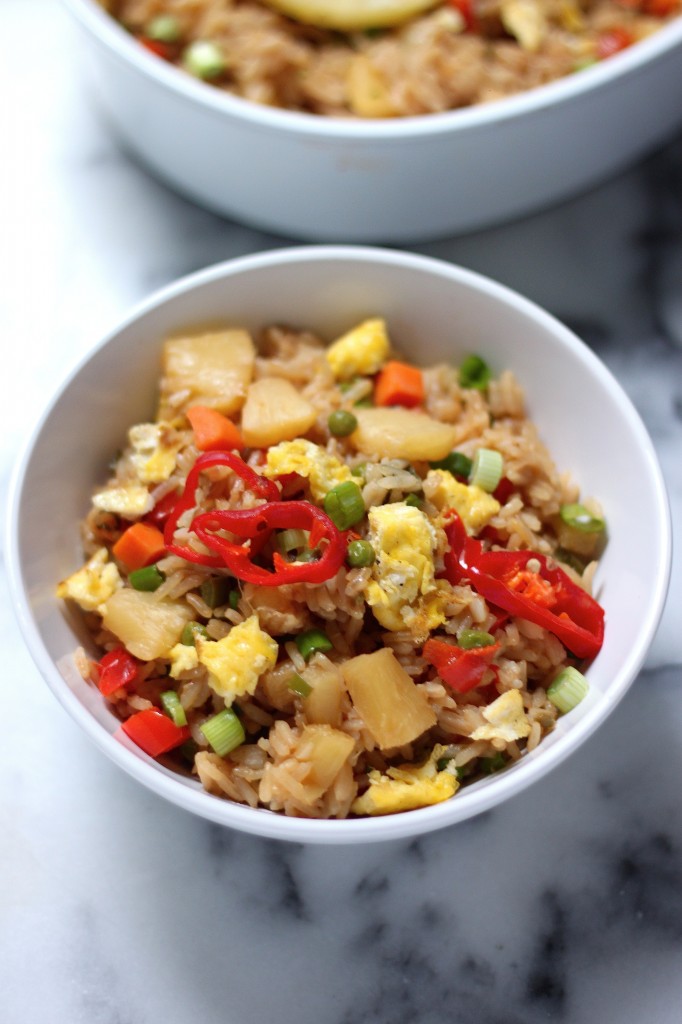 The spice is definitely not overwhelming in this dish, but if you can't tolerate some tongue tingling, I highly suggest cutting the jalapeño amount in half. I love spice, so I actually sprinkled a little extra pepper on top! Both ways are delicious 🙂
Happy Sunday, guys! xo
Spicy Pineapple Fried Rice – Baker by Nature
Serves 6
Ingredients:
4 cups jasmine rice, cooked in a rice cooker or on the stove top according to package directions
1/4 cup sesame oil, divided (you can sub in canola if preferred)
3 eggs, lightly beaten
1 tablespoon chopped ginger
4 large cloves garlic, finely diced
1 small red pepper, diced
1 large jalapeño pepper, seeded and finely diced
6 rings pineapple, diced
1/2 cup frozen diced carrots
1/2 cup frozen peas
2 stalks celery, finely diced
1 bunch scallions, sliced; divided
1/4 cup soy sauce
1 tablespoon apple cider vinegar
Instructions:
Cook rice according to package directions. Set aside.
Heat 2 tablespoons of sesame oil in a large skillet or wok over high-heat.
Add the beaten eggs and fry until they are fully cooked. Transfer them to a clean plate, lightly breaking them up with a spatula.
Add the remaining oil, ginger, garlic, red pepper, jalapeños, pineapple, carrot, and celery, and stir-fry for 2 minutes. Add  half of the scallions and cook for another minute.
Add the rice, soy sauce and vinegar. Stir-fry the rice for about 2 minutes, then stir in the reserved eggs. Remove pan from heat and transfer rice to a serving platter.
Garnish with the remaining scallions and serve right away.