I am a burrito addict. I love burritos so much because you can really take anything and make it into a burrito. I had an enormous bunch of collard greens in the fridge from a few weeks ago (ooops!) and was feeling pretty stumped on what to do with them, until my friend Pam gave me the great idea of using their leaves as a wrap for healthy BURRITOS!!! What an awesome idea, right?! Thanks, Pam!
Now, let's talk healthy burritos!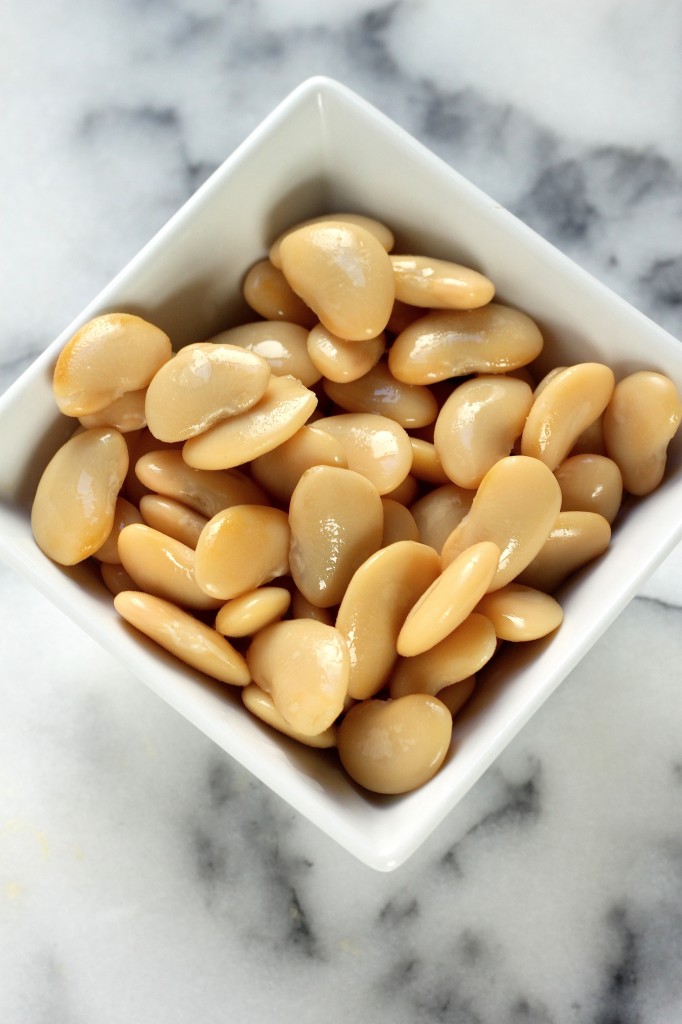 I chose to stuff these gorgeously green burritos with roasted red pepper "fried rice", butter beans, and caramelized onions. They go so good together! And give these wraps a real burrito feel! To me, burritos gotta have some rice and beans! They just gotta.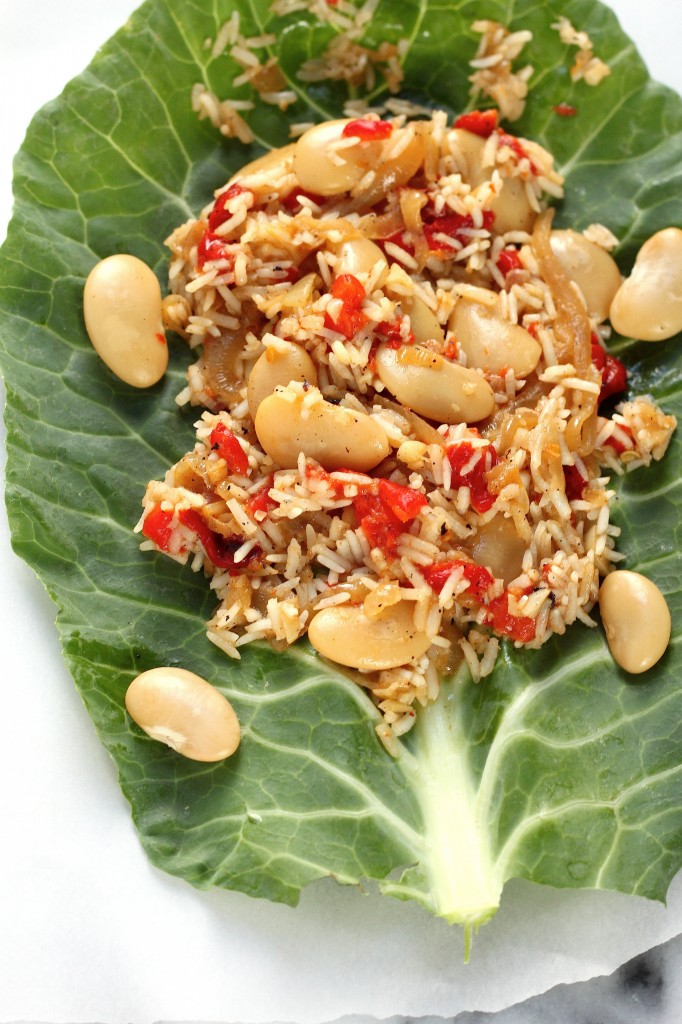 I had no issue rolling these up and eating them in true two-hand-burrito-fashion, but after seeing my boyfriend eat his… I definitely recommend having a plate underneath you while you're chowing down. Ya know, just in case something falls out 😉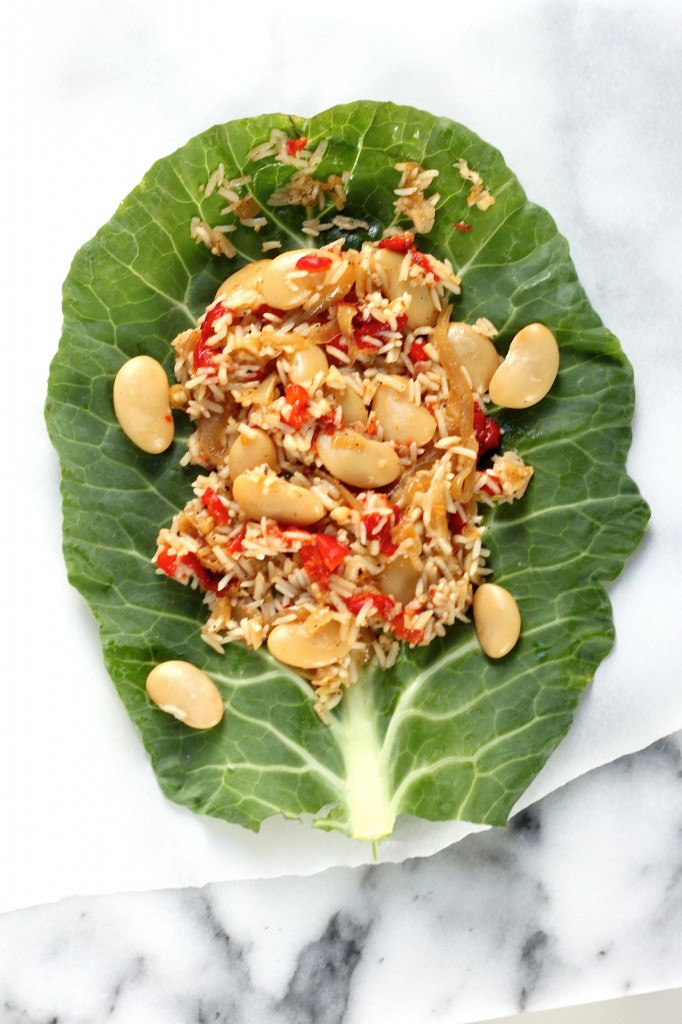 Happy eating, friends! xoxo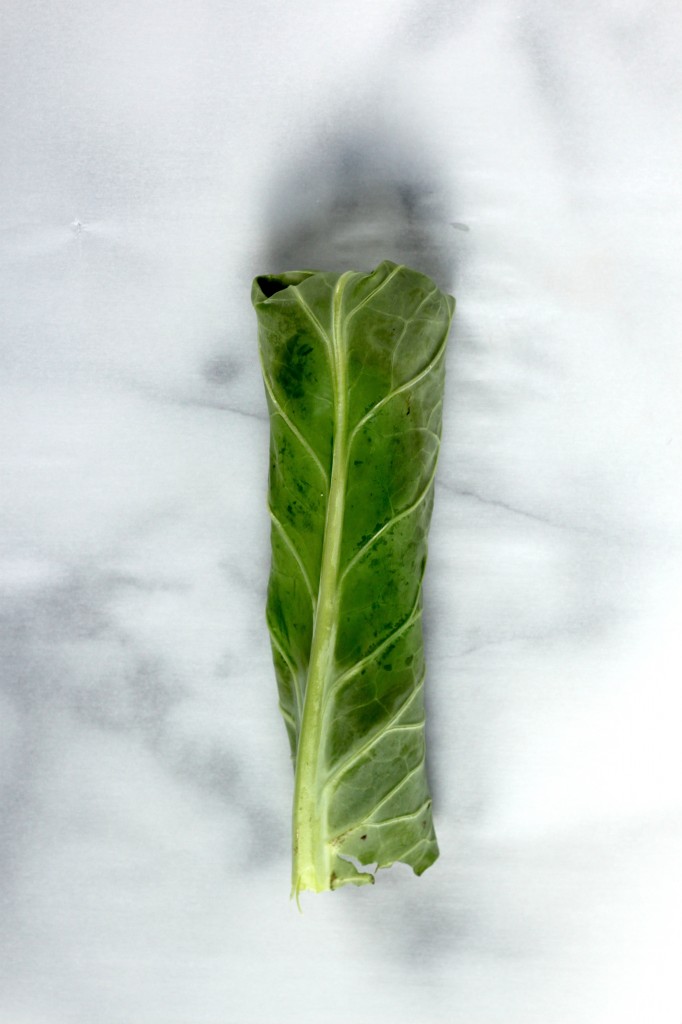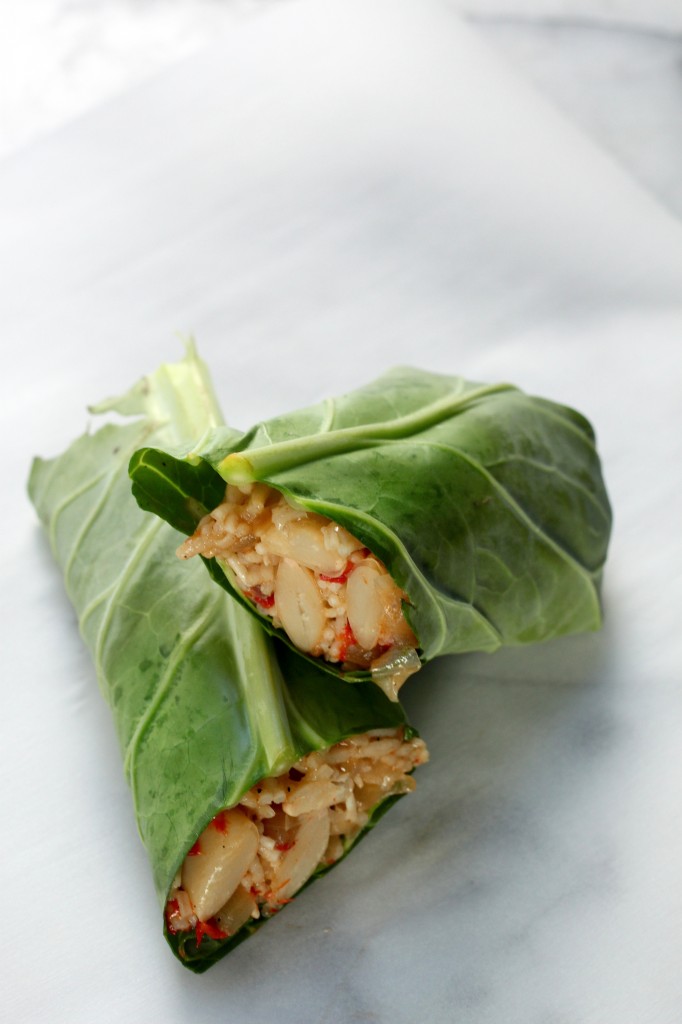 Collard Burritos with Roasted Red Pepper "Fried Rice", Butter Beans, and Caramelized Onions
Ingredients
3 tablespoons olive oil, separated
1 large onion, thinly sliced
8 large collard greens leaves, washed and dried
1 roasted red pepper, diced
2 cloves garlic, minced and divided
1 cup white rice, cooked
Big pinch salt
(1) 15.5 ounce can butter beans, not drained (!)
4 sprigs fresh cilantro
Instructions
Heat one tablespoon of olive oil in a large skillet over medium flame. Add the onions, stir to coat, and cook - stirring occasionally - for 20 - 25 minutes, or until onions have softened and caramelized. Use a slotted spoon to remove the onions from the skillet, and transfer them to a clean plate.

In the same skillet add another tablespoon of oil, then add the pepper and 2 cloves of garlic. Cook for 1-2 minutes, then add the cooked rice and salt and "stir fry" for another 2 minutes. Use a large spoon to scoop the rice from the pan and transfer it to a clean bowl.

Add the final tablespoon of oil and garlic to the skillet and sauté for 1 minute; add the beans, their liquid, and the cilantro sprigs, and cook on medium-low for 7-8 minutes. Add a pinch of salt, and taste to adjust seasonings. Discard cilantro sprigs before serving!

Now, at this point you can choose to either combine all of the ingredients in the skillet, mix them up, and scoop the filling into the leaves. Or you can layer the rice first, then the beans, then the onions.

Once the filling is in the leaves, just roll up and eat!