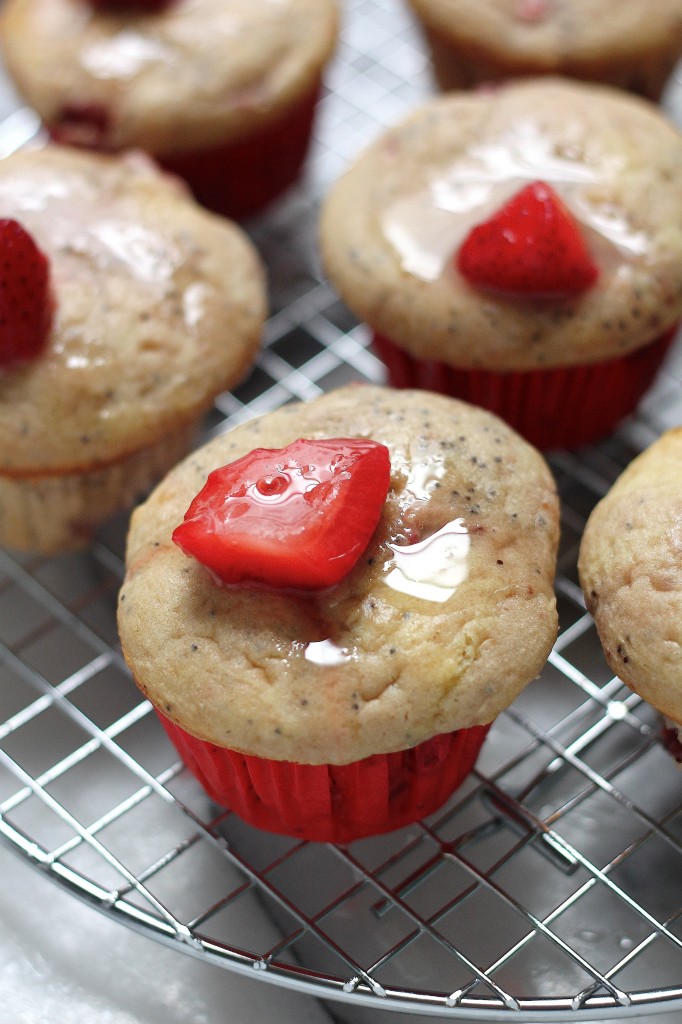 Good day, friends! Today I'm curious. About you! You and your breakfast routine. Nosy, I know. But really. What's your go-to sunrise meal? What gets you going in the morning? Most days breakfast at our apartment consists of coffee coffee and more coffee. Ok. And a splash of almond milk if I'm really on top of my game. I mean, when it's 6 am and you can barely function… what more could you really ask for?
Strangely this past week I've been waking up ferociously hungry. Like bordering on the edge of hangry. And since no one wants a hungry/ angry / ferociously starving girl roaming the streets, I got busy baking. I wanted a morning treat that froze well, wasn't too sweet, and would be just enough to fill your aching belly.
After a few tries, I finally hit the jackpot! Strawberry poppy seed breakfast buns!!! 
If you're wondering why I called them buns… well, I don't really have an answer for you. Except they weren't exactly a muffin. They're softer, fluffier, and less domed. All good things. And you can totally title them muffins when you make them 😉 I don't mind.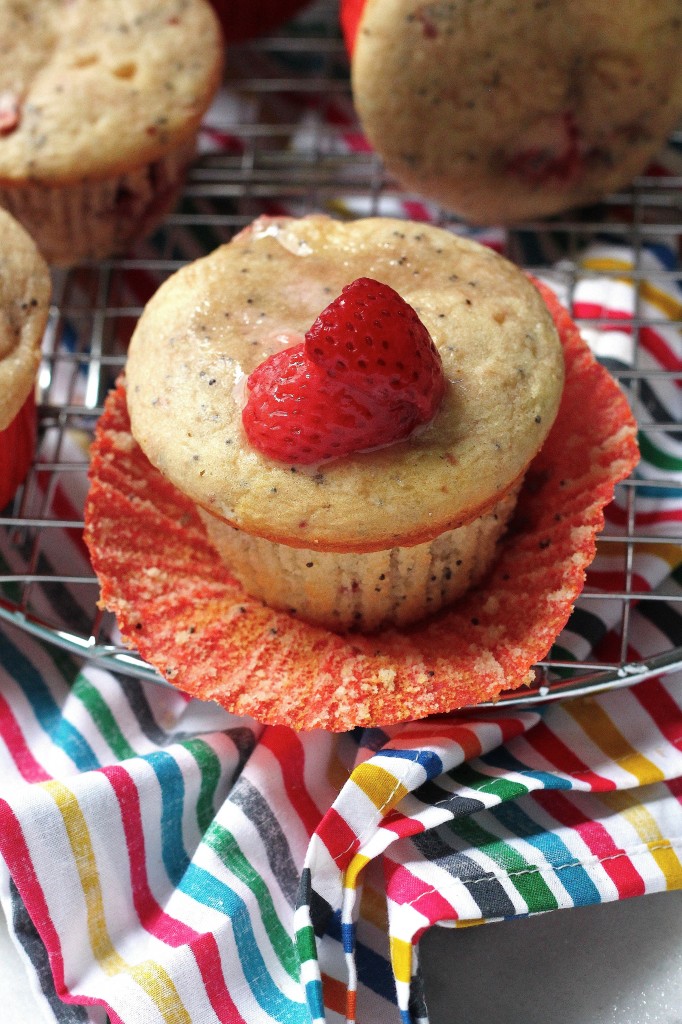 I topped each bun with a very light lemon glaze, and it was definitely a good move. Strawberries and lemon are such a good match! If you plan on freezing these, I recommend only glazing the ones you're eating right away. You can always whip up a little glaze when you defrost them 😉
Have a great day, friends! I'll see you soon with a California re-cap. Ciao! xo
Strawberry Poppy Seed Breakfast Buns
Ingredients
1 1/2 cups + 1 tablespoon all-purpose flour
1/2 cup + 2 tablespoons granulated sugar
1 teaspoon lemon zest
2 1/4 teaspoons baking powder
1/2 teaspoon salt
1/4 teaspoon ground cinnamon
1/3 cup coconut oil
1 large egg, at room temperature
1/2 cup FULL fat Greek yogurt, I used fage
2 teaspoons vanilla extract
1 cup strawberries, finely diced
1/4 cup poppy seeds
For the lemon glaze:
1 cup powdered sugar
2 teaspoons lemon juice
Instructions
Preheat oven to 400º (F). Line 12 standard-size muffin cups with paper liners.

Whisk 1 1/2 cups of flour, sugar, lemon zest, baking powder, salt, and cinnamon in a large bowl until well combined.

Place the coconut oil in a large measuring cup or bowl, then add the egg, yogurt, and vanilla. Whisk until well combined.

Pour the wet mixture into the bowl with flour and stir with a rubber spatula until just combined. Do not over mix. (The muffin batter will be quite thick).

In a small bowl toss strawberries with remaining flour. Stir the strawberries and seeds into the batter.

Divide batter evenly between the 12 muffin cups.

Bake muffins until tops are golden brown, no longer wet and a toothpick inserted into the middle comes out with crumbs; 16 to 20 minutes. Transfer to a wire rack and cool completely.
To make glaze:
In a small bowl whisk together the sugar and lemon juice until well combined. Lightly drizzle over cooled muffins.